Harry Shum's Smart Videos About Dance and Sports
The whole dance/sport comparison can get a little tortured sometimes. Yes, dancers are athletes, but does that make dance a sport? There are objective ways to measure athletic performance, but are there objective ways to measure dance performance?
One of our favorites, Harry Shum, Jr., figured out how to sidestep that whole complicated mess while still exploring the interesting comparisons to be made between dance and sport. His new video series, "Parallels," takes an up-close-and-personal look at the relationships between dance steps and athletic movements—how a saut de chat compares to a freestyle motocross stunt, for example, or how b-boying requires the same kind of rhythm as skateboarding. It's all really well-done and (naturally) well-danced.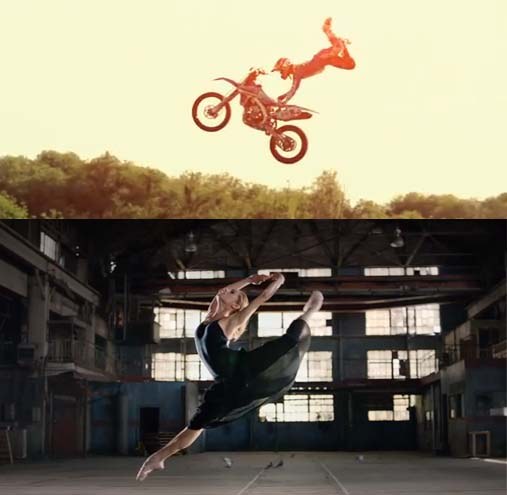 Motocross athlete Alexey Kolesnikov and ballet dancer Kylie Lewallen in "Parallels"
(Here's a fun fact: Shum was inspired by a classic 1958 television special in which Gene Kelly reimagined the motions of world-class athletes as dance. Kelly even taught the likes of Micky Mantle and Sugar Ray Leonard dance routines.)
Take a look at all four of Shum's videos, below.
Exploring Parallels: Introduction
Exploring Parallels: Grace
Exploring Parallels: Control
Exploring Parallels: Rhythm
Dance is a powerful form of expression, and Ahmad Joudeh is using its influence to promote peace.
The 27-year-old is a Palestinian refugee, whose decision to pursue his passion for ballet has made him the target of death threats from terrorist organizations. Despite the danger, Joudeh has decided to continue on his path as a dancer, using his performances as an opportunity to spread a message of peace and cultural awareness.
Keep reading...
Show less
CBS
"Late Late Show" host James Corden was one of the many, many people shocked by President Trump's sudden decision to ban transgender people from the military yesterday. And he decided to voice his outrage in the way most likely to rile a President who's uncomfortable with anything "un-manly": through a big, beautiful, extra-sparkly song-and-dance routine.
Keep reading...
Show less
Jul. 25, 2017 05:04PM EST
(Break the Floor Productions)
In addition to training, competing and winning titles in just about every style you can think of, 13-year-old Kaylee Quinn is a regular on the sci-fi drama "Stitchers," playing the younger version of the show's main character. Her path in dance hasn't been without challenges, though. Last summer, Kaylee won the Hope Award at her regional Youth America Grand Prix, but wasn't sure she'd be able to compete at the NYC finals due to a broken foot. Patience paid off: With her doctor's blessing, Kaylee danced her variations in flat shoes and won the gold medal.
Keep reading...
Show less


Get Dance Spirit in your inbox