The Haunting New Sia Video Has a Powerful Message
Most of the remarkable videos Sia has made with dance muse Maddie Ziegler explore the singer's personal struggles. We've seen intimate, heart-rending portraits of Sia's battle with addiction and troubled relationship with her dad. But Sia's latest Maddie collaboration, the video for "The Greatest," transcends the personal: It's a tribute to the victims of the Orlando nightclub shooting. Sia's own anger and sadness about the terrorist attack—which Maddie portrays so eloquently—become a moving expression of a larger community's fury.
"The Greatest" also includes some of Ryan Heffington's most compelling choreography yet. In addition to Maddie, the video features a cast of 49 young dancers—to mirror the 49 victims of the Orlando tragedy—who swarm and writhe and, finally, fall to the floor as if shot. (The group includes a lot of our favorites, by the way: Look for Larsen Thompson, Sean Lew, Kerrynton Jones and Stephanie Mincone in the grey-faced crowd.)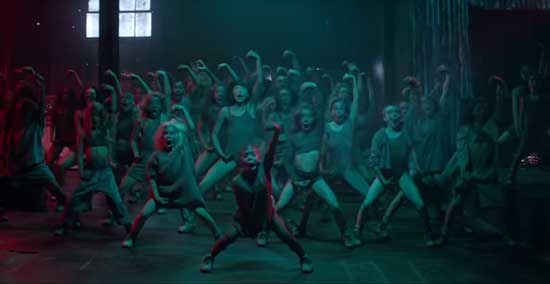 The cast of "The Greatest" (screenshot via YouTube)
Heffington's choreography has always made dancers seem like pots about to boil over, bubbling with barely-contained frustration. Here, that distinctive style feels especially apt. You'll probably recognize a few of the signature steps from his fun-crazy "Cheap Thrills" choreo, but they take on a totally different shading in this context.
TL;DR edit: You need to watch this RIGHT NOW.
Jun. 15, 2017 02:00PM EST
From left: Haley Hartsfield, Kaylin Maggard, and Michelle Quiner (photos by Erin Baiano)
Congratulations to Dance Spirit's 2017 Cover Model Search finalists: Haley Hartsfield, Kaylin Maggard and Michelle Quiner! One of them will win a spot on Dance Spirit's October 2016 cover. Learn more about the dancers on their profile pages, and then vote for your favorite below.
We also want you to get social! We'll be factoring social media likes and shares into our final tallies. Be sure to show your favorite finalist some love on Facebook, Instagram, and Twitter, sharing their profile pages and using the hashtag #DanceSpiritCMS.
Keep reading...
Show less
via YouTube
...This clip, "'Hamilton' Choreographer Breaks Down His Moves," popped up on my YouTube recommended list. I mean, I could watch Hamilton's dance wizard Andy Blankenbuehler talk about anything. Have you read our interview with him back when he was making the moves for Bandstand? The guy is freaking fascinating.
Keep reading...
Show less
Jun. 23, 2017 03:57PM EST
via YouTube
Great contemporary choreographers and soulful singer-songwriters have always made for a perfect match. That's why we were thrilled when we found out "SYTYCD" and "Dance Moms" choreographer Kristin McQuaid created the music video for "Light the Sky," a hit single from "America's Got Talent" winner Grace VanderWaal.
Keep reading...
Show less


Get Dance Spirit in your inbox