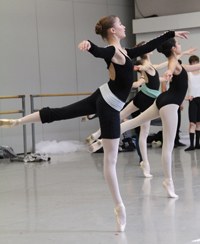 Photo by Paolo Galli. November 2010: KAB participates in an outreach program that shares dance with public school students in the area.
Megan Amanda Ehrlich spent much of her childhood bouncing from city to city because of her father's job with the military. But one thing remained consistent: her commitment to ballet. By age 6, she had decided to pursue a professional career. At the time, she was training in the Vaganova method with Boris Chepelev and Janna Kirova in Florida. A year later, when her family moved to Washington, D.C., Megan Amanda auditioned for the Kirov Academy of Ballet, but was told to come back in a few years. She returned the following year—and was accepted on full scholarship. She spent two years at the prestigious academy before being uprooted again, and then returned to KAB as a high school sophomore. An airy dancer with to-die-for feet and easy technique, Megan Amanda graduated this past spring. Here, she shares moments from her senior year, documented by photographer Paolo Galli. —Katie Rolnick
Photo by Paolo Galli. Here, Megan Amanda and her friend Isaac Aoki, also at KAB, rehearse for the performance.
Photo by Paolo Galli. Megan Amanda and other KAB students rehearse a demonstration for public school students.
Photo by Paolo Galli. Megan Amanda and Isaac sneak in a game of cards before class.
Photo By Paolo Galli. December 2010: At KAB's winter performance, Megan Amanda danced the pas de deux from La Sylphide. Here, her mom helps her into her costume.
Photo by Paolo Galli, Courtesy   The Balanchine Trust. She also danced the Waltz Girl in George Balanchine's Serenade.
Photo by Isaac Aoki. January 2011: Megan Amanda did an impromptu photo shoot with her friend Isaac Aoki, who's also a fledgling photographer.
Photo by Paulo Galli. March 2011: Megan Amanda found time to read, one of her favorite hobbies.
Photo by Paulo Galli. April 2011: Megan Amanda and fellow student Alex Babayev were asked to perform at a special awards ceremony. Martin Fredmann, deputy artistic director of the KAB, joined them—and they were all picked up in a limo!
Photo by Paolo Galli. Megan Amanda in class with teacher Ludmila Morkovina
Photo by Paolo Galli. April 2011: For the KAB spring performance, Megan Amanda was cast as Odette in the second act of Swan Lake. Here, she rehearses with Chase O'Connell, a former KAB student.
Photo by Paolo Galli. Megan Amanda and Chu-En Chiu as Odette and Siegfried in KAB's production of Swan Lake
Photo by Paolo Galli. As they approach graduation, seniors at the Kirov Academy of Ballet in Washington, D.C. get professional audition photos taken.
Photo by Paolo Galli. On May 28, 2011, Megan Amanda graduated from high school at KAB.
EDITOR'S NOTE: After graduating, Megan Amanda moved to California to apprentice with San Francisco Ballet.
Fast Facts
Birthday: July 20, 1995 (she graduated at 15!)
Favorite dance movie: Center Stage
Favorite book: "I really like murder mystery novels and books by James Patterson."
Favorite TV shows: "NCIS" and "The Big Bang Theory"
Most played on her iPod: The album Dusk and Summer by Dashboard Confessional
Dance idol: "I really like Polina Semionova. I also look up to a lot of my friends. Dancing next to them in class pushes me to make myself better."
Kalani Hilliker made "Dance Moms" fans sit up a little straighter when she first appeared on "Abby's Ultimate Dance Competition" back in 2013. The then–12-year-old ballerina had charisma, she had sass—and, wow, did she have technique! Abby Lee Miller, the show's infamous host, saw Kalani's star potential from the start, saving her from elimination and ultimately inviting her to perform alongside Maddie Ziegler on Season 4 of "Dance Moms." "I was never supposed to be on 'Dance Moms' beyond that one performance," says Kalani, now 16, but she ended up staying on the show for the whole season—and the following three. "It was my first time, but not my last time, causing drama. And it was also the first time I got to meet the other dancers, who have become like sisters."
Keep reading...
Show less
courtesy Jane Antonia Cornish
Translation: New York City Ballet principal dancer Ask La Cour's choreography for himself and the luxuriantly leggy Sara Michelle Murawski totally. nails. it.
Keep reading...
Show less
Kirsten Evans @settingthebarre
You may already know Apolla Shocks are able to replace your current footwear and dance shoes because of the durability, aesthetics, and traction, BUT there are many other reasons to ALWAYS keep a pair in your dance bag. BESIDES wearing them in class or onstage:
Keep reading...
Show less
Isaac Hernández in "Despertares" (via Vimeo)
Move over, Sergei Polunin*: There's a new ballet heartthrob in town.
Well, not "new," exactly: The fabulously talented Isaac Hernández has been a lead principal with the English National Ballet since 2015, and previously danced with Dutch National Ballet and San Francisco Ballet. (He's also part of a distinguished dance family: You met his brother, SFB corps member Esteban, in our March issue roundup of up-and-coming danseurs.)
But a dreamy new video by filmmaker Ezra Hurwitz—"Despertares" [Wake Up], featuring Hernández dancing in studios and on rooftops all over NYC—makes a strong case for this beautiful dancer becoming your next ballet crush:
Keep reading...
Show less


Get Dance Spirit in your inbox