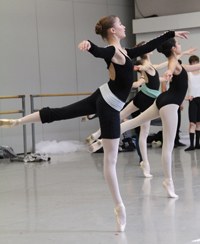 Photo by Paolo Galli. November 2010: KAB participates in an outreach program that shares dance with public school students in the area.
Megan Amanda Ehrlich spent much of her childhood bouncing from city to city because of her father's job with the military. But one thing remained consistent: her commitment to ballet. By age 6, she had decided to pursue a professional career. At the time, she was training in the Vaganova method with Boris Chepelev and Janna Kirova in Florida. A year later, when her family moved to Washington, D.C., Megan Amanda auditioned for the Kirov Academy of Ballet, but was told to come back in a few years. She returned the following year—and was accepted on full scholarship. She spent two years at the prestigious academy before being uprooted again, and then returned to KAB as a high school sophomore. An airy dancer with to-die-for feet and easy technique, Megan Amanda graduated this past spring. Here, she shares moments from her senior year, documented by photographer Paolo Galli. —Katie Rolnick
Photo by Paolo Galli. Here, Megan Amanda and her friend Isaac Aoki, also at KAB, rehearse for the performance.
Photo by Paolo Galli. Megan Amanda and other KAB students rehearse a demonstration for public school students.
Photo by Paolo Galli. Megan Amanda and Isaac sneak in a game of cards before class.
Photo By Paolo Galli. December 2010: At KAB's winter performance, Megan Amanda danced the pas de deux from La Sylphide. Here, her mom helps her into her costume.
Photo by Paolo Galli, Courtesy   The Balanchine Trust. She also danced the Waltz Girl in George Balanchine's Serenade.
Photo by Isaac Aoki. January 2011: Megan Amanda did an impromptu photo shoot with her friend Isaac Aoki, who's also a fledgling photographer.
Photo by Paulo Galli. March 2011: Megan Amanda found time to read, one of her favorite hobbies.
Photo by Paulo Galli. April 2011: Megan Amanda and fellow student Alex Babayev were asked to perform at a special awards ceremony. Martin Fredmann, deputy artistic director of the KAB, joined them—and they were all picked up in a limo!
Photo by Paolo Galli. Megan Amanda in class with teacher Ludmila Morkovina
Photo by Paolo Galli. April 2011: For the KAB spring performance, Megan Amanda was cast as Odette in the second act of Swan Lake. Here, she rehearses with Chase O'Connell, a former KAB student.
Photo by Paolo Galli. Megan Amanda and Chu-En Chiu as Odette and Siegfried in KAB's production of Swan Lake
Photo by Paolo Galli. As they approach graduation, seniors at the Kirov Academy of Ballet in Washington, D.C. get professional audition photos taken.
Photo by Paolo Galli. On May 28, 2011, Megan Amanda graduated from high school at KAB.
EDITOR'S NOTE: After graduating, Megan Amanda moved to California to apprentice with San Francisco Ballet.
Fast Facts
Birthday: July 20, 1995 (she graduated at 15!)
Favorite dance movie: Center Stage
Favorite book: "I really like murder mystery novels and books by James Patterson."
Favorite TV shows: "NCIS" and "The Big Bang Theory"
Most played on her iPod: The album Dusk and Summer by Dashboard Confessional
Dance idol: "I really like Polina Semionova. I also look up to a lot of my friends. Dancing next to them in class pushes me to make myself better."
Much of Janelle Ginestra's career has been about helping others shine. She's dedicated herself to supporting and cheerleading her partner, WilldaBeast Adams; the emerging talents in their dance company, ImmaBEAST; and the countless dancers she inspires at master classes and conventions. Her YouTube channel has become a launching pad for young talents like "Fraternal Twins" Larsen Thompson and Taylor Hatala, thanks to viral videos featuring Ginestra's creative vision.
But Ginestra's a skyrocketing success in her own right—an in-demand choreographer, a social media influencer, and a dance entrepreneur, building a legacy one eight-count at a time. It's time for her turn in the spotlight. And she's more than ready. "I want to be a legend in whatever I do," she says. We'd argue that she already is.
Keep reading...
Show less
Win It
Oct. 13, 2017 04:31PM EST
When a choreographer finds a composer whose music truly inspires her, it can feel like a match made in dance heaven. Some choreographers work with the same composers so frequently that they become known for their partnerships. New York City Ballet soloist and resident choreographer Justin Peck, for example, has tapped composer Sufjan Stevens numerous times (last spring, the two premiered The Decalogue at NYCB, to rave reviews); L.A. Dance Project's Benjamin Millepied's working relationship with composer Nico Muhly has spanned a decade and two continents; and when tap dancer Michelle Dorrance premiered the first-ever Works & Process Rotunda Project, a site-specific work for New York City's Guggenheim Museum, last year, percussionist Nicholas Van Young was by her side as an equal partner. Successful collaborations require compatibility between artists, direct and honest communication, and flexible, open minds. But when the stars align, working with a composer can be extremely rewarding.
Keep reading...
Show less
(From left) Nia Sioux, Kendall Vertes, Chloe Lukasiak, and Kalani Hilliker (via @chloelukasiak)
Keep reading...
Show less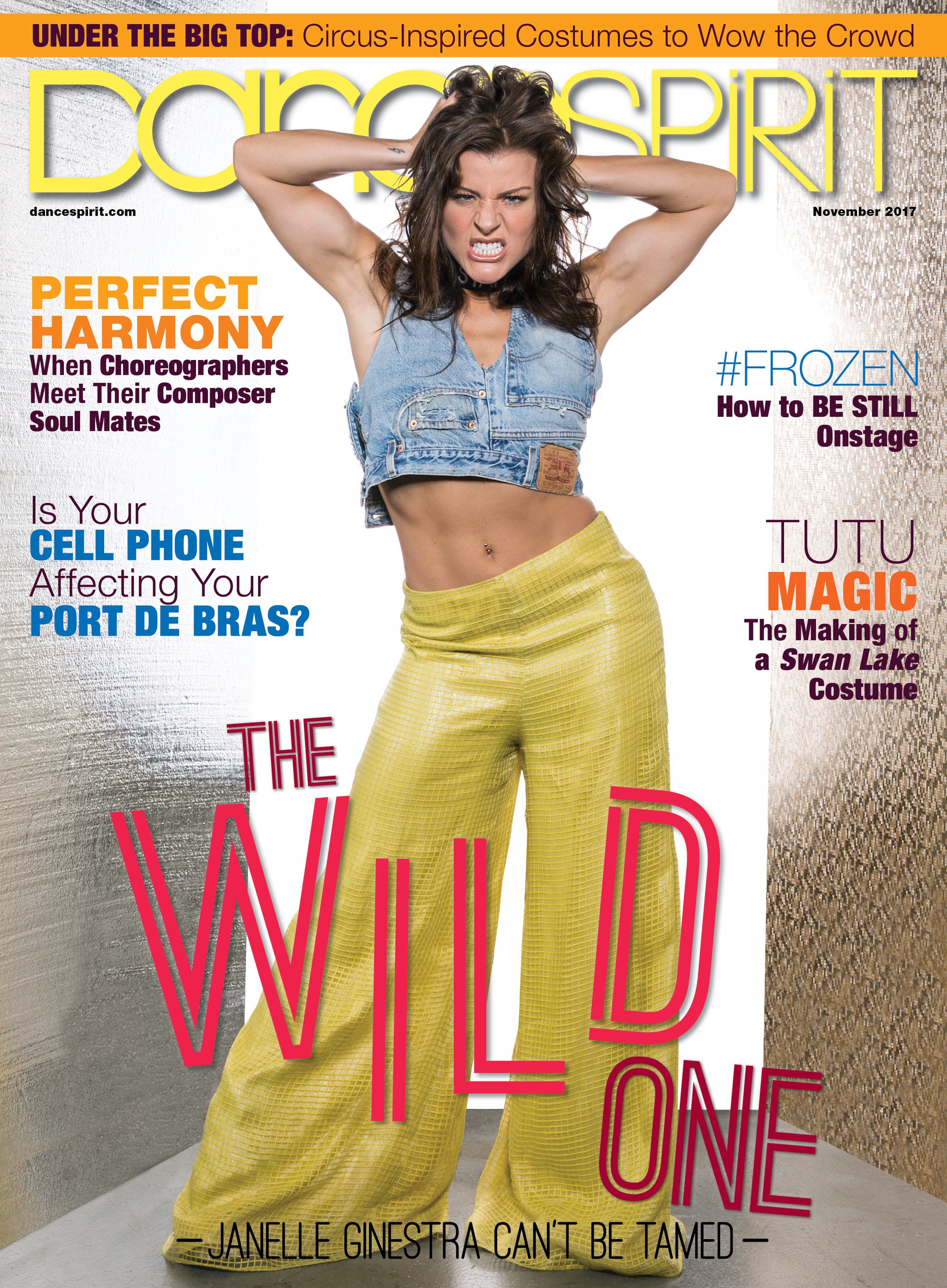 Get Dance Spirit in your inbox