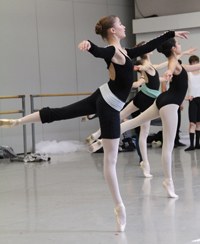 Photo by Paolo Galli. November 2010: KAB participates in an outreach program that shares dance with public school students in the area.
Megan Amanda Ehrlich spent much of her childhood bouncing from city to city because of her father's job with the military. But one thing remained consistent: her commitment to ballet. By age 6, she had decided to pursue a professional career. At the time, she was training in the Vaganova method with Boris Chepelev and Janna Kirova in Florida. A year later, when her family moved to Washington, D.C., Megan Amanda auditioned for the Kirov Academy of Ballet, but was told to come back in a few years. She returned the following year—and was accepted on full scholarship. She spent two years at the prestigious academy before being uprooted again, and then returned to KAB as a high school sophomore. An airy dancer with to-die-for feet and easy technique, Megan Amanda graduated this past spring. Here, she shares moments from her senior year, documented by photographer Paolo Galli. —Katie Rolnick
Photo by Paolo Galli. Here, Megan Amanda and her friend Isaac Aoki, also at KAB, rehearse for the performance.
Photo by Paolo Galli. Megan Amanda and other KAB students rehearse a demonstration for public school students.
Photo by Paolo Galli. Megan Amanda and Isaac sneak in a game of cards before class.
Photo By Paolo Galli. December 2010: At KAB's winter performance, Megan Amanda danced the pas de deux from La Sylphide. Here, her mom helps her into her costume.
Photo by Paolo Galli, Courtesy   The Balanchine Trust. She also danced the Waltz Girl in George Balanchine's Serenade.
Photo by Isaac Aoki. January 2011: Megan Amanda did an impromptu photo shoot with her friend Isaac Aoki, who's also a fledgling photographer.
Photo by Paulo Galli. March 2011: Megan Amanda found time to read, one of her favorite hobbies.
Photo by Paulo Galli. April 2011: Megan Amanda and fellow student Alex Babayev were asked to perform at a special awards ceremony. Martin Fredmann, deputy artistic director of the KAB, joined them—and they were all picked up in a limo!
Photo by Paolo Galli. Megan Amanda in class with teacher Ludmila Morkovina
Photo by Paolo Galli. April 2011: For the KAB spring performance, Megan Amanda was cast as Odette in the second act of Swan Lake. Here, she rehearses with Chase O'Connell, a former KAB student.
Photo by Paolo Galli. Megan Amanda and Chu-En Chiu as Odette and Siegfried in KAB's production of Swan Lake
Photo by Paolo Galli. As they approach graduation, seniors at the Kirov Academy of Ballet in Washington, D.C. get professional audition photos taken.
Photo by Paolo Galli. On May 28, 2011, Megan Amanda graduated from high school at KAB.
EDITOR'S NOTE: After graduating, Megan Amanda moved to California to apprentice with San Francisco Ballet.
Fast Facts
Birthday: July 20, 1995 (she graduated at 15!)
Favorite dance movie: Center Stage
Favorite book: "I really like murder mystery novels and books by James Patterson."
Favorite TV shows: "NCIS" and "The Big Bang Theory"
Most played on her iPod: The album Dusk and Summer by Dashboard Confessional
Dance idol: "I really like Polina Semionova. I also look up to a lot of my friends. Dancing next to them in class pushes me to make myself better."
Jun. 15, 2017 02:00PM EST
From left: Haley Hartsfield, Kaylin Maggard, and Michelle Quiner (photos by Erin Baiano)
Congratulations to Dance Spirit's 2017 Cover Model Search finalists: Haley Hartsfield, Kaylin Maggard and Michelle Quiner! One of them will win a spot on Dance Spirit's October 2016 cover. Learn more about the dancers on their profile pages, and then vote for your favorite below.
We also want you to get social! We'll be factoring social media likes and shares into our final tallies. Be sure to show your favorite finalist some love on Facebook, Instagram, and Twitter, sharing their profile pages and using the hashtag #DanceSpiritCMS.
Keep reading...
Show less
Performing on a Broadway stage might seem glamorous, but it comes with one of the most grueling schedules a dancer can face. Maintaining your stamina and energy, warding off injury and keeping the material fresh for eight shows a week is no joke. So how do dancers do it? Dance Spirit talked to ensemble members from some of Broadway's danciest shows to get their survival tips.
Keep reading...
Show less
You should know Leiomy Maldonado's name, because she's shaped the way you dance. Called the "Wonder Woman of vogue," the trailblazing artist was the first transgender woman to appear on "America's Best Dance Crew," as part of the Vogue Evolution crew. And her signature "Leiomy Lolly" hair flip has inspired everyone from Beyoncé to FKA Twigs to Willow Smith to, odds are good, your own teachers and choreographers. (Smith even asked Maldonado to appear in the video for "Whip My Hair," to show the world how to do the flip properly.)
Now, Maldonado is the star of a new Nike ad celebrating the queer and transgender dancers who form the heart of the voguing community. Directed by Daisy Zhou, the spot is narrated by transgender artist Precious Angel Ramirez, and showcases Maldonado's extraordinary skills, as well as those of several other dancers from the vogue scene.

Keep reading...
Show less
Jun. 25, 2017 11:00AM EST
via YouTube
...This clip, "'Hamilton' Choreographer Breaks Down His Moves," popped up on my YouTube recommended list. I mean, I could watch Hamilton's dance wizard Andy Blankenbuehler talk about anything. Have you read our interview with him back when he was making the moves for Bandstand? The guy is freaking fascinating.
Keep reading...
Show less


Get Dance Spirit in your inbox