Mar. 03, 2017 12:11AM EST
All dancers get tired—eventually an intense rehearsal or class schedule can take its toll. But some of us experience something greater than periodic tiredness: chronic fatigue syndrome, which is persistent or never fully goes away. Here's how to address and reverse the effects of chronic fatigue and get back to your fully energized self.
What It Is
"Chronic fatigue syndrome can also be called overtraining syndrome," says Bené Barrera, Houston Methodist athletic trainer for Houston Ballet, describing how the syndrome often presents itself in dancers. "It's an imbalance of physical activity to rest. And since dancers are used to placing intense demands on their bodies every day, it's hard to recognize in yourself."
Chronic fatigue can stem from sudden or long-term changes to your schedule. Are you reeling from the first few days of a summer intensive? That's an acute increase in your activity. Is it Nutcracker season, with weeks of shows ahead of you? That might result in cumulative exhaustion. In either scenario, lack of proper rest and self-care can result in chronic fatigue. "If you wake up feeling tired, that's a bad sign," says Dr. Nadine Kaslow, a psychologist who works with dancers.
"There has been an uptick with this presenting in younger dancers," Barrera says. "Dance is such a specific skill set that it's important for people to train intensively when they're young." But specialized conditioning at the expense of all else can lead to exhaustion, burnout and increased risk of injury.
The Diagnostic Process
Think you might be suffering from chronic fatigue? "Your doctor should first rule out other causes, like hormone or nutritional deficiencies and past injuries and illnesses, and then make a diagnosis based on the information that's left," Barrera says. Be prepared to describe your symptoms to your doctor, and answer questions about changes to your workload and rehearsal schedule. Health care providers can discern what's abnormal for you based on your medical history. What might indicate that you have chronic fatigue, rather than normal tiredness? "There's a feeling of not being able to regroup," Kaslow says. "Chronic fatigue exists on a continuum. If people ask you how you are and you always say 'tired,' or you pass up things you used to do, like doing a center combination one more time, you might become aware that your exhaustion is increasingly dominating your life."
Addressing Chronic Fatigue
The only cure for chronic fatigue is rest, both physical and psychological. "Once you have a diagnosis, you have to address it right away, because chronic fatigue is persistent and can be cumulative," Barrera says. "You need to let your body repair." What if it's competition season and you're not in a position to rest? No dancer wants to be perceived as someone who complains, but "if you're starting to struggle with your energy, let people know," Kaslow says. "A good teacher should ask if you need to take care of yourself." And, she adds, dancers can watch out for their friends and voice their concerns if a peer is consistently drained.
Both Kaslow and Barrera agree that addressing chronic fatigue means time off from dance. Exactly how long should be up to your doctor. While that can be a terrible thought, working through exhaustion could be worse. If you continue to push yourself, you'll be more likely to burn out—or get injured. "Dancers are competitive and that fuels their desire to do more and more," Barrera says. "But sometimes less is more."
Tips to Tackle Chronic Fatigue Syndrome
• When you're able to take a break, rest but don't come to
a full stop. Instead, try out cross-training activities like swimming or yoga, which are gentle and restorative. "You need to explore other ways of moving because your body is used to doing one set of movements," says Bené Barrera, Houston Methodist athletic trainer at Houston Ballet.
• Reassess your meal plan. "You need to eat clean, but eat plenty," Barrera says. "It's critical to understand your nutritional requirements so you're
not working at a nutritional deficiency."
• Think about what you've accomplished and set new goals. Dancers are often fixated on improving by doing the same thing over and over again. "Take time to really enjoy your successes," Barrera says.
• Try mindfulness exercises. They can help control stress associated with an increased workload. "When you're in the shower, notice the water and what it feels like. Really pay attention to what you're doing," says Dr. Nadine Kaslow, a psychologist who works with dancers. "There's evidence that these kinds of exercises help the body repair physically, too."
Dec. 21, 2016 08:22PM EST
OK, so going to the gynecologist isn't exactly fun. But the good thing about your annual visit is that it's a one-stop, totally confidential way to get your most sensitive questions answered. And it's essential that you ask them! After all, there's nothing more important than keeping your dancer body—every part of your dancer body—in tip-top shape. If you're feeling shy or embarrassed, just remember: Gynecologists have heard it all. Here are the answers to some of the questions they get asked the most.
My periods are irregular. Should I be worried?
Teens often expect to get their period on the same day each month, but normal cycles range from 21 to 35 days. "It's also common to have periods outside this range when you first start having them," says Dr. Raegan McDonald-Mosley, chief medical officer at Planned Parenthood Federation of America. If you've already started your period but it's frequently irregular, check in with your doctor.
Dancers, like many female athletes, often get their first period later than their peers due to their intense activity level. Dr. Colleen Cavanaugh, a gynecologist in Providence, RI, says there's usually no reason to worry (unless you're severely underweight). Getting a first period anywhere between the ages of 10 and 15 is normal. Your doctor may recommend going on a contraceptive pill to help get your periods started or make them come more regularly.
My periods are so heavy and painful. Any advice?
For those prone to painful periods, Dr. Lauren Streicher, a gynecologist and associate professor at Northwestern University's Feinberg School of Medicine, recommends popping an Advil the day before you start menstruating, to ward off excessive cramps and even lighten bleeding. Then continue as needed during your period. A heating pad can also be a lifesaver on painful days.
If your period pain regularly forces you to call in sick to school or the studio, or if you need to change a large tampon or pad every hour, it's time to talk to your doctor. Very rarely, severe cramps during menstruation may be a sign of endometriosis, a condition where uterine lining grows outside the uterus. If you're otherwise healthy, your doctor may prescribe a birth control pill or suggest a hormonal intrauterine device (IUD), a tiny T-shaped object that can stay in your uterus for up to five years—certain types have been proven to reduce bleeding and discomfort.
My body is changing—and I'm not sure if I look normal. What does "normal" even look like?
Every teen wonders if her body looks normal—but this is especially true for dancers, who go through puberty in front of full-length mirrors. Remember that normal development looks very different on everyone.
For vulvas (the visible part of your vagina), Streicher says there's a broad range of normal. "They can differ drastically in color, shape and amount of pubic hair, and they're often asymmetrical," she says. "Just like noses can be short or long, so can your labia—the inner and outer folds of the vulva at either side of the vagina."
The same is true for breasts and nipples, which can range drastically in size, shape and color. Asymmetry is also common, especially while developing, so don't be alarmed if one of your breasts is larger than the other. "Nipples range from light pink to brownish black. Some stick out like buttons, and others look more like slits," McDonald-Mosley says. "Remember, different is normal."
How much vaginal discharge is normal?
Most teens will start to notice some clear or white discharge on their underwear starting during puberty. This liquid, called leucorrhea, is completely natural. It may have a mild odor, but it actually helps your vagina stay clean.
How much you see will change slightly throughout your menstrual cycle, getting heavier when you're ovulating. "That's all completely normal," Cavanaugh says. "But if it's dark, itchy, has an intense odor, or comes with pelvic pain, you should see a doctor to check for an infection."
My doctor recommended birth control (for acne/heavy periods/pregnancy prevention), but I'm worried about gaining weight and other side effects.
According to Streicher, scientific studies say that the correlation between birth control pills and weight gain is a myth! That being said, each type of pill affects each body differently. Your doctor will do his or her best to prescribe the best option for your needs. (Streicher says that's usually a pill with a low dose of estrogen). You're most likely to experience nausea, spotting (bleeding between periods) or breast tenderness within the first two to three months after starting birth control, but then those symptoms usually go away. If you continue to notice unwanted side effects, feel free to ask if you can try something different. Just give it some time before making a switch.
What's the deal with the HPV vaccine? Do I need it?
HPV stands for human papillomavirus, a very common virus that is usually sexually transmitted. Some high-risk types of HPV can cause genital warts or cervical or other cancers, while other, low-risk types don't have harmful effects at all.
The HPV vaccine, called Gardasil, protects against the most common types that cause genital warts and cancer, and it's administered through three shots over a period of six months. "I encourage all my patients to get vaccinated as soon as possible," Streicher says. "Ideally, they'd do it even before they become sexually active, and it's FDA-approved for girls as young as 9 years old." No matter your age or sexual experience, ask your doctor about it—your body will thank you later
Oct. 25, 2016 07:56PM EST
As a dancer, cross-training is a non-negotiable aspect of staying healthy. But sometimes the prospect of another dreary gym session is…less than inspiring. Banish boredom and take a cue from these three pros—a ballet dancer, a modern dancer and a Broadway performer—who shake up their cross-training with unusual activities. We asked Kendall Alway, DPT, a physical therapist who runs SF Performing Arts Physical Therapy and is the associate director of the ODC Healthy Dancers' Clinic in San Francisco, CA, to weigh in on the effectiveness of each method. Look no further for exciting cross-training regimens that can keep your dancer body challenged, balanced and injury-free.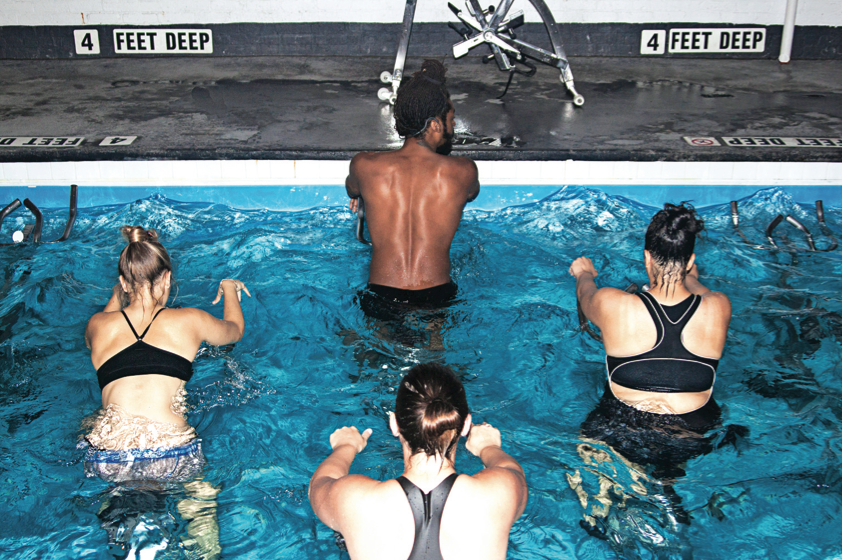 AQUA Studio NY (courtesy AQUA Studio NY)
Megan LeCrone, New York City Ballet soloist
Method: Aqua Cycling
When LeCrone sustained a neck injury, she turned to aqua cycling's low-impact training to help her get back on her feet. The unique class is like spinning—with restorative and high-intensity options—transported to a swimming pool. "The bikes are submerged," says LeCrone, "and the water temperature is very inviting. Your upper torso, head, neck and arms are out of the water. I could only use my body in a way that didn't cause strain, and when you're in the water you feel weightless."
That weightlessness, or buoyancy, reduces impact on your joints. "When high-intensity interval training is done in water, it's associated with fewer injuries. Aqua cycling should be very helpful for cross-training," Alway says.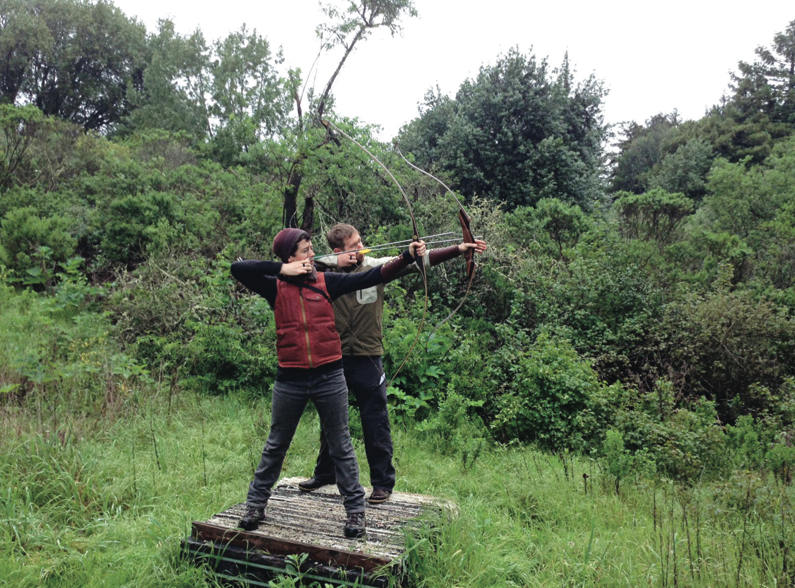 Rebecca Dean (front) practicing at Ohione Archery (courtesy Nico Gallegos)
Rebecca Dean, member of BANDALOOP  
Method: Archery
BANDALOOP dancers regularly rappel down buildings, bridges and cliffs as part of the company's vertical choreography, so Dean has learned to be ready for anything. She cross-trains her focus by practicing archery. "I go to an outdoor range in the redwoods above Oakland, CA," she says. "I didn't expect to stick with it, but it's grounding, requiring deep breaths and clarity." She recommends archery as a method to connect your mind and body. Alway agrees: "Practicing archery has been shown to increase mental focus," she says. "As archers become more skilled, they require less and less of their brain to shoot accurately. You could say this is better concentration and centering." That connection may be an especially important skill for remaining injury-free.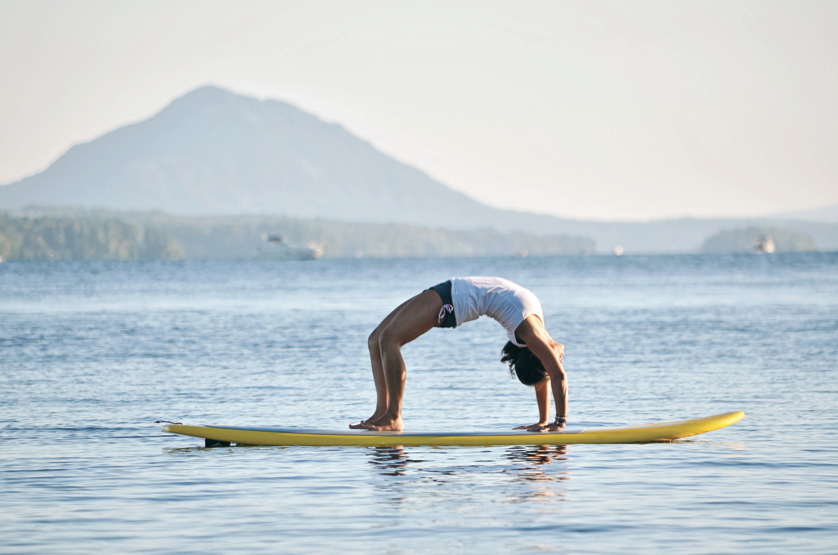 A paddleboard yoga practitioner demonstrates strength and balance (courtesy Thinkstock)
Sarrah Strimel, former An American in Paris ensemble member
Method: Paddleboard yoga
When Strimel performs on a repetitive eight-show-a-week schedule, she needs to even herself out through stretching and strengthening. If it's warm enough, she combines her passions for yoga and surfing into the perfect outlet: paddleboard yoga.
"It's exactly what it sounds like," Strimel says. "You take a paddleboard out on calm water, and in low-wind conditions, and then you do a series of postures on the board." The board adds an element of instability, turning even the simplest pose into a core-scorcher.
"Studies have found that yoga is especially helpful at improving core stability when it's combined with other stabilization exercises," Alway says.
That added effort means your paddleboard might feel more like a wobble board. "Don't be afraid of the water," Strimel says, "because you'll definitely fall in! You really need to use your center, even to do a downward-facing-dog pose."
Jun. 27, 2016 05:31PM EST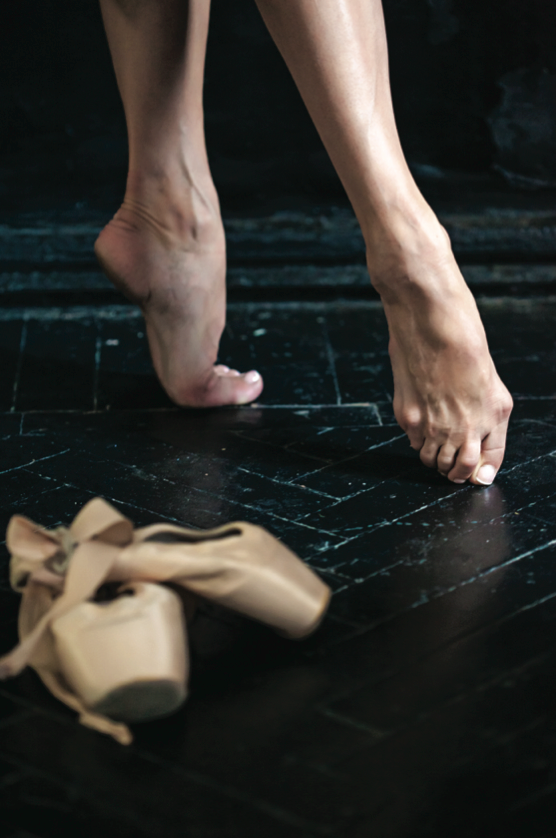 (Photo via 305/Thinkstock)
Podiatrist Thomas Novella remembers one of his first interactions with dancer feet. Fresh out of podiatry school, he saw a patient from The Joffrey Ballet and assumed he knew the clear way to help her out. "I thought I was doing her a favor by trimming her calluses off, just like I'd been trained to do," Novella says. "She called me every day for the next two weeks screaming at me until the calluses started to come back. I immediately learned my lesson!" Now more than 30 years into his career, Novella works with dancers from New York City Ballet, American Ballet Theatre and other dance companies at his practice in NYC, so he's not only learned the importance of calluses to protect delicate skin, but also things like the risks of an ill-fitted shoe, and the toll that Nutcracker season can put on a body. But not every dancer is lucky enough to have a doctor who knows the ins and outs of the dance world. Dance Spirit asked the experts to break down four common scenarios in which your doctor will be better able to help you if you can give a dance-specific description of your needs.
"Your Feet Are a Mess!"
You're experiencing pain in your fourth metatarsal and a twinge in your Achilles tendon. It's time to see a doctor—but you're afraid he or she will freak out once you take your socks off. To start, "Make sure your doctor knows that some things look like a problem in the normal population, but aren't in dancers," Novella says. We know our feet might not be pretty, but it's important that they be functional, which means something different to dancers than it does to non-dancers. "Things like thick nails, enlarged bunions and enlarged fifth metatarsal joints aren't unhealthy; they just tell the story of an instrument that has adapted to dance," he says. Emily Sandow, a doctor of physical therapy at NYU Langone Medical Center's Harkness Center for Dance Injuries, suggests describing to your doctor what kinds of shoes and floors have transformed your feet into the beautiful mess they are today—and why you'd actually prefer they stay that way. "Explain that dancing barefoot creates friction that can result in protective calluses, and the pressure of pointe shoes naturally causes blisters and corns," Sandow says. "After a detailed explanation, the doctor should be able to move more than skin deep to address the primary complaints of pain."
"Absolutely No Dancing."
When you go to a doctor with a foot or leg injury, the easiest way for them to ensure you heal properly may be to tell you to stay off of it. But all serious dancers know that a couple of weeks without dance sounds as ridiculous as a couple of weeks without air. Doctors who don't know a ton about dance may not realize there are ways to modify class to avoid putting stress on an injured limb. "I recommend that dancers actually take their doctors step-by-step through a dance class," says Katie Lemmon, a certified athletic trainer at Athletico Physical Therapy in Chicago. "If you can, demonstrate a barre on your uninjured leg, and ask specific questions about each step. 'Can I do this?' 'What if I do it without a relevé/heel lift?' 'What if I stand on two legs and just do the arms?' " If barre is out of the question, lie on the ground and go through a floor barre as your doctor points out things that are unsafe. It may be a painstakingly slow process, but you'll leave your doctor's office with a list of dos and don'ts to take with you to class.
"You're Too Thin."
You know keeping your body in tip-top shape is important, so when a doctor mentions that you're a little underweight for your age, it can be distressing. The key is to find out why your doctor is recommending you gain weight. It may be because your bone density is low, or because you haven't had consistent periods, which could lead to debilitating injuries or health problems in the future. Knowing what the underlying health issue is can make it easier to fix the problem without sacrificing the physique you've worked so hard for. "It may be that you're just overloading on carbs, when you should be focusing on more protein, calcium or vitamin D in your diet," Novella says. You could also try working with a nutritionist to tailor your diet to be sure you're getting all the nutrients you need. As long as you're not severely underweight, in which case gaining weight may be in your best interest, strengthening your body with adjustments to your diet is possible without putting on extra pounds.
"Dance Isn't Enough Exercise."
A good dance class or rehearsal (especially several of them in a row!) can be just as rigorous and exhausting as any soccer game, but a doctor who's unfamiliar with dance may still ask you to step up your exercise regimen. Instead of getting defensive, the key here is to help your doctor understand the specifics of your routine. The Centers for Disease Control and Prevention suggests 60 minutes of moderate- to vigorous-intensity exercise every day for children and adolescents, and 2.5 hours per week for adults. So it's up to you to explain to your doctor when and how you're meeting that standard. If your doctor's still not convinced, he may have a point. "If you're going to the studio four to six hours every day for training in a variety of dance styles, and all weekends are spent in dance classes and rehearsals, you're probably getting more than enough exercise, but taking low-intensity ballet classes twice a week doesn't make the cut," says Sandow. "Keep in mind that dance has been shown to be less physically intense than other athletic sports. This may be due to the quick bursts of exercise followed by longer recovery periods as the teacher explains a combination, or dance's emphasis on agility and grace, rather than speed, force and power." Feel free to ask another doctor for a second opinion, but you may also consider adding a little cross-training to your weekly routine.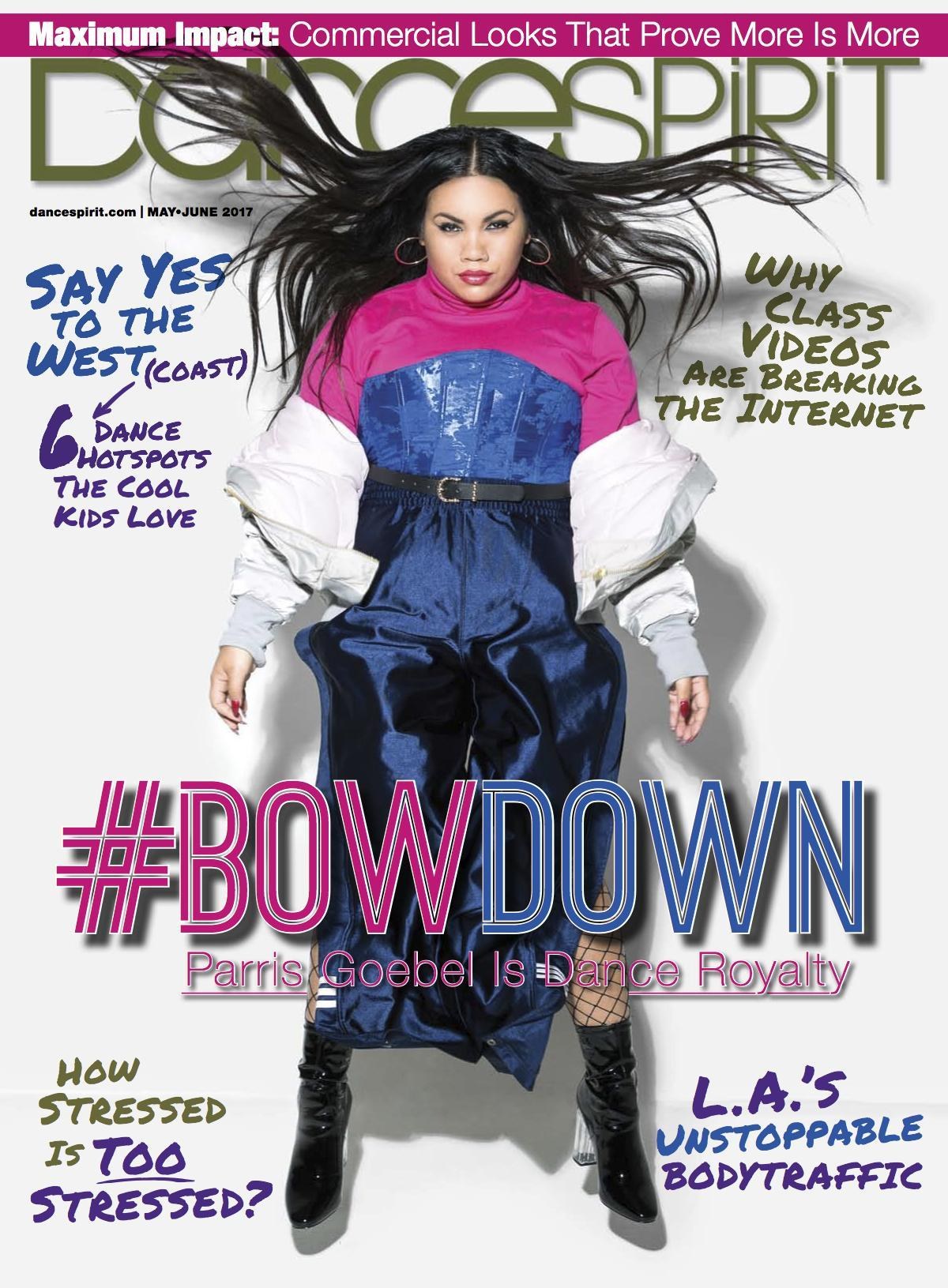 Featured College Dance Program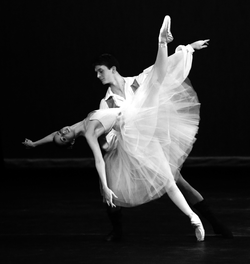 Get Dance Spirit in your inbox