Tap
Oct. 01, 2010 04:45PM EST
Picture a female tap dancer in heels. What do you see? A musical theater pro wearing a vintage 1920s-style dress or a hoofer dressed in loose-fitting clothes improvising to live music? In today's tap world, both images apply. Boundaries have shifted dramatically since the 1970s, when high-heeled tap shoes were reserved for Broadway-style tap and flat oxford-style shoes were associated with rhythm tap. What changed? Dormeshia Sumbry-Edwards, a hoofer in heels, came along and helped bridge the divide.
In 2002, Savion Glover invited Sumbry-Edwards to go on tour with his Tony Award–winning tap musical Bring in 'da Noise, Bring in 'da Funk. She was the only female cast member. "Savion said he wanted me to represent the ladies, which meant I went onstage for some numbers in a dress and heels," Sumbry-Edwards says. "The choreography didn't change for me though. It was still low to the ground, intense and hard-hitting. Audiences were amazed that I could do everything that they were used to seeing performed in flats while wearing heels."
Today, Sumbry-Edwards alternates between the two shoe styles. "My heels are just another instrument for me to play," she says. "I love both kinds of shoes and I love that I'm capable of dancing in both."
Head over Heels
So you want to tap in heels, too? Usually girls are ready to try heels when they hit their teenage years and their feet and ankles are strong enough to provide stable balance. Introductory high-heeled taps range from 1" to 1 1/2" high, while more advanced heels can be up to 3" high. Hillary-Marie Michael, a member of the New Jersey Tap Ensemble, recommends looking for a strong, sturdy heel that won't break if you're leaning or balancing on it. She also suggests having a cobbler insert a bridge (a triangular metal piece that runs between the sole of the shoe and the heel) to provide extra support.
Wearing heels shifts your body placement forward on to the balls of your feet, so executing certain steps requires slight adjustments. For example, to do a pullback in flats you would move your weight forward, making sure not to let your heels touch the floor. But if you're wearing high-heeled tap shoes, your weight is already on the balls of your feet. "You have to be extremely pulled up to make sure your heels don't drop," says Michaela Basilio, a 22-year-old cast member of Tap Kids.
Dancing in heels also forces you to hold your body more upright, which can change your stage presence. "Wearing heels makes me want to use my upper body more and to incorporate port de bras," Michaela says. L.A.-based tapper and "So You Think You Can Dance" Season 7 contestant Melinda Sullivan agrees. "Heels encourage you to incorporate your hips and your shoulders into your dancing," she says. "And wearing heels makes you think about extending the line of your leg."
Aesthetically, heels offer lots of costuming versatility and look great paired with dresses, skirts, pants or jeans. "I love fashion, and heels are another way to dress myself," Melinda says. "Shoes are one more part of your outfit and your character."
Flats Fans
While heels are alluring, many female tap dancers find that nothing beats the comfort of flats. "Flats are my go-to shoe when I teach and choreograph," says Lisa La Touche, an NYC-based tapper.
Flat tap shoes are made in the same oxford style for women and men, and many dancers feel that the shoe looks best when paired with pants or jeans. And flats have larger metal taps than heels, so the sound produced is a deeper, heavier bass tone. (The smaller metal taps on high-heeled shoes create sounds that are higher in tone.)
A dancer's body placement in flat tap shoes is centered between the toes and heels. According to La Touche, certain steps, such as side shuffles and toe stands, are easier to execute in flats because your weight is more evenly distributed. "The higher your heel, the more limited your range of motion," she says. Demi Remick, a 14-year-old tap dancer from Gilford, NH, agrees. "It's easier to reach for double and even triple wings in flats," Demi says. And because many dancers first learn to tap in flats, they feel more confident and comfortable wearing this shoe style when working on new or tough steps. "I can do more impressive steps in flats because I've been dancing in them longer," Demi says.
Whether you're a heels lover or forever committed to flats, it's important that you become comfortable with both shoe styles. "When you go to an audition, you never know what people are looking for, so why limit yourself?" Sumbry-Edwards says. "Make sure you can do it all."
Darrah Carr is a New York–based choreographer, educator and writer, active in both the Irish and modern dance communities.
Win It
Sep. 05, 2017 12:10PM EST
Photos by Erin Baiano
It's time to get your pirouette on! From September 5th to September 30th, we're hosting a contest to find out who's the best turner of them all.

Put together your most impressive turning combo. Post a video online. Share your turns with us and thousands of other dancers around the world. And if our editors think you're the top turner, you'll win a fabulous prize.
Keep reading...
Show less
All of 18-year-old Kaylin Maggard's dreams—from scoring the title of National Senior Outstanding Dancer at New York City Dance Alliance Nationals to winning the 2017 Dance Spirit Cover Model Search—are coming true. And to anyone who knows the gorgeous contemporary dancer, that's no surprise.
From the moment the Dance Spirit staff met Kaylin, it was obvious her humility and talent would take her far. Not only did she go full-out during the photo shoot and class at Broadway Dance Center, but she was always cheering on, laughing with, and supporting her fellow CMS contestants Haley Hartsfield and Michelle Quiner. During the voting period, the social media world was abuzz with praise for her work ethic, positive attitude, and generosity.
Since her CMS trip to NYC, Kaylin's moved from her hometown of Columbia, MO, to the Big Apple for her freshman year at Juilliard, and is busy getting acquainted with the city. As for the future? She's taking it one opportunity at a time, but something tells us we'll be seeing this contemporary queen reach new heights every year.
Keep reading...
Show less
New York City principal Lauren Lovette has become an icon thanks to her emotional maturity and exceptional musicality. The 26-year-old quickly rose through the ranks after joining the company as an apprentice in 2009, reaching principal status in 2015. A Thousand Oaks, CA, native, Lovette started studying ballet seriously at age 11, at the Cary Ballet Conservatory in Cary, NC. After attending two summer courses at the School of American Ballet, she enrolled as a full-time student in 2006. Last year, she made her choreographic debut with For Clara, her first piece for NYCB. Catch her latest work this month during the company's fall season. —Courtney Bowers
Keep reading...
Show less
In our "Dear Katie" series, former NYCB soloist Kathryn Morgan answers your pressing dance questions. Have something you want to ask Katie? Email dearkatie@dancespirit.com for a chance to be featured!
Dear Katie,
I know I'm not getting good enough dance training from any of my local studios. But I'm not sure I'm ready to move away to study at a big-name school, either. How do you know when you're ready to leave home to pursue your passion?
Marisa
Keep reading...
Show less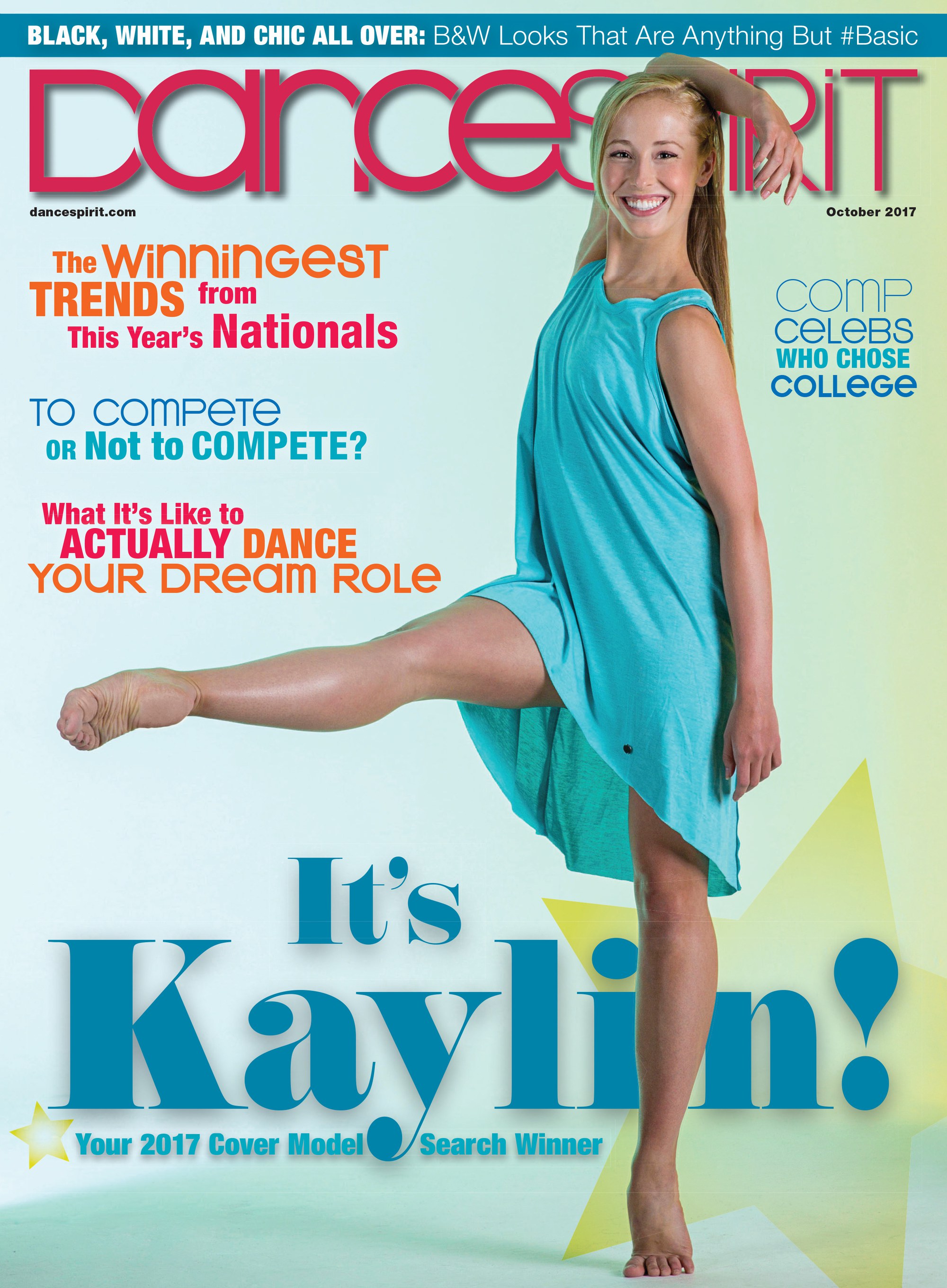 Get Dance Spirit in your inbox