Here's How to Deal if Your Teacher Doesn't Like You
(Thinkstock)
It's tricky to figure out how to relate to a strict dance teacher. Not every teacher and student will jibe in the classroom, and students hoping to make it as professional dancers need to develop thick skins to be able to deal with demanding directors and choreographers later on. But instructors who target or ignore you inappropriately can be detrimental to your training—and your emotional well-being. "I'm so tense when I'm with a teacher who's intimidating," says Allison Forderkonz, a dancer in Liverpool, NY. "I spend the whole class worrying that I'll disappoint them and get yelled at." How can you cope with these awkward—and sometimes worse than awkward—situations? We asked experts, and dancers who've been there, for advice.

---
Communicate with Someone You Trust

Issues with your teacher can't be resolved if you keep your feelings bottled up inside. "The first thing to do is talk with a parent or guardian," says Dr. Kate Hays, a sports and performance psychologist. Tell him or her how you're feeling in class and why. Does the teacher give you too many or not enough corrections? Do you feel the teacher yells at you? Are hurtful comments being made? Hash out the situation together.

Ask a friend whether she's noticed the teacher picking on or ignoring you. "One of my classmates tries to joke about always being put in the back corner in dances, but I know it's a sensitive subject for her," Forderkonz says. If your friend agrees with how you feel, ask if she can be with you when you talk to your parents. Having a witness to bolster your account will show them your situation is serious.

Let Your Feelings Be Known

Once you've talked out your feelings with your parents, consider speaking directly with the teacher. If your conflict is relatively minor, that might be the simplest way to fix classroom issues. "One of my preteen students felt picked on in class," says Angela Bates Majewski, of Angela Bates Dance Academy in Newtown Square, PA. "She and her parent approached me about it, and we decided I wouldn't correct her aggressively until she was ready. Two years later, they approached me again wanting me to push her in her technique."

But if your situation is intense enough that you'd be uncomfortable speaking to your instructor, make the studio administrator or owner aware of the problem. He or she can act as mediator, providing support to both you and the teacher. "As a studio owner, when I'm approached about a student, I'll always talk to the teacher about the issue," Majewski says. "Most of my teachers are taken aback and immediately want to fix the problem." Don't want to feel singled out? Ask the owner to bring up the issue without citing your name.

Have a Personal Plan

If, even after mediation and discussion, you and your teacher still aren't getting along, assess the seriousness of the situation. Is it unpleasant but not overwhelming? In that case, come up with ways to feel more comfortable in the classroom. Create a silent signal that you can send to a friend when you're feeling picked on or ignored, so she can stand next to you and offer quiet support. Imagery can also help. "Wrap yourself in an imaginary invisibility cloak, which can act as an emotional barrier," suggests Dr. Hays. "If your teacher yells at you, the cloak can dial down the noise. If the teacher is highly critical, the cloak can filter out the nasty parts and let the useful information come through."

But if the problem continues to escalate, or if it's affecting your progress, consider switching classes or studios. Leaving your dance friends may be difficult, but if your teacher conflict is unresolvable, getting out could be healthier for you and your dance career. Ask the owner if there's another class at the studio you might try. If that's not an option, it might be time to shop around for other studios.
(From left) ABT's Erica Lall; NYCB's India Bradley; Washington Ballet's Nardia Boodoo; NYCB's Rachel Hutsell (all photos by Rachel Neville)
Misty Copeland. Her name is synonymous with exquisite artistry and outspoken advocacy. And her visibility has made a huge impact on the ballet world. Ballet's relationship with race has always been strained at best, hostile at worst. But Copeland's persistent message and star quality have finally forced the ballet industry to start talking about racial diversity, inclusivity, and representation. "The rarity of seeing ourselves represented is sad," Copeland says. "The more we see every hue and body shape represented on the stage, the more possibilities young dancers feel they have for themselves."
Keep reading...
Show less
Popular
Feb. 18, 2018 07:00AM EST
Rippon after his stunning performance (via Instagram)
We love, love, LOVE figure skaters who completely embrace the dance aspect of the sport, putting real time and thought into their choreography and music choices (while also, you know, casually pulling off death-defying jumps). This Olympics, a lot of attention has (rightly) been focused on frontrunner Nathan Chen, whose ballet background lends him a beautiful grace and fluidity on the ice. But it was Chen's teammate Adam Rippon who stole our dance-loving hearts yesterday, making his Olympic debut with a routine choreographed by none other than "So You Think You Can Dance" alum Benji Schwimmer.
Friends: HE. SLAYED. And because Rippon is the first openly gay U.S. man to qualify for any Winter Olympics—ever—the performance marked a major milestone.
Keep reading...
Show less
Popular
Jan. 21, 2018 07:00AM EST
ABT JKO School student Miuka Kadoi shoiwng off her beautiful line (photo by Kenneth Edwards)
Contemporary phenom Christina Ricucci has super-flexible hips, which means she can stretch her legs to unbelievable heights. But when she noticed herself making contorted positions in class, Ricucci realized she was approaching her extensions all wrong. "I went back to the basics in class, squaring my hips and using my turnout," Ricucci says. "I learned to create proper positions, rather than whacked-out versions of them."
Some dancers are so wonky they have a hard time supporting their high legs, while others struggle with limited flexibility. But no matter your facility, you can find a balance of stretch and strength to achieve your fullest range of extension. It's not about how high (or not) your legs can go: It's the quality of the movement, and how you get those legs up, that counts.
Keep reading...
Show less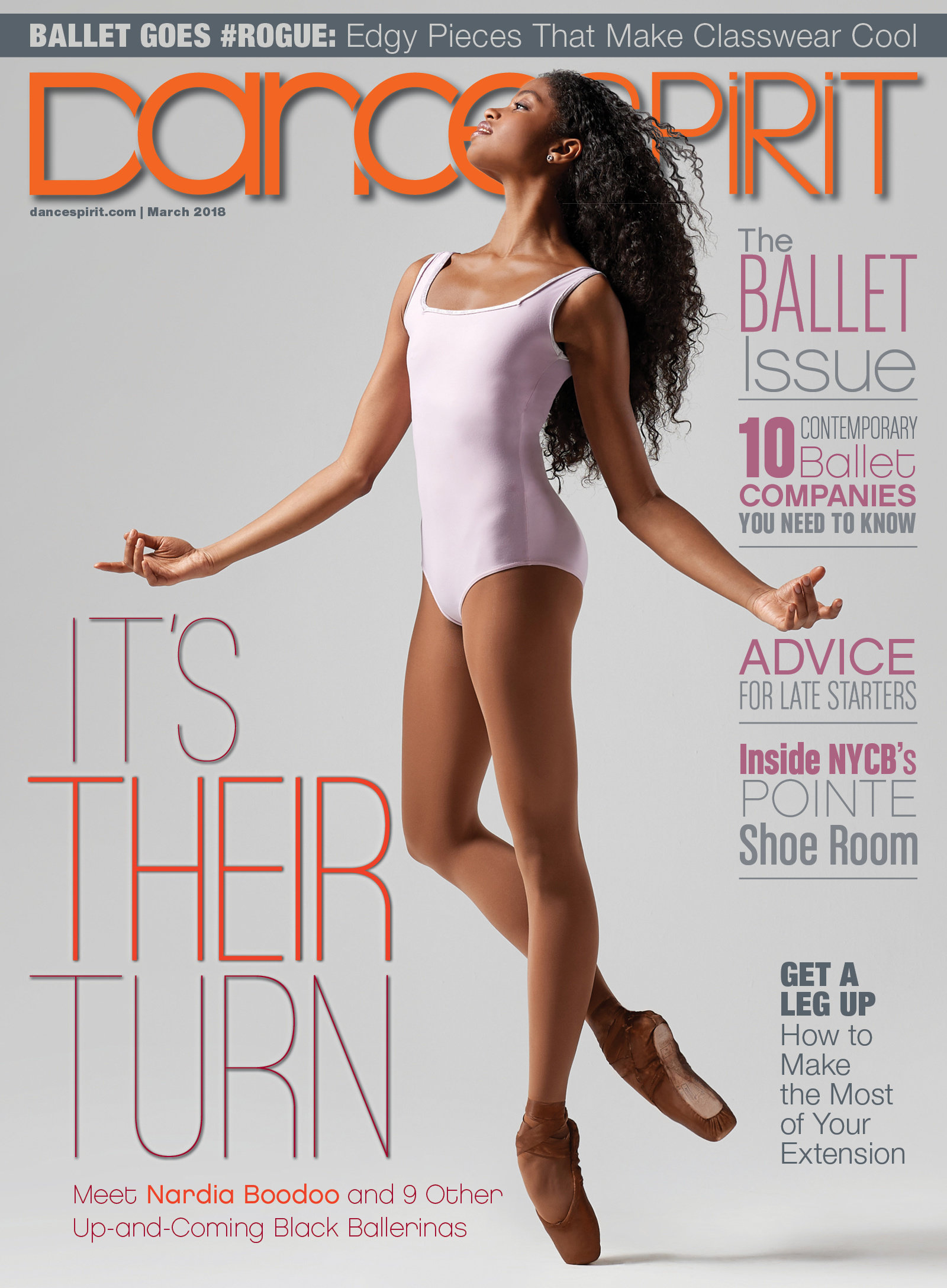 Get Dance Spirit in your inbox