Highlights of the 2013 New York City Dance Alliance Gala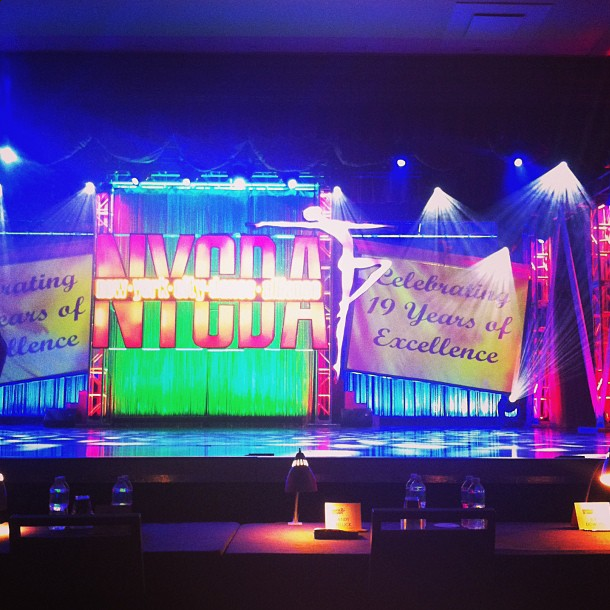 On Saturday evening, Dance Spirit editor-in-chief Alison Feller and I attended one of our favorite summer dance events: The New York City Dance Alliance closing-night gala. It's always jam-packed with dance celebs (Oh hey, Jakob Karr!) and is never lacking for awe-inspiring talent.
Here are a few highlights from the night:
The Rockettes opened the show with an instrumental version of Shine (one of my favorite numbers from the Radio City Christmas Spectacular!). They wore gorgeous silver dresses that had the NYC skyline across the bust—I was in love. And the crowd went nuts when they showed off their perfect kickline.
The NYCDA Foundation and multiple colleges and universities from across the country awarded high school juniors and seniors 3.4 million dollars in college scholarships. That's right, folks—3.4 MILLION! Lives were changed.
Kolton Krouse, the 2012 National Teen Male Outstanding Dancer, and Alexia Meyer, the 2012 National Senior Female Outstanding Dancer, danced two of the best solos (their farewells) I've ever seen. I'm not kidding—as soon as they finished the entire audience jumped to its feet in applause. I can't wait to see what they do next.
Three of the Top 5 senior female dancers were former/present DS Cover Model Search finalists! Last year's CMS winner Megan Skalla was fourth runner-up, 2013 CMS finalist Madi Hicks was third runner-up and 2012 CMS finalist Alyssa Ness was crowned the 2013 National Female Outstanding Dancer! We couldn't have been more proud of all three.
Here are the big winners from the night: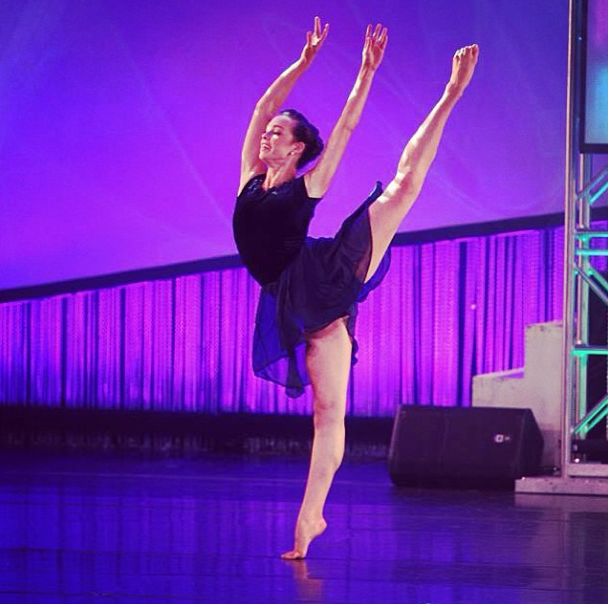 Jayci Kalb.
Teen Female Outstanding Dancer: Jayci Kalb
Teen Male Outstanding Dancer: Jake Tribus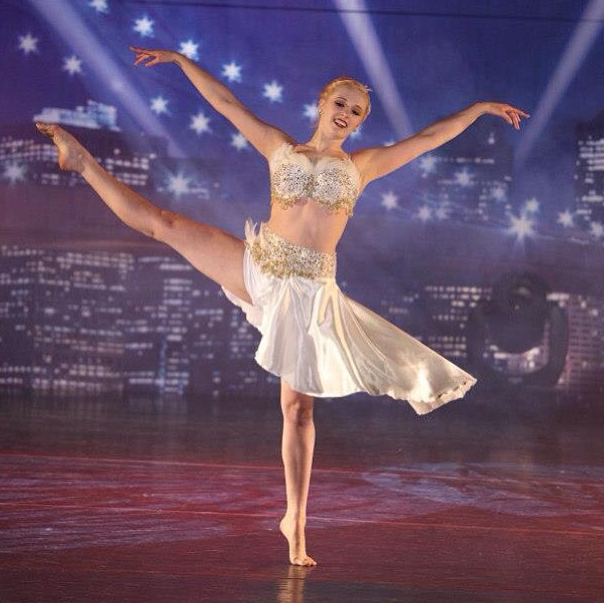 Alyssa Ness.
Senior Female Outstanding Dancer: Alyssa Ness
Senior Male Outstanding Dancer: Alex Soulliere
Teen Critics' Choice: Wings from The Dance Club in Orem, UT
Senior Critics' Choice: From the East from The Dance Club in Orem, UT and Solitude from Inspire Dance Company in Las Vegas, NV (For the first time in 19 years, there was an exact tie!)
Leah Morrison in Trisha Brown's If You Couldn't See Me, in which the soloist never faces the audience (photo by Julia Cervantes, courtesy Trisha Brown Dance Company)
Postmodern pioneer Trisha Brown redefined how dance is seen and felt. A founding member of Judson Dance Theater, Brown frequently collaborated with other experimental artists like Yvonne Rainer, Merce Cunningham, Twyla Tharp, and Steve Paxton.
She embraced pedestrian movement, pairing everyday gesture with rhythm and fluidity. "It's liquid," says Wendy Perron, who danced with Brown in the '60s and '70s. "Like a river with many tributaries, water coming out of a faucet, or being on a raft and seeing the water move away in different directions." Brown also pushed beyond stages with choreography in fields, museums—even on the sides of buildings.
Keep reading...
Show less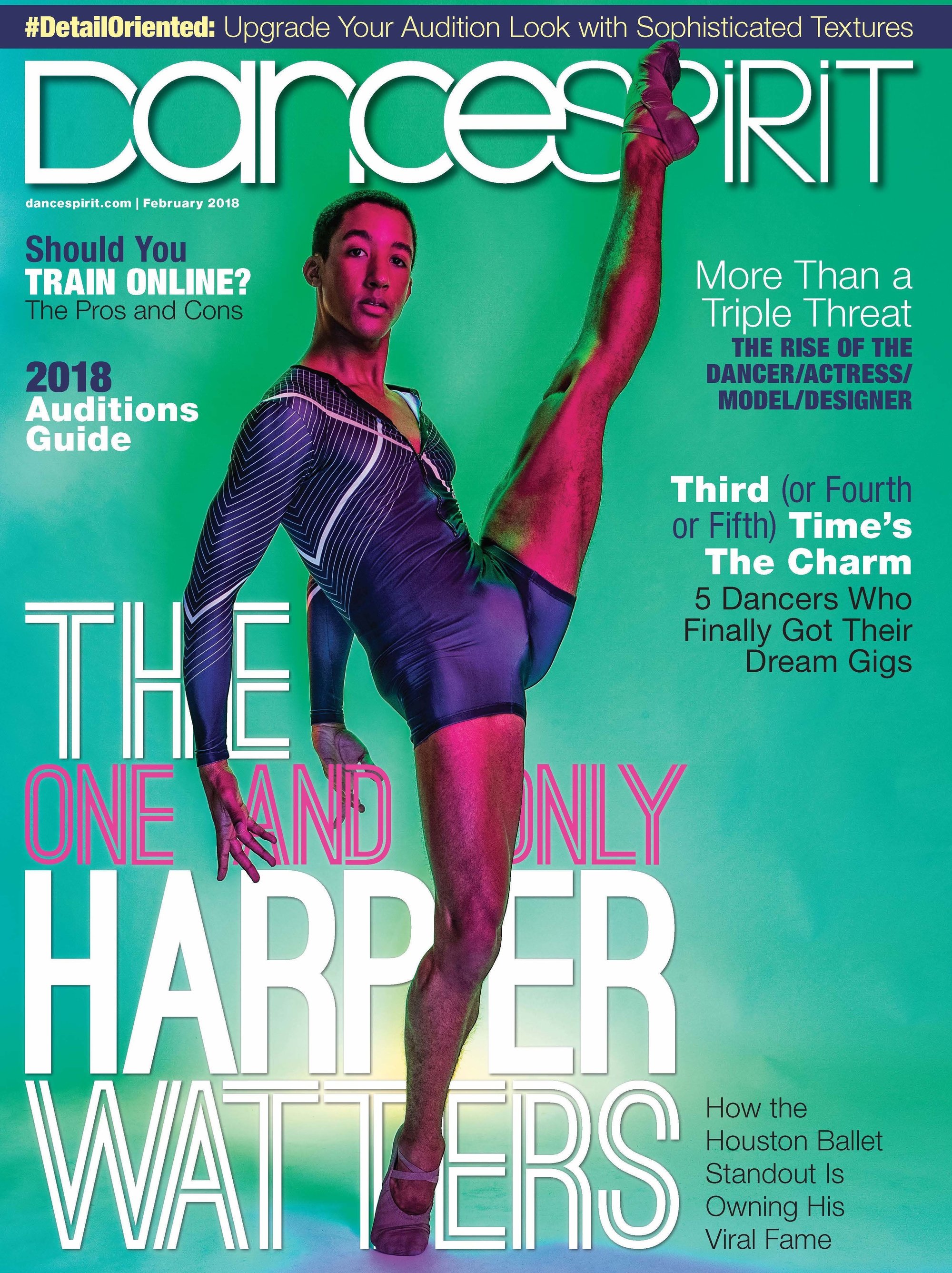 Get Dance Spirit in your inbox