How Chantel Aguirre Stays Healthy, Happy, and at Peace While on the Road With Shaping Sound
Via @chantelaguirre on Instagram
Chantel Aguirre is a member of Shaping Sound, a newlywed, and a former Dance Spirit cover girl. And if you happen to follow her on Instagram (which you obviously do, right?), you know that the ballerina-turned-contemporary-dancer seems to permanently rock the dreamy, ethereal glow of a well-rested goddess. How does she take care of herself, even while touring the country in Shaping Sound's newest show, After the Curtain? "My overall goal every day is finding balance," Aguirre says. "I try to fuel myself with all things pure—in foods, in the people I surround myself with, and in my overall mindset." Here are 11 more ways Aguirre keeps her mind and body at peace on the road.
---
She does what she loves with the people she loves...
"Being on tour is absurdly exciting, overwhelming, and invigorating," says Aguirre. "The fact that we are constantly surrounded by our best friends and our art, and that we're able to constantly share it—that in itself fuels me. The people I tour with and the time we get to share exploring the cities we're in is so special. I try to step out of myself daily and see the position I'm in, the things I'm blessed enough to do 'for work,' and it grounds me and astounds me."
...and one of those people is her husband!
"I am so grateful to travel and dance every night with my husband, Michael Keefe," Aguirre says. "Just saying that brings me joy, but experiencing it is surreal."
She helps people—and herself
"I feel that health and wellness can come from an overall mindset of peace, and when you give and promote love, you feel it in return," Aguirre says. "I've realized through this tour, even though I'm not out in the world voicing my opinions and views on a better way of treating others, that our show and the message behind it are doing those things. I've had so many fans message me or talk to me after the show about how the show moved them, how my character and her position changed them, and how they feel more empowered after experiencing our story. That means everything to me. That mends my aches and pains, and gives me the energy to do five shows in a row."
She celebrates her tribe
"Every night after the show, we watch our performance on the tour bus," Aguirre says. "We change, construct, and celebrate the other dancers. Those moments are big for me. They make our story more united."
She's constantly researching healthy hot spots
"Kate Harpootlian, my husband, and I do extreme research on our tour bus rides en route to our next city," Aguirre says. "We find the healthiest cafes, the places that brew up great almond milk matchas, and the best hot yoga classes."
She follows a mostly animal-cruelty–free lifestyle—but doesn't drive herself crazy with it
"I mainly eat vegan, with some fish here and there, so finding good, healthy food on the road is a priority," says Aguirre. "I'm not insanely strict because of all the traveling, and sometimes all I can find is something with a bit of dairy or fish, so I let it be. All in balance, right?"
She keeps healthy snacks on standby
"I always travel with RX Bars that have minimal ingredients and natural, organic dried mangos," she says. "And matcha is my mate! I'm in love with all things matcha. It's a great alternative to coffee, with so many health benefits. It's made from the highest quality green tea, and it's rich in antioxidants. Pretty powerful stuff!"
She loves hot yoga
"Hot yoga is my favorite way to reorganize my body and mind," Aguirre says. "It's a safe space to challenge my flexibility and focus. If I take a class on a show day, I still feel warm, centered, and grounded before our stage warmup. My favorite classes are at Core Power Yoga—I love the C2 Vinyasa Flow class. By the end of class, you're in a puddle of sweat and you feel so clear."
She's into the little details that make a big difference
"Candles are huge—I light them everywhere we go," she says. "Candles change the overall vibe and ambiance as soon as they're lit. I also travel with the matchbooks we gave out at our wedding that say, 'The Best Is Yet To Come.' Every time I light a candle, my mind lights up with the most beautiful memories of that day."
She travels with essential oils and Harry Potter
"I'm an essential oil addict," she says. "I love DoTerra essential oils and use them to remedy everything. I'm a firm believer in using natural products to ease aches and illnesses. I even put my oils in my evening or morning baths. If there's a tub, I'm in it—and I'm reading in it! My favorite books to escape into are the Harry Potter series, but I also love books on enlightenment, health, and healing. I'm currently reading Tell the Truth, Let the Peace Fall Where it May by Bryan Reeves."
She prioritizes exploration
"Exploring is my other passion besides dance," Aguirre says. "I love seeing new places, sights, and hidden gems. Michael and I love walking around, finding little shops and vintage stores, and adding little things to our memories. It makes me more whole."
Related Articles Around the Web
(From left) Mean Girls dancers Riza Takahashi, Ben Cook, Kamille Upshaw, Jonalyn Saxer, DeMarius R. Copes, and Stephanie Lynn Bissonnette (photos by Erin Baiano)
Get in, losers. We're going to Broadway.
OK, not losers, actually—more like the bajillion die-hard fans of Tina Fey's 2004 cult hit Mean Girls, who've been wearing pink every Wednesday since a musical adaptation of the film was first teased back in 2013.
Now their world is like a cake filled with rainbows and smiles, because Mean Girls the musical, which had a trial run in Washington, DC, last fall, is set to open at Broadway's August Wilson Theatre April 8. And in a very grool twist, it turns out the show—with direction and choreography by Casey Nicholaw and a book by Fey herself—is delightfully dancey.
Keep reading...
Show less
Brian Friedman (photo by Louise Flores, courtesy Friedman)
Brian Friedman is not only a legend in his own right—he's also worked beside the biggest legends in the business. Growing up a Scottsdale, AZ, comp kid, Friedman was soon dancing behind Michael Jackson, Celine Dion, and Paula Abdul, and as an OG Newsie in the 1992 film. Now he calls the shots: He's choreographed and been creative director for icons like Britney, Cher, Beyoncé, and Mariah. Nominated for five MTV VMAs, two Music Video Production Association Awards, and four American Choreography Awards, Friedman's won an Industry Voice Award for best choreography, and a World of Dance award. Dance Spirit talked to Friedman to find out what inspires him. —Helen Rolfe
Keep reading...
Show less
How To
Jan. 30, 2017 01:44PM EST
Illustration by Lealand Eve
A few years ago, 16-year-old Kayla Gonzalez found herself dancing alongside a mean-spirited girl. "She could be so rude," says Gonzalez, who trains at The Dance Zone in Henderson, NV. "It got worse at competitions. She'd make up lies, saying my teammates and I were doing things we weren't. She was always trying to get ahead." Sound familiar? A competitive environment can bring out the very worst in some dancers' personalities. When put in a stressful situation, students can become bossy, overdramatic or downright mean. Here, DS breaks down four toxic types you might encounter, and offers tips on how to respond.
Keep reading...
Show less
University of Minnesota Dance Team (courtesy University of Minnesota)
They say there's no "I" in "team"—and nowhere is that truer than the world of college dance teams, where precision reigns, uniformity is key, and a single misstep from any given "I" can cost a group a championship trophy. So it's unsurprising that securing a spot on one of the best dance teams in the country is no easy feat.
Members of these highly athletic teams rehearse for hours every week—on top of academic classes and commitments—and perform at football and basketball games, annual concerts, and nationally televised competitions (hi, ESPN). And "no I" rule notwithstanding, each of these top teams is made up of highly trained, highly technical, highly hard-core individuals, who come together to create a ready-for-victory pack.
These six teams aren't one-off success stories—they're consistently strong, and earn the top spots at major competitions like UDA and NDA nearly every year. Up for the challenge? Here's what to know before you go to auditions.
Keep reading...
Show less
Caissie Levy as Elsa in Frozen (Deen van Meer, courtesy Disney)
Let it gooooo! The much-anticipated musical version of Frozen, with choreography by the fabulous Rob Ashford, opens on Broadway tonight. And to get you even more excited about this latest dancy Disney venture, the show's team just released a brand-new trailer—a sneak peek at how they've translated the film's special magic into perhaps-even-more-impressive stage magic.
Keep reading...
Show less
#1: Remembering all the choreography for your approximately 37 different routines. (Evolve Photo, courtesy New York City Dance Alliance)
Dance competitions are where great memories are made. But—between the traveling, the challenging routines, and the bazillion costume changes—they're also the source of many, many #struggles. If you're a comp kid, you'll 100 percent be able to relate to these 10 problems.
Keep reading...
Show less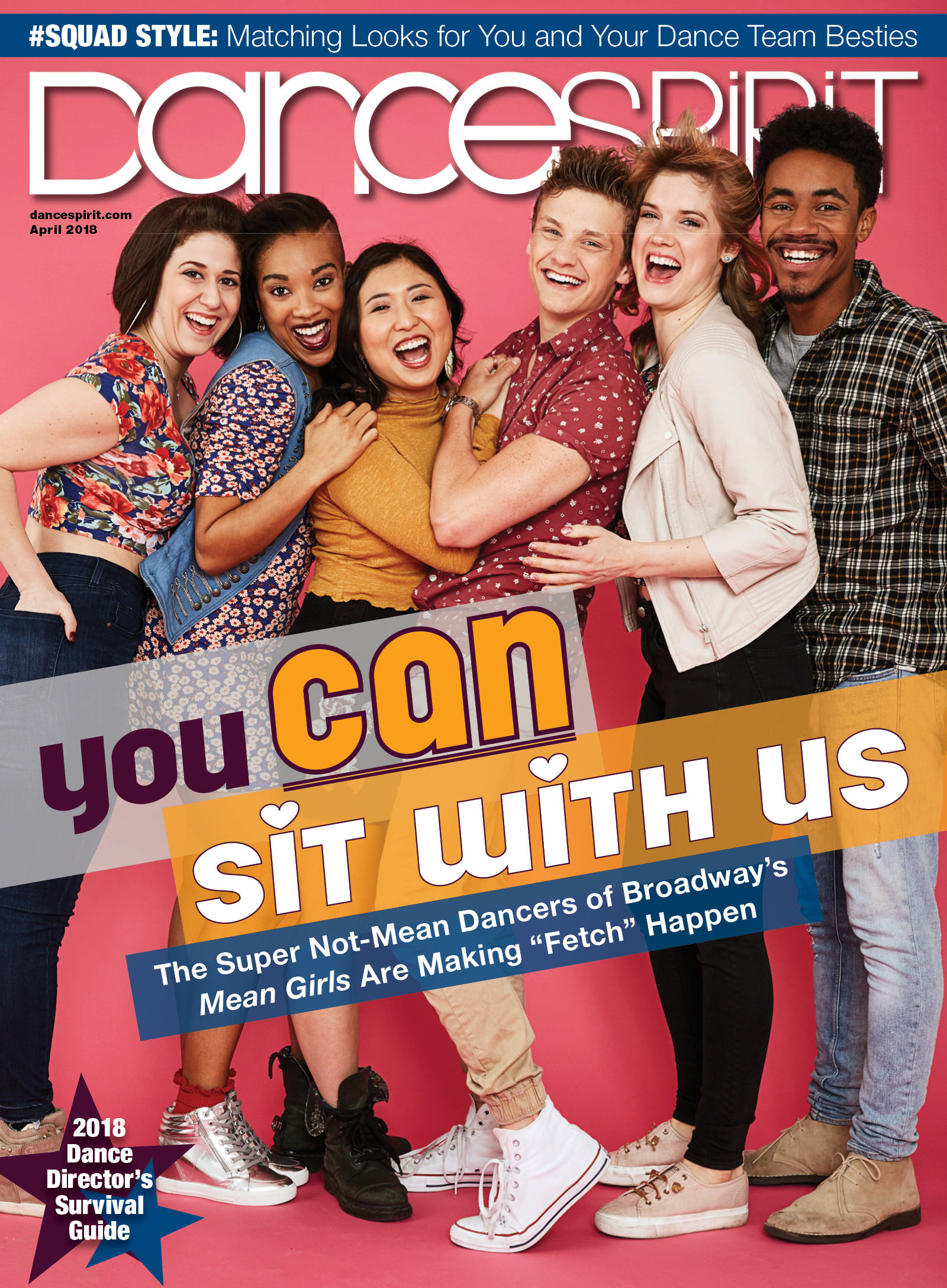 Get Dance Spirit in your inbox