How Charlize Glass Morphed From Baby to Beast On the Dance Floor
Photo by Joe Toreno
Some might say Charlize Glass' fame kicked off with a single three-letter word. In 2014, Beyoncé shared a video of the then–12-year-old dancer performing to "Yoncé" on Instagram, along with a simple caption: "WOW!"
But by that point, the hip-hop mini had already performed at the MTV Video Music Awards and on "The Ellen DeGeneres Show," and won first runner-up with her crew, 8 Flavahz, on "America's Best Dance Crew." And her Queen Bey Insta shout-out wasn't even the pinnacle of her tween career: She earned a spot on The PULSE On Tour as an Elite Protégé for the 2014–2015 season, and performed with Missy Elliott at the Super Bowl XLIX Halftime Show in 2015.
These days, the 16-year-old spends her time touring the country as Brian Friedman's assistant at Radix Dance Convention and blowing up YouTube and Instagram with her class-video cameos. And while the Char Char we fell in love with was a hip-hop cutie pie, the more mature artist we see today is sure to rock the dance world for years to come.
---
Becoming a Beast
Perhaps the biggest challenge that comes with early success is finding a way to keep growing. For Charlize, that's meant getting to know as many different artists and styles as possible. While she follows a handful of choreographers faithfully—Brian Friedman, Kyle Hanagami, and Tessandra Chavez, to name a few—the L.A. native takes class all over La La Land, and always keeps her eye out for up-and-coming choreographers on social media. "Anytime I see a new name come up on the schedule at Movement Lifestyle, The Playground, or Millennium Dance Complex, I'm like, 'I have to go!' " she says. The choreographers who have been working with her from the start see the difference. "She has grown so much over the past six years that I've known her," Hanagami says. "The amount of texture she has in her movement is far beyond her years."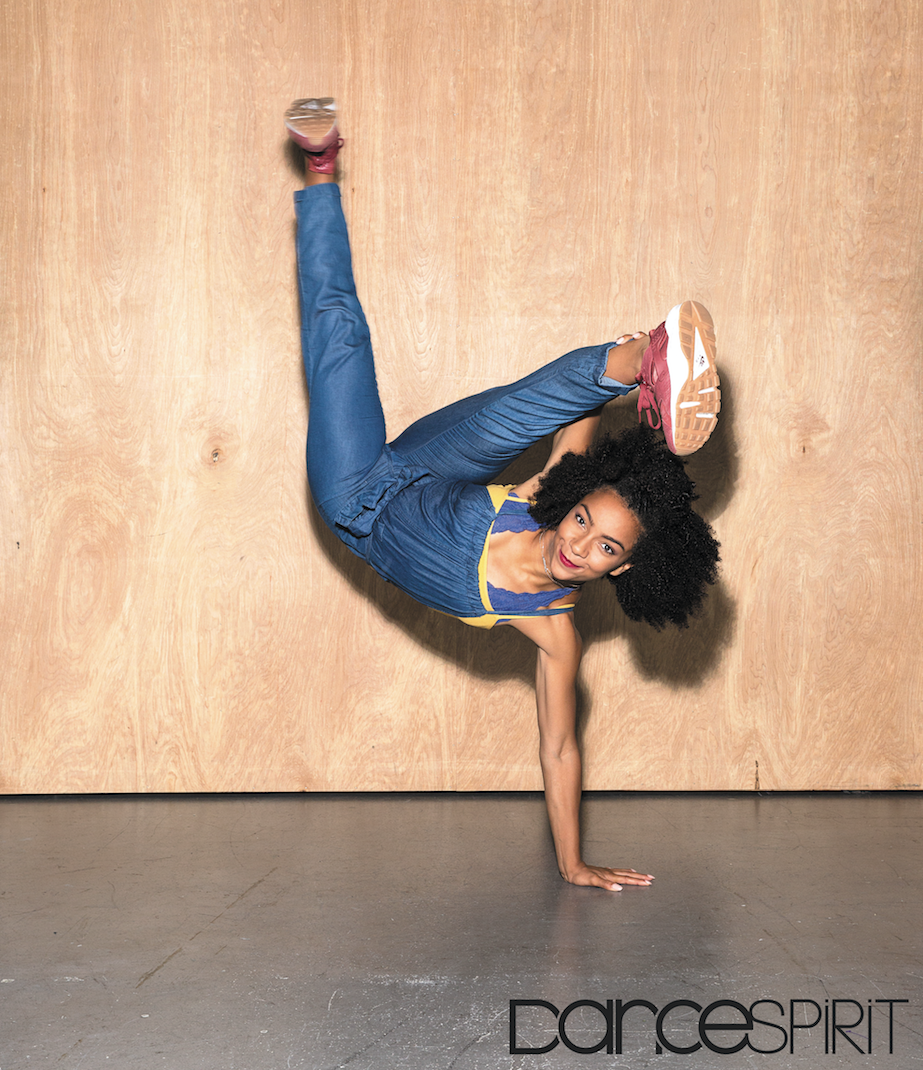 Photo by Toreno
"When Charlize was younger, she would be so nervous around me that she'd sometimes mess herself up," says Friedman. (He hired Charlize the first time he saw her, when she was just 8 years old.) "She had a breakthrough a couple of years ago, at the end of her season with The PULSE On Tour. At one of the last cities, I had to put her in with the older kids, because I didn't have enough dancers. She out-danced everyone on that stage, and I knew that she had overcome her phobia. From that point forward, she was untouchable."
The Radix Effect
Charlize owes much of her recent growth to her job assisting Friedman on tour with Radix Dance Convention. The gig includes everything from dancing alongside Friedman in classes to putting on a headset during performances to manage things backstage. "Radix has helped me mature as a dancer and a person," she says. "The first time I put on that headset, I was so nervous, but now I'm not."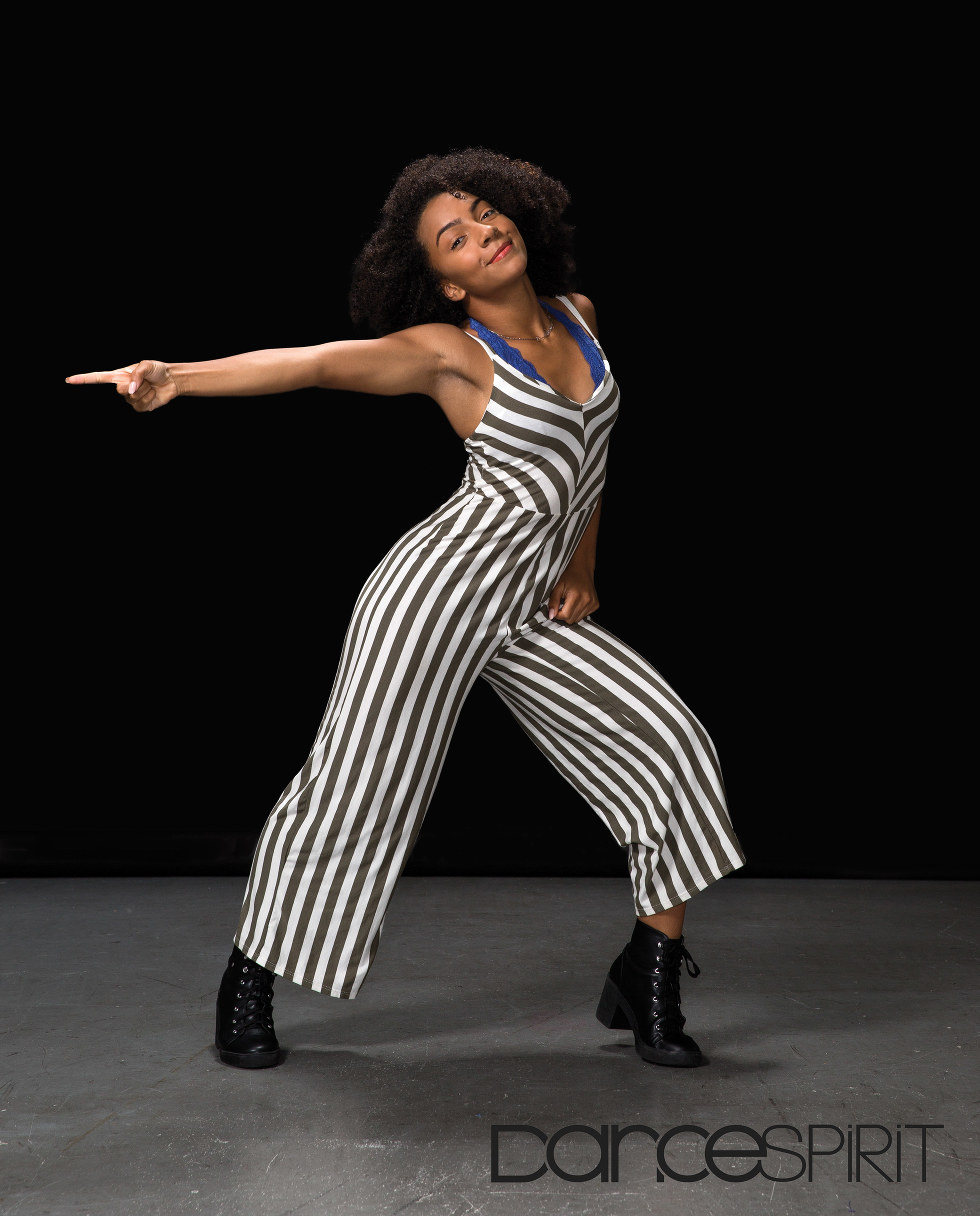 Photo by Toreno
Increased exposure to ballet and contemporary classes at Radix has also helped Charlize polish her technique and become a more well-rounded dancer. She's found that contemporary classes have actually taken her hip hop to another level. "I hear different aspects of the music, and it's made me smoother in between the hits," she says. "It's helped me develop my own signature groove, flowing from one beat to the next."
Young Fame
Getting discovered as a preteen certainly has its perks—like being on texting terms with many of the industry's top artists. "I'm lucky, because now I tend to get texts about job opportunities from choreographers," Charlize says. "Every audition is basically a direct book."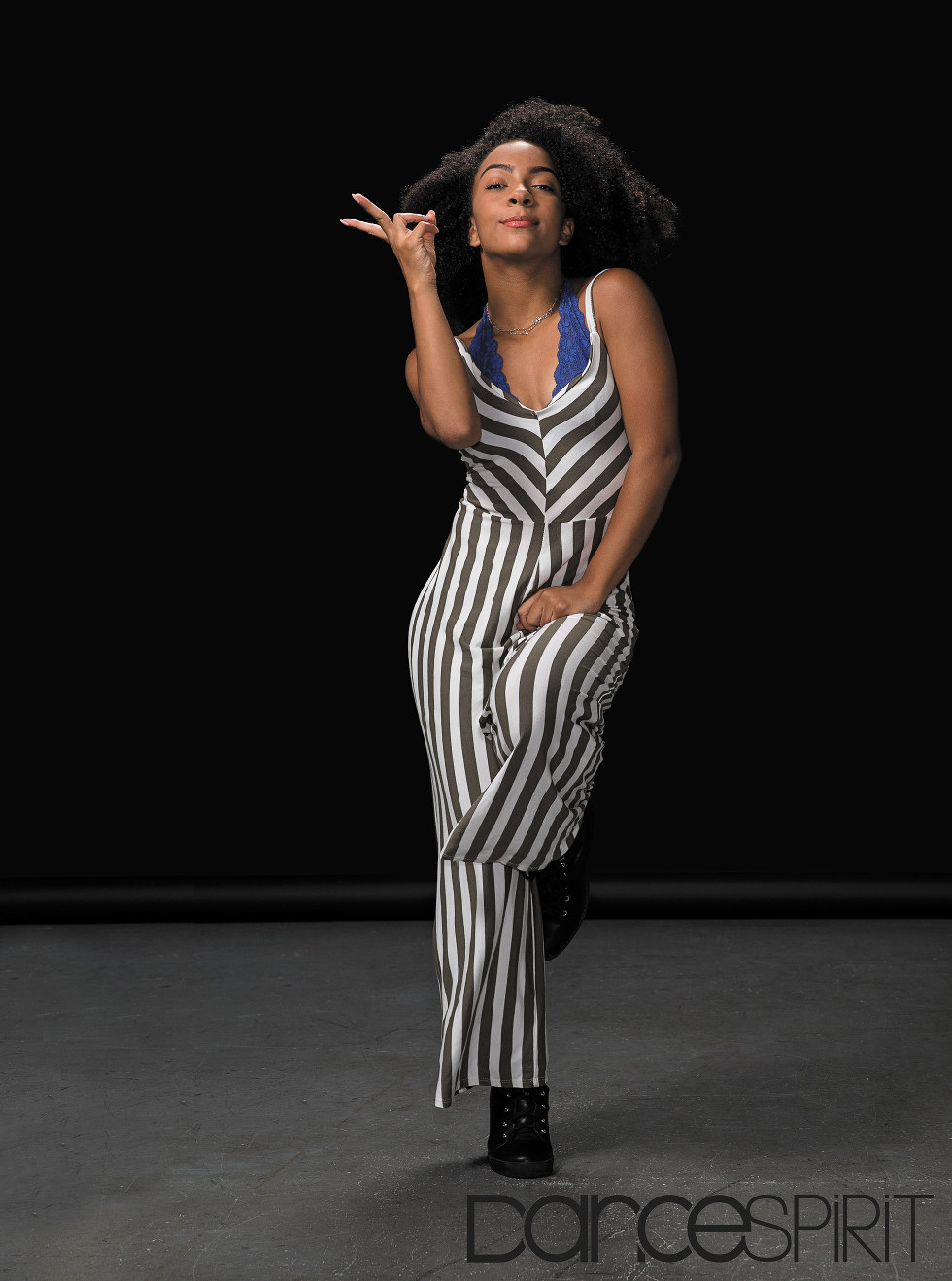 Photo by Toreno
Early fame does have its drawbacks, of course. Since Charlize can hold her own among much older dancers, choreographers sometimes forget that she's a high-schooler, with high school responsibilities. "Adults don't have homework!" she says, laughing. But Charlize admits that recognition from industry insiders helps her feel confident about the future. "I know I have a definite path for my career," she says. And she's careful not to let her success go to her head—because that's not her. "A lot of dancers will do well in this industry," she says, "but when they let it change their personality, people don't want to work with them anymore."
A version of this story appeared in the January 2018 issue of Dance Spirit with the title "A Char Char-med Life."
(From left) Mean Girls dancers Riza Takahashi, Ben Cook, Kamille Upshaw, Jonalyn Saxer, DeMarius R. Copes, and Stephanie Lynn Bissonnette (photos by Erin Baiano)
Get in, losers. We're going to Broadway.
OK, not losers, actually—more like the bajillion die-hard fans of Tina Fey's 2004 cult hit Mean Girls, who've been wearing pink every Wednesday since a musical adaptation of the film was first teased back in 2013.
Now their world is like a cake filled with rainbows and smiles, because Mean Girls the musical, which had a trial run in Washington, DC, last fall, is set to open at Broadway's August Wilson Theatre April 8. And in a very grool twist, it turns out the show—with direction and choreography by Casey Nicholaw and a book by Fey herself—is delightfully dancey.
Keep reading...
Show less
Quiz
Dec. 11, 2017 04:24PM EST
Alicia Vikander in Tomb Raider (Warner Brothers)
Keep reading...
Show less
Via @dreamcatchersda on Instagram
Everyone loves a good viral video, especially when there's dancing involved. And though many viral videos are contrived and created for the soul purpose of instafame, the story behind the latest video catching the eyes of millions—including Rihanna, super model Naomi Campbell, and Diddy—is even more unique because it features children who don't even know who those celebrities are.
A dance troupe in Nigeria has become the next internet sensation, thanks to their exuberant dancing and passion with which they perform. Their enthusiasm for dance is evident in every step and it's hard not to smile as you see these children (who range from ages 6 to 15) express pure joy in something as simple as dance. These nine kids are part of The Dream Catchers, an organization started by 26-year-old Seyi Oluyole, that gives impoverished children a place to live while teaching them how to dance.
Keep reading...
Show less
Illustration by Dniella Ferretti
For 16-year-old Amanda*, dance is everything: her passion, her escape from the daily grind, and her career goal. Her parents see things differently. "I have siblings who are active in sports," Amanda says, "and my parents would rather I play soccer or basketball. They don't see dance as something I can earn a stable living from in the future. They often tell me I should just quit."
Some parents aren't able to, don't know how to, or choose not to give you the kind of support you need to thrive in the studio. And when your parents are adding stress to your life, rather than alleviating it, there's a lot at stake. "Dancers who don't have the support of their parents might struggle with self-doubt," says Dr. Linda Hamilton, a former dancer with New York City Ballet and a clinical psychologist specializing in the performing arts, "while those whose parents are too involved can crack under the pressure." Whether your parents aren't there when you need them or they're always there, practically smothering you, try these tips to improve your situation.
Keep reading...
Show less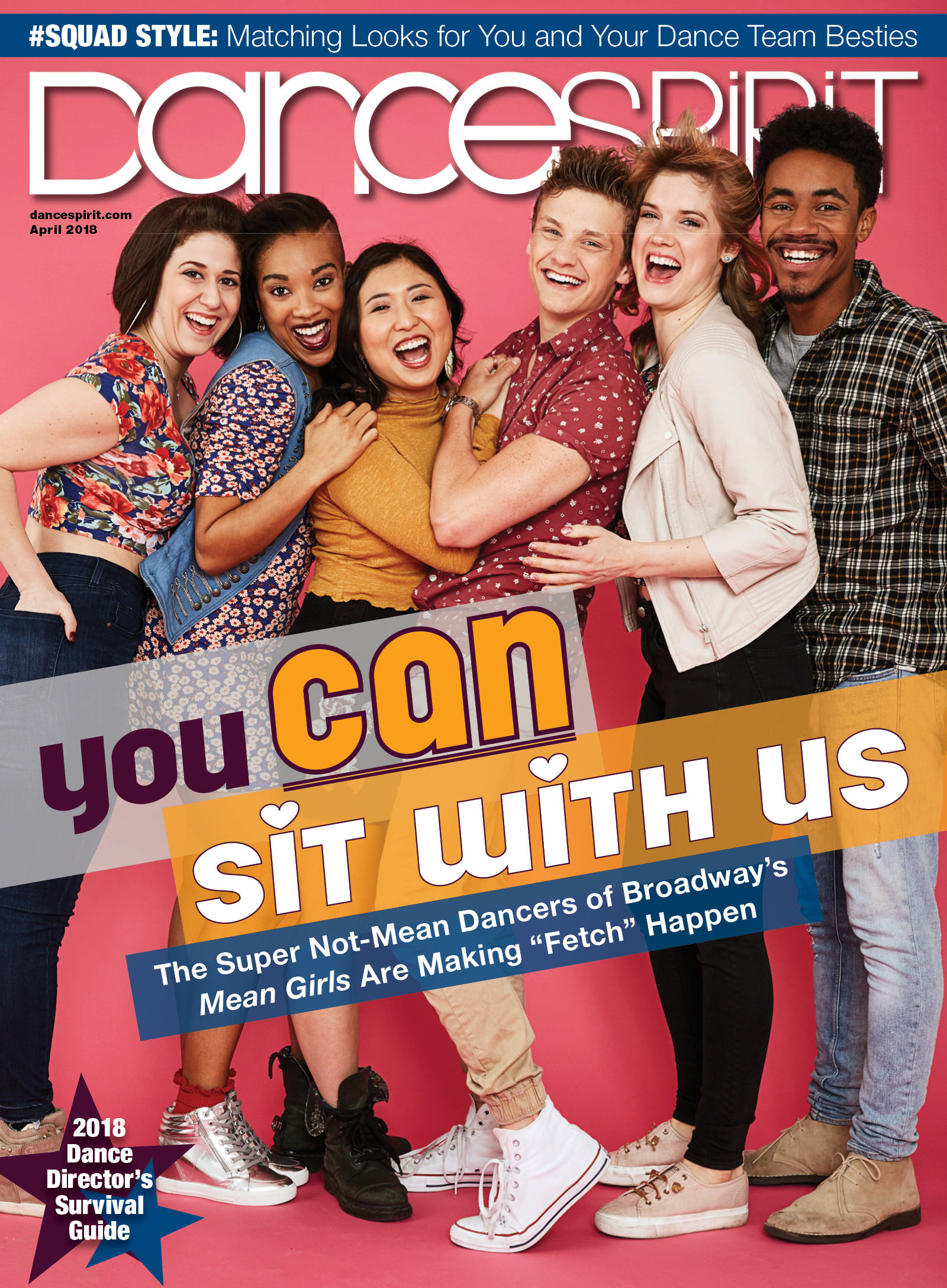 Get Dance Spirit in your inbox