Mar. 19, 2009 01:02PM EST
How to deal when you aren't accepted into the dance department
You did your research, chose the perfect college, applied and got in. Yay! So you deck yourself out in your new school colors, register to audition for the dance program, show up and do your best. But then you get your letter in the mail—and it isn't pretty.
While the initial news of not getting into your college dance department was shocking, it's time to come up with a new plan. You may not be considered a "dance major," but chances are this isn't the end of the world—or your dance career. Here are some other options on and off campus to get you dancing again.

Try, Try, Try Again
Don't take a "no thank you" as an absolute rejection. Some schools may just want dancers to improve in specific areas before admitting them. "Most of the time, there are alignment problems," says Andrea Shearer, dance division director at Kent State University. "Basic posture and placement is too off. We want them to strengthen their core and align their pelvis, then come back." To help, the KSU faculty offers a checklist of things to improve on and classes that are available to students not majoring in dance. Dancers who don't make it on their first attempt can audition up to three times.
Brittany Klein, now a junior at KSU who tried out unsuccessfully as a senior in high school and again that summer, was instructed to return after taking the modern and ballet classes offered at the school. (Tip: Most colleges have technique classes for students not majoring in dance, so if your school doesn't recommend classes for you, ask which are available and how you can sign up for them.)
"My alignment was half the problem and why everything else was off," Klein says. Her teachers were told to keep a close eye on her since she wanted to audition again. "For the first two weeks, my teacher would actually hold my body in the correct position," she says. One semester, two completed classes and several home exercises later, Klein was ready to give the audition another try. "The audition was basically the same, but I had a stronger base of technique," she says. After three tries, Klein successfully entered into the program as a dance minor.
If you know you're auditioning for a prestigious, challenging program, don't take it too hard if you're not accepted. At Indiana University's Jacobs School of Music, roughly 10 percent of dancers from each audition get in. "This means only three or four dancers (including men and women) will make it from a class of 40," says Michael Vernon, chair of the ballet department at IU. This ballet program is known for only taking students who appear ready to dance professionally.


Join a Campus Dance Group
There are tons of opportunities to dance on campus, even if you don't see them immediately. If performing is your heart's desire, try out for the school dance team. This group likely performs at basketball and football games, and gets numerous opportunities to wow the crowd. If you can sing and act, why not audition for a musical? Theater departments are always looking for triple-threat performers. If your sorority doesn't take part in an annual dance show, get one started! With so many girls, there will definitely be a few who want to be in the spotlight. Spend a handful of nights together (with pizza of course!) choreographing, and then show off your work at the next Greek event.
If you're really lucky, your school might even have a student-run dance group. At Syracuse University in New York, DanceWorks has been around for more than 20 years. "It's something that's really exciting and valued on campus," says Lisa Mara, senior co-director of DanceWorks. "People respect the organization because it's student-run but professional." DanceWorks is actually associated with the school through the gym and has a club allotment (funding!) from the university. This means all practice space and scheduling is done through the physical education department—not the dance department.
The process starts in September with choreographer auditions, which are open to undergrad and grad students. "They come with a vision for their dance and we select 18 to 19 pieces for the show," Mara says. "It's diverse. We've had ballet, lyrical, jazz, contemporary, street jazz, tap, Indian dancing and African." Then, there's a one-day audition where each choreographer can choose dancers for his or her piece. Last year, more than 200 dancers showed up. Practices are then held in the evenings and on weekends. "This past year we sold out more than 3,500 seats over three nights for our big show," Mara says.

Create Your Own Company
If no group strikes your fancy, or there simply aren't enough options, go all out and start your own! Check with your school's student-services office to learn how your group can become an official club and receive funding.
"There were social dance groups on campus, but they had more of a hip-hop feel," says Lara Ionescu, a graduate of Princeton University. Since she was a ballet and modern dancer, she started her own group, The Chimera Project, with friend Mariah Steele. "We recruited dancers who weren't in other programs and got funding from the school for costumes," she says. The group practiced in the campus dance building. "Our main studio in the fine arts building can transform into a theater, so we did our shows there for free," she adds. When starting your own troupe, "utilize resources provided by the school, like money for costumes and a free stage or studio space, so that you can just focus on choreography and having fun," Ionescu says.
Starting an independent group also gives you opportunities that may not be available within a typical dance department. Ionescu had a slide show of a student painter's work running through one of her performances. She also suggests doing outreach programs and finding different venues to perform in. "We performed at local nursing homes, basically in their cafeterias," she says. "It was so fun and the elderly residents really enjoyed watching."

Start Over
If you find yourself without a plan after being turned down by your dance department, don't let it affect your decision to dance. Admit that you can improve (can't we all?). Listen to criticism and embrace it. Don't hesitate to re-audition or to put yourself out there again; everyone's styles and preferences are different, and you may fit in better at one place than another. Keep looking—eventually you'll find your dance niche!
Win It
Sep. 05, 2017 12:10PM EST
Photos by Erin Baiano
It's time to get your pirouette on! From September 5th to September 30th, we're hosting a contest to find out who's the best turner of them all.

Put together your most impressive turning combo. Post a video online. Share your turns with us and thousands of other dancers around the world. And if our editors think you're the top turner, you'll win a fabulous prize.
Keep reading...
Show less
All of 18-year-old Kaylin Maggard's dreams—from scoring the title of National Senior Outstanding Dancer at New York City Dance Alliance Nationals to winning the 2017 Dance Spirit Cover Model Search—are coming true. And to anyone who knows the gorgeous contemporary dancer, that's no surprise.
From the moment the Dance Spirit staff met Kaylin, it was obvious her humility and talent would take her far. Not only did she go full-out during the photo shoot and class at Broadway Dance Center, but she was always cheering on, laughing with, and supporting her fellow CMS contestants Haley Hartsfield and Michelle Quiner. During the voting period, the social media world was abuzz with praise for her work ethic, positive attitude, and generosity.
Since her CMS trip to NYC, Kaylin's moved from her hometown of Columbia, MO, to the Big Apple for her freshman year at Juilliard, and is busy getting acquainted with the city. As for the future? She's taking it one opportunity at a time, but something tells us we'll be seeing this contemporary queen reach new heights every year.
Keep reading...
Show less
New York City principal Lauren Lovette has become an icon thanks to her emotional maturity and exceptional musicality. The 26-year-old quickly rose through the ranks after joining the company as an apprentice in 2009, reaching principal status in 2015. A Thousand Oaks, CA, native, Lovette started studying ballet seriously at age 11, at the Cary Ballet Conservatory in Cary, NC. After attending two summer courses at the School of American Ballet, she enrolled as a full-time student in 2006. Last year, she made her choreographic debut with For Clara, her first piece for NYCB. Catch her latest work this month during the company's fall season. —Courtney Bowers
Keep reading...
Show less
In our "Dear Katie" series, former NYCB soloist Kathryn Morgan answers your pressing dance questions. Have something you want to ask Katie? Email dearkatie@dancespirit.com for a chance to be featured!
Dear Katie,
I know I'm not getting good enough dance training from any of my local studios. But I'm not sure I'm ready to move away to study at a big-name school, either. How do you know when you're ready to leave home to pursue your passion?
Marisa
Keep reading...
Show less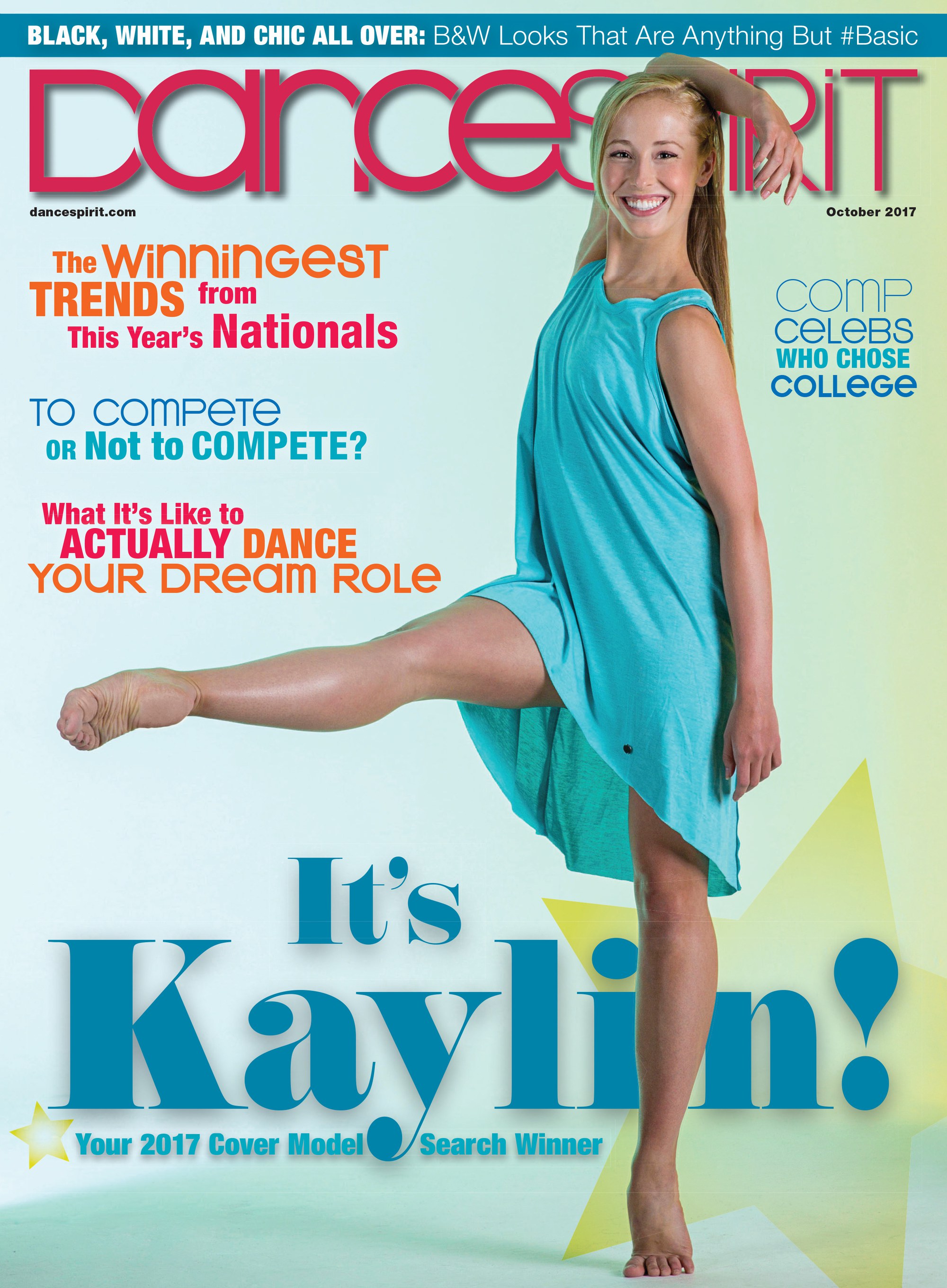 Get Dance Spirit in your inbox