How to Talk to Your Doctor About Dance-Related Problems
Thinkstock
Podiatrist Thomas Novella remembers one of his first interactions with dancer feet. Fresh out of podiatry school, he saw a patient from The Joffrey Ballet and assumed he knew the clear way to help her out. "I thought I was doing her a favor by trimming her calluses off, just like I'd been trained to do," Novella says. "She called me every day for the next two weeks screaming at me until the calluses started to come back. I immediately learned my lesson!" Now more than 30 years into his career, Novella works with dancers from New York City Ballet, American Ballet Theatre and other dance companies at his practice in NYC, so he's not only learned the importance of calluses to protect delicate skin, but also things like the risks of an ill-fitted shoe, and the toll that Nutcracker season can put on a body. But not every dancer is lucky enough to have a doctor who knows the ins and outs of the dance world. Dance Spirit asked the experts to break down four common scenarios in which your doctor will be better able to help you if you can give a dance-specific description of your needs.
---
"Your Feet Are a Mess!"
You're experiencing pain in your fourth metatarsal and a twinge in your Achilles tendon. It's time to see a doctor—but you're afraid he or she will freak out once you take your socks off. To start, "Make sure your doctor knows that some things look like a problem in the normal population, but aren't in dancers," Novella says. We know our feet might not be pretty, but it's important that they be functional, which means something different to dancers than it does to non-dancers. "Things like thick nails, enlarged bunions and enlarged fifth metatarsal joints aren't unhealthy; they just tell the story of an instrument that has adapted to dance," he says. Emily Sandow, a doctor of physical therapy at NYU Langone Medical Center's Harkness Center for Dance Injuries, suggests describing to your doctor what kinds of shoes and floors have transformed your feet into the beautiful mess they are today—and why you'd actually prefer they stay that way. "Explain that dancing barefoot creates friction that can result in protective calluses, and the pressure of pointe shoes naturally causes blisters and corns," Sandow says. "After a detailed explanation, the doctor should be able to move more than skin deep to address the primary complaints of pain."
"Absolutely No Dancing."
When you go to a doctor with a foot or leg injury, the easiest way for them to ensure you heal properly may be to tell you to stay off of it. But all serious dancers know that a couple of weeks without dance sounds as ridiculous as a couple of weeks without air. Doctors who don't know a ton about dance may not realize there are ways to modify class to avoid putting stress on an injured limb. "I recommend that dancers actually take their doctors step-by-step through a dance class," says Katie Lemmon, a certified athletic trainer at Athletico Physical Therapy in Chicago. "If you can, demonstrate a barre on your uninjured leg, and ask specific questions about each step. 'Can I do this?' 'What if I do it without a relevé/heel lift?' 'What if I stand on two legs and just do the arms?' " If barre is out of the question, lie on the ground and go through a floor barre as your doctor points out things that are unsafe. It may be a painstakingly slow process, but you'll leave your doctor's office with a list of dos and don'ts to take with you to class.
"You're Too Thin."
You know keeping your body in tip-top shape is important, so when a doctor mentions that you're a little underweight for your age, it can be distressing. The key is to find out why your doctor is recommending you gain weight. It may be because your bone density is low, or because you haven't had consistent periods, which could lead to debilitating injuries or health problems in the future. Knowing what the underlying health issue is can make it easier to fix the problem without sacrificing the physique you've worked so hard for. "It may be that you're just overloading on carbs, when you should be focusing on more protein, calcium or vitamin D in your diet," Novella says. You could also try working with a nutritionist to tailor your diet to be sure you're getting all the nutrients you need. As long as you're not severely underweight, in which case gaining weight may be in your best interest, strengthening your body with adjustments to your diet is possible without putting on extra pounds.
"Dance Isn't Enough Exercise."
A good dance class or rehearsal (especially several of them in a row!) can be just as rigorous and exhausting as any soccer game, but a doctor who's unfamiliar with dance may still ask you to step up your exercise regimen. Instead of getting defensive, the key here is to help your doctor understand the specifics of your routine. The Centers for Disease Control and Prevention suggests 60 minutes of moderate- to vigorous-intensity exercise every day for children and adolescents, and 2.5 hours per week for adults. So it's up to you to explain to your doctor when and how you're meeting that standard. If your doctor's still not convinced, he may have a point. "If you're going to the studio four to six hours every day for training in a variety of dance styles, and all weekends are spent in dance classes and rehearsals, you're probably getting more than enough exercise, but taking low-intensity ballet classes twice a week doesn't make the cut," says Sandow. "Keep in mind that dance has been shown to be less physically intense than other athletic sports. This may be due to the quick bursts of exercise followed by longer recovery periods as the teacher explains a combination, or dance's emphasis on agility and grace, rather than speed, force and power." Feel free to ask another doctor for a second opinion, but you may also consider adding a little cross-training to your weekly routine.
(From left) Mean Girls dancers Riza Takahashi, Ben Cook, Kamille Upshaw, Jonalyn Saxer, DeMarius R. Copes, and Stephanie Lynn Bissonnette (photos by Erin Baiano)
Get in, losers. We're going to Broadway.
OK, not losers, actually—more like the bajillion die-hard fans of Tina Fey's 2004 cult hit Mean Girls, who've been wearing pink every Wednesday since a musical adaptation of the film was first teased back in 2013.
Now their world is like a cake filled with rainbows and smiles, because Mean Girls the musical, which had a trial run in Washington, DC, last fall, is set to open at Broadway's August Wilson Theatre April 8. And in a very grool twist, it turns out the show—with direction and choreography by Casey Nicholaw and a book by Fey herself—is delightfully dancey.
Keep reading...
Show less
Quiz
Dec. 11, 2017 04:24PM EST
Alicia Vikander in Tomb Raider (Warner Brothers)
Keep reading...
Show less
Via @dreamcatchersda on Instagram
Everyone loves a good viral video, especially when there's dancing involved. And though many viral videos are contrived and created for the soul purpose of instafame, the story behind the latest video catching the eyes of millions—including Rihanna, super model Naomi Campbell, and Diddy—is even more unique because it features children who don't even know who those celebrities are.
A dance troupe in Nigeria has become the next internet sensation, thanks to their exuberant dancing and passion with which they perform. Their enthusiasm for dance is evident in every step and it's hard not to smile as you see these children (who range from ages 6 to 15) express pure joy in something as simple as dance. These nine kids are part of The Dream Catchers, an organization started by 26-year-old Seyi Oluyole, that gives impoverished children a place to live while teaching them how to dance.
Keep reading...
Show less
Illustration by Dniella Ferretti
For 16-year-old Amanda*, dance is everything: her passion, her escape from the daily grind, and her career goal. Her parents see things differently. "I have siblings who are active in sports," Amanda says, "and my parents would rather I play soccer or basketball. They don't see dance as something I can earn a stable living from in the future. They often tell me I should just quit."
Some parents aren't able to, don't know how to, or choose not to give you the kind of support you need to thrive in the studio. And when your parents are adding stress to your life, rather than alleviating it, there's a lot at stake. "Dancers who don't have the support of their parents might struggle with self-doubt," says Dr. Linda Hamilton, a former dancer with New York City Ballet and a clinical psychologist specializing in the performing arts, "while those whose parents are too involved can crack under the pressure." Whether your parents aren't there when you need them or they're always there, practically smothering you, try these tips to improve your situation.
Keep reading...
Show less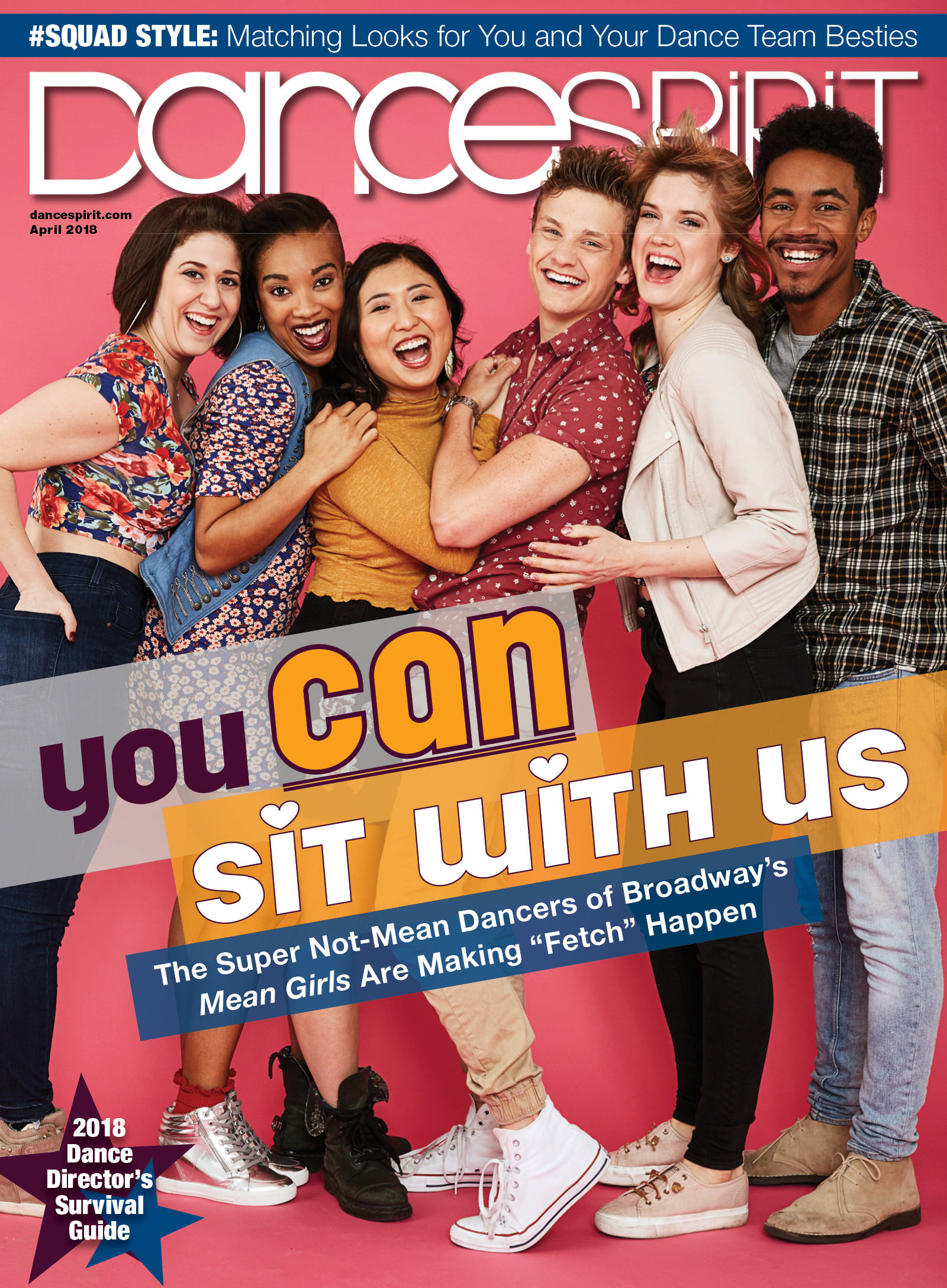 Get Dance Spirit in your inbox