Mar. 28, 2017 06:21PM EST
Courtesy Pittsburgh Ballet Theatre
Every ballet dancer has a pointe shoe prep process that's akin to a sacred ritual. And while some modifications are meant to make feet look prettier, the most critical tricks help those precious shoes last as long as possible—because at $60 to $100 a pop, they have to. We rounded up some of the best hacks to keep your shoes from dying prematurely.
Keep 'Em Dry
Moisture is the worst enemy of pointe shoes, and your sweaty feet start to break down those boots from the moment you put them on. Richmond Ballet artistic associate and school director Judy Jacob says taking the time to make sure your shoes dry out is the most effective and inexpensive way to make them last.
To get your shoes completely dry, try to rotate between pairs. "Students probably won't have five pairs of shoes, like professionals do," Jacob acknowledges, "but try to keep two pairs going at any given time." She recommends storing your shoes in a mesh bag, which promotes air circulation. If you only have one pair, using a blow dryer on them at the end of the day can help. Jacob has students who put cedar wood blocks in their shoes at the end of the day, too, because cedar draws out moisture. (The pleasant cedar smell is a nice bonus.)
Unless you're required to, don't pancake your shoes—the water on the pancake sponge will make your box and shank break down more quickly. And if you have to color your shoes for a role, use dye sparingly, to avoid overwetting.
Mix 'Em Up
Another cheap way to save your shoes, Jacob says, is to rotate them from one foot to the other after each wearing. That won't work for every dancer—if one of your feet is significantly larger than the other, for example, it's a no-go. But if you can swing it, rotating shoes between feet will keep you from wearing the same pressure points over and over, extending the life of the pair. Jacob recommends marking each shoe with a number or symbol, so you can easily keep track of your rotations.
Glue 'Em Good
For many years, dancers used wood shellac to harden the boxes and shanks of their shoes. And while some dancers still swear by that old standby, Jet glue has become a newer favorite. Originally created for building model airplanes, Jet glue is fast-drying and leaves shoes harder than shellac does.
But proceed with caution: Once you apply Jet glue, there's no way to remove it, and it can dramatically alter the shape of your shoe and the way it breaks in. Pittsburgh Ballet Theatre corps member Marisa Grywalski, who's a big fan of Jet glue, is careful to use it only on the insides of her Freeds (castle maker)—if applied to the outside satin, it can create a slippery situation. "I put it inside the shoe at the bottom of the tip, and then around the top like I'm making a little cup in the box," she says. "Then I glue on either side of the shank, until just below the place I like my shoe to break." Grywalski reapplies glue when her shoes start to soften, which can sometimes get her through one more rehearsal or show.
Sew 'Em Up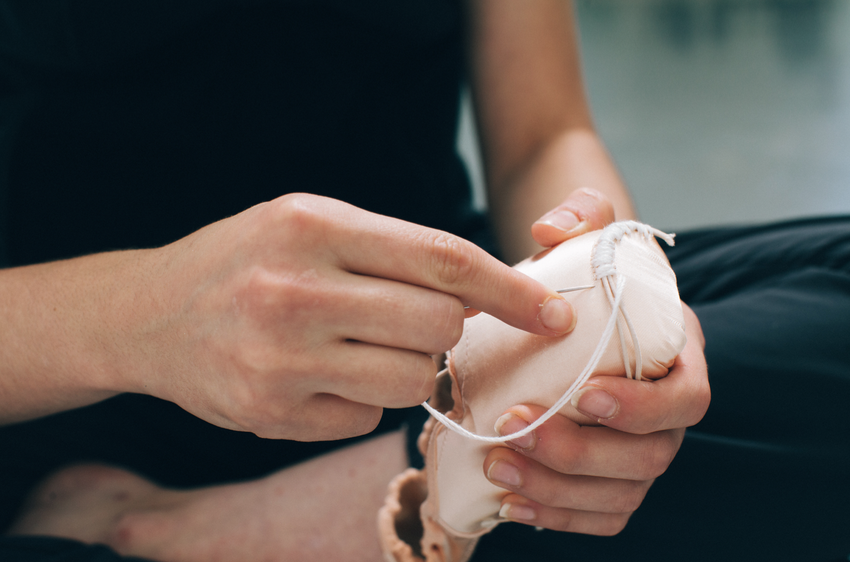 Marisa Grywalski shows her darning method.
Photo courtesy Pittsburgh Ballet Theatre

Always wearing through your box? Give darning a try. Grywalski has come to rely on darning to make her shoes last, because it keeps her from breaking down the platform and box around her big toe too quickly. (Check out her darning skills in the pic above.)
Darning is tricky at first, and it requires a bit of a time commitment, but it gets easier—and quicker—with practice. When Grywalski first started darning, it took her two hours to do both shoes; these days, she can complete a pair in 30 minutes. You can darn your shoes two ways: either by simply whip-stitching around the platform with thick thread, or by stitching your leftover drawstring cord to the crown of the platform. Grywalski likes the drawstring method, because she finds it softens less over time.
It'll take a while to figure out exactly where to position your darning stitches, so be patient. "It's just trial and error," Grywalski says. "If you don't like it at first, it might be because the darning is in a weird spot."
A version of this story appeared in the December 2016 issue of Dance Spirit.

"As a teenager, I auditioned for Spring Awakening, only to realize it was a lot of blonde girls," says Skyler Volpe, a performer with brown, curly hair. This experience taught Volpe to research characters that would best fit not only her voice but also her look—such as her current role as Mimi in the Rent National Tour.
Not fitting certain character types, especially those based on looks or physicality, might feel limiting. But understanding your type makes you a smarter auditionee and helps you pinpoint which natural skills you should continue to home in on.
Ask the Right Questions
Understanding your type requires self-reflection about your look, personality and dance strengths. "The components of an actor's type are age, physicality and skill set," says casting director Benton Whitley. "What age can you read for? Are you serious or comical? Do you look sweet or quirky? Are you a tenor or pop-belting soprano?" Ask your teacher, choreographer or friend to help you identify your type. "My senior year of college, my professor helped me pick out audition outfits, talked about the dance styles that fit my body and gave examples of roles I would fit," says Mallory Nolting, who then landed a gig on the 42nd Street National Tour.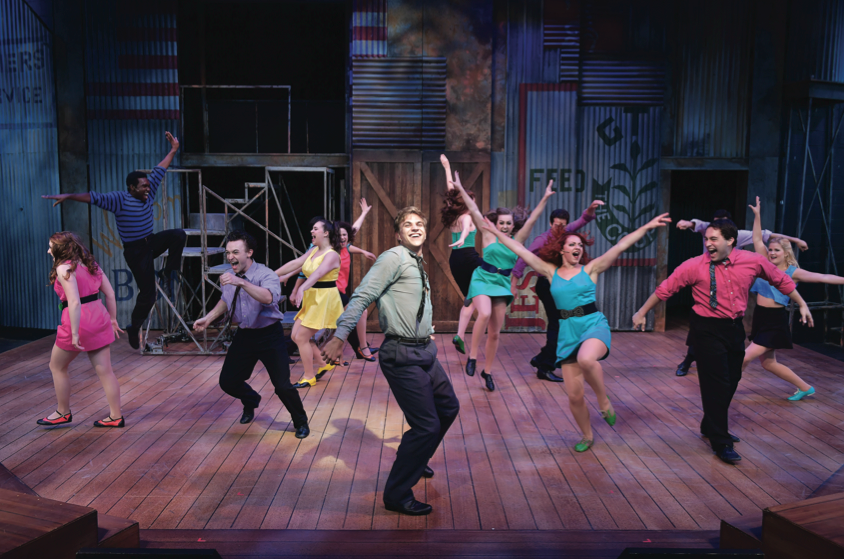 Kent State University students performing "Footloose" (photo by Bob Christy, courtesy Kent State)
Do Your Research

Nolting researches choreographers before auditioning to see what type of dancer they usually cast. "I took Randy Skinner's class before the 42nd Street audition to get a feel for his style," Nolting says. "I could picture myself fitting into the show. At the audition, Skinner recognized me from class!" Jo Rowan, dance chair at Oklahoma City University, advises taking as many different Broadway choreographers' classes as possible to figure out whose styles best fit your body and skill set.
Your overall look at an audition will be your first impression, so be sure your appearance
matches your vocal, dance and acting type. For example, Nolting, who sees herself as more of a showgirl, found a 1930s-style outfit for her 42nd Street audition. Terri Kent, the musical theater coordinator at Kent State University, encourages her girls to get makeovers to reflect their type: shorter, edgier hair and dramatic makeup for the powerhouse dancer, or soft curls and brighter makeup for the ingénue. Look at headshots from other Broadway performers to see how they let their personalities and types shine through.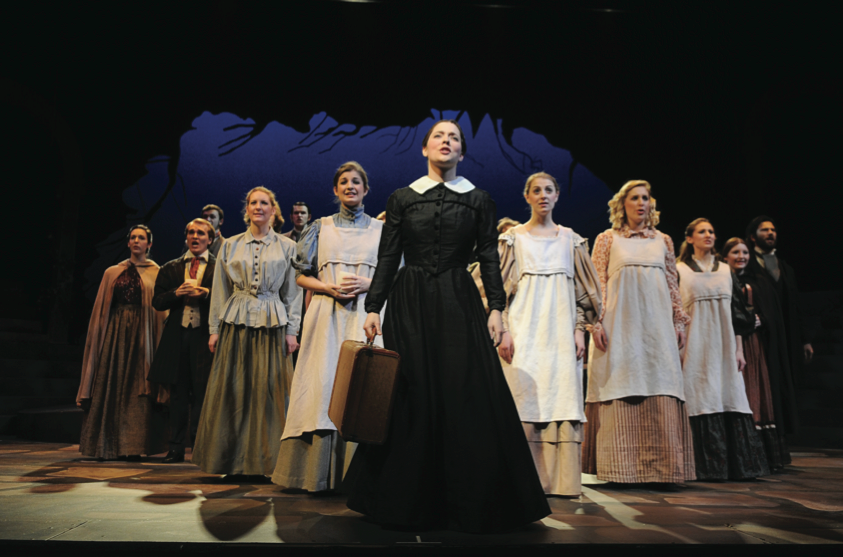 Kent State's "Jane Eyre," directed by Terri Kent (photo by Bob Christy, courtesy Kent State)
Use Professional Help

Acquiring an agent will open up more audition opportunities, and can also help you figure out your specific type. "My agency and I discussed my strengths, then they started broadening my horizons by putting me up for gigs I wouldn't have felt confident enough to try myself," Volpe says. She trusts her agent to find her jobs where she fits in both her looks and her talents. "They know I look right for West Side Story, but I just don't have the voice for it," she says.
A casting director can also be a great tool for helping your audition success. Reach out to casting directors after an audition for feedback. But remember, "we hire people, not performers," Whitley says. "Don't apologize for what type you are, because if you're
honest and authentic, we can figure out where to place you. So do your research about what shows and characters are your type—but also make sure you're sharing you."
A version of this story appeared in the January 2017 issue of Dance Spirit.

Jan. 30, 2017 06:44PM EST
Illustration by Lealand Eve
A few years ago, 16-year-old Kayla Gonzalez found herself dancing alongside a mean-spirited girl. "She could be so rude," says Gonzalez, who trains at The Dance Zone in Henderson, NV. "It got worse at competitions. She'd make up lies, saying my teammates and I were doing things we weren't. She was always trying to get ahead." Sound familiar? A competitive environment can bring out the very worst in some dancers' personalities. When put in a stressful situation, students can become bossy, overdramatic or downright mean. Here, DS breaks down four toxic types you might encounter, and offers tips on how to respond.
The Diva
What she does: Pushes to be front-and-center; monopolizes teachers' time and attention; acts like she's the most important member of the team.
How to deal: Try to focus on what you need, in spite of the diva. "I tell my dancers, 'You do you.' Don't take that person's behavior personally," says Noel St. Jean, an instructor at Artistic Dance Conservatory in East Longmeadow, MA. The diva may be acting that way in an effort to make the most of her competition/convention weekend—but you deserve a spectacular experience, too.
Veteran convention teacher Mandy Moore agrees, and adds an extra tip for handling convention class space-hogs: "When someone is being bigger, it might make you feel like you have to take up less space. That's not the case. Use that person's confidence as inspiration."
The Micromanager
What she does: Corrects and nitpicks everyone else.
How to deal: If one of your peers is constantly offering corrections backstage during a competition or while you're trying to focus in convention class, and it's setting your nerves on edge, "Keep in mind that this person might be genuinely trying to help!" Moore says. A micromanager's anxiety about her own performance can manifest as a need to critique others to make sure everything's perfect.
Rehashing choreography as a group can stop nitpickers from taking over. If you're in the wings, St. Jean says, "You're going onstage as a team. In that moment, it doesn't matter if, six months ago, the choreographer said, 'Do it like this.' Take a vote and agree to stick to it." You can ask specific questions at your next rehearsal.
If the micromanager is commenting on your technique in convention class—especially if it's not a correction you're getting from the instructor—it's okay to politely change the subject. "I might say, 'Thanks. Let's go over that when we're back at the studio on Monday,' " Gonzalez says.
The Debbie Downer
What she does: Expects the worst—and shares her fears with anyone who will listen.
How to deal: It can be a real bummer having a Debbie Downer in your group. Unfortunately, some dancers process their stress by dwelling on worst-case scenarios. St. Jean remembers one student who had nightmares about forgetting her competition routine and running offstage: "She'd say, over and over, 'I'm going to mess it up.' " If you're not careful, that doom-and-gloom attitude can infect everyone.
Fight back by going overboard with positivity. "Nothing stops negativity better than a wall of positive energy," St. Jean explains. "The more upbeat and excited and encouraging you all are, the less likely it is that you'll see that person start to fade." You may even be able to help her forget her worries and look on the bright side, too.
The Frenemy
What she does: Acts super-sweet and supportive—until you're about to go onstage.
How to deal: Are you getting the competition cold shoulder from someone you consider a friend? This can feel terrible, especially when you value her encouragement and support. Before you decide your friendship is toast, consider how she usually handles pressure. "Some people just shut down," St. Jean says. "They're not trying to be rude." Maybe your friend needs some alone time in order to get in the right headspace to perform. If this is the case, things will probably return to normal once the pressure's off.
"I do think it's okay to say, 'You hurt my feelings,' " Moore says. But ask yourself: Is this something you want to hash out in this high-stakes environment, or can it wait until you're back home? If getting into an argument will ruin your competition experience, it might be a good idea to brush it off.
The Bottom Line
It never hurts to talk to an authority figure when someone's being toxic. "I'm a big advocate of sticking up for yourself," Moore says, "but these situations often benefit from a mediator." A teacher or a chaperone can resolve disagreements and give students individualized strategies to handle their nerves in a healthier way. They can also issue formal behavior warnings, if necessary.
If all else fails, remember that you're in control of how you respond to negativity. "Ask yourself, 'If Person A was gone, how would the competition feel different?' " Gonzalez says. "Once you realize, Wow, I'm letting her take this and this away from me, it's easier to let go of the frustration. Competitive dance is supposed to be fun!"
Dec. 21, 2016 08:07PM EST
Headspins are one of the ultimate b-boy and b-girl tricks, and seem to defy the laws of physics. But since dancers don't usually find themselves balancing on top of their skulls, achieving a headspin can feel pretty unattainable. To better understand the best approaches for this advanced move, we asked Alex Welch (aka B-Girl Shorty) and Simrin Player (aka B-Girl Simi) to give us some tips.
Safety First
Even though there are tons of tutorials a YouTube click away, both Player and Welch stress that headspins are an advanced and difficult trick that can't be learned in a week. "Working your way up to a headspin is critical in order to develop the correct technique,"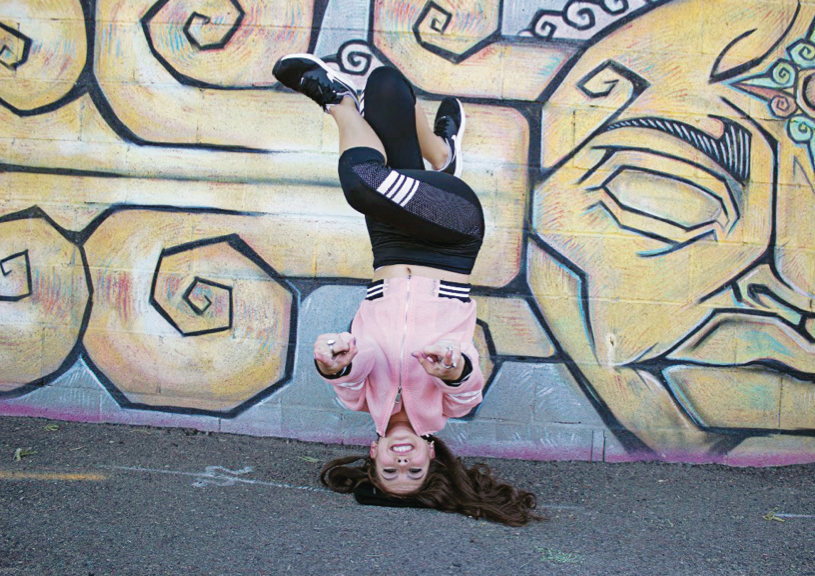 Simrin Player (courtesy HiHat Productions)
Player says. Always spin on the center of your head—if you're too far forward or back, you could twist your neck. "You want to find the 'sweet' spot right in the middle," Welch says.
Both b-girls insist on wearing a beanie while they spin, and only do it on smooth, even surfaces. The beanie helps you spin faster by reducing friction, and it cushions your head. A stable surface allows you to keep your body straight up and down, protecting your neck.
A beanie also helps prevent hair loss associated with headspins—though your scalp will probably still peel. "Don't freak out! It just looks like dandruff," Welch says. "And your head will burn a little bit, too."
The Fundamentals
Safely executing a headspin requires three essential elements: balance, speed and form. "It's like you're a top," Welch says. "You have to spin fast enough to maintain your balance, and you have to engage your core and legs so you have control over your body."
Spin Away
Like any advanced dance step, the foundation has to be correct for the trick to work. Before you even begin to rotate, you should be comfortable with headstands. "I was told I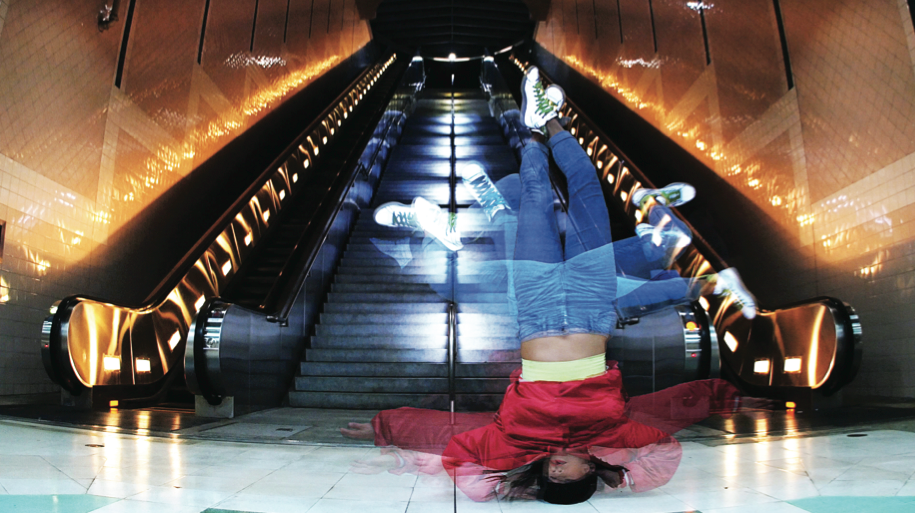 Alex Welch (photo by Jordan Abrantes, courtesy Welch)
wasn't allowed to spin until I could hold a headstand for 5 to 10 minutes, and a headstand without hands for one minute," Welch says. Player advises beginners to start and end their spin in a headstand: "It helps you focus on the spin," she says.
From your headstand, split your legs in a wide V-shape. Player suggests pushing your heels out away from you to keep your legs straight and even. Then, begin slow rotations, pushing off from your hands and moving your body as a single unit. This push-off is called a "tap." "It's important to have your hands in contact with the floor throughout these slow rotations," Player says. Eventually, you can advance to quarter-rotations using your hands and on up to "glides": multiple rotations without your hands touching the ground. Player suggests practicing with your legs in a fixed position for maximum stability.
Once you've safely achieved multiple rotations, you can start stylizing your spins with different arm positions, or ways to get up from and down to the floor. But the real joy is in letting loose and spinning. "It's the best feeling in the world," Welch says.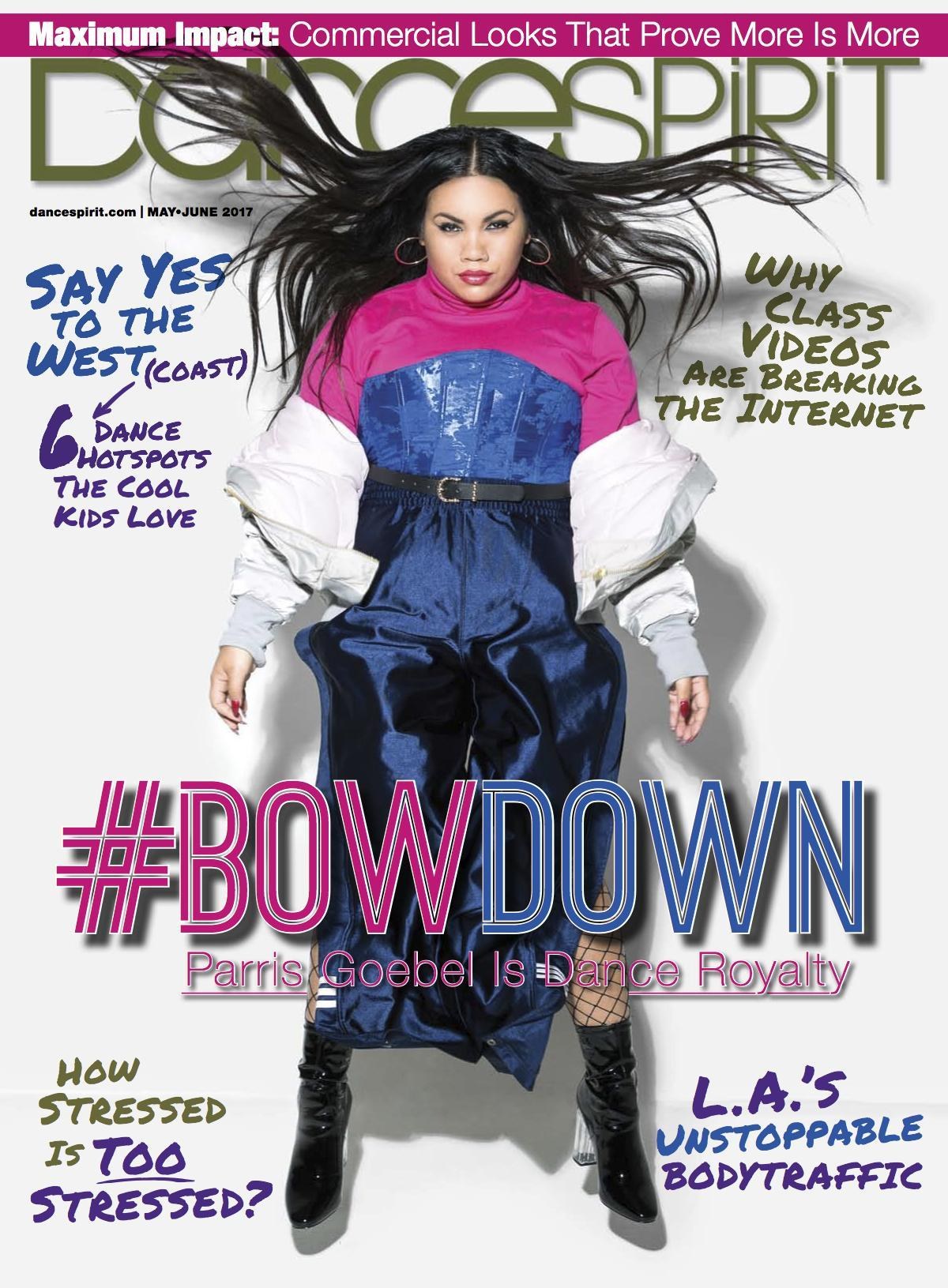 Featured College Dance Program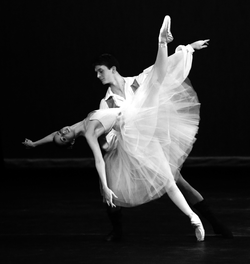 Get Dance Spirit in your inbox