Foodiesfeed
We all know drinking water is important for dancers, especially when the temperature is sky-high and you're soaked in sweat during class. But with all the benefits sports drinks claim to have, should you be supplementing your hydration with those, too? DS consulted dance nutrition experts Marie Elena Scioscia, MS, RD, CDN, of The Ailey School, and Peggy Swistak, MS, RD, CD, of Pacific Northwest Ballet, to get the lowdown on popular sports beverages.
---
Coconut Water
Claim: The high potassium content in coconut water makes it a better choice than sports drinks for optimal performance.
Verdict: It's not bad, but it's no miracle drink.
Coconut water is fairly low in calories and has more potassium per serving than a banana—so if you like the taste, it's a good choice. "But if you're exercising heavily and sweating profusely, you'll do better with a traditional sports drink like Gatorade for electrolyte replacement," Scioscia explains.
Vitaminwater
Claim: In addition to providing vitamins, different flavors promise "energy," "revival," "glow" and more.
Verdict: The claims are mostly false and the vitamins are most likely unnecessary.
"If you're eating well, taking a multivitamin and drinking vitaminwater, you could be getting too many vitamins, which is just as dangerous as too few vitamins," Scioscia says. Swistak adds, "The labeling of 'energy,' 'weight loss,' 'antioxidants,' etc., is misleading—there's not enough of any ingredient to do anything of the sort."
Coffee and Energy Drinks
Claim: The caffeine will give you energy.
Verdict: Depending on how your body reacts to caffeine, that's possibly true. But these aren't the best choices for hydration and should be used sparingly.
"Caffeinated drinks could help rev up your energy, but too much caffeine can dehydrate you and waste B vitamins," says Scioscia. Overloading on caffeine can also cause "irritability, shakiness or an upset stomach," Swistak says.
"Exotic" Fruit Drinks (like Fuze and açaí-berry drinks)
Claim: Like vitaminwater, these drinks promise a variety of things, such as weight loss and increased stamina.
Verdict: They won't hurt you, but they won't help you much, either.
"None of the claims these kinds of drinks make have been proven true," Swistak says. "They might taste good though, so there's no problem with drinking them—if you can afford the extra calories."
Gatorade
Claim: Gatorade replenishes electrolytes lost through sweat and stimulates thirst so you'll be sure to drink enough to rehydrate.
Verdict: It lives up to its claim! Gatorade is one of your best options.
Gatorade is great for replacing electrolytes, according to Scioscia. Not only will it quench your thirst, but it will also prevent an electrolyte imbalance, enabling you to keep dancing. The low-calorie version is your best bet.
The Sweaty Truth
Electrolytes, such as sodium, chloride, potassium, magnesium and calcium, keep your muscles and nerves functioning, which is why they're so important for dancers. You lose electrolytes when you sweat—in fact, you may even find that your skin gets salty because of the sodium leaving your body. Failure to replenish your electrolytes can cause cramping, nausea, light-headedness and spasms. Yikes!
The Bottom Line
Most fluids you drink (excluding alcohol) will prevent dehydration. Even watery fruits and veggies can help keep you hydrated. But be wary of advertising claims on sports beverages. Unless you're in dire need of electrolytes, your safest bet is plain old water—zero calories, zero potentially harmful side effects! You can always add a slice of lime or lemon for flavor.
Much of Janelle Ginestra's career has been about helping others shine. She's dedicated herself to supporting and cheerleading her partner, WilldaBeast Adams; the emerging talents in their dance company, ImmaBEAST; and the countless dancers she inspires at master classes and conventions. Her YouTube channel has become a launching pad for young talents like "Fraternal Twins" Larsen Thompson and Taylor Hatala, thanks to viral videos featuring Ginestra's creative vision.
But Ginestra's a skyrocketing success in her own right—an in-demand choreographer, a social media influencer, and a dance entrepreneur, building a legacy one eight-count at a time. It's time for her turn in the spotlight. And she's more than ready. "I want to be a legend in whatever I do," she says. We'd argue that she already is.
Keep reading...
Show less
Win It
Oct. 13, 2017 04:31PM EST
Oct. 13, 2017 03:01PM EST
Okay, so it's also Friday the 13th. (Eek! Be sure not to let any black cats cross your path on the way to the studio!)
Keep reading...
Show less
If you've ever seen a Janelle Ginestra class video, you know how lit her combos are. What you don't see in those clips is how devoted Ginestra is to her students. We went behind the scenes at one of her sold-out IMMA SPACE classes to see Ginestra in her element, mentoring some of L.A.'s most talented dancers. It was an inspiration feedback loop.

All photos by Joe Toreno.
Keep reading...
Show less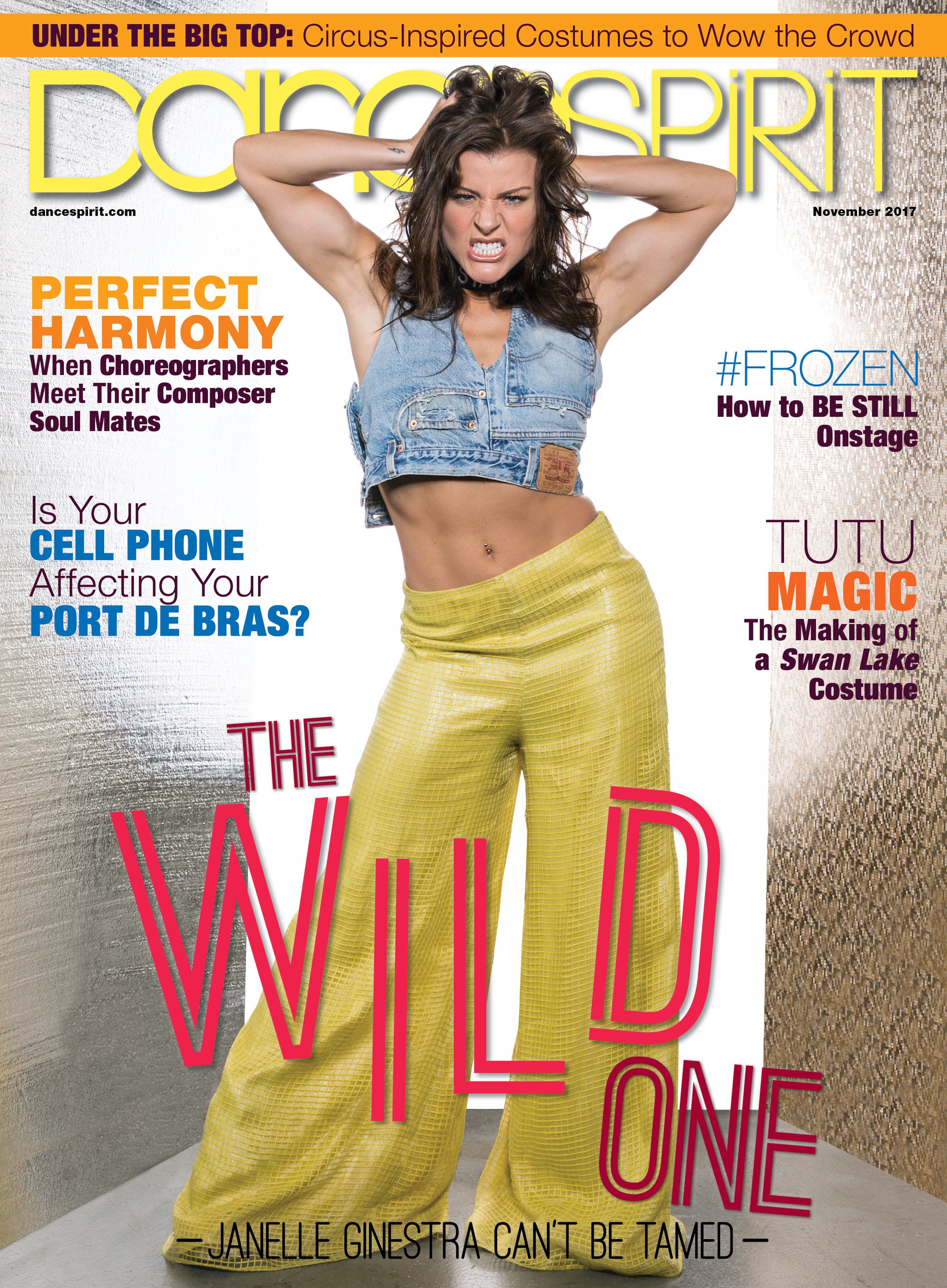 Get Dance Spirit in your inbox