"I thought it was just something I ate."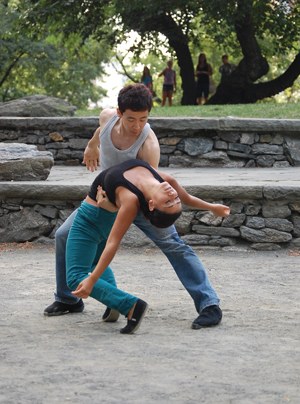 Colón and Joon Lee performing in Central Park with Perceptions Contemporary Dance Company
Laura Colón is a dancer, choreographer, runner and philanthropist. She also has Crohn's disease. While Colón was diagnosed with a severe form of this chronic gastrointestinal disease at a young age, she hasn't let it rule her life. Instead, she uses it as motivation to work harder, dance stronger and give back to others every day. This is her story in her own words. —Rachel Zar
At 16, my daily schedule was packed. I played basketball and softball for my high school, and after practice or a game, I'd eat dinner in the car and then go straight to dance rehearsal at my studio in Brooklyn. I'd come home around 10 pm, finish my homework and fall into bed. So when I started feeling run-down, I thought I was simply doing too much. When I shivered in a classroom that everyone complained was too warm, I thought I just had "cold blood." And when I had to use the bathroom 25 times a day, I thought it was just "something I ate." But after six months of feeling crummy, when exhaustion turned into spending days in bed, shivers became dangerously high fevers and using the bathroom resulted in bleeding, vomiting and dramatic weight loss, I knew something was wrong. I felt faint all the time, and I couldn't get through even the shortest rehearsals without taking bathroom breaks. I was embarrassed, so I kept my symptoms a secret from my parents, teachers and friends.
Then one day on my way to school, I felt so faint I thought I'd pass out. That's when I broke down and told my mom I was sick. I was admitted to the hospital with severe dehydration and internal bleeding. I stayed there for a week while doctors gave me antibiotics to fight infection and steroids to reduce inflammation in my digestive system—but I still felt sicker by the day. Over the next month, I underwent countless procedures and tests.
My doctors suspected I had inflammatory bowel disease (IBD), which could be confirmed with a procedure called a colonoscopy. I was put to sleep while the doctors used a tiny camera to look at the inside of my digestive tract and take biopsies (small pieces of unhealthy intestine to be tested). During this procedure something went wrong, and my intestines ruptured. I underwent emergency surgery, and when I woke up, my doctors explained that they'd performed a colostomy, a surgical procedure that detached my healthy intestine from the diseased area and pulled it through a hole in my abdomen. For six months, I would have to wear a pouch on the right side of my stomach to collect waste. I was shocked.
The doctors also told me the procedure had confirmed what they'd suspected. In June 2003, I was officially diagnosed with Crohn's disease, a form of IBD that affects the digestive tract. It's a chronic illness—there's no cure and doctors aren't sure what causes it. I was overwhelmed with fear. "If doctors don't know what causes it," I thought, "how can they treat it?" But I was assured the symptoms were treatable, and that I would feel better soon.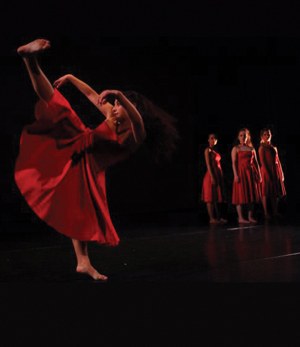 Colón performing at Long Island University (Paula Court)
I began the long road to managing my condition. Doctors prescribed a plethora of medications—close to 40 pills a day! And caring for my colostomy presented a major lifestyle change. I bought new, baggy clothes to conceal the extra bulk, and I never went swimming that summer for fear my pouch would fill with water. Six months later, I had another surgery to remove my colostomy and reattach my intestines. At this point, I had built up a little strength, and I did a ballet barre on days I didn't have too much pain. I even taught classes to my nurses.
My surgeons told me I'd probably never get back to the level of physical fitness needed to be a dancer. I'd lost almost 30 pounds, my muscles were atrophied and I was weak. But I was determined to return to the studio.
Several weeks after surgery, I received medical clearance to go back to dance class. My meds were working and I was experiencing fewer symptoms than I had weeks before. I'd been gone for a couple months, so word had spread about my condition—but no one really knew what Crohn's disease was. I found that if I hid my embarrassment and kept cool when talking about it, others would too. But my return to the studio made me realize just how sick I'd been. I didn't have the physical strength for a grand plié, let alone the stamina to perform a routine. It took almost a year to build my strength back to the level it was before my first hospitalization, but my hard work paid off, and I came back even stronger.
For the last two years of high school, my disease was in remission. After graduation, I enrolled in Long Island University–Brooklyn to pursue a BFA in dance. But my last two years of college were hard, and I was constantly in and out of the hospital. I had four surgeries altogether, though I managed to graduate on time. Immediately after college, I began performing with several dance companies in NYC. I'm now a member of Perceptions Contemporary Dance Company. Plus, I've started choreographing and have recently stepped up to the role of company manager.
I'll have to be on medication for the rest of my life, and I follow a strict diet. I don't eat any nuts or fruit with seeds. I eat slowly and in small amounts frequently throughout the day, and I have to stay hydrated.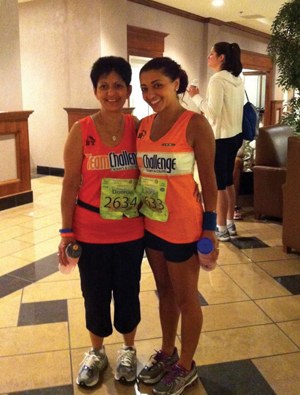 Colón and her mom ready for a half marathon with Team Challenge, a training program that raises funds for the Crohn's & Colitis Foundation of America
I've turned my struggle into a positive experience by getting involved with the Crohn's & Colitis Foundation of America, whose mission is to fund research for a cure and improve the quality of life of those living with IBD. I'm a volunteer camp counselor, and I participate in many fundraising walks and runs. With the help of family and friends, I've raised $24,000 toward finding a cure.
My ordeal has been a blessing in many ways, helping me figure out what I really want in life. After my dance career, I hope to work with dancers as a physical therapist, and with IBD patients who are seeking alternative therapy in addition to traditional treatment. I'm currently fulfilling my prerequisite courses toward this goal at Hunter College. But for now, my heart belongs to my first love: dance.
IBD FAQ
More than 1.4 million Americans are affected by inflammatory bowel disease. Dance Spirit asked Rhondell Domilici, executive director of the Crohn's & Colitis Foundation of America's Greater New York Chapter, a few basic questions.
What is IBD?  
IBD or inflammatory bowel disease is an umbrella term for Crohn's disease and ulcerative colitis, chronic autoimmune diseases that cause inflammation and ulcerations in the intestine. 
What's the difference between Crohn's disease and ulcerative colitis?
Ulcerative colitis affects only the large intestine and the innermost lining of the intestinal tract. Crohn's disease can affect any part of the digestive tract or intestinal wall. 
What are the symptoms?  
Symptoms of IBD can include fever, weight loss, vomiting, chronic diarrhea, rectal bleeding, fatigue, abdominal pain and cramping, as well as complications with the joints and eyes.
What are the treatment options?
There are a number of medications available, and diet, nutrition and stress reduction
can play a role in managing symptoms. Surgery to remove the diseased portion of the intestine is also an option in severe cases.
For more information on IBD, go to ccfa.org 
Win It
Sep. 05, 2017 12:10PM EST
Photos by Erin Baiano
It's time to get your pirouette on! From September 5th to September 30th, we're hosting a contest to find out who's the best turner of them all.

Put together your most impressive turning combo. Post a video online. Share your turns with us and thousands of other dancers around the world. And if our editors think you're the top turner, you'll win a fabulous prize.
Keep reading...
Show less
All of 18-year-old Kaylin Maggard's dreams—from scoring the title of National Senior Outstanding Dancer at New York City Dance Alliance Nationals to winning the 2017 Dance Spirit Cover Model Search—are coming true. And to anyone who knows the gorgeous contemporary dancer, that's no surprise.
From the moment the Dance Spirit staff met Kaylin, it was obvious her humility and talent would take her far. Not only did she go full-out during the photo shoot and class at Broadway Dance Center, but she was always cheering on, laughing with, and supporting her fellow CMS contestants Haley Hartsfield and Michelle Quiner. During the voting period, the social media world was abuzz with praise for her work ethic, positive attitude, and generosity.
Since her CMS trip to NYC, Kaylin's moved from her hometown of Columbia, MO, to the Big Apple for her freshman year at Juilliard, and is busy getting acquainted with the city. As for the future? She's taking it one opportunity at a time, but something tells us we'll be seeing this contemporary queen reach new heights every year.
Keep reading...
Show less
New York City principal Lauren Lovette has become an icon thanks to her emotional maturity and exceptional musicality. The 26-year-old quickly rose through the ranks after joining the company as an apprentice in 2009, reaching principal status in 2015. A Thousand Oaks, CA, native, Lovette started studying ballet seriously at age 11, at the Cary Ballet Conservatory in Cary, NC. After attending two summer courses at the School of American Ballet, she enrolled as a full-time student in 2006. Last year, she made her choreographic debut with For Clara, her first piece for NYCB. Catch her latest work this month during the company's fall season. —Courtney Bowers
Keep reading...
Show less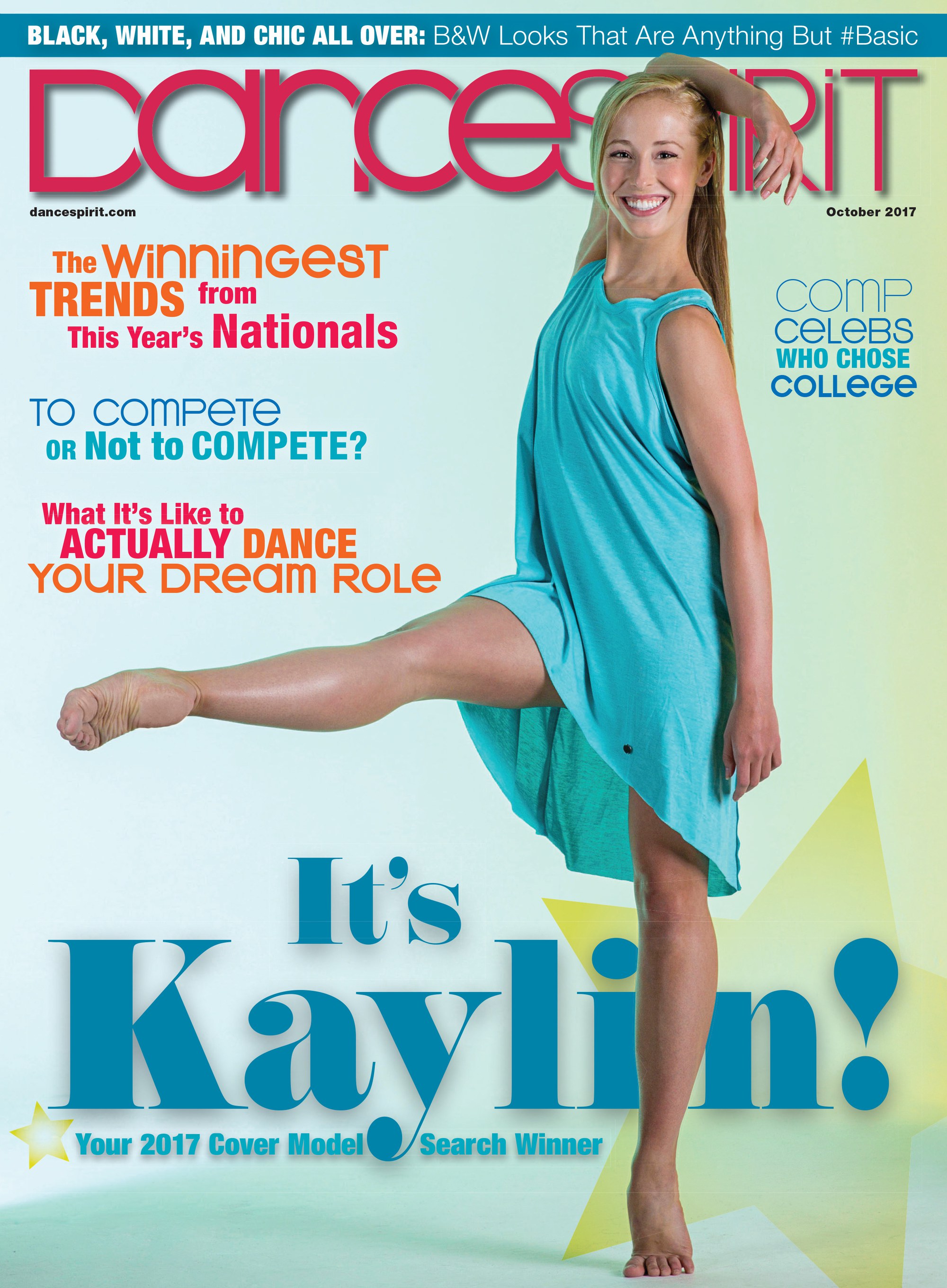 Get Dance Spirit in your inbox