How to Make the Most of Your Extension
ABT JKO School student Miuka Kadoi shoiwng off her beautiful line (photo by Kenneth Edwards)
Contemporary phenom Christina Ricucci has super-flexible hips, which means she can stretch her legs to unbelievable heights. But when she noticed herself making contorted positions in class, Ricucci realized she was approaching her extensions all wrong. "I went back to the basics in class, squaring my hips and using my turnout," Ricucci says. "I learned to create proper positions, rather than whacked-out versions of them."
Some dancers are so wonky they have a hard time supporting their high legs, while others struggle with limited flexibility. But no matter your facility, you can find a balance of stretch and strength to achieve your fullest range of extension. It's not about how high (or not) your legs can go: It's the quality of the movement, and how you get those legs up, that counts.
---
If You're Tight…
Stretch, but Don't Overstretch!
Some dancers just don't have much flexibility in their hips and back. If you're one of these people (and most dancers are!), set aside time to stretch each day. "But there are a lot of crazy stretches, and it's easy to pull a muscle or do something harmful," Ricucci warns. "You have to be careful and go one step at a time. Don't push yourself too hard all at once."
Ian Hussey, principal dancer at Pennsylvania Ballet, says he has "unbelievably tight hips," and recommends the following tried-and-true routine. Before barre, he does core work to get his blood flowing, which makes it easier to stretch. He uses the barre itself as a stretching tool, putting his foot on it and leaning into the stretch. To find the correct, fully extended positions to the front and side, "I grab my heel and get my leg as high as I can, dropping my hip in the socket and pulling up my standing leg," he says. "Then I let go, and hold it up as long as I can." He focuses on turning out from the tops of the thighs, and avoids pronation in his standing foot by thinking about keeping his little toe on the ground.
You can also use a Thera-Band to help you get those extra few inches of stretch. "Make two loops with the ends of a Thera-Band, and put them around your ankles," says Samantha Williams, a teacher at Center Stage Performing Arts Studio in Orem, UT. "On your back, do coupé, then passé turned out, get your knee to your armpit, and extend." Pull gently on the ends of the Thera-Band, so you feel the stretch deep in your muscles—but be careful not to overdo it.
Use the Music
Adding dynamic phrasing to your extensions will make them more beautiful and more interesting to watch, no matter their height. Adagio is the perfect time to explore that musicality. "The dynamics might not be sharp, like they are in petit allégro," says Tina LeBlanc, an instructor at San Francisco Ballet School, "but it's not monotone. It should be like writing, with punctuation in each phrase."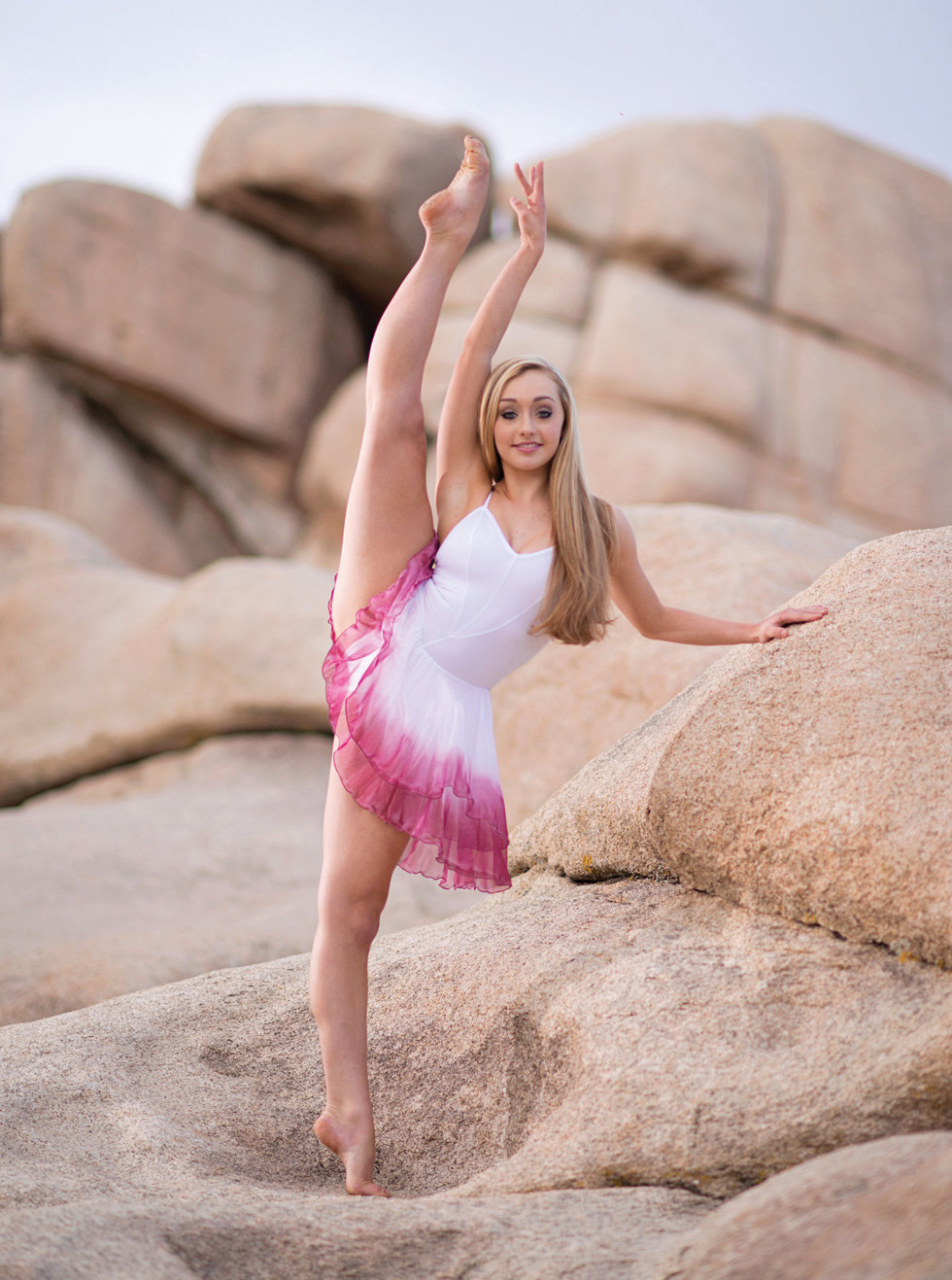 Christina Ricucci went back to the basics in class to learn how to properly support her extension. (photo by David Hoffman, courtesy Ricucci)
"If you just whack your legs as high as you can, the magic is gone," Hussey says. "But when you use the music intelligently, it can really show who you are as an artist." Hussey suggests accenting the way you pick your foot up to coupé, moving quickly through passé, and then slowing down again, luxuriating in the lengthening of your leg.
If You're Flexible…
Find Control
Dancers with tons of flexibility, like Ricucci, need strength and a solid foundation to
support their full extension. "Even when I'm doing more funky positions in contemporary, I still have to know the technique," Ricucci says. "We do a lot of crazy things with our bodies, and if you don't have the strength to stabilize it, those skewed, cool positions aren't going to work." To gain more control, Ricucci does resistance exercises with a Thera-Band and focuses on placement and endurance in ballet class.
At Center Stage, Williams also works with Thera-Bands and small ankle weights (2 pounds or less) to help students use
the correct muscles. "I talk about peanut butter a lot, especially with dancers who are loosey-goosey," she says. "We envision pushing their extensions through peanut butter, or mud, or honey, so that they engage all of their muscles."
Even if you can reach 180 degrees (or beyond!), you shouldn't use your max extension all the time. "You still need a range," LeBlanc says. "Just because your leg is high, doesn't mean it's better." Practice and practice until you know exactly where 45 and 90 degrees are, without having to look in the mirror. (You should even be able to find them with your eyes closed!)
Stand Strong
When the working leg goes high, the standing leg might bend or buckle. "That can
be counterproductive, since you lose the strength of the opposition," LeBlanc says. Think about standing tall on your supporting side, keeping your weight over your toes and pressing into the floor. This straight, strong bottom leg will help you control even the highest extensions. For an added challenge, Williams suggests doing an adagio exercise on a BOSU Ball, which will force you to focus on the standing leg.
A version of this story appeared in the March 2018 issue of Dance Spirit with the title "Your Best Extension."
(From left) Mean Girls dancers Riza Takahashi, Ben Cook, Kamille Upshaw, Jonalyn Saxer, DeMarius R. Copes, and Stephanie Lynn Bissonnette (photos by Erin Baiano)
Get in, losers. We're going to Broadway.
OK, not losers, actually—more like the bajillion die-hard fans of Tina Fey's 2004 cult hit Mean Girls, who've been wearing pink every Wednesday since a musical adaptation of the film was first teased back in 2013.
Now their world is like a cake filled with rainbows and smiles, because Mean Girls the musical, which had a trial run in Washington, DC, last fall, is set to open at Broadway's August Wilson Theatre April 8. And in a very grool twist, it turns out the show—with direction and choreography by Casey Nicholaw and a book by Fey herself—is delightfully dancey.
Keep reading...
Show less
Lloyd Knight perform ing in Martha Graham's Night Journey (photo by Brigid Pierce, courtesy Knight)
Principal Lloyd Knight has become a true standout in the Martha Graham Dance Company thanks to his compelling presence and dynamic technique. Knight, who performs leading roles in iconic pieces like Appalachian Spring and Embattled Garden, was born in England and raised in Miami, where he trained at the Miami Conservatory and later graduated from New World School of the Arts. He received scholarships to The Ailey School and The Dance Theatre of Harlem School in NYC and joined MGDC in 2005. Catch him onstage with MGDC during its New York City Center season this month. —Courtney Bowers
Keep reading...
Show less
University of Minnesota Dance Team (courtesy University of Minnesota)
They say there's no "I" in "team"—and nowhere is that truer than the world of college dance teams, where precision reigns, uniformity is key, and a single misstep from any given "I" can cost a group a championship trophy. So it's unsurprising that securing a spot on one of the best dance teams in the country is no easy feat.
Members of these highly athletic teams rehearse for hours every week—on top of academic classes and commitments—and perform at football and basketball games, annual concerts, and nationally televised competitions (hi, ESPN). And "no I" rule notwithstanding, each of these top teams is made up of highly trained, highly technical, highly hard-core individuals, who come together to create a ready-for-victory pack.
These six teams aren't one-off success stories—they're consistently strong, and earn the top spots at major competitions like UDA and NDA nearly every year. Up for the challenge? Here's what to know before you go to auditions.
Keep reading...
Show less
Alicia Vikander in Tomb Raider (Warner Brothers)
Keep reading...
Show less
Photo by Travis Kelley, courtesy Kathryn Morgan
In our "Dear Katie" series, former NYCB soloist Kathryn Morgan answers your pressing dance questions. Have something you want to ask Katie? Email dearkatie@dancespirit.com for a chance to be featured!
Dear Katie,
I'm a hip-hop and jazz dancer, and I want to get involved in the commercial-dance world. I've never studied ballet, but people keep telling me I "have to" take ballet classes if I want to make it professionally. Is that really true? My family has limited money for dance classes, and I have to be careful about how I spend it.
Sarah
Keep reading...
Show less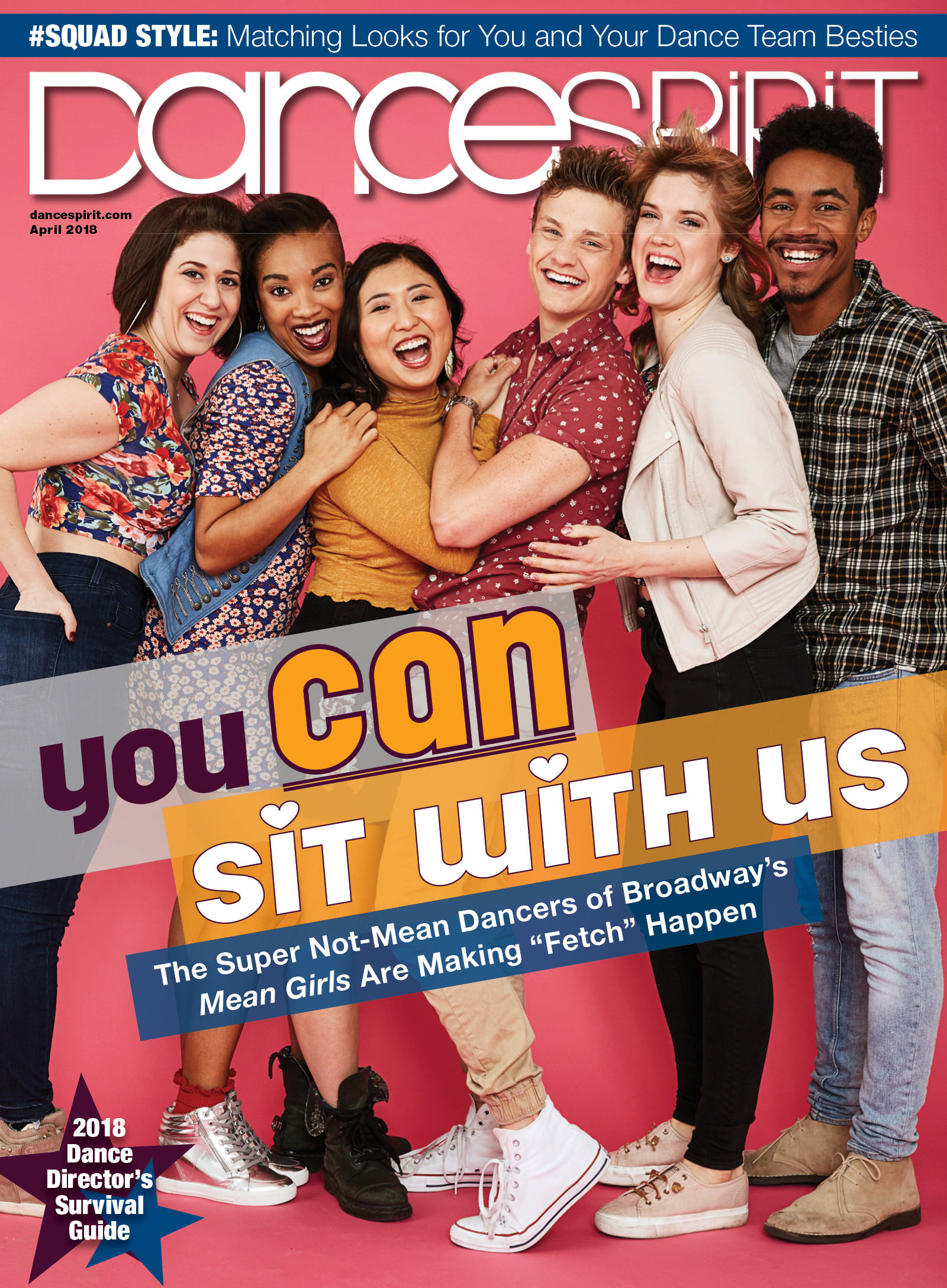 Get Dance Spirit in your inbox