What It Takes to Be a Musical's Dance Captain
The cast of Kinky Boots (photo by Matthew Murphy, courtesy DKC/O&M)
Once a Broadway show officially opens, most choreographers direct their attention to a new project, and in high school productions, frequently the choreographer can't be present during the entire rehearsal process. That's where the dance captain comes in: Their job is to maintain the integrity of a show's choreo as originally set by the choreographer. "I'm always very careful about who our dance captains are because they're representing me," says choreographer and director Rob Marshall, known for the 2014 Cabaret revival and the 2002 Chicago film.
Working as a dance captain can seriously pay off career-wise. "It's a wonderful job because you learn how to run a show after the director and choreographer leave," Marshall says. "It's a really important position, especially if you're interested in something further in the directorial or choreographic world."
So, what are the steps to dance captain success? We asked pros from across Broadway to weigh in.
---
Becoming a Dance Captain
In order to become a dance captain, first you'll have to stand out as a dancer. Prove your worth by performing at a high level in multiple shows with the same choreographer. Allow your relationship with them to grow over time—don't try to force anything.
You can also take advantage of specific programs that allow dance captains to flourish naturally, like those at the Professional Performing Arts School in NYC. "We have a number of performance opportunities that offer the possibility to assist choreographers in a dance captain capacity," says Chuck Vassallo, director of performing arts at PPAS.
Sometimes, though, opportunity doesn't come knocking unless you speak up. That was the case for Nathan Peck, who was made dance captain in La Cage aux Folles on Broadway after he straight-up asked for the job. "After our first big dance rehearsal, Jerry Mitchell, the choreographer, called me over and said, 'I hear you would like to be my dance captain,' " Peck says. The two developed a professional friendship. Peck is now dance captain for Mitchell's newest Broadway musical, Kinky Boots. "A lot of it was based on my prior relationship with him. When you're in the business for a while, it's nice to make those connections," Peck says.
Pay Attention
Being a dance captain is a difficult, multifaceted job. The role requires taking extensive notes and giving feedback to the other performers. It also involves making sure the spacing and intent of the movement is still intact, as well as fielding concerns from company members. And when a newcomer joins the production, the dance captain is responsible for teaching the dancer the choreography. In some shows, the dance captain needs to know 30 dancers' parts inside and out, in addition to their own role.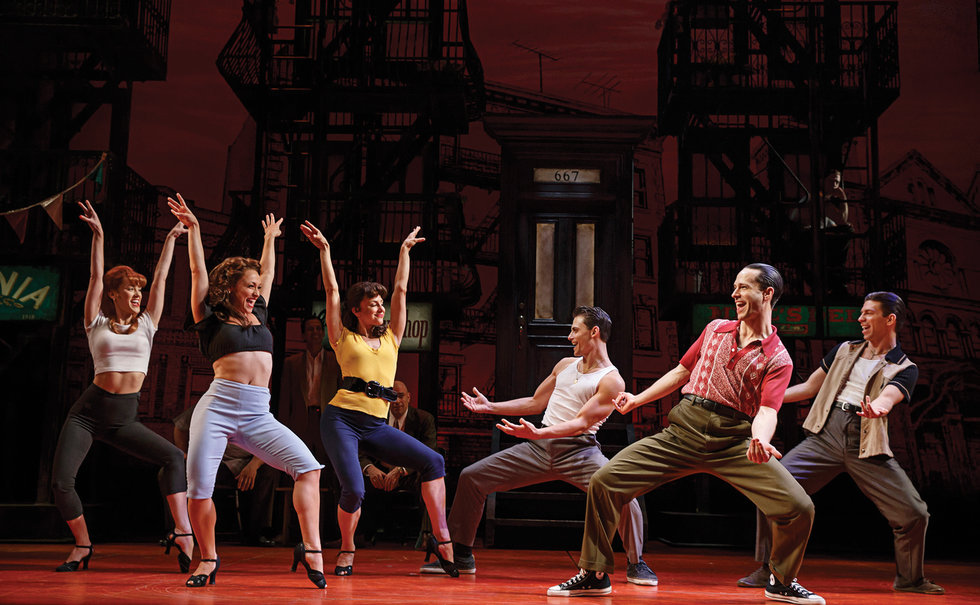 Dance captain Brittany Conigatti (second from left) with the cast of "A Bronx Tale" (photo by Joan Marcus, courtesy Boneau/Bryan-Brown)
All of this means a dance captain has to be especially detail-oriented. "You have to watch how the choreographer sets the choreography and then be able to share that information with other castmates," explains Peck. "I usually go through the show, track every move, and write it all down."
Think Like a Choreographer
To do the job efficiently, a dance captain also has to be able to speak to the cast the same way a choreographer does. "It's like being a follower and a leader," Marshall says. "You have to follow what a choreographer is doing, and then you have to take over. So, it's crucial you speak the same language as the choreographer." Pay attention to the choreographer's tone and the words he uses to describe movements and steps, which will help you articulate direction to other members in the company.
But be careful not to scrutinize everything all the time—doing so could lead to micromanagement of the cast. "If you watch something too much, your perspective becomes skewed," Peck says. At first, he used to watch performances of Kinky Boots regularly, but now that the show's been running a few years, he takes notes on staging only once a week so it doesn't lead to constant nitpicking.
Be Confident, Not Bossy
Being appointed dance captain doesn't mean you're suddenly everyone's boss. And while it's flattering to be asked to lead, don't use your new job as a power trip. "Rather than saying 'You've been doing this step wrong,' I try to frame it as, 'You bring a lot of energy to the show. But there are some things you're doing that are detracting from the original choreography, so let's work on this,' " says Brittany Conigatti, the dance captain for A Bronx Tale.
Be respectful of your colleagues' feelings. "You need to make sure to show the cast that your concerns are their concerns, so they can respect you while you lead," says Robert Fairchild, who starred in An American in Paris. Understand how different actors take feedback, and be aware of how they might perceive your notes. "People take criticism in different ways, and you have to navigate how they'll respond," Peck says. "It's an art to gently guide performers into doing what you want them to do."
A version of this story appeared in the February 2018 issue of Dance Spirit with the title "The Dance Captain Playbook."
(From left) ABT's Erica Lall; NYCB's India Bradley; Washington Ballet's Nardia Boodoo; NYCB's Rachel Hutsell (all photos by Rachel Neville)
Misty Copeland. Her name is synonymous with exquisite artistry and outspoken advocacy. And her visibility has made a huge impact on the ballet world. Ballet's relationship with race has always been strained at best, hostile at worst. But Copeland's persistent message and star quality have finally forced the ballet industry to start talking about racial diversity, inclusivity, and representation. "The rarity of seeing ourselves represented is sad," Copeland says. "The more we see every hue and body shape represented on the stage, the more possibilities young dancers feel they have for themselves."
Keep reading...
Show less
Thinkstock
"Whole, low-fat, or skim?" The question of which milk to drink has gotten a little more complicated lately, with a wide variety of nondairy milks popping up in grocery stores. To find out which ones are worth your milk money, we had registered dietitian Monika Saigal answer some FAQs.
Keep reading...
Show less
Popular
Feb. 16, 2018 11:58AM EST
Via Jaime Guttenberg's memorialized Facebook page
Yesterday, the dance community was heartbroken to learn that Jaime Guttenberg and Cara Loughran, both 14-year-old dancers, were among the 17 people killed on Valentine's Day in the shooting at Marjory Stoneman Douglas High School in Parkland, FL.
Keep reading...
Show less
Sarah Lane as Clara in The Nutcracker (photo by Gene Schiavone, courtesy American Ballet Theatre)
American Ballet Theatre principal Sarah Lane charms audiences with her bright energy and crisp technique. The San Francisco, CA, native first started dancing at age 4 at a local community center, and at age 7 started training in Memphis, TN, at the Classical Ballet Memphis. Her family later moved to Rochester, NY, where she continued studying at the Draper Center for Dance Education. In 2002, she was a YoungArts Foundation winner in dance, allowing her to become a U.S. Presidential Scholar in the Arts. She joined American Ballet Theatre as an apprentice in 2003, was made a soloist in 2007, and was promoted to principal last fall. Recently, she originated the role of Princess Praline in Alexei Ratmansky's Whipped Cream. Catch her later this spring during ABT's Metropolitan Opera season. —Courtney Bowers
Keep reading...
Show less
You and I both know that dancing is the best thing since chocolate chip cookies! But its always nice when dance gets the recognition it deserves from non–dance-world peeps. That's why we did our own happy dance when we saw Shape magazine's article on how dancing can actually make you a better athlete.
Keep reading...
Show less


Get Dance Spirit in your inbox