On Sunday evening, you will find me curled up on my couch, eyes glued to the TV screen, demanding that anyone in my vicinity, "Please be quiet!"
Oh yes: It's Tony Awards time.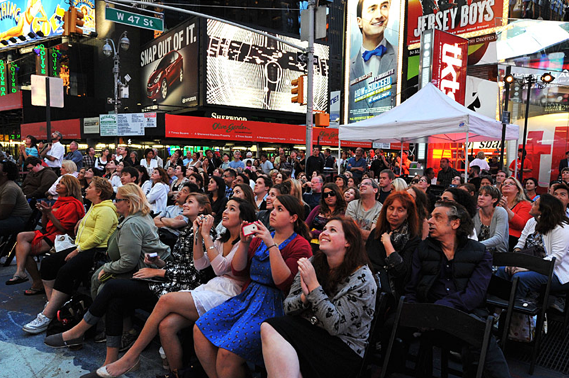 The Tony's are my favorite. I don't care about the red carpet, I don't care about who's wearing diamonds from which fancy jeweler — I care about the performances. And this year, I care about the host, the hilariously entertaining and always-on-his-toes Neil Patrick Harris.
It's guaranteed to be a good show since Harris has proven himself a superstar host. But I'm especially excited about one performance in particular: the Newsies. I'd like to see Newsies take home all the top awards this year because it's my favorite show right now. Once is another top contender in the Best Musical category, so be sure to check back here Monday morning for the full list of winners.
Until then, I'll be singing "Seize the Day" at the top of my lungs. You're welcome, coworkers.
In the spirit of the Tony Awards — and the fact that we just sent our July/August Broadway issue to the printer — I asked the DS staff to share their favorite Broadway songs.
Now, just for you, here's Dance Spirit's Ultimate Broadway Playlist...
ALISON'S FAVORITES:
"So Much Better" from Legally Blonde: The Musical

"96,000" from In the Heights

"Defying Gravity" from Wicked

"Seize the Day" from Newsies

"You Can't Stop the Beat" from Hairspray

"One" from A Chorus Line

"Seasons of Love" from RENT ("Classic.")

"Somewhere" from West Side Story

"I Believe" and "Tomorrow is a Latter Day" from The Book of Mormon
RACHEL'S "OhmygodIlovemusicals" FAVORITES:
"La Vie Boheme" and "Take Me or Leave Me" from RENT

"Dance Ten, Looks Three" and "Nothing" from A Chorus Line

"We Both Reached For the Gun" from Chicago

"The Circle of Life" and "I Just Can't Wait to be King" from The Lion King ("Anything Disney automatically jumps to the top of most of my playlists. There's nothing better on road trips.")
MARGARET'S FAVORITES:
"America" from West Side Story ("Best dance number ever.")

"If Ever I Would Leave You" from Camelot

"If I Loved You" from Carousel

"For Good" from Wicked

"I Dreamed a Dream" from Les Miserables ("I cry like a baby every time I hear it")

"Make 'Em Laugh" from Singin' in the Rain

"What I Did for Love" from A Chorus Line

"Fugue for Tinhorns" and "Adelaide's Lament" from Guys and Dolls
MICHAEL'S FAVORITES:
"The entire Rock of Ages soundtrack." Specifically "Don't Stop Believin'. "

"Steal Your Rock 'N' Roll" from Memphis
Happy downloading!
(Oh, and if you're like us and you're Newsies-obsessed, you may kind of love our upcoming July/August issue. Just saying...)
And don't forget to tune in to the Tony Awards this Sunday, June 10, at 8 pm on CBS.
Jun. 15, 2017 02:00PM EST
From left: Haley Hartsfield, Kaylin Maggard, and Michelle Quiner (photos by Erin Baiano)
Congratulations to Dance Spirit's 2017 Cover Model Search finalists: Haley Hartsfield, Kaylin Maggard and Michelle Quiner! One of them will win a spot on Dance Spirit's October 2016 cover. Learn more about the dancers on their profile pages, and then vote for your favorite below.
We also want you to get social! We'll be factoring social media likes and shares into our final tallies. Be sure to show your favorite finalist some love on Facebook, Instagram, and Twitter, sharing their profile pages and using the hashtag #DanceSpiritCMS.
Keep reading...
Show less
An outfit that makes you feel confident on the convention floor is always a "do" (via Break the Floor Productions)
Attention, ladies and gentlemen: We've officially hit Nationals season! And that means it's time to dig through those closets to find the perfect clothes to get you noticed during convention classes. The task can feel totally overwhelming—but we're here to help. Follow our guidelines, and you'll be rocking the dance floor with Travis Wall and making Stacey Tookey yell "GORGEOUS!" in no time.
Keep reading...
Show less
Royal Flux performing on "World of Dance" (NBC)
Oh man. This is getting ROUGH.
Last night marked the second round of head-to-head duels on "World of Dance." Once again, we were feeling real pity for the judges—and it takes a lot for us to pity J. Lo—because we've reached a point in the competition where there aren't any clear winners. Everyone's insanely good. And yesterday's showdowns paired acts that were so unalike, comparing them felt a little unfair.
So, who emerged from these cruel duels victorious?
Keep reading...
Show less


Get Dance Spirit in your inbox