Jan. 21, 2017 04:16PM EST
Jack of All Trades or Master of One?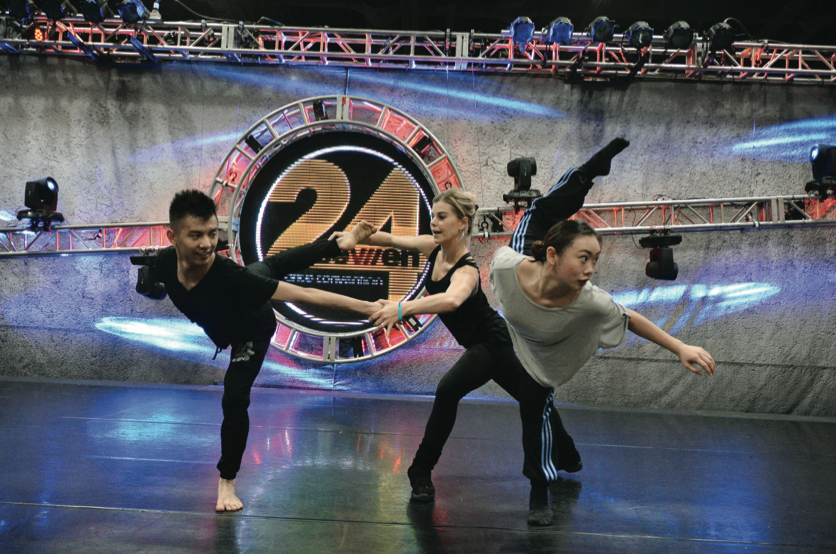 Lauren Adams (center) teaching Jonathan Wade and Nicole Ishimaru at 24 Seven Dance Convention (photo by Austin Gill, courtesy Adams)
Ballet dancers starring on Broadway, commercial dancers performing in musicals, choreographers blurring the lines between genres: Crossover is everywhere. Even the most classical ballet companies are mixing avant-garde contemporary works into their rep, and dancers everywhere are being called upon to shift seamlessly from one style to another in the course of a single rehearsal day. Versatility seems to be the name of the game. But (almost!) no one is naturally gifted in every style of dance. So what kind of training will best prepare you to meet the demands of directors and choreographers? Does a "bit of everything" dancer risk spreading her time and talent too thin, never gaining a standout strength that directors will remember? Will laser-focusing on a favorite technique limit your career options later? We asked professionals to weigh in on the pros and cons of diversified versus specialized training.
Specialization: Find Your Niche
A specialized training path is critical in fields like ballet, where it can take up to a
decade to gain the high-level technique required for a
professional career. And being especially strong in one particular genre will give you a memorable "signature" skill that can become your calling card—a valuable asset that sets you apart.
Mallauri Esquibel is currently a successful commercial dancer who's worked on Broadway and TV and toured with Travis Wall's Shaping Sound. But she says years of concentrating on ballet—daily private lessons before her jazz and hip-hop classes—made all that possible. "I was interested in everything, but I still saw myself as a ballet dancer," she says. "Now, even though ballet is not my career, my technical training is my one-up on everyone else. I love to surprise people by being the 'ballet girl' in the hip-hop audition."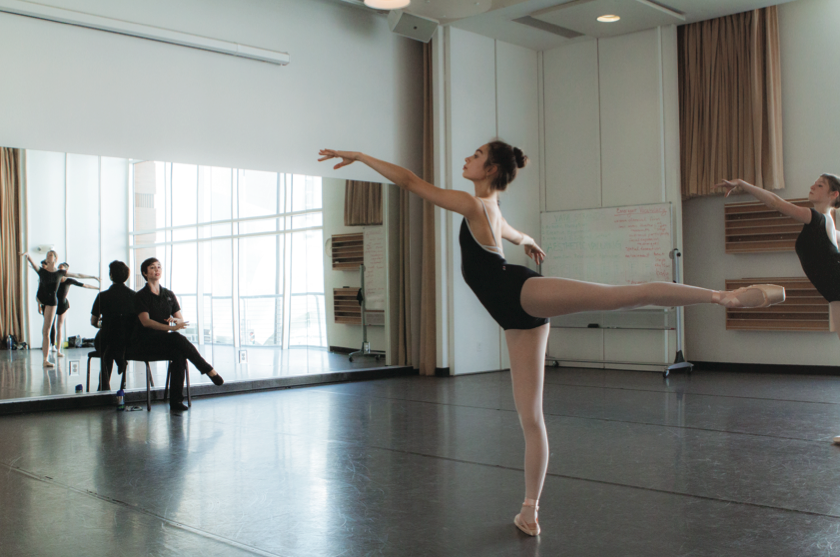 Jenifer Ringer teaching at Colburn Dance Academy (photo by James Fayette, courtesy the Colburn School)
And being specialized doesn't mean eliminating all exposure to other styles. Colburn Dance Academy in L.A. is primarily a ballet training ground, but students there are prepared for what director Jenifer Ringer calls a "blended dance world," with a curriculum including urban dance, strength training and piano, along with two daily ballet classes. "We want to keep our students from being myopic in their thinking," she says. "The benefit of contemporary classes is learning something you can bring to your ballet. Time spent away from ballet doesn't cancel out ballet!"
It might be surprising, but specialization can benefit you in the do-it-all world of competitions and conventions, too. New York City Dance Alliance executive director Joe Lanteri sees convention dancers moving easily from tap to hip hop to ballet to contemporary, but says strength, along with versatility, is necessary. "While 95 percent of the dancers we see will be successful because of their versatility, of course they're better versed in one area or another," he says. "From the standpoint of how to market yourself, it's important to have something at the top of your resumé—as long as you have the skill to back it up." That means digging deep enough to gain real confidence in one or two technical areas.
Diversification: Try It All
A diverse training path will allow you to more fully explore any genre that intrigues you, which can have significant artistic as well as career-related benefits. "I think the more you try, the more you experience, the more you're going to bring to your artistic palette," says contemporary choreographer Lauren Adams. Learning a variety of styles will also give you more to draw from when you're improvising or making work. Adams finds that her own diverse knowledge—she has a background in everything from ballet to tap to Latin ballroom—informs her choreography by allowing her to "speak the language" of nearly any dancer.
Some of the world's greatest dancers stand out for their deep understanding of many different movement qualities, says Oregon Ballet Theatre artistic director Kevin Irving. In addition to studying several styles, he recommends taking workshops in improvisation or release technique, to become adaptable to various uses of space and body weight. "Being adept at learning new things is one of the most important skills a dancer can have," he says. "Good dancing transcends stylistic applications, but part of that is knowing how to
approach each one." In other words: Since the demands of Jiˇrí Kylián, Marius Petipa and Bob Fosse couldn't be further apart (and very few people are equally at home in everything), learning how to approach distinct challenges is key.
The final word? Keep your options open. If you find that a focused training path isn't working for you, it's almost never too late to try a broader approach, and vice versa. And whatever path you choose, stay curious. Adams makes work on both specialists and generalists, but above all, "I love working with people who are willing to look crazy or bizarre for a moment and be outside their comfort zone," she says. "They have a sense of humanity that inspires me to pull from unexpected places for new ideas."
What's more daunting than getting into your dream college dance program? Figuring out how you'll cover the costs of tuition, room and board, incidental expenses and more. Here's the good news: The right scholarship(s) can bring your dream school well within reach.
Look Around, Look Around
Scholarship applications are due between the fall of senior year and graduation time, so familiarize yourself with funding opportunities during the spring of junior year. And there are a lot of opportunities out there, says Kate Walker, chair of dance at Booker T. Washington High School for the Performing and Visual Arts in Dallas, TX. "A lot of school guidance counselors now have software that automatically matches you with scholarships," she says.
Seek out scholarships on your own, too. According to Walker, "a lot of corporations are required to have some community engagement, including offering scholarships, so research corporations in your community." Your parents' employers might offer assistance too, says Doug Long, an academic and college counselor at Interlochen Arts Academy in Interlochen, MI. "They might have scholarships you can apply for just because your parent works there."
Other sources of grant money you won't have to pay back (as you would a loan)? The YoungArts Foundation; competitions/conventions, like New York City Dance Alliance; and the university or dance department you're applying to. Even some scholarships aimed at athletes are open to dancers!
Apply Yourself
A winning scholarship application involves a fair amount of paperwork, especially if the organization requires you to show financial need. In addition, certain scholarships ask for the College Board's CSS/Financial Aid Profile, which gives the awarding organization a more complete picture of your family finances.
Other ingredients of a successful scholarship application include recommendation letters, a dance and/or academic resumé and an essay or statement of purpose. Treat these components just like college applications: Have multiple trusted adults proofread your materials, and ask for recommendation letters or transcripts long before deadlines.
A note for non-dance scholarships: Including objective measures of achievement can only help you. "List national recognitions, like YoungArts or other competitions," says Long. "That shows the scholarship committees that people at high levels have acknowledged you as an artist of quality." And don't forget who your audience is. "Especially in writing samples, make sure you paint a vivid picture for your reader," Walker says. "Don't assume they know about all the things—like barre every day—that we as dancers take for granted."
No award amount is too small to be worth your time and effort. As Walker says, "Don't pooh-pooh a couple hundred dollars in award money, because any scholarship is funding that you didn't have yesterday."
A version of this story appeared in the July/August 2017 issue of Dance Spirit with the title "All Aboard the Scholar-ship."
Every ballet dancer knows the time, sweat, and occasional tears the art form demands. But many non-dancers are clueless about just how much work a ballet dancer puts into perfecting his or her dancing. So when the mainstream crowd recognizes our crazy work ethic, we'll accept the round of applause any way it comes—even if it comes via four men in tutus. Yep, we're talking about "The Try Guys Try Ballet" video.
Keep reading...
Show less
(via YouTube)
Remember that fabulous old-school clip of dancers tapping in pointe shoes that Tabitha and Napoleon D'umo brought to our attention back in March? As we mentioned then, toe-tap dancing was actually super popular back in the 1920s and 30s—which means there are more videos where that one came from. And because #ToeTapTuesday has a nice ring to it, we thought we'd take this opportunity to introduce you to Dick and Edith Barstow, a toe-tapping brother and sister duo from that era who are nothing short of incredible:
Keep reading...
Show less
(Adam Rose/FOX)
Guess who's back? Back again? The Academy's back! Tell a friend.
After one day at The Academy, the All Stars have successfully taken the Top 100 down to 62. But their work is just getting started: Now they need to keep narrowing the field to a Top 10, ultimately deciding who each will partner with during the live shows.
Keep reading...
Show less


Get Dance Spirit in your inbox