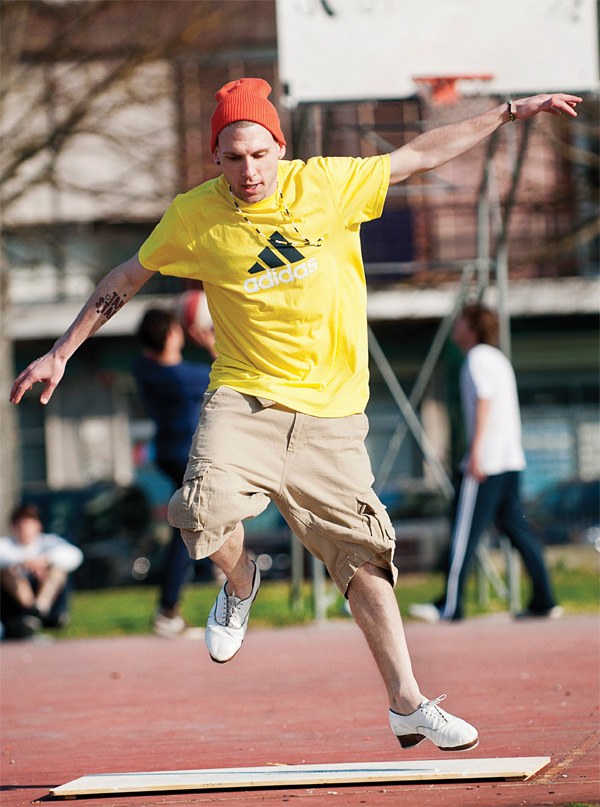 Jason Janas (by Paolo Bernardotti)
It's impossible not to get caught up in the moment when you watch Jason Janas tap dance. Electricity rumbles in his fast-moving feet and reverberates up through his body. You come away wondering how such athletic dancing could also seem so loose and easy. How did Janas hone his talents? After training with Deborah Mitchell and performing with the New Jersey Tap Dance Ensemble and the North Carolina Youth Tap Ensemble, he became a principal dancer with Tapestry Dance Company in Austin, TX. He caught the eye of tapper Derick K. Grant, who invited Janas to join his show Imagine Tap! Janas went on to start his own tap festival in Charlotte, NC, and tour as a dancer and co-choreographer in Rasta Thomas' Tap Stars. Today you can catch his classes at festivals and conventions across the country. Read on for The Dirt! —Helen Hope Rolfe
If you could dance with any performer, past or present, who would it be? John Bubbles, my favorite tap dancer of all time.
Biggest guilty pleasure: Ice Cream. I can't get enough.
What's something most people don't know about you? I love to write stories/poetry.
Who is your dance crush? I think Melinda Sullivan is pretty amazing...super talented.
What's the strangest thing in your dance bag? A room key from this amazing hotel I stayed in when I was in Sardinia, Italy. I can't part with it.
Do you have any performance habits or superstitions? I always walk on stage with my left foot first.
What's your most embarrassing onstage moment? My pants ripped onstage. I was 15. Black trousers. White underwear. Not good.
via @phil_wright_ on Instagram
Well, this brings class videos to a whole new level! Choreographer Phil Wright and dancer Ashley Liai have been together eight-plus years, but she was still in total shock when he proposed to her mid-dance at Millennium Dance Complex earlier this week. Why? Well, the whole thing was unbelievably perfect.
Keep reading...
Show less
Ashly Costa and Buzz Aldrin on "Dancing with the Stars" Season 10 (courtesy ABC)
In the dance industry, dancers don't always have a say in what they wear on their bodies. This can get tricky if you're asked to wear something that compromises your own personal values. So what should you do if you find yourself in this sticky situation? We sat down for a Q&A with "Dancing with the Stars" alumn Ashly Costa to answer that very question. Here's what she had to say about the options dancers have surrounding questionable costumes.
Keep reading...
Show less
Erin Carpenter as a Knicks City Dancer (David Safran, courtesy of Erin Carpenter)
The groundwork for Erin Carpenter's company, Nude Barre, began when she was a teenager. At 16, she earned a spot in the residency program at The Kennedy Center in partnership with Dance Theatre of Harlem. "We were required to wear nude—as in, our actual skin tone—tights and shoes," she remembers. Carpenter brought her "sun tan" tights and a pair of pink ballet shoes with her, because that was all she could find. But she wasn't allowed in class because her dancewear didn't match her skin. "I was so embarrassed," she says. "I looked unprepared. I just didn't have the right nudes." Her teacher explained that the dancers dyed their tights and pancaked their shoes.
Keep reading...
Show less


Get Dance Spirit in your inbox