Jordan Francis is sitting on air! That's the illusion, at least, as he leaps from a trampoline, lifts his legs parallel to the ground and reaches out to touch his toes. When he lands softly on stage, Jordan shows off his classical training with a quick, precise turn. He follows that with one of his freestyle street stunts, a one-armed stall. These diverse moves are all front and center as Jordan plays Barron James in the 2008 Disney Channel movie Camp Rock, a role he'll reprise in Camp Rock 2. With a big-screen hit and TV and theater work under his belt, this commercial chameleon is on the rise.
Jordan, 18, has been perfecting his impressive technique for most of his life. At age 3 he began taking ballet, jazz and tap lessons in his hometown of Toronto, Canada. Then, at age 7, he added hip hop. Around the same time he began working professionally as an actor but kept training and competing in dance. At age 11, he was able to put his passion for performance and dance to work. He earned his first two dance-heavy jobs in the ABC television movie The Music Man and in the feature film Honey. Regardless of genre, Jordan says, "I'm more interested in the performance and showmanship versus just technique."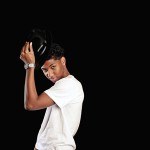 At 16, Jordan nabbed his breakout role in Camp Rock. He actually got the job based on his acting and singing skills because the audition didn't involve much dancing. But when choreographer Kishaya Dudley saw what Jordan could do, "I choreographed everything around him," she says. "He makes every simple move, even a touch-step-side-to-side, look like a backflip."
The reason everything looks so dynamic, in part, is Jordan's combination of height, quickness and precision. At 5'11" he's taller than most dancers, and combined with body control, his stature allows him to create especially graceful lines and inject extra energy into the simplest of moves. But it's when he gets fancy that Jordan really stands out. In the Camp Rock song "We Rock," Jordan climbs a lighting fixture on the side of the stage, then leaps to the floor. He launches into an aerial cartwheel, rotating 360 degrees in the air, and lands smoothly. Without missing a beat, he rejoins the rest of the cast to perform a jazz routine.
Since Camp Rock debuted, Jordan has focused on developing himself as a choreographer as well as an all-around entertainer. He even choreographed the music video for his own R&B song, "Girlz Trippin," with tight, subtle shoulder, arm and hand movements.
Plus, Jordan is getting the chance to create dance numbers for some of his acting projects. He's currently starring as Dave Whynot in the television show "Connor Undercover" on Canada's Family Channel. Each episode features a music video that Jordan choreographs and performs! He's even hoping a bit of his choreography ends up in Camp Rock 2. Regardless, this standout is one to watch, behind the scenes or front and center on the small screen.
Tim O'Shei is the author of 60 books and a frequent contributor to DS.
Photo by Kareem Ajani
A still from Polina (Courtesy of Oscilloscope Laboratories)
The French dance film that made waves at last year's Venice Film Festival is heading stateside: Polina opens in theaters on July 21. The story follows a young Russian ballerina-in-the-making, played by dancer Anastasia Shevtsova, who's performed with the Mariinsky Ballet.
Keep reading...
Show less
Erin Carpenter as a Knicks City Dancer (David Safran, courtesy of Erin Carpenter)
The groundwork for Erin Carpenter's company, Nude Barre, began when she was a teenager. At 16, she earned a spot in the residency program at The Kennedy Center in partnership with Dance Theatre of Harlem. "We were required to wear nude—as in, our actual skin tone—tights and shoes," she remembers. Carpenter brought her "sun tan" tights and a pair of pink ballet shoes with her, because that was all she could find. But she wasn't allowed in class because her dancewear didn't match her skin. "I was so embarrassed," she says. "I looked unprepared. I just didn't have the right nudes." Her teacher explained that the dancers dyed their tights and pancaked their shoes.
Keep reading...
Show less
Via @whitneybugs on Instagram
There are dancers and then there are DANCERS! Whitney Jensen, soloist at Norwegian National Ballet, is the latter. The former Boston Ballet principal can do it all. From contemporary to the classics this prima has the technical talent most bunheads dream about. Need proof? Look no further.
Keep reading...
Show less
Jul. 19, 2017 12:53PM EST
Via YouTube
Luis Fonsi and Daddy Yankee's dance inducing hit, "Despacito," is so catchy it should probably come with a disclaimer that warns people of an uncontrollable itch to tap your feet or bob your head. Some might even feel inclined to go all out and break it down. Niana Guerrero is a prime example of "Despacito's" uncanny ability to unleash the red dressed emoji dancer within. 💃🏽 💃🏽
Keep reading...
Show less


Get Dance Spirit in your inbox