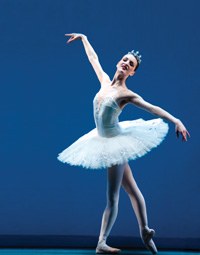 Joy Womack performing Leonid Lavrosky's "Classical Symphony" for the Protégés III showcase at The Kennedy Center in Washington, D.C. Photo by Vihao Pham.
Spirited. Vivacious. Exciting. Joy Womack naturally has the trademark Bolshoi Ballet energy. But when she arrived at the company's academy in Moscow in 2009, her teachers went straight to work reining it in. "They considered me a Kitri type of dancer," Joy says. "As they put it, I needed to learn to 'dance like a ballerina instead of a soloist.' " Two years later, her focus and intense seven-day-a-week schedule has paid off. Joy now balances fiery attack with delicate articulation and expressive épaulement.
Joy, 17, began her pre-professional studies at the Balanchine-based Westside School of Dance in Santa Monica, CA. She switched to Vaganova style at 12, when her family moved to Texas and couldn't find a strong Balanchine studio in the area. Just three years later, her technique was so promising that when Joy auditioned for the  Russian American Foundation's Bolshoi Ballet summer program in NYC, one of the teachers invited her to train year-round in Moscow. While international students are usually placed in the school's separate foreigners' program, at her teacher's request Joy became the first American offered a spot in the school's elite three-year course meant for Russian dancers only. (At the time, Joy knew very little of the Russian language. Now she's almost fluent!)
As one of only 10 girls in her level, Joy has found the competition intense. Like most of her classmates, she wakes up at 6 am to work out, which includes giving herself her own class so that she's on top of her game when school begins. But the opportunities she's been given make the effort worth it. Last winter, Joy went on tour for a month with her class to Italy and Greece, and she was chosen to perform the lead in Leonid Lavrovsky's Classical Symphony at The Kennedy Center last March. At the academy's winter performance in November, she will command the Bolshoi stage as Lise in Yuri Grigorovich's full-length La Fille Mal Gardée.
Although she'd love to join the Bolshoi after graduating next year, Russian law currently prohibits the company from hiring foreigners. Her other dream? Becoming a principal at a top company. "I'd love to perform Jiří Kylián, Kenneth MacMillan and all the classics," she says. "I just want to dance everything!"
Fast Facts
Dance idol: Natalia Osipova. "I'm still starstruck every time I bump into her. She's not afraid to let all her emotions out onstage."
Most played on her iPod: "This song that a guy in Austin wrote for me called 'You're a Joy.' "
Favorite food: Alpen Gold Dva Shokolada, a Russian candy bar.
Her perfect day off: A picnic on the beach in Santa Monica with her friends and family.
Secret talent: "I do great impersonations, especially of Russian ballet teachers."
Did You Know? Joy's aunt is Grammy Award-winning country singer Lee Ann Womack, famous for singing "I Hope You Dance."
Jennifer Stahl is a senior editor at Pointe magazine.
Jun. 15, 2017 02:00PM EST
From left: Haley Hartsfield, Kaylin Maggard, and Michelle Quiner (photos by Erin Baiano)
Congratulations to Dance Spirit's 2017 Cover Model Search finalists: Haley Hartsfield, Kaylin Maggard and Michelle Quiner! One of them will win a spot on Dance Spirit's October 2016 cover. Learn more about the dancers on their profile pages, and then vote for your favorite below.
We also want you to get social! We'll be factoring social media likes and shares into our final tallies. Be sure to show your favorite finalist some love on Facebook, Instagram, and Twitter, sharing their profile pages and using the hashtag #DanceSpiritCMS.
Keep reading...
Show less
Performing on a Broadway stage might seem glamorous, but it comes with one of the most grueling schedules a dancer can face. Maintaining your stamina and energy, warding off injury and keeping the material fresh for eight shows a week is no joke. So how do dancers do it? Dance Spirit talked to ensemble members from some of Broadway's danciest shows to get their survival tips.
Keep reading...
Show less
You should know Leiomy Maldonado's name, because she's shaped the way you dance. Called the "Wonder Woman of vogue," the trailblazing artist was the first transgender woman to appear on "America's Best Dance Crew," as part of the Vogue Evolution crew. And her signature "Leiomy Lolly" hair flip has inspired everyone from Beyoncé to FKA Twigs to Willow Smith to, odds are good, your own teachers and choreographers. (Smith even asked Maldonado to appear in the video for "Whip My Hair," to show the world how to do the flip properly.)
Now, Maldonado is the star of a new Nike ad celebrating the queer and transgender dancers who form the heart of the voguing community. Directed by Daisy Zhou, the spot is narrated by transgender artist Precious Angel Ramirez, and showcases Maldonado's extraordinary skills, as well as those of several other dancers from the vogue scene.

Keep reading...
Show less
Jun. 25, 2017 11:00AM EST
via YouTube
...This clip, "'Hamilton' Choreographer Breaks Down His Moves," popped up on my YouTube recommended list. I mean, I could watch Hamilton's dance wizard Andy Blankenbuehler talk about anything. Have you read our interview with him back when he was making the moves for Bandstand? The guy is freaking fascinating.
Keep reading...
Show less


Get Dance Spirit in your inbox