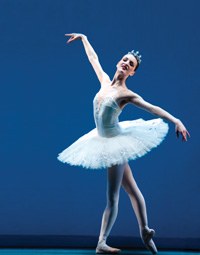 Joy Womack performing Leonid Lavrosky's "Classical Symphony" for the Protégés III showcase at The Kennedy Center in Washington, D.C. Photo by Vihao Pham.
Spirited. Vivacious. Exciting. Joy Womack naturally has the trademark Bolshoi Ballet energy. But when she arrived at the company's academy in Moscow in 2009, her teachers went straight to work reining it in. "They considered me a Kitri type of dancer," Joy says. "As they put it, I needed to learn to 'dance like a ballerina instead of a soloist.' " Two years later, her focus and intense seven-day-a-week schedule has paid off. Joy now balances fiery attack with delicate articulation and expressive épaulement.
Joy, 17, began her pre-professional studies at the Balanchine-based Westside School of Dance in Santa Monica, CA. She switched to Vaganova style at 12, when her family moved to Texas and couldn't find a strong Balanchine studio in the area. Just three years later, her technique was so promising that when Joy auditioned for the  Russian American Foundation's Bolshoi Ballet summer program in NYC, one of the teachers invited her to train year-round in Moscow. While international students are usually placed in the school's separate foreigners' program, at her teacher's request Joy became the first American offered a spot in the school's elite three-year course meant for Russian dancers only. (At the time, Joy knew very little of the Russian language. Now she's almost fluent!)
As one of only 10 girls in her level, Joy has found the competition intense. Like most of her classmates, she wakes up at 6 am to work out, which includes giving herself her own class so that she's on top of her game when school begins. But the opportunities she's been given make the effort worth it. Last winter, Joy went on tour for a month with her class to Italy and Greece, and she was chosen to perform the lead in Leonid Lavrovsky's Classical Symphony at The Kennedy Center last March. At the academy's winter performance in November, she will command the Bolshoi stage as Lise in Yuri Grigorovich's full-length La Fille Mal Gardée.
Although she'd love to join the Bolshoi after graduating next year, Russian law currently prohibits the company from hiring foreigners. Her other dream? Becoming a principal at a top company. "I'd love to perform Jiří Kylián, Kenneth MacMillan and all the classics," she says. "I just want to dance everything!"
Fast Facts
Dance idol: Natalia Osipova. "I'm still starstruck every time I bump into her. She's not afraid to let all her emotions out onstage."
Most played on her iPod: "This song that a guy in Austin wrote for me called 'You're a Joy.' "
Favorite food: Alpen Gold Dva Shokolada, a Russian candy bar.
Her perfect day off: A picnic on the beach in Santa Monica with her friends and family.
Secret talent: "I do great impersonations, especially of Russian ballet teachers."
Did You Know? Joy's aunt is Grammy Award-winning country singer Lee Ann Womack, famous for singing "I Hope You Dance."
Jennifer Stahl is a senior editor at Pointe magazine.
Kalani Hilliker made "Dance Moms" fans sit up a little straighter when she first appeared on "Abby's Ultimate Dance Competition" back in 2013. The then–12-year-old ballerina had charisma, she had sass—and, wow, did she have technique! Abby Lee Miller, the show's infamous host, saw Kalani's star potential from the start, saving her from elimination and ultimately inviting her to perform alongside Maddie Ziegler on Season 4 of "Dance Moms." "I was never supposed to be on 'Dance Moms' beyond that one performance," says Kalani, now 16, but she ended up staying on the show for the whole season—and the following three. "It was my first time, but not my last time, causing drama. And it was also the first time I got to meet the other dancers, who have become like sisters."
Keep reading...
Show less
Boston Ballet's Misa Kuranaga and Patrick Yocum (courtesy Rachel Neville/Boston Ballet)
We're on somewhat of a dance photography kick here at DS, so we figured we'd keep it going in a very big way: an exclusive interview with Rachel Neville, the photographer responsible for all those absolutely drool-worthy dance photos on your Instagram feed. We caught up with Neville at PurePoint Financial in NYC, where her new show, "A Command Performance," is up on display (and we highly recommend you check it out).
Keep reading...
Show less
Thinkstock
Acupuncture has proven benefits for reducing pain and getting dancers back on their feet, but it's also a way to treat your overall well-being—in both mind and body. "Acupuncture works very holistically," says Cassandra Krug, licensed acupuncturist at the Acupuncture Clinic of Boulder, in Boulder, CO. "Even if you come in because of ankle pain, we're looking at your whole body. We're trying to return you to a place of homeostasis, or balance."
Peter Schmidt, a licensed acupuncturist who works with Pacific Northwest Ballet dancers, thinks that acupuncture—when combined with the work of dancer-friendly Western doctors, physical therapists, and orthopedists—results in a higher success rate for his patients. "Acupuncture can't address everything," he says. "But for things that are bothering you that don't show up on an X-ray or MRI, acupuncture could help." Is acupuncture right for you? We talked to the experts to find out what dancers should know before going under the needle.
Keep reading...
Show less
The Top 9 in a Chris Baldock routine (Adam Rose/FOX)
Before we get into this week's recap, let's all show some love for Travis Wall, who had a day yesterday. Just hours before "So You Think You Can Dance" was set to air, Wall was at Disneyland (with friend and "Modern Family" star and aspiring Shaping Sound member Jesse Tyler Ferguson, NBD), where he found himself at a bit of a standstill—literally. "Not gonna be able to make 'So You Think' tonight...because I'm stuck on Indiana Jones," Wall shared on Instagram yesterday afternoon.
But hooray! He eventually did get off the stalled ride, and was in the audience alongside Mandy Moore. We're glad you made it, Travis!
On to the show:
This week, the Top 9 performed solos and duets with their All Stars. You know the drill. As always, we'll skip the solos and get right to the good stuff. (Though the solos were, like last week, so good.) Here's how it all went down.
Keep reading...
Show less


Get Dance Spirit in your inbox