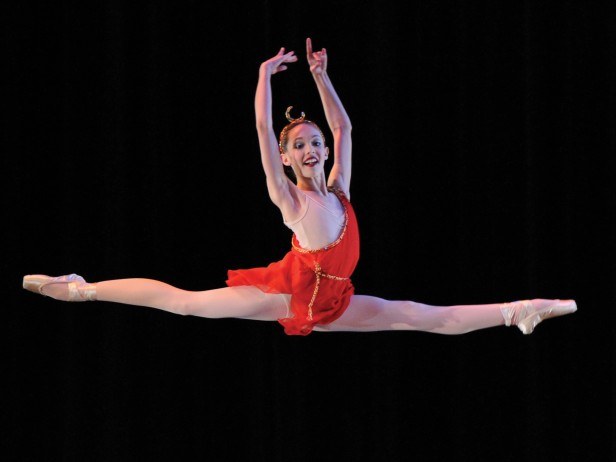 Juliet dancing a variation from Diana and Acteon (pas de deux) at Youth America Grand Prix (VAM Productions)
Juliet Doherty just may have it all: ridiculously long legs, the archiest feet on any given stage, big, beautiful eyes, sky-high leaps and totally controlled turns—plus a starring role at Radio City Music Hall. And she's smart and super sweet? Yes, 14-year-old Juliet has the kind of dance life most of us only dream of.
Juliet started dancing when she was 3 at her great-grandmother's studio, Fishback Studio of the Dance, in her hometown of Albuquerque, NM. "I was born into a dancing family," says Juliet, who trains with her mom. She began with ballet classes, and by the time she was 5 she had added modern, jazz, tap and acrobatics as well. Juliet also made an early name for herself on the competition and convention circuit. "I did my first competition solo when I was 7, and it was a hip-hop number," she says, giggling. "But then I was like, hmm, maybe this isn't a fit for me."
Hip hop wasn't her forte, but ballet certainly is. In addition to attending competitions such as New York City Dance Alliance, International Dance Challenge and Showstopper, Juliet began competing at Youth America Grand Prix at age 9. "I love attending conventions because you get to learn from and put yourself in front of so many amazing teachers," she says. "But at YAGP, you get the opportunity to earn scholarships and take a step even further into your future. I love competing with dancers from all over the world."
In 2009, Juliet traveled to Chicago to audition for the role of Clara in the Radio City Christmas Spectacular. She was cast in the show's Seattle/Pittsburgh tour in what Juliet calls "the most exciting time of my life!" The next year, she was cast in the Florida/Texas leg of the tour. Finally, in 2011, Juliet landed the role of Clara in the biggest production of all: the NYC show at Radio City Music Hall. "After two years on tour, I was ready for New York," she says. During the 2011 season, Juliet performed alongside the Radio City Rockettes in two to five shows a day, six days a week.
With such a grueling dance schedule, is Juliet burnt out? Not even close. "I love performing in front of a live audience," she says. "Someday I want to be in a ballet company like New York City Ballet—those dancers are so inspiring and the Balanchine ballets they perform are gorgeous." And she's already taking steps toward her future dance career. "Last year when I went to YAGP, I had some scholarship interest from overseas programs, and I've kept in touch with those contacts. I want to research my options overseas and in America—I'm figuring out what will be the best fit for me and where I'll be most comfortable."
FAST FACTS
Birthday: June 10, 1997
Most-played on her iPod: "Breathe Me" by Sia. "But before competitions I love listening to Beyoncé's I Am...Sasha Fierce album. She's so confident, and I would love to have that confidence every time I go out and perform."
Favorite movie: Matilda. "When I was 5, she was my hero. I watched that movie every day growing up."
Favorite dance step: Saut de chat. "I'm a powerhouse when it comes to leaping."
Favorite food: Octopus and white rice. "My parents spent time in Japan before I was born, so I was introduced to really good food from other cultures."
Dance idols: Misty Copeland and Ashley Bouder
Who would play her in a movie? Audrey Hepburn
Dance crush: Daniel Ulbricht. "He has a girlfriend, but don't worry: He'll realize soon his true future lies with me…[giggles.]"
via YouTube
It's no secret that ballet in pop culture has sparked its fair share of controversy. Which is why this video from Refinery29, featuring ABT's Isabella Boylston, is not only a super-fun watch, but a breath of fresh air.
Keep reading...
Show less
Jul. 21, 2017 12:26PM EST
via @phil_wright_ on Instagram
Well, this brings class videos to a whole new level! Choreographer Phil Wright and dancer Ashley Liai have been together eight-plus years, but she was still in total shock when he proposed to her mid-dance at Millennium Dance Complex earlier this week. Why? Well, the whole thing was unbelievably perfect.
Keep reading...
Show less
Jul. 21, 2017 11:03AM EST
(Courtesy ABC)
In the dance industry, dancers don't always have a say in what they wear on their bodies. This can get tricky if you're asked to wear something that compromises your own personal values. So what should you do if you find yourself in this sticky situation? We sat down for a Q&A with "Dancing with the Stars" alumn Ashly Costa to answer that very question. Here's what she had to say about the options dancers have surrounding questionable costumes.
Keep reading...
Show less


Get Dance Spirit in your inbox