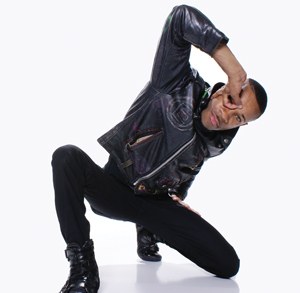 Choreographer Richy Jackson has worked on Lady Gaga's most iconic videos—"Bad Romance" and "Telephone," to name just two. He officially made his debut as lead choreographer for the Haus of Gaga with her "Marry the Night" video in 2011. In the past year, he's come out from behind the scenes to be a judge on "Abby's Ultimate Dance Competition" alongside the infamous Abby Lee Miller, whom Jackson describes as a "non-stop critique shop." Now that the show has wound down, Jackson is heading back to his day job: visual director for Lady Gaga's Born This Way Ball tour, which, after touring overseas, comes to the U.S. this month. Jackson spoke to
DS
about being the man behind Lady Gaga's moves.
Dance Spirit: When did you start dancing? 
Richy Jackson: I grew up watching music videos, and when I was 16, my friends and I would sneak out to the clubs in San Francisco to go dancing. I went to Tuskegee University because I wanted to be a lawyer. While there, I saw a friend dancing in an Aaliyah video, and I basically left for L.A. that week. I called my mom to tell her, and she almost had a heart attack. At the time, I had no formal training. But I landed a job dancing for Will Smith.
DS: Did you know you ultimately wanted to be a choreographer?
RJ: Absolutely. My mother coached a cheerleading squad, and I started choreographing for them when I was 13. They even went to Nationals with some of my routines. But when I got to L.A., I wanted to take the time to learn the craft. The first person I assisted was Michael Rooney, and he changed my life. He showed me that "simple but effective" is the way to choreograph. It took time to get to the point where I could call myself a choreographer.
DS: When did you meet Lady Gaga? 
RJ: Six years ago. I watched her perform three songs in the studio, and I said, "Wow, you are going to be a problem in this industry." At that time, pop music looked like Britney Spears—Barbie-doll perfect. But when I saw Gaga, I knew she was anything but. She was a live singer, she played instruments, she was vulnerable and expressive and she'd take chances no one else would.
DS: You've also worked with Katy Perry, Keri Hilson and Nicki Minaj. How is working with Lady Gaga different?
RJ: When Gaga's learning a dance step, she works until she gets it exactly right. If it's an eight-hour day, she's there for the full eight hours to make sure she has it. She cares about what her dancers look like, what the aesthetic is and what artistic approach we're taking for each song. She brought entertainment back to the music business.
Via @whitneybugs on Instagram
There are dancers and then there are DANCERS! Whitney Jensen, soloist at Norwegian National Ballet, is the latter. The former Boston Ballet principal can do it all. From contemporary to the classics this prima has the technical talent most bunheads dream about. Need proof? Look no further.
Keep reading...
Show less
Jul. 19, 2017 04:53PM EST
Via YouTube
Luis Fonsi and Daddy Yankee's dance inducing hit, "Despacito," is so catchy it should probably come with a disclaimer that warns people of an uncontrollable itch to tap your feet or bob your head. Some might even feel inclined to go all out and break it down. Niana Guerrero is a prime example of "Despacito's" uncanny ability to unleash the red dressed emoji dancer within. 💃🏽 💃🏽
Keep reading...
Show less
Jul. 19, 2017 04:25PM EST
(courtesy NBC)
Guys, we all knew this was coming—"World of Dance" was eventually going to eliminate someone. But man, is it brutal to watch these talented dancers give their all, only to be sent home. It's the name of the game, though, and after last night's episode, only two dancers per division remain. (At least Misty Copeland guest-judging was a silver lining!) Here's what went down last night:
Keep reading...
Show less
Jul. 18, 2017 06:03PM EST


Get Dance Spirit in your inbox