Justin Bieber's Dancers Have a Pre-Flight Dance Party
Flying is never a particularly exciting experience for me. I'm usually traveling between some way-too-busy NYC airport and L.A., Las Vegas or Boston, my most-frequeted cities.
And the procedure is usually pretty standard and predictable: Take cab to airport. Wait in security line. Scramble to fit shoes, purse, laptop, sweatshirt, jacket and carry-on efficiently onto the bag scanner thing. Proceed through security. Smile so as not to be body-scanned. Wait, because I'm undoubtedly a full hour early. Maybe get a sandwich. Fly to cool city. Do fun things.
As you can see, the "do fun things" part doesn't go into effect until after I've reached my destination.
But for Justin Bieber's pack of tour dancers, the fun needn't wait.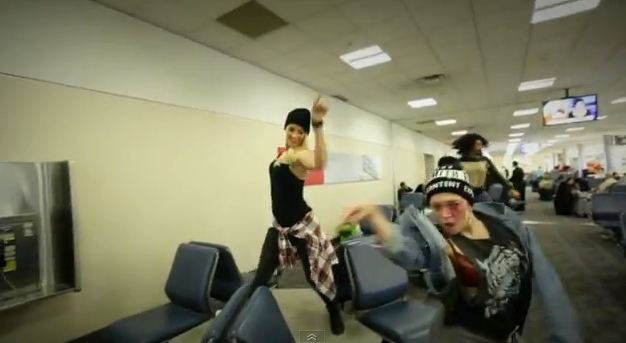 When their recent flight out of Atlanta was canceled, the dancers decided to have a little dance partying fun in the terminal. In a sort of airport flash mob, they rocked out to tunes by The Biebs and got down with fully choreographed moves.
Naturally it's all been recorded for our viewing pleasure:
(The really cool kid with the mega-sized hair? That's Luke Broadlick—and we spotted him before Justin Bieber did! Score one point for DS!)
The next time one of my flights gets canceled, I know what I'm doing. Quick, someone cue up "Somebody to Love!"
A still from Polina (Courtesy of Oscilloscope Laboratories)
The French dance film that made waves at last year's Venice Film Festival is heading stateside: Polina opens in theaters on July 21. The story follows a young Russian ballerina-in-the-making, played by dancer Anastasia Shevtsova, who's performed with the Mariinsky Ballet.
Keep reading...
Show less
Erin Carpenter as a Knicks City Dancer (David Safran, courtesy of Erin Carpenter)
The groundwork for Erin Carpenter's company, Nude Barre, began when she was a teenager. At 16, she earned a spot in the residency program at The Kennedy Center in partnership with Dance Theatre of Harlem. "We were required to wear nude—as in, our actual skin tone—tights and shoes," she remembers. Carpenter brought her "sun tan" tights and a pair of pink ballet shoes with her, because that was all she could find. But she wasn't allowed in class because her dancewear didn't match her skin. "I was so embarrassed," she says. "I looked unprepared. I just didn't have the right nudes." Her teacher explained that the dancers dyed their tights and pancaked their shoes.
Keep reading...
Show less
Via @whitneybugs on Instagram
There are dancers and then there are DANCERS! Whitney Jensen, soloist at Norwegian National Ballet, is the latter. The former Boston Ballet principal can do it all. From contemporary to the classics this prima has the technical talent most bunheads dream about. Need proof? Look no further.
Keep reading...
Show less
Jul. 19, 2017 12:53PM EST
Via YouTube
Luis Fonsi and Daddy Yankee's dance inducing hit, "Despacito," is so catchy it should probably come with a disclaimer that warns people of an uncontrollable itch to tap your feet or bob your head. Some might even feel inclined to go all out and break it down. Niana Guerrero is a prime example of "Despacito's" uncanny ability to unleash the red dressed emoji dancer within. 💃🏽 💃🏽
Keep reading...
Show less


Get Dance Spirit in your inbox