Kathryn Morgan's Summer Intensive Advice
Right about now, many of you are a week or so into your summer intensives. You've probably begun to feel pretty comfortable—you've conquered the dining hall, established your friend group and picked your favorite (and least favorite...) classes and instructors. But before you get too settled in your routine, former New York City Ballet soloist Kathryn Morgan has some big-sisterly advice to share.
We all remember Kathryn, both from her epic rise through the ranks of NYCB and, more recently, from her super helpful online stage makeup tutorials. But this bunhead is so much more than a guru of glam; she's got tons of other great advice to share. And recently, she posted a 20-minute video where she offers suggestions for how to get the most out of your summer intensive.
You've probably heard most of her pointers before: eat well, take care of yourself, pay attention, absorb corrections, etc. But, let's be honest, you're a whole lot more likely to take advice from Kathryn than your mom. Right? (No offense, Mom!) I mean, girl knows how to work a summer intensive: Her second summer at School of American Ballet sparked her future career with NYCB, after all!
Still, the coolest part of the video (as far as we're concerned) is the beginning, where Kathryn shares some of her favorite summer course memories, along with a whole bunch of adorable throwback pics.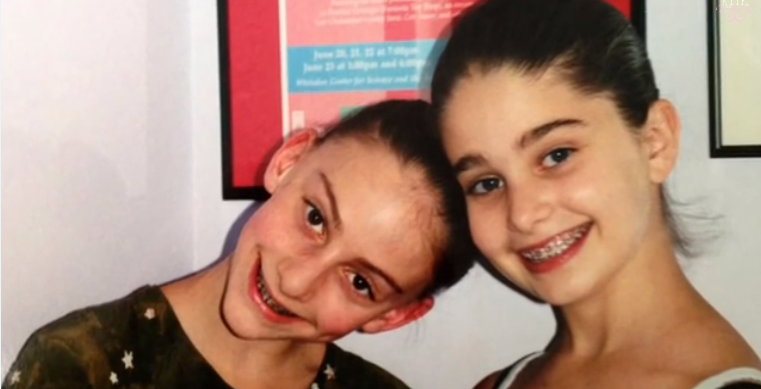 At 12, Kathryn Morgan (right) attended Central Pennsylvania Youth Ballet's summer course, where she became close friends with Miami City Ballet's Samantha Galler. D'awwwww.
The take home message: Professional dancers are just like you. They went to summer intensives when they were young, and they probably felt uncomfortable at first. But look how far they've come! (And think how far you'll go!!)
Watch the video, and then get more great advice on how to make lasting connections—with both friends and mentors—at your summer intensive this year.
Dance is a powerful form of expression, and Ahmad Joudeh is using its influence to promote peace.
The 27-year-old is a Palestinian refugee, whose decision to pursue his passion for ballet has made him the target of death threats from terrorist organizations. Despite the danger, Joudeh has decided to continue on his path as a dancer, using his performances as an opportunity to spread a message of peace and cultural awareness.
Keep reading...
Show less
A dance photo of Averi Hodgson (courtesy of Cortney Hodgson)
For 14-year-old Averi Hodgson, focusing on her ballet training while growing up was never easy: She's suffered from epilepsy since she was in first grade, and later, she was also diagnosed with scoliosis. Here, she tells her story of perseverance—and how her determination earned her a spot at the School of American Ballet's 2017 summer intensive.
Keep reading...
Show less
CBS
"Late Late Show" host James Corden was one of the many, many people shocked by President Trump's sudden decision to ban transgender people from the military yesterday. And he decided to voice his outrage in the way most likely to rile a President who's uncomfortable with anything "un-manly": through a big, beautiful, extra-sparkly song-and-dance routine.
Keep reading...
Show less
Jul. 25, 2017 05:04PM EST


Get Dance Spirit in your inbox