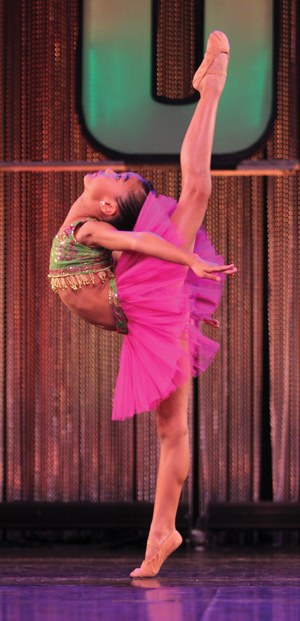 Kayla performing her solo "Arabian Waltz" at New York City Dance Alliance Nationals
Offstage, 9-year-old Kayla Mak is like any other 4th-grader. She's a happy kid who likes math and watching TV. (Her favorite show is "So You Think You Can Dance," of course.) But get her onstage and you'll see a whole different Kayla—a girl who's anything but ordinary.
At the New York City Dance Alliance Foundation's fall show, Bright Lights Shining Stars, in NYC, Kayla performed in a large group number with her studio, Westchester Dance Academy. Though the senior dancers kicked off the ballet routine, it wasn't until Kayla bourréed out from the wings that the crowd went wild. Kayla was the smallest dancer out there, but it wasn't just her size and extra-large smile that commanded attention—she wowed the audience because she more than kept up with girls twice her age. Kayla nailed her pirouettes with ease and showed off massive leaps, crazy flexibility and stunning penchées.
Kayla has trained at WDA in Mount Kisco, NY, since she started dancing at age 4. "My mom was a dancer, and she said, 'You're dancing all over this house, let's get you into a studio,' " Kayla says. Soon, she was enrolled in her first ballet class. "I love using ballet to express my feelings," she says. Kayla also studies lyrical and jazz, and started competing when she was 5. In addition to solos—her "Arabian Waltz" contemporary ballet solo earned her the National Mini Female Outstanding Dancer title at NYCDA and the Young Dancer of the Year title at American Dance Awards this past summer—Kayla performs in group routines, which she says are "fun because I get picked up a lot, but it's a little scary dancing with the older girls." If she's intimidated, it doesn't show: Kayla performs with the utmost confidence. This year her training will go beyond WDA as she tours with NYCDA, assisting and taking classes.
What's next for Kayla? "I want to be a professional dancer," she says. "Any kind of dancer." A simple answer from an exceptional young girl.
FAST FACTS
Most-played on her iPod: "Call Me Maybe" by Carly Rae Jepsen
Favorite food: "My mom's spaghetti with meatballs"
If she were a superhero, her superpower would be: Flying. "I'd get to see the world. The first place I'd go is Japan. My cousins live there."
Favorite movie: Step Up Revolution. "One of my teachers from JUMP was in it—Misha Gabriel!"
Three words that describe her: "Smart, flexible, kind"
via @phil_wright_ on Instagram
Well, this brings class videos to a whole new level! Choreographer Phil Wright and dancer Ashley Liai have been together eight-plus years, but she was still in total shock when he proposed to her mid-dance at Millennium Dance Complex earlier this week. Why? Well, the whole thing was unbelievably perfect.
Keep reading...
Show less
(Courtesy ABC)
In the dance industry, dancers don't always have a say in what they wear on their bodies. This can get tricky if you're asked to wear something that compromises your own personal values. So what should you do if you find yourself in this sticky situation? We sat down for a Q&A with "Dancing with the Stars" alumn Ashly Costa to answer that very question. Here's what she had to say about the options dancers have surrounding questionable costumes.
Keep reading...
Show less
Erin Carpenter as a Knicks City Dancer (David Safran, courtesy of Erin Carpenter)
The groundwork for Erin Carpenter's company, Nude Barre, began when she was a teenager. At 16, she earned a spot in the residency program at The Kennedy Center in partnership with Dance Theatre of Harlem. "We were required to wear nude—as in, our actual skin tone—tights and shoes," she remembers. Carpenter brought her "sun tan" tights and a pair of pink ballet shoes with her, because that was all she could find. But she wasn't allowed in class because her dancewear didn't match her skin. "I was so embarrassed," she says. "I looked unprepared. I just didn't have the right nudes." Her teacher explained that the dancers dyed their tights and pancaked their shoes.
Keep reading...
Show less


Get Dance Spirit in your inbox