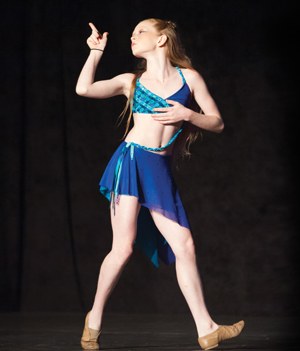 Larsen performing her solo at Showstopper American Dance Championships (David Hofmann)
You've probably seen the dance-centric Microsoft Surface commercial directed by Jon M. Chu—it stars a handful of our favorite dance celebs. But it's a little schoolgirl with red pigtails who really stands out among the talented bunch: Larsen Thompson. Watching Larsen perform, it's clear she has all the polish, pizzazz and presence of a professional hip-hop dancer who's been in the game for years. But once she speaks, her soft, youthful voice reminds you she's just 12 years old. "When I'm older, I want to dance with Britney Spears or Rihanna," says the ambitious up-and-comer.
That day may not be as far off as she thinks. To date, she's already danced and acted in commercials for Walmart, Target, Nintendo and McDonald's. She's also danced backup on "The X Factor" and "The Ellen DeGeneres Show." (Larsen was in the dance studio segment with tWitch, Sophia Grace and Rosie!) "I started dancing when I was 4," Larsen says. "I would do handstands and these little grooves. My mom thought I would like dance. I've loved dancing ever since."
Today, Larsen spends 20 to 30 hours a week taking dance classes. She trains at various studios around L.A. (including Millennium Dance Complex, International Dance Academy of Hollywood and Academy of Dance Westlake Village), often commuting more than an hour from her home in Newbury Park, CA. "I'll be at the studio until 11 pm sometimes, so it can be hard," she says. "I take classes on the weekend, but Fridays are mostly free, so that's when I hang out with my friends. They're always looking at me like I'm crazy because I do all of this."
"All of this" on a typical day might also include meeting with her agent at Clear Talent Group or wearing a stuffed Luigi costume for a Nintendo commercial. For Larsen, getting noticed at auditions means turning on her hard-hitting dance moves, fiery personality and acrobatic prowess. "I usually throw in a trick or two and do some flips," says Larsen, whose mom was a gymnastics coach and whose aunt is Olympic gold medalist Julianne McNamara.
Though it's tempting for Larsen to do only hip-hop all the time, she's dedicated to continuing ballet training in order to better her technique. "Sometimes ballet gets boring, but I know skipping even one day could bring my level down," she says. "And if I ever had to go a week without dancing? I couldn't live like that. Whenever I go to dance class and I've had a bad day, it just goes away because I move through it all. Dancing is my life."
FAST FACTS
Birthday: November 19, 2000
Most-played on her iPod: Beyoncé
Strangest thing in her dance bag: Stinky shoes
Dance idol: Mollee Gray, from "So You Think You Can Dance"
Dream dance role: Elite Protégé for The PULSE On Tour
Three words that describe her: "Perfectionist, funny, fashionista"
Erin Carpenter as a Knicks City Dancer (David Safran, courtesy of Erin Carpenter)
The groundwork for Erin Carpenter's company, Nude Barre, began when she was a teenager. At 16, she earned a spot in the residency program at The Kennedy Center in partnership with Dance Theatre of Harlem. "We were required to wear nude—as in, our actual skin tone—tights and shoes," she remembers. Carpenter brought her "sun tan" tights and a pair of pink ballet shoes with her, because that was all she could find. But she wasn't allowed in class because her dancewear didn't match her skin. "I was so embarrassed," she says. "I looked unprepared. I just didn't have the right nudes." Her teacher explained that the dancers dyed their tights and pancaked their shoes.
Keep reading...
Show less
Via @whitneybugs on Instagram
There are dancers and then there are DANCERS! Whitney Jensen, soloist at Norwegian National Ballet, is the latter. The former Boston Ballet principal can do it all. From contemporary to the classics this prima has the technical talent most bunheads dream about. Need proof? Look no further.
Keep reading...
Show less
Jul. 19, 2017 04:53PM EST
Via YouTube
Luis Fonsi and Daddy Yankee's dance inducing hit, "Despacito," is so catchy it should probably come with a disclaimer that warns people of an uncontrollable itch to tap your feet or bob your head. Some might even feel inclined to go all out and break it down. Niana Guerrero is a prime example of "Despacito's" uncanny ability to unleash the red dressed emoji dancer within. 💃🏽 💃🏽
Keep reading...
Show less
Jul. 19, 2017 04:25PM EST
(courtesy NBC)
Guys, we all knew this was coming—"World of Dance" was eventually going to eliminate someone. But man, is it brutal to watch these talented dancers give their all, only to be sent home. It's the name of the game, though, and after last night's episode, only two dancers per division remain. (At least Misty Copeland guest-judging was a silver lining!) Here's what went down last night:
Keep reading...
Show less


Get Dance Spirit in your inbox