Mar. 23, 2017 09:11AM EST
One of the biggest perks of a summer intensive is meeting great people. In just a few weeks, you can make lifelong friends, find that teacher who "gets" you and maybe even get to talk to your dance idol. But how exactly do you start to form these bonds, and what can you do to make sure they continue—and, ultimately, benefit your career? Read on for ways to nurture each of these summer relationships.
Your Classmates
You've probably already connected with your new friends on social media, so to keep everyone from drifting apart after you leave, create a Facebook group for your class. It can be a forum to post videos, share your successes, ask for advice, remember inside jokes and find out who's going back next year. If you all agree to post regularly, these groups can also help you reach your goals through the year. "Students encourage one another while they're here, and then through a Facebook group, they can take that home with them," says Michelle Chassé, director of The Boston Conservatory's Musical Theater Dance Intensive.
Dancers You Admire
Beyond the studio, you'll probably be sharing meals, dorms and even bathrooms with dancers in higher levels, so take advantage! Ask about how they've gotten to where they are and collect any career advice you can. More experienced dancers are often flattered to hear that you look up to them and may be happy to become mentors—but be sure not to come on too strong. There's a fine line between an eager younger dancer and an annoying little sister. If you do find someone you click with, stay in touch through social media, keep him or her updated on your dance progress and try to meet up whenever you're in the same city.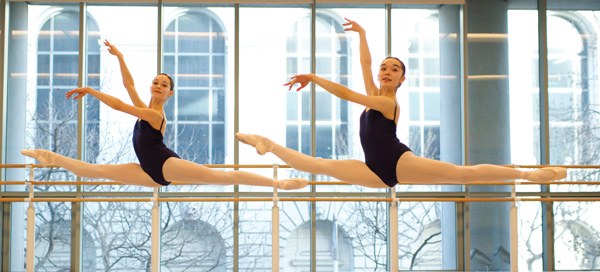 San Francisco Ballet School students in class.
(Photo by Erik Tomasson)
Faculty Members
While you're at the intensive, demonstrate that you're someone your teachers will want to keep tabs on. "Work as professionally as you can—that builds an opening for a relationship," says Debbie Roshe, a theater dance instructor at The School at Steps Summer Intensive in NYC. Being courageous and introducing yourself are strong first steps. "I've had students come up to me and say they're hungry for corrections, and they just want me to know that they're open to a lot of feedback," says Roshe. She's also had students ask her questions about her own dance career. Curiosity and a strong work ethic will show the teacher you're worth investing in.
When the intensive is coming to a close, ask a staff member about how students typically keep in touch with teachers. Some instructors, like Roshe, will give students their email addresses. "Keep it professional," she says. "Just send a message saying, 'I really enjoyed this summer, and this is what I'm doing now.'" Remember that most teachers' schedules are jam-packed year-round, so don't be offended if you don't receive a response right away. Down the road, let your teachers know when you'll see them again. "Students will tell me when they're getting ready to audition for the BFA program or the MFA program," says Chassé. "It's smart to say, 'Remember me? I'm coming in on this day!'" Then, be sure to reintroduce yourself each time you see the teacher. "Even though teachers recognize someone, we might not be sure where we remember you from," says Roshe.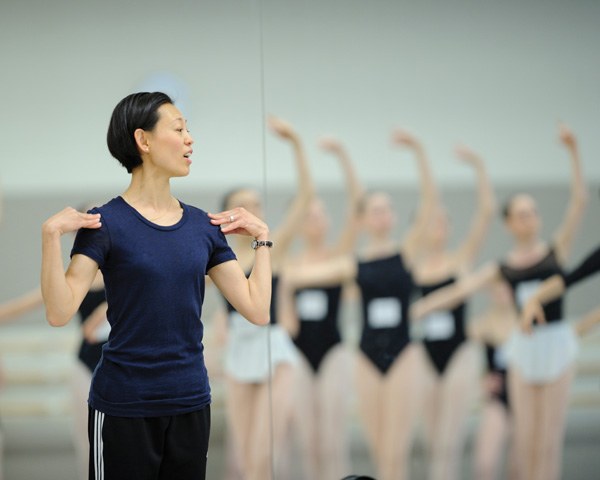 Yuko Katsumi and students in class during San Francisco Ballet School's Summer Session.
(Photo by Erik Tomasson)
Guest Teachers
Even if an instructor is only at your intensive for a day or a week, you can still make a lasting connection. "Introduce yourself and say how happy you are to be working with her," says Chassé. If you take a picture with the teacher, post it on social media and tag the teacher so she can connect a face with a name.
Afterward, if guest teachers don't give out their email addresses, it's OK to ask school administrators if those teachers mind getting emails from students. "There's nothing wrong with emailing a teacher and saying, 'I loved your class, and my goal is to start auditioning here or going to this college,'" says Roshe. Even if the school doesn't give out the teacher's contact information, an administrator might be willing to forward a "thank you" email to him or her. Guest teachers are often dancers who are currently performing. Chassé says many students can meet and reconnect with the teacher at the stage door of a show she's in.
Program Directors and Staff
The program director and facilitators can be your best friends when it comes to learning more about future opportunities with the school. "Our office door can seem like a barrier, but it's always open," says Christina Gray Rutter of San Francisco Ballet's Summer Session. "Dancers often stop by because they want to be considered for the school's year-round program."
Staff members are usually happy to answer any questions you have about future auditions, and it can be a great idea to send an email letting them know when you're coming. "I'll occasionally hear from students and parents when we're approaching the audition season," Rutter says. Go with a simple, "This is what I'm working on. Can't wait to see you at the audition!"
Trae Patton/NBC
Week 2 of Misty Copeland as guest judge, week 2 of merciless cuts...How can the final episodes of "World of Dance" possibly live up to the sheer dramaaaaaaaaa of last night's episode? Well, based on the nail-biting results dished out by Copeland and Co. last night, the competition is only going to get fiercer from here. Without further ado, last night's results, as told by Kween Misty.
Keep reading...
Show less


Get Dance Spirit in your inbox