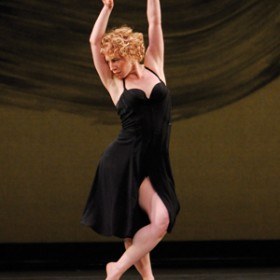 Lauren Grant in Mark Morris' Mozart Dances. Photo by Stephanie Berger.
She may be small, but Mark Morris Dance Group's Lauren Grant has a stage presence that's larger than life. Whether gliding fluidly through Morris' Mozart Dances or hamming it up as the spunky Marie in The Hard Nut (Morris' tongue-in-cheek take on The Nutcracker), she commands attention with every inch of her 4' 11" frame. Grant began her dance training when she was 3, eventually studying ballet with Irena Makkai and Inesse Alexandrov and attending summer programs at Boston Ballet and New York University's Tisch School of the Arts. After earning her BFA from Tisch, she joined MMDG in 1996 and has since appeared in more than 40 of Morris' works. Today Grant is also on faculty at the company's school (and married to fellow dancer David Leventhal). Catch her performing this month with MMDG at the Kennedy Center in Washington, D.C.  —Margaret Fuhrer
Dear Lauren,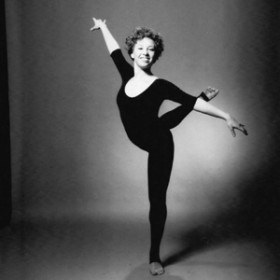 Grant's college audition photo at age 17. Photo courtesy of Lauren Grant.
From the age of 3 your love of dance has been exceptional. You've developed the confidence to follow your dream even though so many dismissed your potential because of your unconventional body type. In actuality, your petite stature will serve you well in many of the roles you'll dance.
As you continue to train, stay open-minded. Remain receptive to the information various teachers offer you. It's easy to hold on tightly to habits you learned throughout childhood. Adapt, change and grow with enthusiasm.
Never assume you are done learning. As a 15-year veteran with the Mark Morris Dance Group I still spend every day working to better my technique and artistry. When you are ready, explore the texture, quality and musicality of dance. Advance beyond focusing on the look of the steps and play with the dynamics of the entire phrase of movement.
Remember, as a dancer, your job is to communicate with your audience. You chose this field because you're comfortable speaking through your body. Be eloquent!
Dancing in a company is a social experience. As you strive for personal excellence, don't neglect the importance of learning how to dance with others. And always interact with patience, generosity and kindness.
The career ahead will be worth every bead of sweat, shed tear and sore muscle. Toi, toi, toi!
With my best wishes,
Lauren Grant
P.S. A mere bowl of Raisin Bran won't fuel you through that last attitude promenade of the Rose Adagio (which you'll perform when you're 16). Eat better!
Jun. 15, 2017 02:00PM EST
From left: Haley Hartsfield, Kaylin Maggard, and Michelle Quiner (photos by Erin Baiano)
Congratulations to Dance Spirit's 2017 Cover Model Search finalists: Haley Hartsfield, Kaylin Maggard and Michelle Quiner! One of them will win a spot on Dance Spirit's October 2016 cover. Learn more about the dancers on their profile pages, and then vote for your favorite below.
We also want you to get social! We'll be factoring social media likes and shares into our final tallies. Be sure to show your favorite finalist some love on Facebook, Instagram, and Twitter, sharing their profile pages and using the hashtag #DanceSpiritCMS.
Keep reading...
Show less
Performing on a Broadway stage might seem glamorous, but it comes with one of the most grueling schedules a dancer can face. Maintaining your stamina and energy, warding off injury and keeping the material fresh for eight shows a week is no joke. So how do dancers do it? Dance Spirit talked to ensemble members from some of Broadway's danciest shows to get their survival tips.
Keep reading...
Show less
You should know Leiomy Maldonado's name, because she's shaped the way you dance. Called the "Wonder Woman of vogue," the trailblazing artist was the first transgender woman to appear on "America's Best Dance Crew," as part of the Vogue Evolution crew. And her signature "Leiomy Lolly" hair flip has inspired everyone from Beyoncé to FKA Twigs to Willow Smith to, odds are good, your own teachers and choreographers. (Smith even asked Maldonado to appear in the video for "Whip My Hair," to show the world how to do the flip properly.)
Now, Maldonado is the star of a new Nike ad celebrating the queer and transgender dancers who form the heart of the voguing community. Directed by Daisy Zhou, the spot is narrated by transgender artist Precious Angel Ramirez, and showcases Maldonado's extraordinary skills, as well as those of several other dancers from the vogue scene.

Keep reading...
Show less
Jun. 25, 2017 11:00AM EST
via YouTube
...This clip, "'Hamilton' Choreographer Breaks Down His Moves," popped up on my YouTube recommended list. I mean, I could watch Hamilton's dance wizard Andy Blankenbuehler talk about anything. Have you read our interview with him back when he was making the moves for Bandstand? The guy is freaking fascinating.
Keep reading...
Show less


Get Dance Spirit in your inbox