Ballet
Oct. 07, 2012 09:06AM EST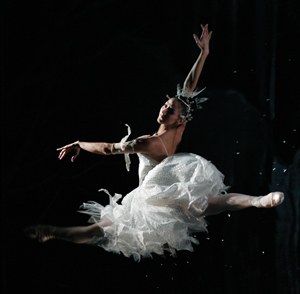 Martina Chavez in Oregon Ballet Theatre's Nutcracker (James McGrew)
As The Nutcracker's familiar "Waltz of the Flowers" theme swells to its exciting finale, Oregon Ballet Theatre's Martina Chavez gathers up all her energy for Dewdrop's most exhilarating choreography: a series of huge saut de chats traveling back and forth across the stage. "By that point in the piece, I'm exhausted," she says. But the climactic moment always gives her a second wind. "It's so exciting!"
Saut de chats and grand jetés are the human body's chance to fly. No other step gives dancers such glorious hangtime in the air—such a free, extended release from the tips of the fingers to the tips of the toes. Yet while they appear effortless (and are so much fun!), these leaps require a strong technical foundation and expert coordination.
Grand Jetés vs. Saut de Chats
While grand jetés and saut de chats look similar, it's important not to mix them up. "A grand jeté starts with a grand battement of the leading leg, then pushes off the back leg, lands in an arabesque and follows through to tombé," says Dierdre Miles Burger, director of the Orlando Ballet School. "Saut de chats are the same except for one crucial difference: The leading leg goes through développé rather than brushing from the ground."
Grand jetés can also look very different in different contexts. "You can grand jeté in a soaring fashion, or in a darting fashion, depending on the choreography and the amount of time you have," Miles Burger says. "Soaring" grand jetés are all about height and tend to take up at least a few counts of the music. "Darting" grand jetés, on the other hand, are quicker and lower to the ground. "There's less of a feeling of going up and over and more a feeling of going out and beyond," Miles Burger says.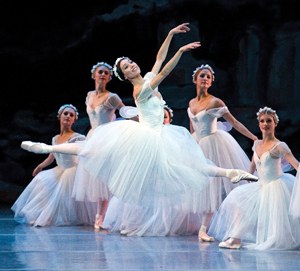 Erica Cornejo in Boston Ballet's production of Les Sylphides (Gene Schiavone)
The Well-Timed Takeoff
Both jumps require a good preparation and a powerful takeoff. Chavez notes that when phrased correctly, a typical tombé–pas de bourrée–glissade preparation will help you gather momentum for the jump. "But don't blow all your energy in the prep," she says. "An easy mistake is to make the glissade too big, which only makes the actual jump look less impressive."
Coordinating the timing of the grand battement or développé with the push off the back leg will help you reach maximum height and stretch in the air. Boston Ballet principal Erica Cornejo warns not to be sluggish with the leading leg. "If you're slow with the front leg, you're never going to make the position in the air, because you won't have enough time," she says. "But if you shoot your leg out quickly, it will give you time to stretch out up there." And the push off the back leg must follow quickly—it's what gets you in the air and propels you forward. "If you throw the front leg way up but don't push off the back leg soon enough, then all that power from the first leg is for nothing," Miles Burger says.
The ultimate goal of a grand jeté or saut de chat, of course, is hitting that beautiful full split. But Miles Burger feels dancers tend to overemphasize flexibility. Sacrificing a well-timed takeoff to get a hyperextended split results in a low jump that doesn't go anywhere. And an overstretched split is actually a distortion of the classical line. "It's not as much about flexibility as it is about suspending a correct position in the air," Miles Burger says. "It's a combination of stretch and strength."
The Upper Body
In addition to powerful legs, you need a strong, supported core to help you stay pulled together throughout the jump. A weak core puts you at risk for collapsing into your lower back. And try not to let your torso lag behind your legs, which makes it look like you're "bucking" the jump. "Pull your body over your legs as fast as you can," says Cornejo. "Sometimes dancers break down the step into three parts—front leg, torso, back leg—but it should actually be one smooth movement."
Many dancers forget about their port de bras during big, exciting jumps and end up flailing their arms without transitioning through classical positions. Make sure your arms go through first position before extending out. "Don't lock your arms," Chavez says. "Keep them extended and soft."
Cornejo, known for her gravity-defying jumps, offers a final tip: As she reaches the height of a grand jeté or saut de chat, she takes a deep breath. "It helps me hold on another second and reach higher," she says. "That moment is so special, just being in the air."
via @phil_wright_ on Instagram
Well, this brings class videos to a whole new level! Choreographer Phil Wright and dancer Ashley Liai have been together eight-plus years, but she was still in total shock when he proposed to her mid-dance at Millennium Dance Complex earlier this week. Why? Well, the whole thing was unbelievably perfect.
Keep reading...
Show less
(Courtesy ABC)
In the dance industry, dancers don't always have a say in what they wear on their bodies. This can get tricky if you're asked to wear something that compromises your own personal values. So what should you do if you find yourself in this sticky situation? We sat down for a Q&A with "Dancing with the Stars" alumn Ashly Costa to answer that very question. Here's what she had to say about the options dancers have surrounding questionable costumes.
Keep reading...
Show less
Jul. 20, 2017 04:39PM EST
Erin Carpenter as a Knicks City Dancer (David Safran, courtesy of Erin Carpenter)
The groundwork for Erin Carpenter's company, Nude Barre, began when she was a teenager. At 16, she earned a spot in the residency program at The Kennedy Center in partnership with Dance Theatre of Harlem. "We were required to wear nude—as in, our actual skin tone—tights and shoes," she remembers. Carpenter brought her "sun tan" tights and a pair of pink ballet shoes with her, because that was all she could find. But she wasn't allowed in class because her dancewear didn't match her skin. "I was so embarrassed," she says. "I looked unprepared. I just didn't have the right nudes." Her teacher explained that the dancers dyed their tights and pancaked their shoes.
Keep reading...
Show less


Get Dance Spirit in your inbox