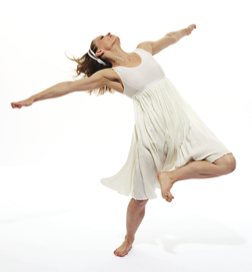 Annmaria Mazzini in Paul Taylor's "Le Sacre du Printemps (The Rehearsal)." Photo by Tom Caravaglia
Just when you think you've got Paul Taylor Dance Company member Annmaria Mazzini pegged, she goes and morphs on you. One night she's totally convincing as a fiery tango siren in Piazzolla Caldera; the next she's equally magnetic as a groovy hippie chick in Changes. No matter what role she's inhabiting, she always takes full command of the stage, throwing every inch of her petite frame into Taylor's notoriously demanding choreography. Mazzini started taking dance lessons at age 12 in her hometown of Allentown, PA, and eventually earned a BFA from Southern Methodist University, where she discovered Taylor's work. (One of her classmates at SMU was fellow PTDC star Michael Trusnovec, DS April 2009.) In 1995 Mazzini joined Taylor 2, and was promoted to the main company in 1999. Today she not only wows audiences with her chameleon-like stage presence, but also teaches modern dance, choreographs and designs her own jewelry line, AMulets.  —Margaret Fuhrer
Dear Annmaria,
Congratulations on discovering what makes you happy! You've chosen a challenging path—difficulties and setbacks are inevitable in the dance world—but the love in your heart will see you through.
Dancing is your favorite activity and you work very hard at it, but you also love to read. Keep it up. Your imagination will become your most valuable tool in your work as a performer and teacher, so continue to feed it with stories and ideas that awaken your curiosity and invigorate your spirit.
But don't get your shy nose stuck in those books! Dance is a social art, and you will be interacting with a wonderful range of people. Get to know them, learn their stories and let them know you. They are all going to help you along the way, so make a practice of saying "thank you" often and sincerely. Learn to say it in the language of every country you visit.
Yep, you'll never be perfect. But it's more fun to be interesting! Your perceived flaws are as much a part of who you are as your strengths. Keep trying to be better, but be yourself, too. Allow your inner world to express itself freely in the outer world. Don't worry about making a fool of yourself: You will, plenty of times, but it won't be so bad. It may even be delightful.
Love,
Annmaria
Jun. 15, 2017 02:00PM EST
From left: Haley Hartsfield, Kaylin Maggard, and Michelle Quiner (photos by Erin Baiano)
Congratulations to Dance Spirit's 2017 Cover Model Search finalists: Haley Hartsfield, Kaylin Maggard and Michelle Quiner! One of them will win a spot on Dance Spirit's October 2016 cover. Learn more about the dancers on their profile pages, and then vote for your favorite below.
We also want you to get social! We'll be factoring social media likes and shares into our final tallies. Be sure to show your favorite finalist some love on Facebook, Instagram, and Twitter, sharing their profile pages and using the hashtag #DanceSpiritCMS.
Keep reading...
Show less
Performing on a Broadway stage might seem glamorous, but it comes with one of the most grueling schedules a dancer can face. Maintaining your stamina and energy, warding off injury and keeping the material fresh for eight shows a week is no joke. So how do dancers do it? Dance Spirit talked to ensemble members from some of Broadway's danciest shows to get their survival tips.
Keep reading...
Show less
You should know Leiomy Maldonado's name, because she's shaped the way you dance. Called the "Wonder Woman of vogue," the trailblazing artist was the first transgender woman to appear on "America's Best Dance Crew," as part of the Vogue Evolution crew. And her signature "Leiomy Lolly" hair flip has inspired everyone from Beyoncé to FKA Twigs to Willow Smith to, odds are good, your own teachers and choreographers. (Smith even asked Maldonado to appear in the video for "Whip My Hair," to show the world how to do the flip properly.)
Now, Maldonado is the star of a new Nike ad celebrating the queer and transgender dancers who form the heart of the voguing community. Directed by Daisy Zhou, the spot is narrated by transgender artist Precious Angel Ramirez, and showcases Maldonado's extraordinary skills, as well as those of several other dancers from the vogue scene.

Keep reading...
Show less
Jun. 25, 2017 11:00AM EST
via YouTube
...This clip, "'Hamilton' Choreographer Breaks Down His Moves," popped up on my YouTube recommended list. I mean, I could watch Hamilton's dance wizard Andy Blankenbuehler talk about anything. Have you read our interview with him back when he was making the moves for Bandstand? The guy is freaking fascinating.
Keep reading...
Show less


Get Dance Spirit in your inbox