Dec. 11, 2009 09:21AM EST
When you live to dance, your greatest fear is that an injury might suddenly strip your body of its abilities. After an accident at age 15 left jazz and tap student Bonnie Lewkowicz paralyzed from the neck down, she thought she was experiencing just that nightmare. But now, 38 years later, she has proved that she can still live out her dream of dancing professionally. As a founding member of AXIS Dance Company, a contemporary group that welcomes dancers with or without wheelchairs, she helps people understand that physical limitations, when seen from a different perspective, actually present new possibilities for self-expression. Today Lewkowicz continues to dance and teach in California and is also the author of A Wheelchair Rider's Guide: San Francisco Bay and the Nearby Coast, a resource for wheelchair-bound travelers.  —Ashley Rivers
Dear Bonnie,
You knew from the moment you took your first dance class that you wanted to be a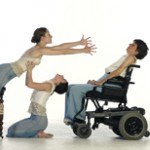 dancer. You loved the physicality, exhilaration and absolute abandon of dancing. You dreamed of a career on the stages of NYC.
Then, in an instant, it seemed that that dream was forever gone. Right now even the simplest movements, like bringing a fork to your mouth, feel impossible. You think your body is your enemy.
But keep hope alive. One fateful day someone will suggest that you come explore dancing with other disabled and non-disabled people. While right now you can't imagine how you could ever dance in a paralyzed body, or that it could be enjoyable, you will realize that even though your body can no longer move the way it used to, the core of who you are—a dancer—is still very much alive. You will rediscover the thrill of dance.
It will take courage to go down this uncharted path. You will have to learn to focus on what you can do instead of what you can't, and to not let other peoples' ideas about who can dance detract from the pure joy you get from it. But it's worth it. Eventually you will realize that, ironically, becoming disabled actually enriches, not limits, your dance experience.
Bonnie Lewkowicz
Photo by Matt Haber
Jul. 22, 2017 04:55PM EST
via YouTube
It's no secret that ballet in pop culture has sparked its fair share of controversy. Which is why this video from Refinery29, featuring ABT's Isabella Boylston, is not only a super-fun watch, but a breath of fresh air.
Keep reading...
Show less
Jul. 21, 2017 12:26PM EST
via @phil_wright_ on Instagram
Well, this brings class videos to a whole new level! Choreographer Phil Wright and dancer Ashley Liai have been together eight-plus years, but she was still in total shock when he proposed to her mid-dance at Millennium Dance Complex earlier this week. Why? Well, the whole thing was unbelievably perfect.
Keep reading...
Show less
Jul. 21, 2017 11:03AM EST
(Courtesy ABC)
In the dance industry, dancers don't always have a say in what they wear on their bodies. This can get tricky if you're asked to wear something that compromises your own personal values. So what should you do if you find yourself in this sticky situation? We sat down for a Q&A with "Dancing with the Stars" alumn Ashly Costa to answer that very question. Here's what she had to say about the options dancers have surrounding questionable costumes.
Keep reading...
Show less


Get Dance Spirit in your inbox