Lose the Phone—It's National Dance Day!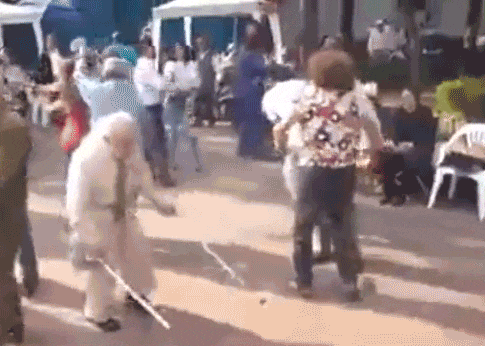 This newly viral dancing grandpa has the right idea.
First things first: Happy National Dance Day!
One of our favorite things about today is that everyone—young or old, trained or untrained, graceful or clumsy—is encouraged to drop everything and dance. And while most of us don't have canes to throw in celebration of this most glorious of days (seriously, how awesome is this guy?!), we do have something else to toss aside: our phones.
Mari Madrid and Chris Martin of Choreo Cookies really say it best in their new video, "Virtual Insanity." It asks: What would happen if we all put our phones, tablets and laptops aside for a sec? Would we find a better way to connect with one another? Call us biased, but we think the ensuing flash mob pretty much tops any text, Facebook post, tweet or Instagram.
So here's our challenge for today: Lose the phone, lose the tablet, lose the laptop (unless you're using it to learn the official NDD routines, of course), and make today all about dance!
Sara Mearns and Chase Finlay in Pontus Lidberg's "The Shimmering Asphalt" (via @saramearns on Instagram)
We've said it before and we'll say it again: New York City Ballet principal Sara Mearns is some SERIOUS #goals. Her strength and power onstage borders on superhuman. But what's extra magical about Mearns is that she really puts in the fitness and cross-training work outside of the rehearsal studio. And she's overcome her fair share of injuries. Which is why she was the perfect source for Vogue's latest ballet fitness story.
Keep reading...
Show less
Jul. 23, 2017 07:00AM EST


Get Dance Spirit in your inbox