How To
Dec. 01, 2009 08:12AM EST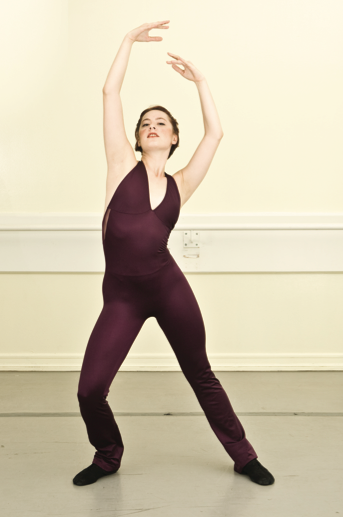 Erika Black demonstrates a classic Luigi move. Photo by Matt Murphy.
From Miami to San Diego, it's not unusual to walk into a new jazz class and still know the beginning of the warm-up: As you lunge onto your right foot and push into your right hip, you stretch up through a lengthened right arm overhead. Then you switch to the other leg and continue to alternate sides in a rhythmic sway that's both relaxing and invigorating. (See images at left.)
This universal step came from a single source—and his name is Luigi. As one of the fathers of classic jazz dance (along with Jack Cole, Matt Mattox and Gus Giordano, among others), Luigi developed a codified approach to jazz technique, which he describes in his book, Luigi's Jazz Warmup and Introduction to Jazz Style and Technique. Now, the sprightly 84-year-old's unique approach has become the backbone of classic jazz dance. "Luigi's technique is the finest foundation a jazz dancer can have," says James Gray, dance captain for the Broadwday production and tour of the musical Young Frankenstein. "Every student should experience his style."
A native of Steubenville, OH, and one of 11 children, Eugene Louis Faccuito (Luigi's birth name) began performing with encouragement—and informal lessons—from his brother Tony. Luigi also took tap lessons for three years with Lenora and Angela McKean, and toured as a singer with a performing orchestra in his teens.
A duty tour in the army from 1943 until 1946 interrupted his developing performing career, but upon his return, Luigi moved to Hollywood to study ballet with the famous instructor Madame Bronislava Nijinska. However, he soon realized he wanted a more diverse dance education. So he switched to Falcon Studios, where he began studying with director Edith Jane, as well as Michel Fokine and Eugene Loring, great instructors of the MGM Golden Era.
Then, just months after moving to Hollywood, a terrible car accident put Luigi in a coma. When he woke, one side of his body was partially paralyzed. Doctors worried he would never walk again. But Luigi remembers, "Something inside me kept saying, 'Never stop moving.' All I could think about was getting back to dance."
During the three months Luigi spent in his hospital bed, he practiced a set of angular port de bras created by Micho Ito, a eurythmic dancer. Luigi adjusted the placement of Ito's arm movements (which were originally designed as exercises for musical conductors), putting them farther in front of his body, as in ballet, to create stability. From there, the nexus of Luigi's own technique emerged. Now, if you take Luigi's technique class in NYC (which he and his assistant Francis Roach still teach daily at Studio Maestro), you'll learn the 24 arm motions Luigi created and dubbed L'urythmics.
One year after his accident, Luigi made it back into the studio, where he developed other exercises that helped his post-injury body. "As I tried to dance again, I fell a lot in the center," Luigi says. "I decided I had to do the same thing away from the barre that I did at the barre." He began by putting his arms in second position, palms facing the floor, to stabilize himself—as if he were pressing down on an invisible barre. He also incorporated épaulement from his ballet classes. "Épaulement helps you shift from one position to the next, and puts you in the right spot for each transition," Luigi explains. Karin Baker, a Luigi devotee and Broadway veteran who danced in the original cast of 42nd Street, finds that Luigi's use of épaulement "teaches you to connect A to B. He helps you understand how movement flows from one place to the next."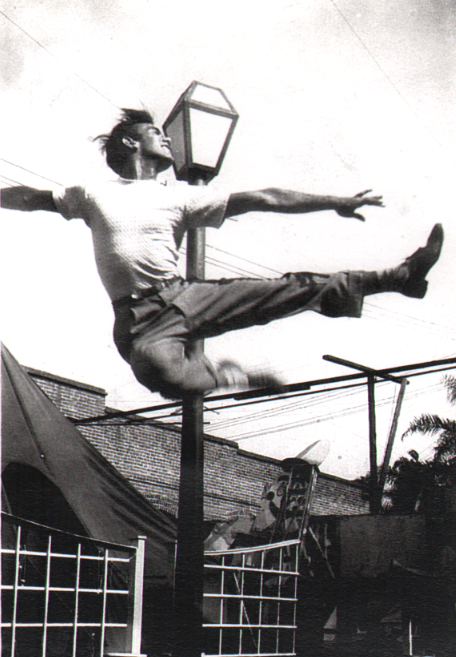 Luigi behind the Falcon Studios in Hollywood. Photo by Edith Jane.
Thanks to his unique rehabilitative exercises, Luigi was soon back onstage. After performing in a Falcon Studio showcase, he was snatched up by MGM scouts and began dancing in movies. (Catch him in classic films like An American in Paris, Annie Get Your Gun and White Christmas.) On set, he met his mentor, the legendary Gene Kelly. Kelly renamed the dancer Luigi ("He told me there were too many Genes!"), and encouraged Luigi to be proud despite residual physical issues. "Originally I hid my face on set because it was still a bit paralyzed," Luigi says. "Gene told me, 'Keep doing what you're doing but lift your face. It's beautiful.' That helped create the carriage I stress in my technique now. It's like you're leaning your face up to feel and see everything you can."
When Kelly's assistant, Alex Romero, asked Luigi to assist with and perform in Broadway's Happy Hunting, Luigi jumped at the chance. During the show's run, he took another of Kelly's suggestions and showed his technique to dancers in NYC. A loyal student following quickly emerged. Soon, he opened his own studio. It was a success from the start, with stars like Barbra Streisand and Liza Minnelli filling his classes. Because his technique allowed each student to align his or her body individually, classes attracted actors and singers learning to dance, along with avid dance veterans. "I opened around the time that West Side Story first came to Broadway, and suddenly performers had to act, sing and dance all at once," Luigi says. "There were no separate choruses anymore."
Since then, Luigi has dedicated himself to teaching. "I want to help students work on each movement and moment fully. Then they can execute the steps correctly and not lose the 'moving' part of dance," he explains. "I want to help dancers achieve that combination of feelings—desire, elegance and sophistication."
What's more daunting than getting into your dream college dance program? Figuring out how you'll cover the costs of tuition, room and board, incidental expenses and more. Here's the good news: The right scholarship(s) can bring your dream school well within reach.
Look Around, Look Around
Scholarship applications are due between the fall of senior year and graduation time, so familiarize yourself with funding opportunities during the spring of junior year. And there are a lot of opportunities out there, says Kate Walker, chair of dance at Booker T. Washington High School for the Performing and Visual Arts in Dallas, TX. "A lot of school guidance counselors now have software that automatically matches you with scholarships," she says.
Seek out scholarships on your own, too. According to Walker, "a lot of corporations are required to have some community engagement, including offering scholarships, so research corporations in your community." Your parents' employers might offer assistance too, says Doug Long, an academic and college counselor at Interlochen Arts Academy in Interlochen, MI. "They might have scholarships you can apply for just because your parent works there."
Other sources of grant money you won't have to pay back (as you would a loan)? The YoungArts Foundation; competitions/conventions, like New York City Dance Alliance; and the university or dance department you're applying to. Even some scholarships aimed at athletes are open to dancers!
Apply Yourself
A winning scholarship application involves a fair amount of paperwork, especially if the organization requires you to show financial need. In addition, certain scholarships ask for the College Board's CSS/Financial Aid Profile, which gives the awarding organization a more complete picture of your family finances.
Other ingredients of a successful scholarship application include recommendation letters, a dance and/or academic resumé and an essay or statement of purpose. Treat these components just like college applications: Have multiple trusted adults proofread your materials, and ask for recommendation letters or transcripts long before deadlines.
A note for non-dance scholarships: Including objective measures of achievement can only help you. "List national recognitions, like YoungArts or other competitions," says Long. "That shows the scholarship committees that people at high levels have acknowledged you as an artist of quality." And don't forget who your audience is. "Especially in writing samples, make sure you paint a vivid picture for your reader," Walker says. "Don't assume they know about all the things—like barre every day—that we as dancers take for granted."
No award amount is too small to be worth your time and effort. As Walker says, "Don't pooh-pooh a couple hundred dollars in award money, because any scholarship is funding that you didn't have yesterday."
A version of this story appeared in the July/August 2017 issue of Dance Spirit with the title "All Aboard the Scholar-ship."
Every ballet dancer knows the time, sweat, and occasional tears the art form demands. But many non-dancers are clueless about just how much work a ballet dancer puts into perfecting his or her dancing. So when the mainstream crowd recognizes our crazy work ethic, we'll accept the round of applause any way it comes—even if it comes via four men in tutus. Yep, we're talking about "The Try Guys Try Ballet" video.
Keep reading...
Show less
(via YouTube)
Remember that fabulous old-school clip of dancers tapping in pointe shoes that Tabitha and Napoleon D'umo brought to our attention back in March? As we mentioned then, toe-tap dancing was actually super popular back in the 1920s and 30s—which means there are more videos where that one came from. And because #ToeTapTuesday has a nice ring to it, we thought we'd take this opportunity to introduce you to Dick and Edith Barstow, a toe-tapping brother and sister duo from that era who are nothing short of incredible:
Keep reading...
Show less
(Adam Rose/FOX)
Guess who's back? Back again? The Academy's back! Tell a friend.
After one day at The Academy, the All Stars have successfully taken the Top 100 down to 62. But their work is just getting started: Now they need to keep narrowing the field to a Top 10, ultimately deciding who each will partner with during the live shows.
Keep reading...
Show less


Get Dance Spirit in your inbox