Dec. 01, 2009 01:07PM EST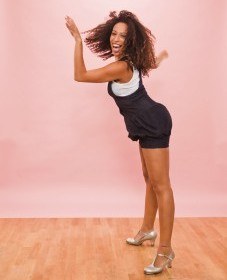 When you meet Maud Arnold, the first thing you notice is her enormous smile. Then maybe her hair—a mass of spiral curls that radiate out to frame her beaming face. But once she starts moving, it's all about the dance. Her taps are crisp, and she finds interesting rhythms within the music. As a performer, she's alternately soft and sassy, delicate and hard-hitting, sometimes a little wild but always intent and invested. She's a natural entertainer.
Maud's stage presence and charisma have earned her the respect and admiration of her peers. "What I admire about Maud is how excited I get watching her move," says fellow tapper Michelle Dorrance. "Her lines are huge! She's borderline flamboyant, but it's not contrived. It's genuine and controlled."
Maud started learning that style and control at age 7, studying with Toni Lombre in her hometown of Washington, D.C. But when Lombre's studio closed in 1998, Maud began visiting NYC to take classes at Broadway Dance Center. It also happened that her big sister, tap superstar Chloe Arnold, was also there studying at Columbia University. Maud then went to high school at D.C.'s Duke Ellington School of the Arts, where she majored in musical theater. Determined to keep her dance training up to par, she traveled to L.A. each summer to attend the Debbie Allen Dance Academy, and was offered a scholarship to study at DADA full-time during her senior year. For college, Maud headed to Columbia, from which she graduated in 2008 with a degree in film studies.
Though she is trained in other dance forms—including African, jazz, ballet, hip hop, flamenco and samba—Maud set her sights on tap as a career before she even took her first class. "I realized that tap was 'it' when I was little and used to watch Chloe and her friends," she recalls. Once she started training, she knew she'd made the right decision. "I love how dynamic tap is. It's an ever-evolving form," she explains. "It's based on improvisation, like jazz, so it can never stop growing. I can make it my own and use it to express myself."
Now, Maud works hard to share her love of tap with the world. At just 23, she's already been on faculty at Broadway Dance Center, the L.A. Tap Festival and the Brazil International Tap Festival, as well as the D.C. Tap Festival, which she co-founded with Chloe. She's performed with Jared Grimes in Broadway Underground, on "The Today Show," with singer Mya on TV's "Secret Talents of the Stars" and in music videos—including a non-tap gig working as Beyoncé's stand-in for the "Single Ladies (Put a Ring on It)" video! She's also finishing writing her first film, a feature-length coming-of-age story about a young man who finds himself through tap dance.
Maud often collaborates with her sister, and in January 2009, the two launched Chloe and Maud Productions—an umbrella company that includes the D.C. Tap Festival, Chloe's Tap Couture clothing line, the instructional and workout DVDs they've choreographed and produced and several other ventures. "Chloe is my other half," Maud says. "We're like yin and yang, very different but with similar values and goals. I know that she has my best interests at heart." And don't think that Chloe, who's six years her senior, cuts Maud any slack in rehearsals because they're related: "Chloe is harder on me than anyone else," Maud says. "She's always on me, but it's with love.
Chloe has nothing but praise for her sister. "Maud lights up every space she enters, from the studio to the stage. She exudes a joie de vivre that is contagious," Chloe says. "Also, she's fearless. She dives in with her whole being, allowing herself to be vulnerable and completely in the moment. When I'm performing with Maud she inspires my energy. We have a bond that expresses our lifelong connection and shared passion.
Maud's plans for the future reflect the fact that she grew up with such a great support system. "My dream is to be in a position where I can work with my family and friends in a creative environment," she says. "I'd love to be a producer/director for stage, TV and film, like Debbie Allen." Beyond that, Maud hopes to open a dance school and community center in Washington, D.C. "I want to help people through art," she says
It's obvious that she's in this business for the long haul. "It's an amazing thing to look at tap's elders and see the possibility of longevity in this career," Maud says. "I feel like I'm part of something very important, and I want the world to understand the importance of tap. That's why I'm always looking into other forms of media—to help tap reach a broader audience. My goal is to spread dance and my love for it."
Fast Facts:
 Birthday: April 24, 1986
On Her iPod: The Jackson 5
What She's Reading: Miles Davis' autobiography, Miles, and The Secret
Favorite Movie: "This is hard—I was a film major! But I'll say The Wiz."
Favorite Color: Orange
Favorite Food: Cupcakes
Dance Idol: "My sister!"
Favorite Tap Step: Cramp roll
Dance Dream: "I'd love to teach Sasha and Malia Obama tap! I'm going to invite the first family to the D.C. Tap Festival this year."
Most Embarrassing Onstage Moment: "At the L.A. Tap Festival, my foot got caught on the stage and I fell. Jimmy Slyde used to say that when you fall, it shows that you're trying really hard!"
Advice for DS Readers: "Don't let anything stop you or discourage you. Also, keep a great foundation of family and friends around—it's not an easy lifestyle that we lead, but with love and support it can be amazing."
Jul. 22, 2017 04:55PM EST
via YouTube
It's no secret that ballet in pop culture has sparked its fair share of controversy. Which is why this video from Refinery29, featuring ABT's Isabella Boylston, is not only a super-fun watch, but a breath of fresh air.
Keep reading...
Show less
Jul. 21, 2017 12:26PM EST
via @phil_wright_ on Instagram
Well, this brings class videos to a whole new level! Choreographer Phil Wright and dancer Ashley Liai have been together eight-plus years, but she was still in total shock when he proposed to her mid-dance at Millennium Dance Complex earlier this week. Why? Well, the whole thing was unbelievably perfect.
Keep reading...
Show less
Jul. 21, 2017 11:03AM EST
(Courtesy ABC)
In the dance industry, dancers don't always have a say in what they wear on their bodies. This can get tricky if you're asked to wear something that compromises your own personal values. So what should you do if you find yourself in this sticky situation? We sat down for a Q&A with "Dancing with the Stars" alumn Ashly Costa to answer that very question. Here's what she had to say about the options dancers have surrounding questionable costumes.
Keep reading...
Show less


Get Dance Spirit in your inbox