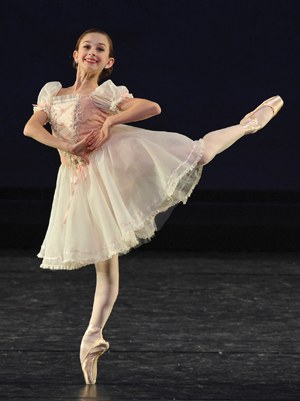 Madeleine dancing a variation from
Coppélia, Act 1 (I. Siggul/Visual Arts Masters)
With perfectly arched feet and a petite frame, 14-year-old Madeleine Gardella looks like a jewelry box ballerina. She stands just 4 feet 11 inches tall, but exudes the confidence and maturity of a seasoned professional. Her port de bras is unmannered; her musical phrasing is both crisp and lilting. "Most people think ballet is exacting," says Madeleine. "But there's so much artistry. I'm enjoying that part of it."
Her love of dance started in preschool, when a friend asked her to join a tap/jazz/ballet class. "It snowballed from there," Madeleine says. She studied at The Dance Academy, a competition studio in Holland, PA, until she decided—at 12 years old—to focus on ballet. "Not that jazz and contemporary weren't exciting," she says. "It's just that ballet was the most fun for me."
Madeleine had previously tried The Rock School for Dance Education in Philadelphia for a summer ("I loved ballet even more after that!") and later stayed for the year-round program. By age 13 she was dancing full-time and getting her education online via the 21st Century Cyber Charter School. Unlike many of her friends who board at The Rock, Madeleine lives with her family outside the city. Her mom drives her to classes every day.
Though she spends most of her time in Philly, Madeleine has starred as Clara in NYC's Radio City Christmas Spectacular. She also recently worked on the Broadway workshop of Little Dancer (alongside New York City Ballet principal Tiler Peck!) with Susan Stroman after attending a casting call in NYC. She learned the entire show in 10 days—all the lines, music and choreography—and did a studio performance for investors.
As for the future, Madeleine is open to everything. She's preparing for the Youth America Grand Prix finals in NYC (after winning first place in the Junior Age Division, Classical Dance Category in Philadelphia) and listening to Broadway tunes on Pandora internet radio. "Don't be afraid to try new things," she advises DS readers. "Push the boundaries a little and explore."
FAST FACTS
Birthday: November 5, 1998
Favorite food: Indian
Who would play you in a movie? Audrey Hepburn
Dream dance roles: Kitri from Don Quixote or Swanilda from Coppélia
Favorite dancers of all time: Maria Kochetkova, Alina Cojocaru and Natalia Osipova
Strangest things in your dance bag: "I have these weird hair clips that look like little jellyfish. They don't even hold my hair, but I like to keep them in there."
Favorite dance movie: First Position
Dance BFF: Juliet Doherty ("We did Radio City together in NYC")
Dance crush: Marcelo Gomes
Three words that describe you: "Petite, smart, comical"
(via YouTube)
Remember that fabulous old-school clip of dancers tapping in pointe shoes that Tabitha and Napoleon D'umo brought to our attention back in March? As we mentioned then, toe-tap dancing was actually super popular back in the 1920s and 30s—which means there are more videos where that one came from. And because #ToeTapTuesday has a nice ring to it, we thought we'd take this opportunity to introduce you to Dick and Edith Barstow, a toe-tapping brother and sister duo from that era who are nothing short of incredible:
Keep reading...
Show less
Adam Rose/FOX
Guess who's back? Back again? The Academy's back! Tell a friend.
After one day at The Academy, the All Stars have successfully taken the Top 100 down to 62. But their work is just getting started: Now they need to keep narrowing the field to a Top 10, ultimately deciding who each will partner with during the live shows.
Keep reading...
Show less
Sara Mearns and Chase Finlay in Pontus Lidberg's "The Shimmering Asphalt" (via @saramearns on Instagram)
We've said it before and we'll say it again: New York City Ballet principal Sara Mearns is some SERIOUS #goals. Her strength and power onstage borders on superhuman. But what's extra magical about Mearns is that she really puts in the fitness and cross-training work outside of the rehearsal studio. And she's overcome her fair share of injuries. Which is why she was the perfect source for Vogue's latest ballet fitness story.
Keep reading...
Show less


Get Dance Spirit in your inbox