How NYC Dance Project Makes Photos Dance
Alvin Ailey American Dance Theater's Sean Aaron Carman and Michael Jackson Jr. (courtesy NYC Dance Project)
Every NYC Dance Project image feels like a glimpse into something greater: a dance that's happening behind a curtain, in a private moment. Take, for example, one of Les Ballets Jazz de Montréal dancer Céline Cassone's photos, a commanding shot of her on pointe in passé, her fiery red hair flung upward over her face. Or, the image of Misty Copeland that perfectly portrays both her incredible strength and her ineffable grace. NYC Dance Project's photographers have taken powerful photos of dozens of famous subjects. But what inspires their iconic images? And how do you capture such stunning shots?
---
Former dancer Deborah Ory and her husband, Ken Browar, know the secret. The couple started NYC Dance Project with the goal of creating unique portraits of members of the dance community. Their photographic collaboration has since gone viral, first as a blog and Instagram account, and now as a new book, The Art of Movement, out last month. But it's Ory's dance experience that sets apart their dynamic, dreamy photographs; every dancer wishes to be seen through her favorable eye. The project has spanned more than three years and its impressive roster of subjects includes more than 100 professional dancers from American Ballet Theatre, New York City Ballet, Martha Graham Dance Company, Alvin Ailey American Dance Theater, Royal Danish Ballet, The Royal Ballet and many more.
Rooted in Modern
Ory first started taking ballet classes as a child in Ann Arbor, MI, but didn't intend to become a dancer—until she saw the Martha Graham Dance Company perform as a teenager. "Tears were streaming down my face," she says. "I thought it was the most moving and beautiful thing I'd ever seen." Former Martha Graham principal Peter Sparling was running the dance program at the University of Michigan at the time, and he allowed Ory to take classes with the dance majors while she was still in high school. She continued to study with him and eventually received her bachelor's degree in dance at University of Michigan. During college, she spent a year at the London Contemporary Dance School and attended summer intensives with Twyla Tharp and at the Limón Dance Company.
A New Passion Is Born
While studying with Sparling in college, Ory sustained an injury before the spring semester of her freshman year. A few days before classes started, she noticed a brand-new camera sitting on her parents' kitchen table. "I knew as soon as I saw it that I wanted to take photos," she says. "After enrolling in a photography class, I photographed all the rehearsals and performances that I was supposed to be in that semester while injured." Sparling was supportive of Ory's photography work, and was one of her very first subjects.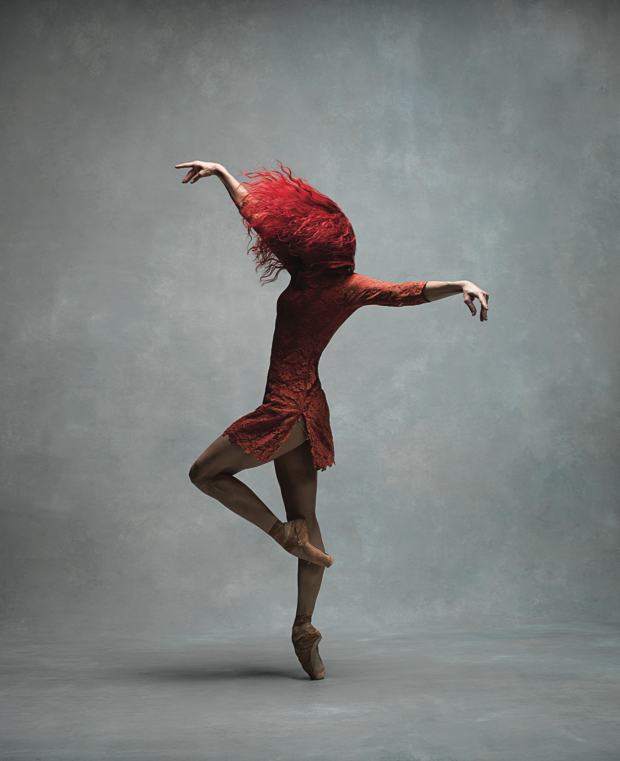 Les Ballets Jazz de Montréal dancer Céline Cassone (courtesy NYC Dance Project)
When the time came to audition for professional companies, Ory felt intimidated. "Friends would come back with stories of hundreds of dancers lined up for a few openings in a company," she says. She admits that being opinionated about exactly what type of company she wanted to dance with may have also gotten in her way. "I now regret not having given it a try," she says.
After college, Ory moved to NYC and took a one-year course at the International Center of Photography. "Learning photography is very different than dance—there's no 'correct' way of making a photo like there's 'correct' form in dance technique," she says. She still had a lot to learn, though. At the time photography wasn't digital, so she studied how to develop film and print photos, in addition to mastering the art of lighting.
As with dance, there were obstacles. Most photographers hone their craft as photo assistants. "That was difficult for me, as a small woman," she says. "Assistants have to carry heavy lighting equipment, so most photographers prefer male assistants." She ended up working at magazines like House & Garden and Mirabella as a photo editor, where she was able to see photography from a different perspective. "I learned other aspects of the business. Styling clothing, producing photo shoots, finding locations, casting, doing budgets and much more—all of this has been invaluable for me now with NYC Dance Project."
A Business Blooms
Years after Ory and fashion photographer Browar got married, they decided they wanted to work on a photography project together. At the same time, their daughters had begun taking classes at the Jacqueline Kennedy Onassis School at American Ballet Theatre. "I would sit outside the classroom and hear the teachers giving the combinations and listen to the familiar music," Ory says. "My muscles were twitching, and I realized how much I missed dancing. I wanted some way to have it back in my life."
The critical moment came when Ory's daughter, Sarah, wanted her bedroom redecorated for her 12th birthday. "She asked for ballet photographs of her favorite dancers, the current stars of ABT," Ory remembers. But Ory was surprised that it was difficult to find many photos of these famous dancers. Her husband suggested that they simply try to shoot them themselves. The first dancer to agree was Daniil Simkin. He posted the images to his popular social media pages, and that led to work with other top dancers and choreographers in the industry.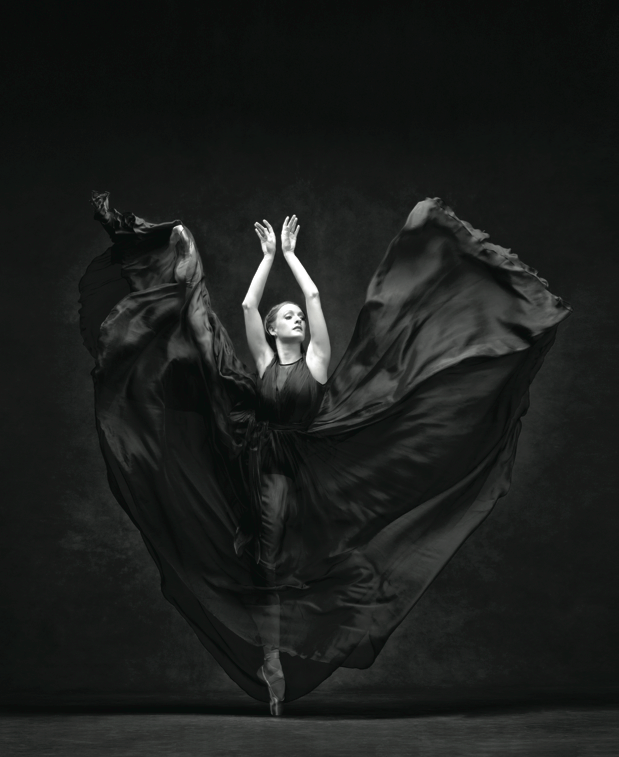 American Ballet Theatre's Gillian Murphy (courtesy NYC Dance Project)
Ory fully credits her dance background with making her a better dance photographer. "The sense of timing you have after having been a dancer is very helpful," she says. "When I work, I feel like a choreographer, trying not to just get an impressive pose, but also to create movement in a still image."

Ory's story has come full circle. The Martha Graham Dance Company brought her to tears with inspiration as a teenager, and now its dancers are some of her biggest supporters and most enthusiastic subjects. Recently, MGDC artistic director Janet Eilber pointed out to Ory how lucky she is to work with such incredible dancers from all over the world. "I agree with her," Ory says. "It's unlikely as a dancer that I would've had these experiences."
(From left) Mean Girls dancers Riza Takahashi, Ben Cook, Kamille Upshaw, Jonalyn Saxer, DeMarius R. Copes, and Stephanie Lynn Bissonnette (photos by Erin Baiano)
Get in, losers. We're going to Broadway.
OK, not losers, actually—more like the bajillion die-hard fans of Tina Fey's 2004 cult hit Mean Girls, who've been wearing pink every Wednesday since a musical adaptation of the film was first teased back in 2013.
Now their world is like a cake filled with rainbows and smiles, because Mean Girls the musical, which had a trial run in Washington, DC, last fall, is set to open at Broadway's August Wilson Theatre April 8. And in a very grool twist, it turns out the show—with direction and choreography by Casey Nicholaw and a book by Fey herself—is delightfully dancey.
Keep reading...
Show less
Quiz
Dec. 11, 2017 04:24PM EST
Alicia Vikander in Tomb Raider (Warner Brothers)
Keep reading...
Show less
Via @dreamcatchersda on Instagram
Everyone loves a good viral video, especially when there's dancing involved. And though many viral videos are contrived and created for the soul purpose of instafame, the story behind the latest video catching the eyes of millions—including Rihanna, super model Naomi Campbell, and Diddy—is even more unique because it features children who don't even know who those celebrities are.
A dance troupe in Nigeria has become the next internet sensation, thanks to their exuberant dancing and passion with which they perform. Their enthusiasm for dance is evident in every step and it's hard not to smile as you see these children (who range from ages 6 to 15) express pure joy in something as simple as dance. These nine kids are part of The Dream Catchers, an organization started by 26-year-old Seyi Oluyole, that gives impoverished children a place to live while teaching them how to dance.
Keep reading...
Show less
Illustration by Dniella Ferretti
For 16-year-old Amanda*, dance is everything: her passion, her escape from the daily grind, and her career goal. Her parents see things differently. "I have siblings who are active in sports," Amanda says, "and my parents would rather I play soccer or basketball. They don't see dance as something I can earn a stable living from in the future. They often tell me I should just quit."
Some parents aren't able to, don't know how to, or choose not to give you the kind of support you need to thrive in the studio. And when your parents are adding stress to your life, rather than alleviating it, there's a lot at stake. "Dancers who don't have the support of their parents might struggle with self-doubt," says Dr. Linda Hamilton, a former dancer with New York City Ballet and a clinical psychologist specializing in the performing arts, "while those whose parents are too involved can crack under the pressure." Whether your parents aren't there when you need them or they're always there, practically smothering you, try these tips to improve your situation.
Keep reading...
Show less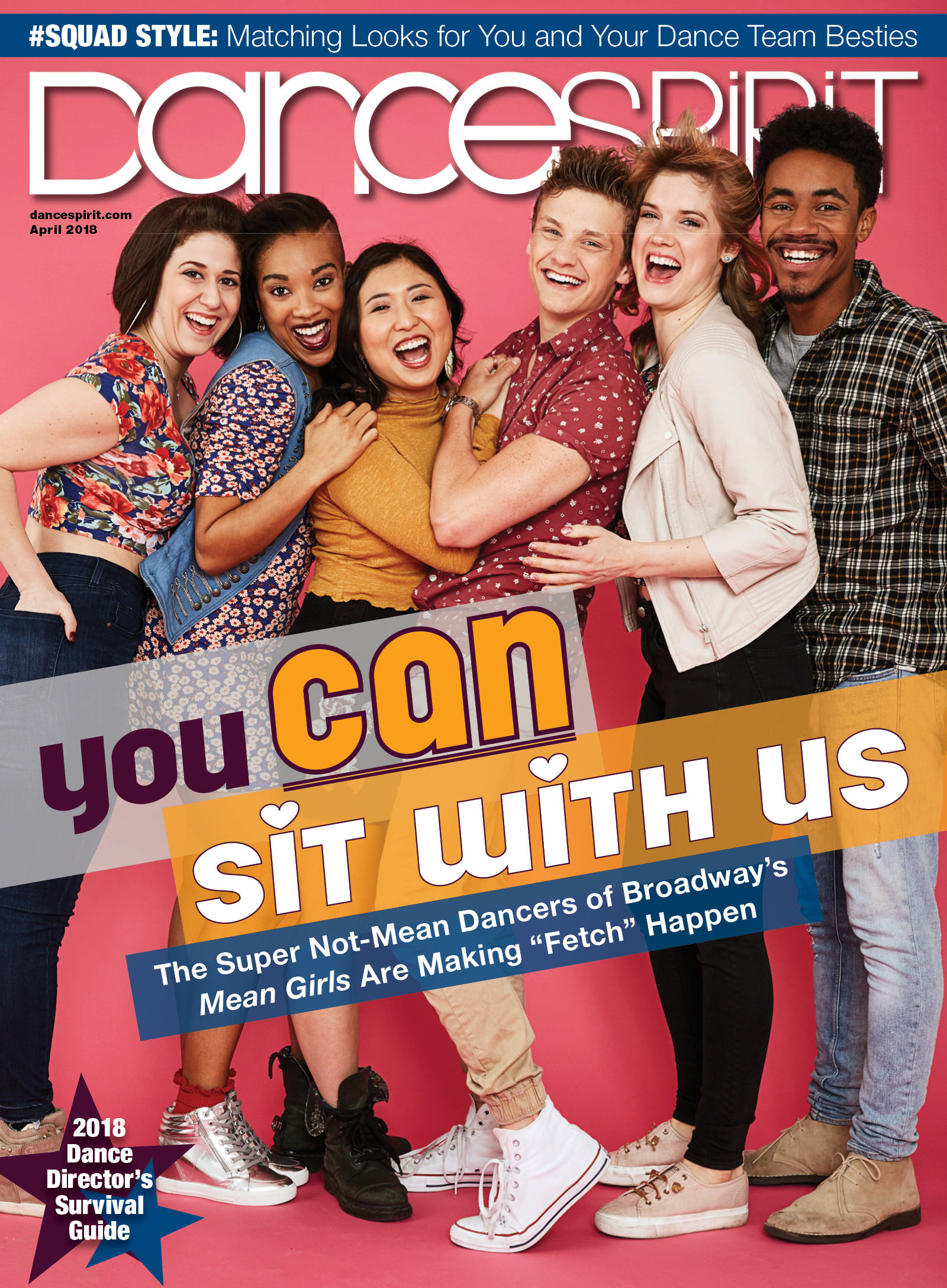 Get Dance Spirit in your inbox