Sep. 24, 2011 08:46AM EST
Gone are the days when dancers had to choose between a professional career and a college education. Now, even the stars are finding ways to fit academic classes into their demanding schedules. They go to school in the morning before company class, in the evening, on their only day off or even online from their dressing rooms. If you think you can't follow your dance dreams and earn a degree at the same time, take a cue from these dance pros and think again!
Heather McFadden: Meg in Broadway's The Phantom of the Opera and graduate of the St. Mary's College LEAP Program
Heather earned her bachelor's degree in performing arts from the St. Mary's College LEAP Program in just three years. "It was intense!" she says. "No watching TV and not a lot of social time." She managed to graduate so quickly because the LEAP (Liberal Education for Arts Professionals) Program is designed for professional dancers with rigorous schedules. Heather chose this school because she knew that she couldn't dance forever and she'd need a degree to compete for other jobs in the future. "It had to be done," she says.
But at first, Heather didn't consider college at all—she just wanted to be on Broadway or to dance in a company. She went to a performing arts high school, was exposed to professional theater, and even did a national tour and commercials. She tried taking some courses for a time when she was injured, but realized that school wasn't where she wanted to be. "To get an education," she says, "you've got to want it. It has to be the right time." The right time for her came when she discovered the LEAP Program, which offered her a flexible schedule and lots of individual attention. She received credits for having a career in dance and was able to go to class on Sunday, her only day off.
"It enriched my work," she says. "Phantom is the same show, eight times a week for years on end. But because my mind was stimulated, it fueled me." Earning a degree also gave Heather a new perspective on life. She initially thought she wanted to teach dance at a private school or university. But now, while she's still dancing Meg on Broadway, Heather's working toward an additional certification as a breastfeeding consultant.
LEAP Fact: Students enrolled in LEAP come from prestigious companies such as the San Francisco Ballet, New York City Ballet, Merce Cunningham Dance Company and more.
Fun Fact: Heather got her degree in three years while being a mom to two children.
Jeanine Mason: winner of "So You Think You Can Dance" Season 5 and student at University of California, Los Angeles
When Jeanine made it past the Top 10 on "So You Think You Can Dance," she wasn't nervous about the dancing. She was worried because she'd have to reapply to her college of choice, the University of California Los Angeles. She had already been accepted, but her dancing success meant she had to put off enrollment and apply again later that year.
Luckily, Jeanine got in, and she's now enrolled in UCLA's World Arts and Cultures program with a concentration in dance. She's studying subjects like physiological science, dance film and Pilates—topics that are important to her as a dancer. The more knowledge she has, the more she can find different ways to approach her movement. "College was always something that I was going to do," she says. "I knew that my career and my education could grow simultaneously." Each of her college classes meets only once or twice a week, and Jeanine says that options like online and weekend classes make it easy to fit school into her schedule.
But it also requires multitasking. She's willing to put off school for a few months if a certain project requires it. And when she isn't performing, she goes full-time and takes four classes each quarter (UCLA runs on quarters, not semesters).
"But that's part of the joy," she says. "I feel myself becoming a better artist as I become a smarter person."
UCLA Fact: The UCLA 26-hour dance marathon, held every February since 2002, has raised more than $2 million for AIDS research.
Fun Fact: Two of Jeanine's favorite classes are "Advanced Improvisation" and "A History of Rock and Roll."
Megan Fairchild: New York City Ballet principal and math major at Fordham University
"I don't know where it will take me," Megan says about majoring in math at Fordham University. "But I'm not thinking about the end result." She's taking the same approach to school as she did to ballet: She's doing it because she loves it.
Megan didn't always enjoy going to college, though. She enrolled in one class while she was an apprentice at NYCB and ended up dropping it because of the added stress. Two years later she tried another class and dropped that one too. "Then I took one more class that really inspired me and got me excited to learn again," she says. It was a religion course, and, Megan says, although she's not religious, she liked the teacher and the vibrant group discussions. But she also felt like she had reached a place in the company where she knew she could handle the extra work. School no longer felt stressful—instead it felt like a good balance to her dancing.
"Going to school gives me perspective," Megan says. "I'm not so obsessed with ballet." She also feels more empowered since going back to school. "When you continue your education," she says, "you gain the confidence to speak up and be a part of any conversation."
Fordham Fact: More than half of Fordham's senior and graduating students go on to join professional dance companies, including American Ballet Theatre and the Bill T. Jones/Arnie Zane Dance Company.
Fun Fact: Megan was told by the head of the math department at Fordham that she'd never be able to major in math because of her dancing schedule. Now she wants to do it more than ever, just to prove him wrong!
Maria Phegan: dancer with the Metropolitan Opera and student at Columbia University
Since the start of her career, Maria has fit college classes into her schedule. She went to community college and earned an associate's degree while dancing with San Francisco Ballet and Houston Ballet. And now, as a dancer in Metropolitan Opera productions, Maria attends Columbia University full time.
"I had knee surgery a few years ago, and that was a turning point for me," Maria says. "I knew I had to have something that wasn't a physical profession to fall back on." She enjoys sociology and political science classes and hopes to one day combine her interest in international politics with her experience in the arts.
But school is more than just a backup plan: It adds to Maria's artistry. "I always try to find the parallels in what I choose to study and what's going on with me at the time," she says. For example, she tried choreographing while she was taking an English course focused on poetry. She told a story through her dance the same way she was analyzing different poems in school. "It's like I'm combining intellectual challenges with the physical aspects of my job," she adds. "It's such a positive."
Columbia Fact: The Barnard College Department of Dance at Columbia offers dancers a chance to get worldly: Dance majors take courses in classical Spanish, jazz, tap, West African and Indian dance.
Fun Fact: Maria's mom was the first female in her family to go to college, and Maria feels inspired to follow in her footsteps.
Simone Battle: commercial dancer and student at University of Southern California
After graduating from high school, Simone deferred her enrollment to the University of Southern California and spent a year touring with the Black Eyed Peas, booking commercials and shooting music videos. But higher education was always in her plans. "My mom raised me that way," she says. So when the tour was over, Simone started her career as a college student.
Now Simone goes to USC full-time, dances with the Song Girls (a dance team that's part of the school's marching band) and continues to audition for professional jobs when she can.
Her busy schedule has forced her to miss some auditions—like one with singer Willow Smith, because she couldn't reschedule a midterm. "But the truth is that I enjoy what I do," she says. "Dancing and going to school are making me happy, and having a degree from USC will pay off in the end!" She plans to expand her career into singing and music after she graduates. Her major in music industry is letting her learn more about the legal side of the business.
USC Fact: Dancers attending USC are blessed by being close to all the big- and small-screen action in Hollywood.
Fun Fact: Simone is on the dean's list at USC!
Photos from top to bottom: Heather McFadden (left) as Meg in Phantom of the Opera, Photo by Joan Marcus; Jeanine Mason at the Rose Bowl for a UCLA game, Photo Courtesy Jeanine Mason; Megan Fairchild in Raymonda Variations, Photo by Paul Kolnik; Maria Phegan on campus, Photo Courtesy Maria Phegan; Simone Battle, Photo by Michael Flores
Win It
Sep. 05, 2017 12:10PM EST
Photos by Erin Baiano
It's time to get your pirouette on! From September 5th to September 30th, we're hosting a contest to find out who's the best turner of them all.

Put together your most impressive turning combo. Post a video online. Share your turns with us and thousands of other dancers around the world. And if our editors think you're the top turner, you'll win a fabulous prize.
Keep reading...
Show less
All of 18-year-old Kaylin Maggard's dreams—from scoring the title of National Senior Outstanding Dancer at New York City Dance Alliance Nationals to winning the 2017 Dance Spirit Cover Model Search—are coming true. And to anyone who knows the gorgeous contemporary dancer, that's no surprise.
From the moment the Dance Spirit staff met Kaylin, it was obvious her humility and talent would take her far. Not only did she go full-out during the photo shoot and class at Broadway Dance Center, but she was always cheering on, laughing with, and supporting her fellow CMS contestants Haley Hartsfield and Michelle Quiner. During the voting period, the social media world was abuzz with praise for her work ethic, positive attitude, and generosity.
Since her CMS trip to NYC, Kaylin's moved from her hometown of Columbia, MO, to the Big Apple for her freshman year at Juilliard, and is busy getting acquainted with the city. As for the future? She's taking it one opportunity at a time, but something tells us we'll be seeing this contemporary queen reach new heights every year.
Keep reading...
Show less
New York City principal Lauren Lovette has become an icon thanks to her emotional maturity and exceptional musicality. The 26-year-old quickly rose through the ranks after joining the company as an apprentice in 2009, reaching principal status in 2015. A Thousand Oaks, CA, native, Lovette started studying ballet seriously at age 11, at the Cary Ballet Conservatory in Cary, NC. After attending two summer courses at the School of American Ballet, she enrolled as a full-time student in 2006. Last year, she made her choreographic debut with For Clara, her first piece for NYCB. Catch her latest work this month during the company's fall season. —Courtney Bowers
Keep reading...
Show less
In our "Dear Katie" series, former NYCB soloist Kathryn Morgan answers your pressing dance questions. Have something you want to ask Katie? Email dearkatie@dancespirit.com for a chance to be featured!
Dear Katie,
I know I'm not getting good enough dance training from any of my local studios. But I'm not sure I'm ready to move away to study at a big-name school, either. How do you know when you're ready to leave home to pursue your passion?
Marisa
Keep reading...
Show less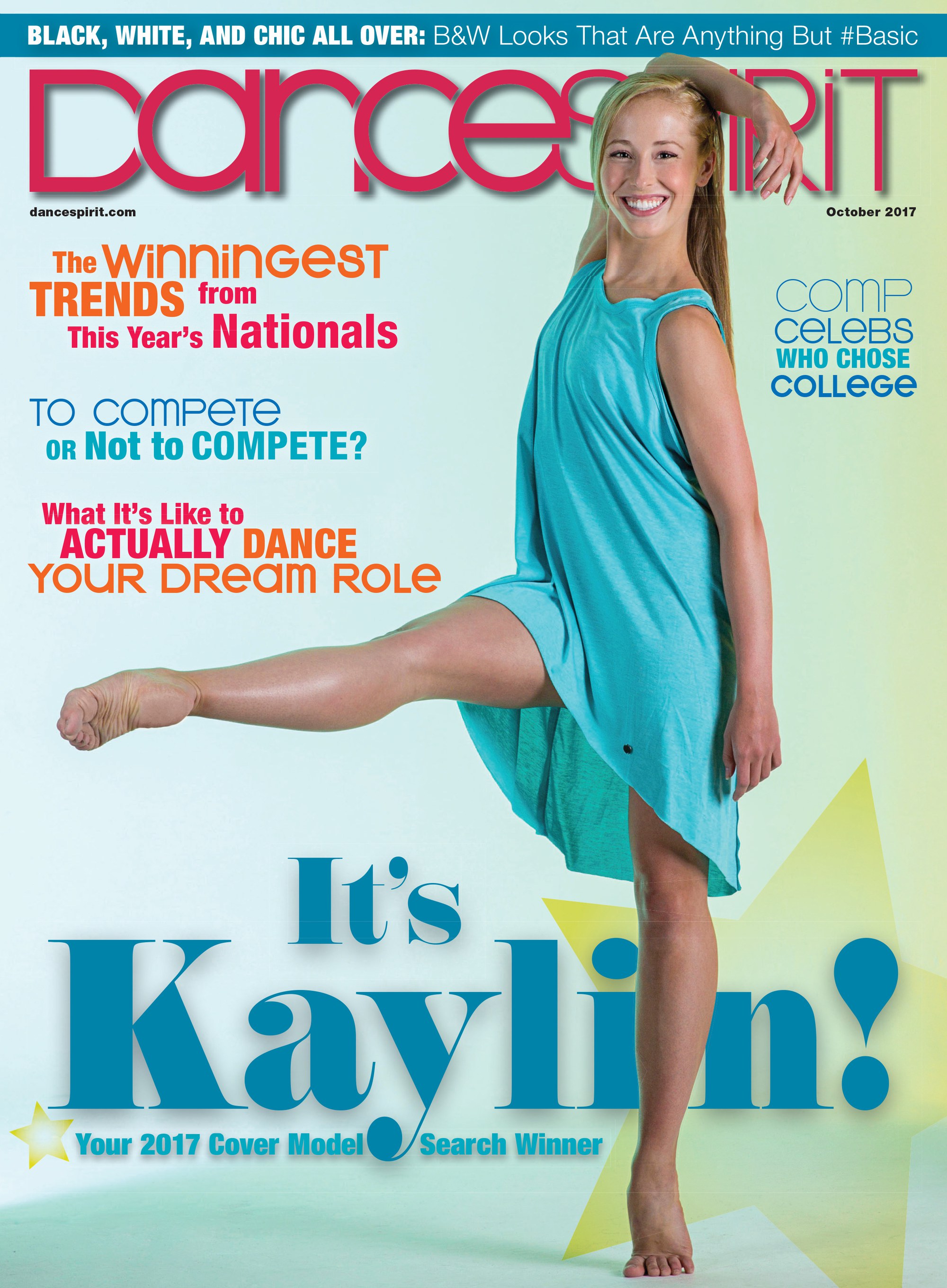 Get Dance Spirit in your inbox