How To
Sep. 10, 2012 02:16PM EST
Photos by Sibté Hassan. Demonstrated by Martha Graham Dance Company member Xiaochuan Xie.
Diversion of Angelsis one of modern dance legend Martha Graham's most iconic works. First performed in 1948, it showcases all of the major principles of Graham technique. Virginie Mécène, director of the Martha Graham School of Contemporary Dance and artistic director of Graham II, walked Dance Spirit through an eight-count from the piece.
About Diversion of Angels
"This work is all about love," Mécène says. "In the complete piece there are three couples: one representing young love, one representing passionate love and one representing mature love. The chorus dancers introduce each couple's duet—they turn the pages, so to speak. This particular eight-count is from a chorus section. The dancer should move like she's head over heels in love, with everything big and off-balance."
Graham Glossary
The Graham contraction: Deep contraction originating at the pelvis that causes the torso to react in a curve
The Graham spiral: Twisting of the torso around the spine
The Graham Cup
Martha Graham often used cupped hands in her works. The Graham cup is more than just a position, Mécène explains. "Your hands are doing a contraction of their own, related to the Graham contraction of the spine," she says. "They're connected to the center of your body."
WATCH IT BEFORE YOU TRY IT. Graham technique is complicated,  so before you test out this eight-count, watch Mécène break it down with MGDC member Xiaochuan Xie.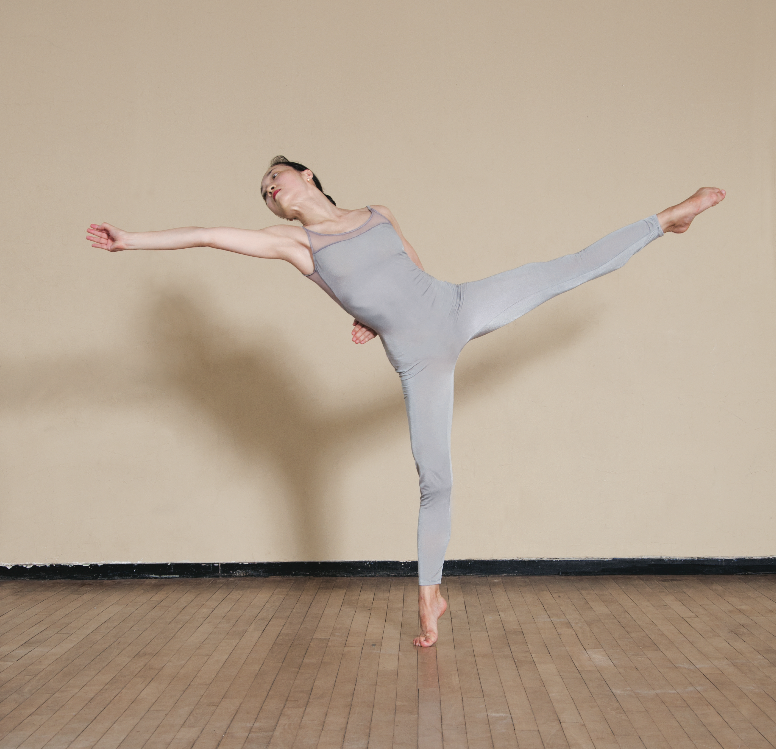 1, and 2, and 3
Piqué out on your right foot (1), arriving in a side tilt with the left leg at about 90 degrees and the head looking out to the right. At the same time, shoot your right arm out with a cupped hand (see sidebar), and wrap your left arm behind your back. Retract your right arm in against your side and step across with the left leg in plié (and), then repeat the piqué (2), traveling to the right, with the left arm staying in place but the right arm shooting out again. Step across again (and) and repeat the same piqué sequence (3).
Mécène's advice: "As you step out, spiral the right side of your back around toward the front."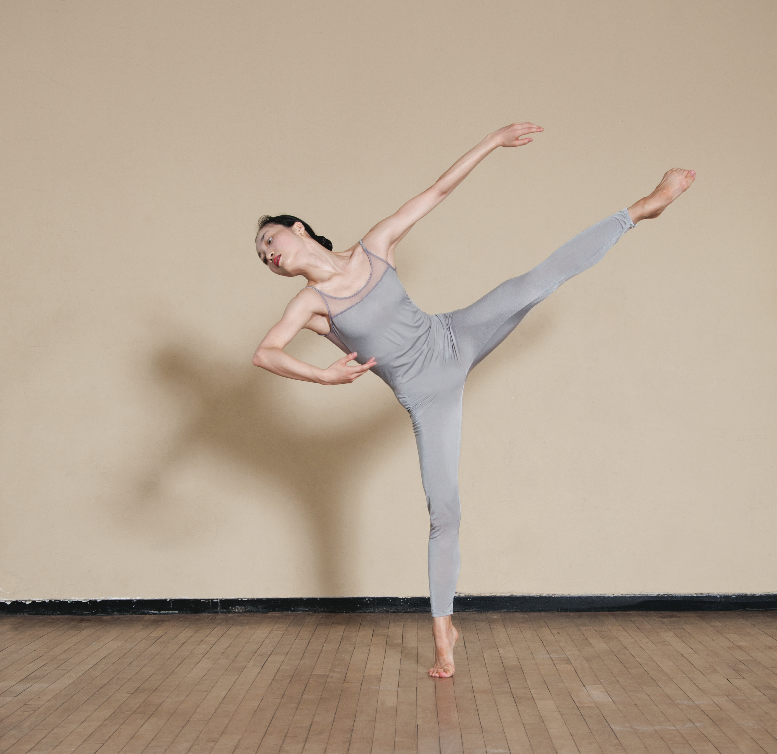 and 4
Step across with the left leg (and), then do a piqué turn to the right on your right foot (4), with your pelvis contracted, your body in a tilt leaning to the right and your left leg raised in parallel attitude. During the turn, curve your right arm into first position, raise your left arm so it's parallel to your left leg and look down over your right shoulder.
Mécène's advice: "Use the right side of your back to pull you around. Contract deeply so your body feels like it's scooping into the tilt."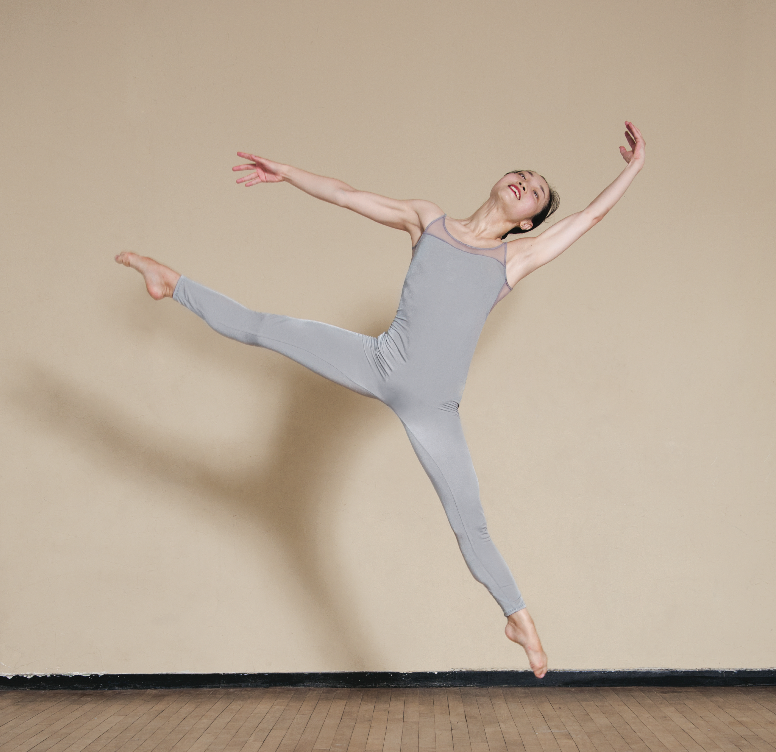 and 5
Swing your left leg and both arms down as you plié (and) in preparation for a jump (5) on the left leg with the right leg extended to the side at 90 degrees and the torso tilted to the left. Your left arm should arrive in fifth position over your head, and your right arm should end up parallel to your right leg. Your gaze should be up and out.
Mécène's advice: "Suspend for a minute before swinging into the jump. Then feel the left side of the back come forward as you jump up."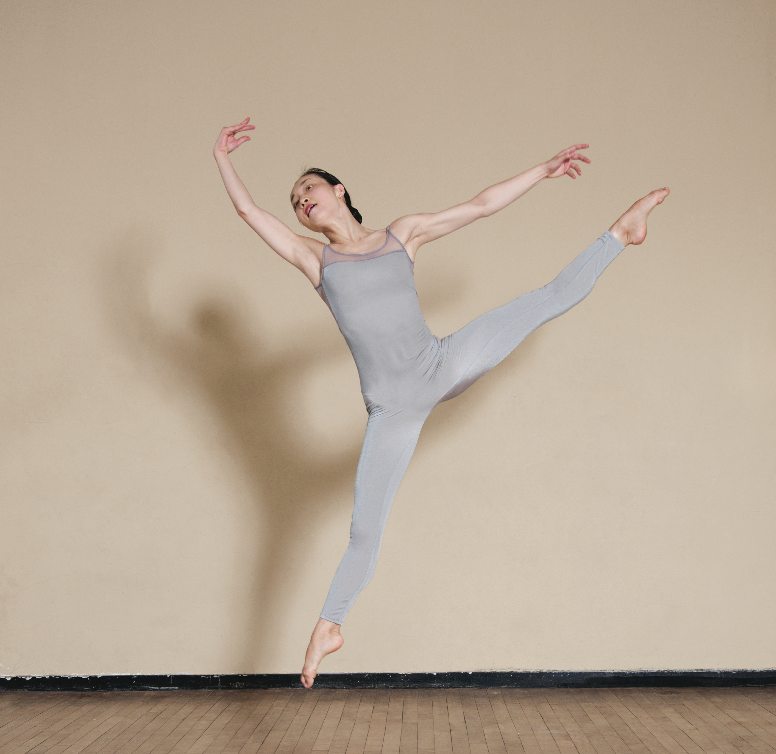 and 6
Swing the arms and legs down in plié (and) and repeat the jump (6) on the right leg, reversing the arm, leg and head positions.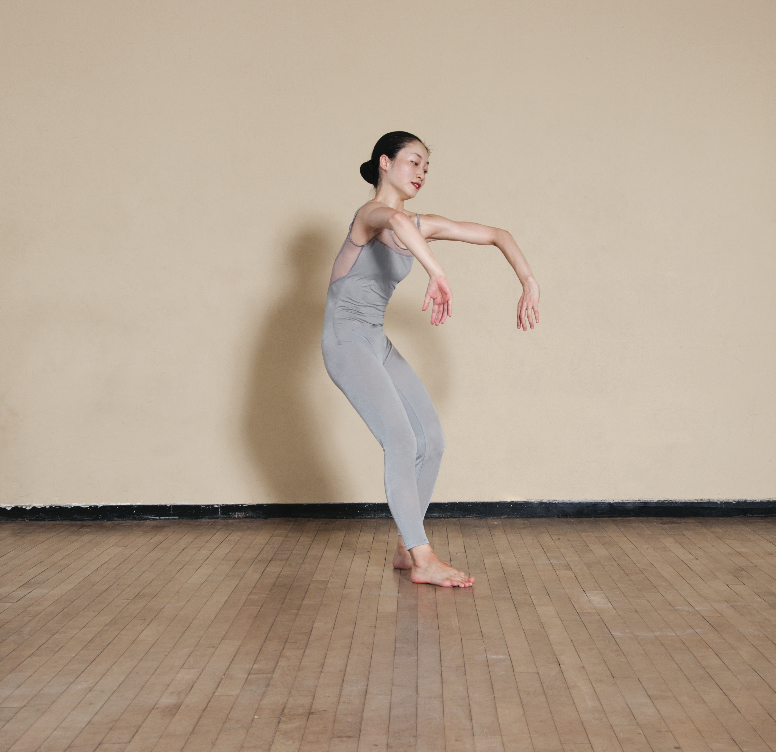 and 7
Contract to initiate a quick spin to the left in plié on your left leg (and). Stop the turn with a deeper contraction (7), anchoring your weight into your left foot. Your arms should rise in front of you slightly in response to the contraction.
Mécène's advice: "Deepen the contraction even further after you arrive facing front."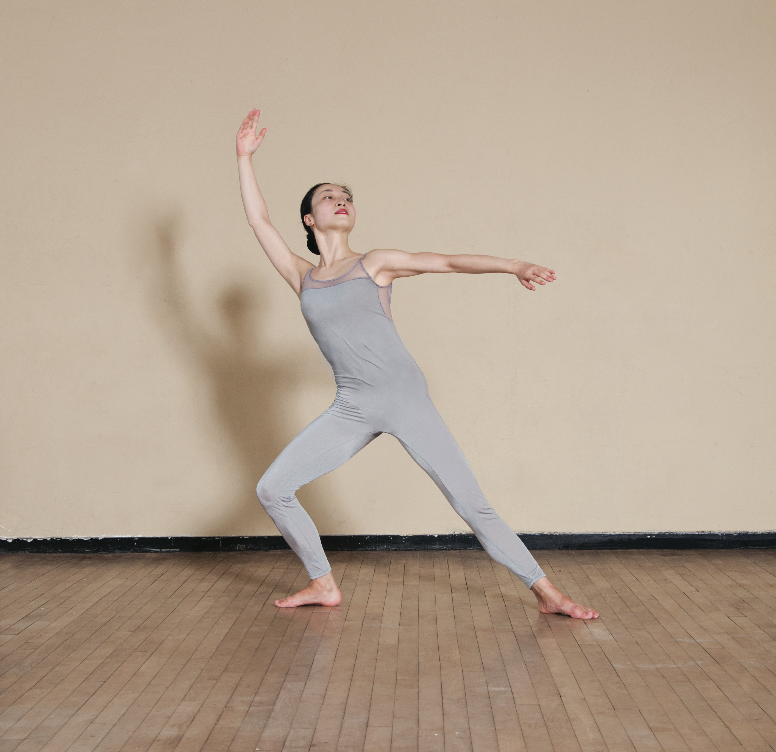 and
Step backward on your right foot into an open allongé position. Both feet should be flat on the floor, with the right leg bent and the left straight. The arms should rise sharply, with the right coming to fifth over your head and the left arriving out to the side, parallel to the floor. Your gaze should be up and out to the left.
Mécène's advice: "Initiate the step backward from the lower back, then release the upper body as you arrive in allongé."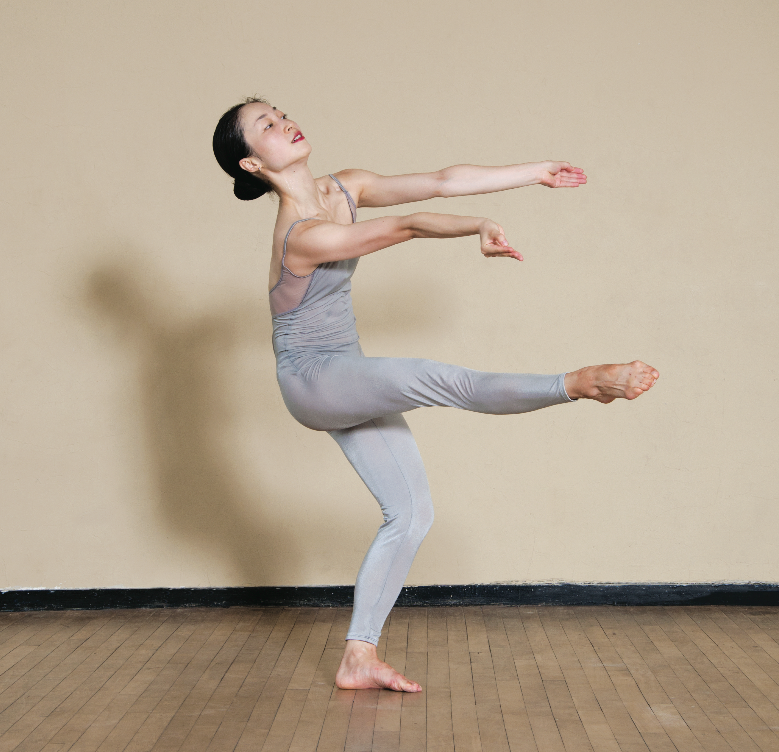 8
Brush the right leg forward into a dégagé as you contract deeply from the pelvis, plié-ing the left leg. Your arms should rise in front of you in response to the contraction, with your hands cupped.
Mécène's advice: "You should be off-balance here almost immediately, letting the contraction pull you backward."
Jul. 22, 2017 04:55PM EST
via YouTube
It's no secret that ballet in pop culture has sparked its fair share of controversy. Which is why this video from Refinery29, featuring ABT's Isabella Boylston, is not only a super-fun watch, but a breath of fresh air.
Keep reading...
Show less
Jul. 21, 2017 12:26PM EST
via @phil_wright_ on Instagram
Well, this brings class videos to a whole new level! Choreographer Phil Wright and dancer Ashley Liai have been together eight-plus years, but she was still in total shock when he proposed to her mid-dance at Millennium Dance Complex earlier this week. Why? Well, the whole thing was unbelievably perfect.
Keep reading...
Show less
Jul. 21, 2017 11:03AM EST
(Courtesy ABC)
In the dance industry, dancers don't always have a say in what they wear on their bodies. This can get tricky if you're asked to wear something that compromises your own personal values. So what should you do if you find yourself in this sticky situation? We sat down for a Q&A with "Dancing with the Stars" alumn Ashly Costa to answer that very question. Here's what she had to say about the options dancers have surrounding questionable costumes.
Keep reading...
Show less


Get Dance Spirit in your inbox