Apr. 11, 2013 11:58AM EST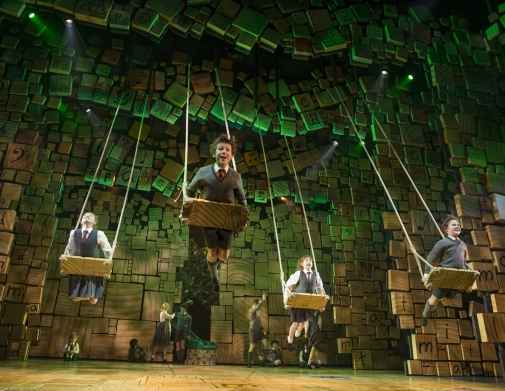 Some of "Matlida"'s amazing kid stars swing it out. Photo by Joan Marcus.
I was a tad nervous when I walked into the the Shubert theater to see Matilda: The Musical, the Broadway adaptation of Roald Dahl's story that officially opens tonight. The book manages to present this weird, perfect mix of cynicism and hopefulness—it walks that line only Roald Dahl can really walk—and I was worried that a big musical production might iron all of its nuances right out.
Was I ever wrong. There's nothing super-Disney about this show (though the kids in the audience still went absolutely wild for it), and thank goodness. Tim Minchin's music and lyrics don't drown the story in pounds of sugar—they keep the book's sharp edge and wit, even during the naturally mushier moments.
And the CAST, you guys! First of all, there are the four little wünderkinds who alternate playing Matilda, the kid genius with telekinetic powers. For anyone under the age of 12 to carry a show is pretty darn impressive (see: Billy Elliot's Billys), but the Matilda I saw, Milly Shapiro, was already holding the stage like a seasoned veteran. That's not to mention the other youngsters who play Matlida's classmates, all of whom manage to develop memorable characters.  (Jared Parker, aka Nigel: You are my hero. I'll hang out with you in Chokey anytime.)
And then there's Miss Trunchbull. Oh, man, Miss Trunchbull. Let's put it this way: She's played by a he (Bertie Carvel). She's the most delightfully nasty, icky, terrifying school headmistress you'll ever meet. And she totally steals the show.
Oh, and there's a TON of very dance-y dancing—which isn't a surprise, given that the choreographer is Billy Elliot's Peter Darling. You get everything from a flashy spoof on competitive ballroom dance to a sweet number involving playground swings. And that explains why the rest of the cast is filled out with some of our favorite Broadway dancers—including cutie Ryan Steele, of newspaper-fouettéing Newsies fame.
The short version of this rant? Matilda is a musical that brings Roald Dahl's crazy world to sharp, hilarious, wonderful life. See it!
via @phil_wright_ on Instagram
Well, this brings class videos to a whole new level! Choreographer Phil Wright and dancer Ashley Liai have been together eight-plus years, but she was still in total shock when he proposed to her mid-dance at Millennium Dance Complex earlier this week. Why? Well, the whole thing was unbelievably perfect.
Keep reading...
Show less
Ashly Costa and Buzz Aldrin on "Dancing with the Stars" Season 10 (courtesy ABC)
In the dance industry, dancers don't always have a say in what they wear on their bodies. This can get tricky if you're asked to wear something that compromises your own personal values. So what should you do if you find yourself in this sticky situation? We sat down for a Q&A with "Dancing with the Stars" alumn Ashly Costa to answer that very question. Here's what she had to say about the options dancers have surrounding questionable costumes.
Keep reading...
Show less
Erin Carpenter as a Knicks City Dancer (David Safran, courtesy of Erin Carpenter)
The groundwork for Erin Carpenter's company, Nude Barre, began when she was a teenager. At 16, she earned a spot in the residency program at The Kennedy Center in partnership with Dance Theatre of Harlem. "We were required to wear nude—as in, our actual skin tone—tights and shoes," she remembers. Carpenter brought her "sun tan" tights and a pair of pink ballet shoes with her, because that was all she could find. But she wasn't allowed in class because her dancewear didn't match her skin. "I was so embarrassed," she says. "I looked unprepared. I just didn't have the right nudes." Her teacher explained that the dancers dyed their tights and pancaked their shoes.
Keep reading...
Show less


Get Dance Spirit in your inbox