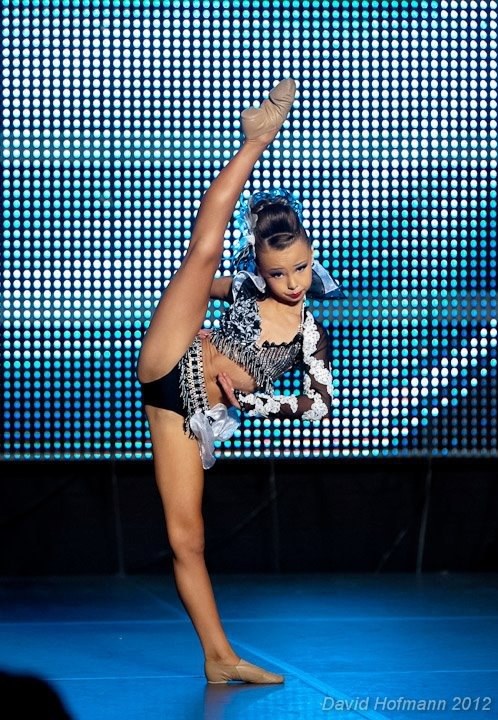 Sophia wows audiences with her  solid technique and stellar showmanship. Isn't she adorable? Photo by David Hoffman.
At just 10 years old, Sophia Lucia has made quite the name for herself in the dance community. If you know her simply as one of Abby Lee Miller's "replacements" on "Dance Moms," you're missing out! Winner of countless titles and star of viral YouTube videos—she holds a record of 54 pirouettes in tap shoes!—this tiny turner takes her training seriously. We caught up with this rising superstar, who studies primarily with Kristen Hibbs at San Diego Dance Center, to find out some little-known facts about her impressive career. And yes, she's just as sweet and adorable in real life as she is on TV!
Dance Spirit: What was working with Abby Lee really like?
Sophia Lucia: She's really sweet! When I went to do my movie, she bought me a whole new outfit to wear to the set! And when the replacements came, she paid for all of us to get our nails done.
DS: Did you get along with the girls on the show?
SL: The ALDC girls are super sweet—I wish I could dance with them every day. We'd have moments where we'd blank out and start laughing. Everyone was so excited to learn the group dance, and everyone was so friendly.
DS: What has been your best dance moment?
SL: Dancing in MDA's (Muscular Dystrophy Association) telethon with a little girl in a wheelchair.
DS: Who is your favorite teacher or choreographer to work with?
SL: Every teacher is great because they're always friendly and very nice. But, if I had to pick, I'd choose Mark Meismer (choreographer of my 'Turn to Stone' solo), Tiffani King (choreographer of my 'Pulse' solo) and Rachel Sebastian, who I train with every day for technique and ballet.
DS: What are your best turning tips?
SL: Always find your spot and pull your stomach in—tightening it up! That always helps me if I'm falling off my balance. And I strengthen my core every day.
DS: Your YouTube videos have thousands of views! How do you think they got so popular?
SL: "One day, my mom and I just started to post videos, and they blew up. When my 40 turns video came out on my tap teacher's YouTube channel, it just went bonkers!" (Sophia's "40 turns" video now has 872,000 views!)
One night, my dad was watching "Tosh.0" and woke me up in the middle of the night yelling, "Sophie! You're on Tosh.0! Come see!" and I was on for my 40 turns. He [Daniel Tosh] called me a bad word, but I didn't care, because I was on TV!
DS: What do you do to calm your nerves before a performance?
SL: My best friend, Cela Dadian, is always with me at competitions, and she's the funniest person. I'm always so nervous, but she makes me laugh and get over the nerves. If she's not there, I usually just shake it out and say a little prayer.
DS: Do you have any upcoming projects we can look out for?
SL: I have my own clothing line coming out for California Kisses, and they're sponsoring me, along with Kids Artistic Revue, to break the world record for pirouettes. I'll officially be in the Guinness Book of World Records this April!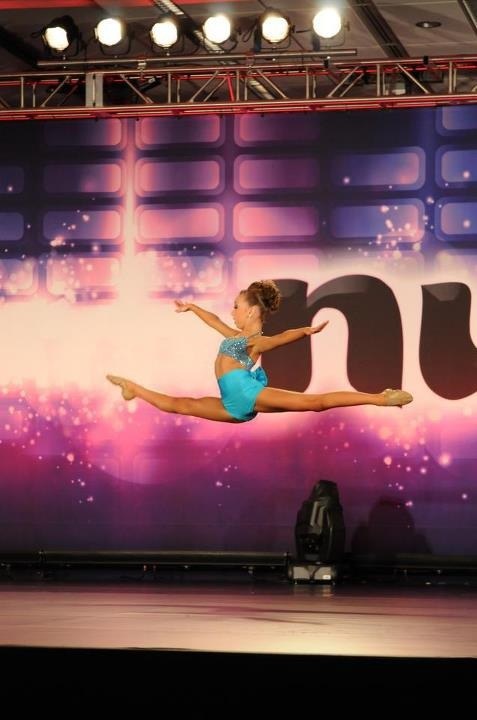 Sophia performing at NUVO. Courtesy Jaclyn Lucia.
FAST FACTS:
Favorite solo: "Pulse" and "Turn to Stone"
Must-see TV shows: Disney channel shows, "Here Comes Honey Boo Boo" and "Keeping Up With the Kardashians"—"When my parents let me watch!"
Dream choreographers to work with: Travis Wall, Nick Lazzarini and Stacey Tookey
Dance idol and role model: Hayden Hopkins and Travis Wall. "I hope that one day my legs go as high as Hayden's! And Travis is just an amazing person to be around."
Dream dance role: "To dance and act on TV—like on Disney's 'Shake It Up!' But long-term, I'd like to go to Juilliard and be on Broadway!"
Dance BFFS: Cela Dadian, Audrey Olaes, Kylie Yamane and Autumn Miller
Three words to describe you: "sassy, funny, cute" ("According to my mom!")
Something most people don't know about you: "I was born missing one rib on each side!"
(via YouTube)
Remember that fabulous old-school clip of dancers tapping in pointe shoes that Tabitha and Napoleon D'umo brought to our attention back in March? As we mentioned then, toe-tap dancing was actually super popular back in the 1920s and 30s—which means there are more videos where that one came from. And because #ToeTapTuesday has a nice ring to it, we thought we'd take this opportunity to introduce you to Dick and Edith Barstow, a toe-tapping brother and sister duo from that era who are nothing short of incredible:
Keep reading...
Show less
Adam Rose/FOX
Guess who's back? Back again? The Academy's back! Tell a friend.
After one day at The Academy, the All Stars have successfully taken the Top 100 down to 62. But their work is just getting started: Now they need to keep narrowing the field to a Top 10, ultimately deciding who each will partner with during the live shows.
Keep reading...
Show less
Sara Mearns and Chase Finlay in Pontus Lidberg's "The Shimmering Asphalt" (via @saramearns on Instagram)
We've said it before and we'll say it again: New York City Ballet principal Sara Mearns is some SERIOUS #goals. Her strength and power onstage borders on superhuman. But what's extra magical about Mearns is that she really puts in the fitness and cross-training work outside of the rehearsal studio. And she's overcome her fair share of injuries. Which is why she was the perfect source for Vogue's latest ballet fitness story.
Keep reading...
Show less


Get Dance Spirit in your inbox