Meet the Dancers of "Strictly Ballet" Season Two
Last year, Teen Vogue's "Strictly Ballet" infiltrated the elite world of NYC's School of American Ballet. We got to meet a few of its most promising students, including Mimi Staker, who's now a corps member of New York City Ballet, and Jasmine Perry, now an L.A. Ballet corps member. It was a fascinating account of life at SAB—what the training is like and the pressure that comes with being a student at one of the most prestigious schools in the country.
But Teen Vogue editor in chief, Amy Astley, wanted to expand the narrative. So for the second season of "Strictly Ballet," the cameras are taking us inside Miami City Ballet School, introducing six of its most advanced students as they look to the next stages of their careers. Why Miami? "I'm fascinated by the city's culture," Astley says. "I also really wanted to show the diversity in ballet. I think a lot of people aren't aware of the rich history of dance and ballet in the Hispanic culture—they don't know about the National Ballet of Cuba or Alicia Alonso." Many of the students featured this season are from outside the U.S., trying to make it in ballet—and in America. "Valeriia is from Russia, Mayumi and Gustavo are from Brazil and Carlos came from Cuba," Astley continues. "They left their families behind, they're homesick. And they all want their families to be proud, because they've sacrificed so much, too. It's very personal."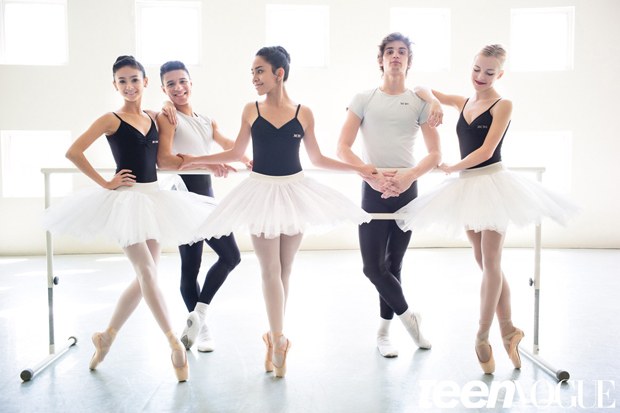 (From left) Miami City Ballet School's Mayumi Enokibara, Gustavo Pachecco, Margarita Armas, Carlos Valdés and Ella Titus (Henry Leutwyler/Teen Vogue)
Dance Spirit caught up with a couple of the dancers featured in the series, Ella Titus and Mayumi Enokibara, two Miami City Ballet apprentices.
DS: Where did you train before coming to Miami City Ballet School?
Ella Titus: I'm from Clearwater, Florida. I trained at Steps School of Dance with Maureen Gibson, Florida West Ballet with Pavel Fomin and privately with Haydee Gutierrez. This will be my fourth year in Miami—my first summer program here was in 2008 and I moved here full-time my freshman year of high school.
Mayumi Enokibara: I'm from Brazil, Rio de Janeiro. I started ballet when I was 3 years old, and at 6, I started training more seriously at Escola Estadual de Danças Maria Olenewa at Theatro Municipal (it's one of the biggest classical companies in Brazil). When I was 14, I heard that Miami City Ballet was coming to Brazil to audition students for its summer session. A few days after the audition, I found out I got a full scholarship to the summer intensive. I was so excited! During the summer, the office asked if any of us would like to stay for the year-round program. I called my mom because I really wanted to, and while she was worried that I was too young, she let me try out. In the last week of the summer, I received a full scholarship to stay the whole year. I'm 18 now, and I've been here since then.
DS: What are you most looking forward to in the upcoming season of "Strictly Ballet"?
ET: I want my family and friends to be able to see my dancing in the episodes. Since I've lived away from home for so long, they've missed lots of my performances.
ME: I'm so excited to show what life as a dancer is like, and show that it's not easy at all.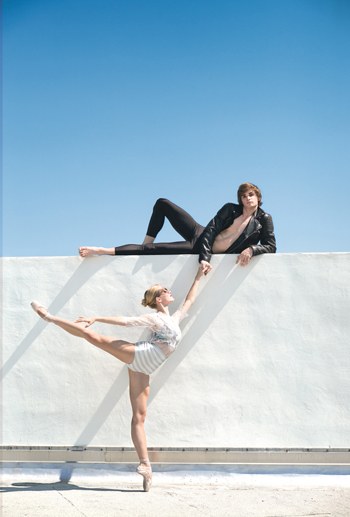 Ella Titus with Carlos Valdés (Henry Leutwyler/Teen Vogue)
DS: What was most challenging about filming?
ET: The first few days of filming, Mayumi and I were in the theater performing George Balanchine's Symphony in 3. I'd just been thrown into the ballet because another dancer was injured—plus I was sick. I kept losing my voice during the interviews. It was so embarrassing!
ME: Speaking English all the time, for sure. It's not my first language.
DS: What's your dream performance role?
ET: I have a few: Afternoon of a Faun, the lead girl in Balanchine's Tchaikovsky Suite No. 3, the Élégie section, and William Forsythe's In the Middle Somewhat Elevated
ME: I basically love all the Balanchine ballets, but my dream is to do Apollo. It's so beautiful. On the classical side, I'd love to dance Nikiya in La Bayadère.
DS: Who is your dance idol?
ET: Miami City Ballet principal Jennifer Kronenberg
ME: Cecilia Kerche—she's a dancer in Brazil. At Miami City Ballet, I'd say Nathalia Arja, Jennifer Kronenberg and the sisters, Patricia Delgado and Janette Delgado.
DS: What's the strangest thing in your dance bag?
ET: I grew up dancing in Miami City Ballet's Nutcracker. When I was Marie, I saved the fake snow, and ever since then, I've sewn a piece into every one of my pointe shoes! So I have a little bag of snow in my dance bag.
DS: What's the best part about being in Miami?
ET: I've lived in Florida all my life and couldn't imagine living anywhere else. Plus, Miami has great weather all year. (Fun fact: I've never seen real snow!)
ME: Miami isn't so different from Brazil: The weather, the beaches—and there are a lot of Latin people who make it feel more like home. But the best part is definitely the shopping.
"Strictly Ballet" season two debuts today! Meet all the dancers in the season premiere, and watch Mayumi's first episode below:
(From left) Mean Girls dancers Riza Takahashi, Ben Cook, Kamille Upshaw, Jonalyn Saxer, DeMarius R. Copes, and Stephanie Lynn Bissonnette (photos by Erin Baiano)
Get in, losers. We're going to Broadway.
OK, not losers, actually—more like the bajillion die-hard fans of Tina Fey's 2004 cult hit Mean Girls, who've been wearing pink every Wednesday since a musical adaptation of the film was first teased back in 2013.
Now their world is like a cake filled with rainbows and smiles, because Mean Girls the musical, which had a trial run in Washington, DC, last fall, is set to open at Broadway's August Wilson Theatre April 8. And in a very grool twist, it turns out the show—with direction and choreography by Casey Nicholaw and a book by Fey herself—is delightfully dancey.
Keep reading...
Show less
Lloyd Knight perform ing in Martha Graham's Night Journey (photo by Brigid Pierce, courtesy Knight)
Principal Lloyd Knight has become a true standout in the Martha Graham Dance Company thanks to his compelling presence and dynamic technique. Knight, who performs leading roles in iconic pieces like Appalachian Spring and Embattled Garden, was born in England and raised in Miami, where he trained at the Miami Conservatory and later graduated from New World School of the Arts. He received scholarships to The Ailey School and The Dance Theatre of Harlem School in NYC and joined MGDC in 2005. Catch him onstage with MGDC during its New York City Center season this month. —Courtney Bowers
Keep reading...
Show less
University of Minnesota Dance Team (courtesy University of Minnesota)
They say there's no "I" in "team"—and nowhere is that truer than the world of college dance teams, where precision reigns, uniformity is key, and a single misstep from any given "I" can cost a group a championship trophy. So it's unsurprising that securing a spot on one of the best dance teams in the country is no easy feat.
Members of these highly athletic teams rehearse for hours every week—on top of academic classes and commitments—and perform at football and basketball games, annual concerts, and nationally televised competitions (hi, ESPN). And "no I" rule notwithstanding, each of these top teams is made up of highly trained, highly technical, highly hard-core individuals, who come together to create a ready-for-victory pack.
These six teams aren't one-off success stories—they're consistently strong, and earn the top spots at major competitions like UDA and NDA nearly every year. Up for the challenge? Here's what to know before you go to auditions.
Keep reading...
Show less
Alicia Vikander in Tomb Raider (Warner Brothers)
Keep reading...
Show less
Photo by Travis Kelley, courtesy Kathryn Morgan
In our "Dear Katie" series, former NYCB soloist Kathryn Morgan answers your pressing dance questions. Have something you want to ask Katie? Email dearkatie@dancespirit.com for a chance to be featured!
Dear Katie,
I'm a hip-hop and jazz dancer, and I want to get involved in the commercial-dance world. I've never studied ballet, but people keep telling me I "have to" take ballet classes if I want to make it professionally. Is that really true? My family has limited money for dance classes, and I have to be careful about how I spend it.
Sarah
Keep reading...
Show less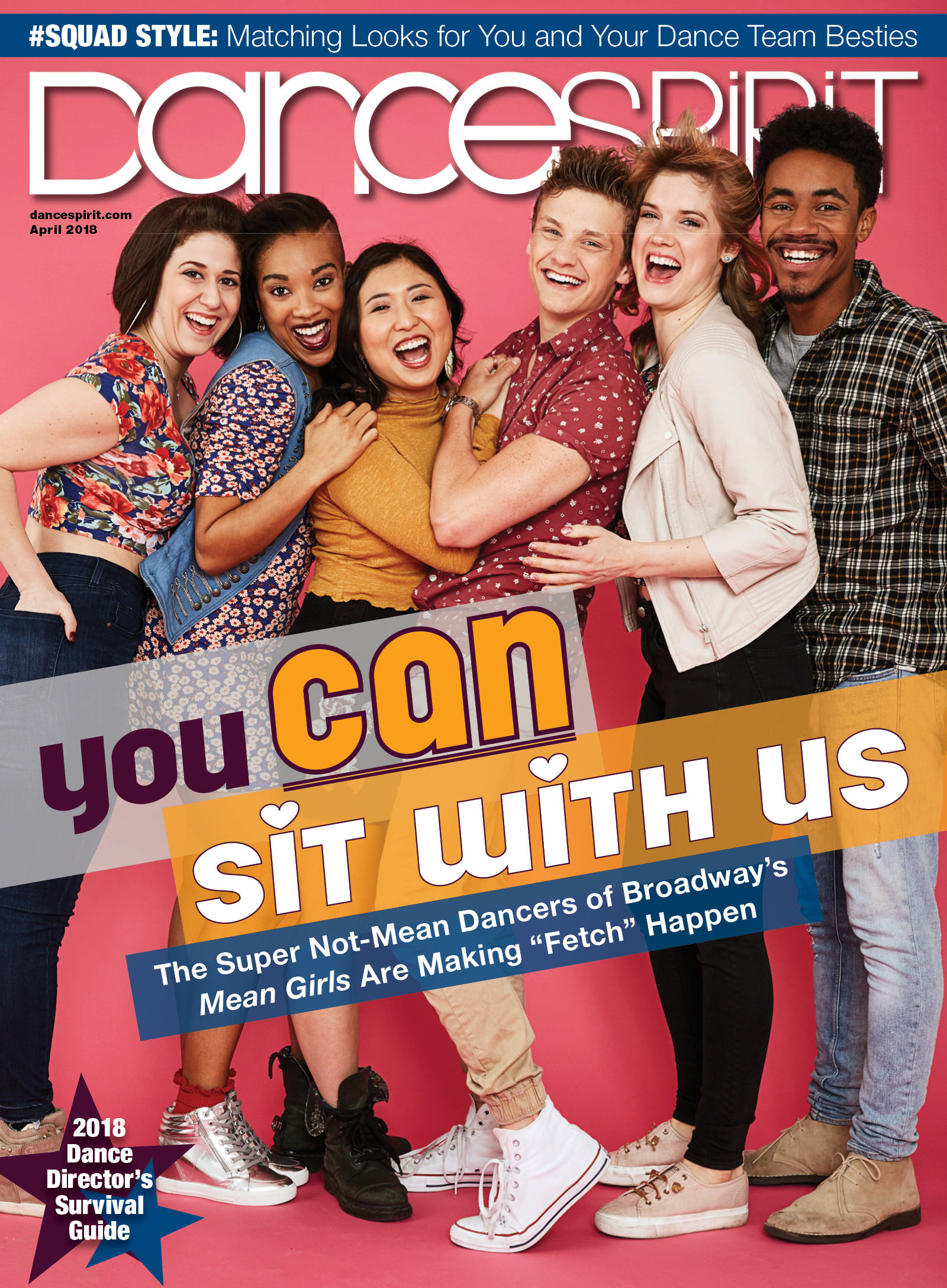 Get Dance Spirit in your inbox