Megan Fairchild aka "Miss Turnstiles"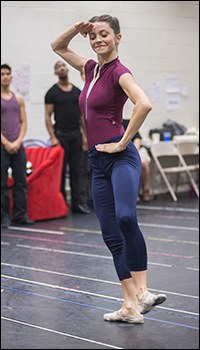 Fairchild in rehearsal for the "Miss Turnstiles" number in On the Town (photo by Monica Simes, via Playbill)
Back in June, we shared the exciting news that New York City Ballet principal Megan Fairchild will play Ivy Smith in the upcoming Broadway revival of On the Town. If you're not familiar with the show, New Yorker Ivy Smith is chosen to represent the NYC Subway for a month as "Miss Turnstiles" (smh at odd 1940s customs...). Ivy's picture on the subway comes into play later, when the show's protagonists—three sailors on a day off from the Navy—embark on a quest to find her.
Recently, Broadway.com shared a rehearsal video of the "Miss Turnstiles" routine. Watch it once, and you'll know exactly why the NYCB principal was chosen for the role. Much like the rest of the show, this number is packed with difficult choreography. Everything from crisp petit allegro to some seriously intense lifts, from an epic menage to about a bazillion fouettés, choreographer Joshua Bergasse did not go easy on her. And quite frankly, we're thrilled—because watching one of our favorite ballerinas completely nail an action-packed Broadway number makes us feel happy inside.
Check it out!
On the Town officially opens October 16, but preview performances have already begun at Lyric Theatre on Broadway. For tickets, click here.
Kalani Hilliker made "Dance Moms" fans sit up a little straighter when she first appeared on "Abby's Ultimate Dance Competition" back in 2013. The then–12-year-old ballerina had charisma, she had sass—and, wow, did she have technique! Abby Lee Miller, the show's infamous host, saw Kalani's star potential from the start, saving her from elimination and ultimately inviting her to perform alongside Maddie Ziegler on Season 4 of "Dance Moms." "I was never supposed to be on 'Dance Moms' beyond that one performance," says Kalani, now 16, but she ended up staying on the show for the whole season—and the following three. "It was my first time, but not my last time, causing drama. And it was also the first time I got to meet the other dancers, who have become like sisters."
Keep reading...
Show less
courtesy Jane Antonia Cornish
Translation: New York City Ballet principal dancer Ask La Cour's choreography for himself and the luxuriantly leggy Sara Michelle Murawski totally. nails. it.
Keep reading...
Show less
Kirsten Evans @settingthebarre
You may already know Apolla Shocks are able to replace your current footwear and dance shoes because of the durability, aesthetics, and traction, BUT there are many other reasons to ALWAYS keep a pair in your dance bag. BESIDES wearing them in class or onstage:
Keep reading...
Show less
Isaac Hernández in "Despertares" (via Vimeo)
Move over, Sergei Polunin*: There's a new ballet heartthrob in town.
Well, not "new," exactly: The fabulously talented Isaac Hernández has been a lead principal with the English National Ballet since 2015, and previously danced with Dutch National Ballet and San Francisco Ballet. (He's also part of a distinguished dance family: You met his brother, SFB corps member Esteban, in our March issue roundup of up-and-coming danseurs.)
But a dreamy new video by filmmaker Ezra Hurwitz—"Despertares" [Wake Up], featuring Hernández dancing in studios and on rooftops all over NYC—makes a strong case for this beautiful dancer becoming your next ballet crush:
Keep reading...
Show less


Get Dance Spirit in your inbox