Jun. 11, 2013 01:22PM EST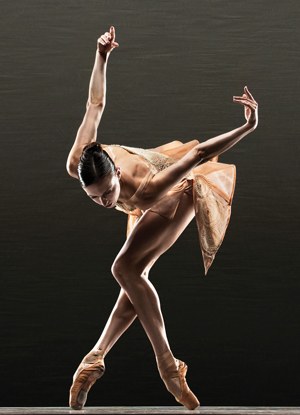 Meredith Webster (by RJ Muna)
Alonzo King LINES Ballet veteran Meredith Webster has a presence that goes beyond movement, filling not only the stage but the entire room with an energy that starts deep inside her core. Whether delicate and fluid or strong and aggressive, Webster's dancing has a sense of grounded security that captivates.
Webster grew up in Manitowoc, WI, where she studied with Jean Wolfmeyer. She also trained at The Harid Conservatory and Pacific Northwest Ballet School, and received a BS in environmental science from the University of Washington in 2003. While in college, she danced with Sonia Dawkins/PRISM Dance Theatre and Spectrum Dance Theater. In 2005 she joined LINES, where she continues to impress audiences today. —Nicole Bilbao
Dear Meredith,
I am lucky to say that looking back I have very few regrets. But even though I've definitely learned and hopefully evolved, I feel far from wise. Instead, the more life I experience, the more ambiguities I see—the more I realize I don't know. So I don't have a list of "dos and don'ts" for you. What I can do is tell you some of the things that are important to me now—things I'm still working on in life and in the studio. A person can get infinitely better at both living life and dancing…so really we're both just starting out!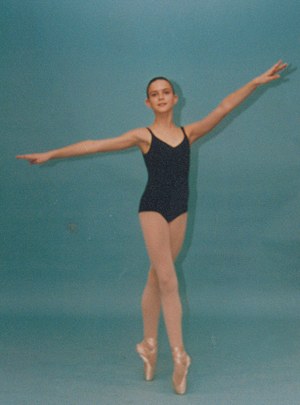 Webster's teenage audition photo (courtesy Webster)
Pirouettes and port de bras are worthy of study, but the skill I've found most valuable is listening. Listen before you speak. Listen to as much information from as many sources as you possibly can. That doesn't mean you shouldn't formulate or stand up for your own opinions, but make sure you hear others', too. Listen to your body. Become aware of its natural tendencies—even if you choose not to follow all of them.
Keep a balanced and broad perspective. Strive to understand yourself and your immediate surroundings ever more deeply. Challenge your boundaries and test your confidence. Respect your obligations and your roots, but cultivate your capacity for empathy, too. 
Give more. Increase your breadth, indulge your curiosity, hear more music, spend more time outdoors. In general, get bigger. The work we do in the studio and onstage is our way of connecting to a knowledge that is bigger than us. You actually already have access to this knowledge; if you keep listening, you will begin to hear it more and more clearly.
Love, 
Meredith
Dance is a powerful form of expression, and Ahmad Joudeh is using its influence to promote peace.
The 27-year-old is a Palestinian refugee, whose decision to pursue his passion for ballet has made him the target of death threats from terrorist organizations. Despite the danger, Joudeh has decided to continue on his path as a dancer, using his performances as an opportunity to spread a message of peace and cultural awareness.
Keep reading...
Show less
A dance photo of Averi Hodgson (courtesy of Cortney Hodgson)
For 14-year-old Averi Hodgson, focusing on her ballet training while growing up was never easy: She's suffered from epilepsy since she was in first grade, and later, she was also diagnosed with scoliosis. Here, she tells her story of perseverance—and how her determination earned her a spot at the School of American Ballet's 2017 summer intensive.
Keep reading...
Show less
CBS
"Late Late Show" host James Corden was one of the many, many people shocked by President Trump's sudden decision to ban transgender people from the military yesterday. And he decided to voice his outrage in the way most likely to rile a President who's uncomfortable with anything "un-manly": through a big, beautiful, extra-sparkly song-and-dance routine.
Keep reading...
Show less
Jul. 25, 2017 05:04PM EST


Get Dance Spirit in your inbox