Jun. 24, 2009 09:01AM EST
Fluid but solid, subtle but confident: Michael Trusnovec is a man of many contradictions. That's probably why he can play both a ruthless killer in Paul Taylor's Banquet of Vultures and a lovable nerd in Taylor's Company B with equal prowess. But the longtime Fred Astaire fan's first love was tap dancing, which he began studying in his hometown of Yaphank, NY. He first discovered modern dance—and fell head over heels for Taylor's choreography—when he was offered a full dance scholarship to Southern Methodist University in Dallas. In 1996, Michael earned a spot in Taylor 2, and by 1998 he was promoted to the senior company. Since then he's danced many of Taylor's best-loved pieces, earning a 2006 New York Dance and Performance Award (a "Bessie") for his body of work with PTDC.  —Margaret Fuhrer
Dear Michael,
How often have I thought, If I only knew then what I know now? Much has happened since then, so its strangely difficult to sift through it all to give you some useful insights.
First off, ignore the heartless comments those kids at high school make. Stay strong in your conviction to do what makes you satisfied and happy.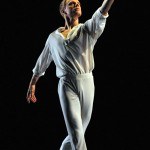 Learn to accept your slightly (OK, maybe not so slightly) compulsive perfectionism. Its not going to go away, and it'll become a valuable trait that keeps you humble.
Trust that wise ballet teacher when she refuses to allow you to quit taking ballet classes. Somehow, she knows that you'll need the strength, line and agility that a solid foundation in ballet will give you.
Above all, recognize that all of your experiences are special.
Savor every moment onstage and in the studio, every perfect and not so perfect pirouette, every criticism and every word of praise. 
Yours,
Michael
P.S. Make that wager with Dad when he offers to buy you a car if you're able to secure a scholarship to college. It's going to pay off!
Dance is a powerful form of expression, and Ahmad Joudeh is using its influence to promote peace.
The 27-year-old is a Palestinian refugee, whose decision to pursue his passion for ballet has made him the target of death threats from terrorist organizations. Despite the danger, Joudeh has decided to continue on his path as a dancer, using his performances as an opportunity to spread a message of peace and cultural awareness.
Keep reading...
Show less
A dance photo of Averi Hodgson (courtesy of Cortney Hodgson)
For 14-year-old Averi Hodgson, focusing on her ballet training while growing up was never easy: She's suffered from epilepsy since she was in first grade, and later, she was also diagnosed with scoliosis. Here, she tells her story of perseverance—and how her determination earned her a spot at the School of American Ballet's 2017 summer intensive.
Keep reading...
Show less
CBS
"Late Late Show" host James Corden was one of the many, many people shocked by President Trump's sudden decision to ban transgender people from the military yesterday. And he decided to voice his outrage in the way most likely to rile a President who's uncomfortable with anything "un-manly": through a big, beautiful, extra-sparkly song-and-dance routine.
Keep reading...
Show less
Jul. 25, 2017 05:04PM EST


Get Dance Spirit in your inbox