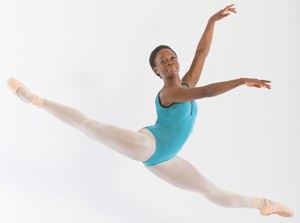 Michaela DePrince (Rosalie O'Connor)
Ballerinas aren't often described as powerful. Strong? Maybe. Dynamic? Sure. But when you watch 17-year-old Michaela DePrince, a student at The Jacqueline Kennedy Onassis School at American Ballet Theatre, powerful is the first word that comes to mind. While her technique is elegant and fluid—particularly her expressive, eloquent port de bras—underneath the surface there's a turbo-charged engine. You can almost hear it revving as she flies across the floor, tossing off supersized sauts de chats and triple pirouettes and finishing with an endless balance in arabesque.
Most dancers trace their fascination with ballet back to their first time seeing The Nutcracker or a dance special on TV. But Michaela's story is dramatically different. Born in war-torn Sierra Leone, she lost both parents at a very young age, and was taken in by an orphanage. When she was 4, she found a European magazine lying outside the orphanage gates. "It had a picture of a woman standing on her tippy toes," Michaela says. "I didn't know it then, but she was standing on pointe." Fascinated, she ripped out the page and put it in her underwear for safekeeping. "I decided that if I ever got adopted and made it to America, I would dance like the lady in the magazine," she says. A few months later, an American couple did adopt Michaela, and she moved to Cherry Hill, NJ. Though she spoke little English, she showed her adopted mother the magazine photo. Before long, Michaela was enrolled in ballet classes at The Rock School in Philadelphia, where she continued to train until she was 15.
Michaela developed a formidable technique at The Rock, which led to a slew of awards when she began competing at Youth America Grand Prix as a teen. Film director and producer Bess Kargman took notice of Michaela's competition success and selected her to be one of the young dancers featured in the 2011 documentary about YAGP, First Position. The film follows Michaela's path to the 2010 NYC finals of the competition, a journey that concludes with a beaming Michaela accepting a scholarship to the JKO School.
Now, Michaela is adding polish and finesse to her technique at JKO. "My teachers here have shown me that it's not all about the tricks—about how high your leg goes or how many pirouettes you do," she says. "They've helped me focus on artistry." What does the future hold for the talented dancer? After a guest performance in the Netherlands last winter, she started dreaming about joining a company like Dutch National Ballet.
"I took class with the company when I was over there, and I just loved the way everyone danced," she says. "They express themselves in a unique, exciting way. I want to be part of something like that."
Erin Carpenter as a Knicks City Dancer (David Safran, courtesy of Erin Carpenter)
The groundwork for Erin Carpenter's company, Nude Barre, began when she was a teenager. At 16, she earned a spot in the residency program at The Kennedy Center in partnership with Dance Theatre of Harlem. "We were required to wear nude—as in, our actual skin tone—tights and shoes," she remembers. Carpenter brought her "sun tan" tights and a pair of pink ballet shoes with her, because that was all she could find. But she wasn't allowed in class because her dancewear didn't match her skin. "I was so embarrassed," she says. "I looked unprepared. I just didn't have the right nudes." Her teacher explained that the dancers dyed their tights and pancaked their shoes.
Keep reading...
Show less
Via @whitneybugs on Instagram
There are dancers and then there are DANCERS! Whitney Jensen, soloist at Norwegian National Ballet, is the latter. The former Boston Ballet principal can do it all. From contemporary to the classics this prima has the technical talent most bunheads dream about. Need proof? Look no further.
Keep reading...
Show less
Jul. 19, 2017 04:53PM EST
Via YouTube
Luis Fonsi and Daddy Yankee's dance inducing hit, "Despacito," is so catchy it should probably come with a disclaimer that warns people of an uncontrollable itch to tap your feet or bob your head. Some might even feel inclined to go all out and break it down. Niana Guerrero is a prime example of "Despacito's" uncanny ability to unleash the red dressed emoji dancer within. 💃🏽 💃🏽
Keep reading...
Show less
Jul. 19, 2017 04:25PM EST
(courtesy NBC)
Guys, we all knew this was coming—"World of Dance" was eventually going to eliminate someone. But man, is it brutal to watch these talented dancers give their all, only to be sent home. It's the name of the game, though, and after last night's episode, only two dancers per division remain. (At least Misty Copeland guest-judging was a silver lining!) Here's what went down last night:
Keep reading...
Show less


Get Dance Spirit in your inbox