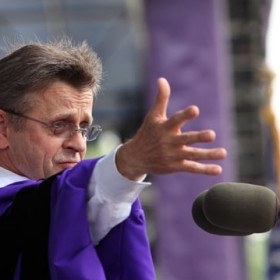 This was the most movement Baryshnikov did onstage, but I was pretty much in awe. (Courtesy Northwestern University)
Over the weekend, I traveled to Chicago to see my sister graduate from Northwestern University (Congratulations, Danielle!). And, while I was very proud to see her walk across the stage to claim her diploma, I have to admit, I was most excited by the commencement speaker—the one-and-only Mikhail Baryshnikov.
While he referred to himself as "that old guy from 'Sex and the City,'" we all know he is much, much more than that. A former dancer with the Kirov Ballet, New York City Ballet and American Ballet Theatre (where he became artistic director), Misha, as he's affectionately nicknamed, is recognized as one of the greatest ballet dancers in history. Naturally, I was hanging on his every (heavily accented) word. Here are a few takeaways from his speech:
"A few weeks ago, in the NYC subway, a poster said, 'Are you a better person today than you were yesterday?' The only wisdom I can offer is related to the arts, because the arts have made me, in my opinion, a better person.
"Figure out what pushes you. If it isn't the arts, what is it? The key is that it excites you, and challenges you. What issues make you willing to go beyond yourself?
"Once you figure out what you will do with your life, and eventually you will, work hard at it. But remember, you don't have to be brilliant 24/7. Leave yourself time to pause and think, Am I doing something today that will make me better tomorrow? Working to be better is not the same as being the best. Best is something someone else decides. Better is more personal. It's a process. And in my opinion, better is better than best."
Here's to being better tomorrow than we were today. Thanks, Misha!
(Break the Floor Productions)
In addition to training, competing and winning titles in just about every style you can think of, 13-year-old Kaylee Quinn is a regular on the sci-fi drama "Stitchers," playing the younger version of the show's main character. Her path in dance hasn't been without challenges, though. Last summer, Kaylee won the Hope Award at her regional Youth America Grand Prix, but wasn't sure she'd be able to compete at the NYC finals due to a broken foot. Patience paid off: With her doctor's blessing, Kaylee danced her variations in flat shoes and won the gold medal.
Keep reading...
Show less
Trae Patton/NBC
Week 2 of Misty Copeland as guest judge, week 2 of merciless cuts...How can the final episodes of "World of Dance" possibly live up to the sheer dramaaaaaaaaa of last night's episode? Well, based on the nail-biting results dished out by Copeland and Co. last night, the competition is only going to get fiercer from here. Without further ado, last night's results, as told by Kween Misty.
Keep reading...
Show less
Jul. 25, 2017 05:04PM EST


Get Dance Spirit in your inbox