Sep. 15, 2016 11:16PM EST
Mar. 08, 2016 05:43PM EST
Chances are you've heard of Sleep No More, the blockbuster production loosely based on Shakespeare's Macbeth. But Sleep No More is more than just a performance: It takes place throughout a five-story building in NYC, with audience members exploring the space on their own terms. If you attend the show, you're part of it—and that's what sets immersive performances apart.
Immersive productions can be incredibly rewarding for dancers. But how do you prepare when all of your stage experience has probably been in a theater, with the audience planted firmly in their seats? Dance Spirit spoke to artistic directors and performers to find out what to expect when you book your first immersive gig.
Set Your Sites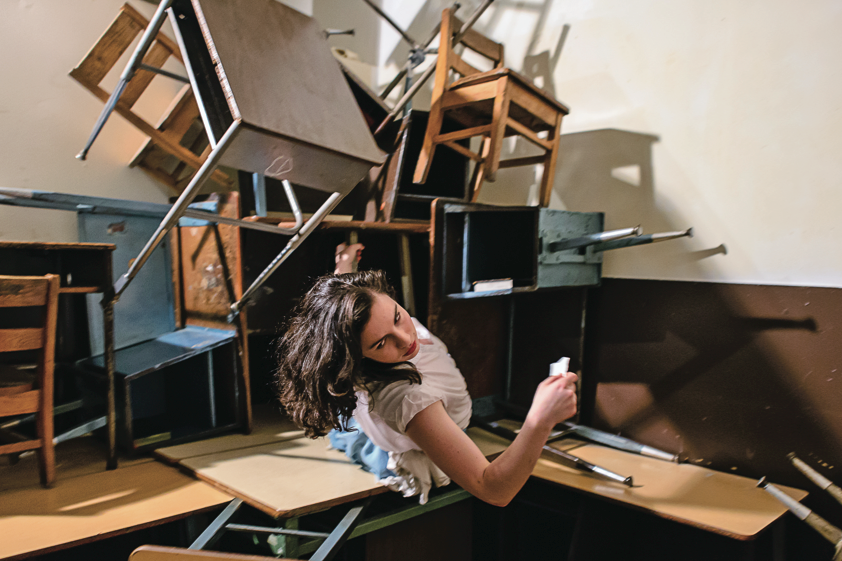 Rachel I. Berman as Alice in Then She Fell. (Photo by Darial Sneed, courtesy Third Rail Projects)
There's a rich history of site-specific choreography—dance pieces made with a particular, non-theater space in mind—that set the stage for immersive shows. Iconic postmodern choreographers like Trisha Brown and Yvonne Rainer made site-specific work to challenge people's preconceived ideas about what dance could be, and helped inspire today's immersive choreographers to let their imaginations run wild.
NYC–based choreographer Noémie Lafrance has created a number of experimental works based in audience participation. "I feel that a controlled environment (like a theater) isn't reflective of how we live. It's isolating. In the same way, I don't want to isolate the audience from my work," she says. One of her most notable works, Agora II, took place in an abandoned swimming pool in Brooklyn, NY, and featured dozens of dancers. Certain audience members received text message cues about when to join the performance. In this site-specifc and immersive work, Lafrance made sure the audience had opportunites to change the direction of the piece.
Diving In
Former Cedar Lake Contemporary Ballet member Vânia Doutel Vaz debuted in Sleep No More last summer. She has extensive experience performing in immersive theater, and she says that no two shows are the same.
Nicholas Bruder as Macbeth and Sophie Borolussi as Lady Macbeth in Sleep No More. (Photo by Yaniv Schulman, courtesy O+M Co.)
For one memorable performance, Vaz danced in Laura Perez-Harris' Belly of the Beast at Tomato House in Brooklyn. "Audience members crawled down a pitch-black velvet-lined maze and eventually fell into the 'belly,' where I and two other dancers performed," Vaz says. "I think Laura was trying to get people way, way outside their comfort zones."
"We call it 'world-making,' " says Tom Pearson, co-artistic director of Third Rail Projects and one of the creators behind immersive productions like The Grand Paradise and Then She Fell, which was inspired by Lewis Carroll's Alice's Adventures in Wonderland. "The edges of the real world are invisible."
Going Deeper
It might seem pointless to prepare for a performance where anything can happen, but it's not. Vaz suggests attending immersive performances whenever possible, to build your familiarity. She also credits Ohad Naharin's Gaga technique for teaching performers how to develop their awareness. "All your senses need to be enhanced," she says. "You have to be able to see in 360 degrees." And if you're successful, she says, you'll be so "in it" that you can practically predict audience members' movements.
Vaz's ultimate rule for performing in an immersive show? Don't break character! She cautions that your worst-case scenario might happen, but you have to trust your fellow performers to help you—and that comes from rehearsing and performing together. "No matter what, never apologize for anything," she says. "Everything that happens is supposed to. Don't let the audience feel guilty, in your way, or uncomfortable. As a performer, you become the audience's guiding eyes, so it's all about being confident and secure in what you're doing."
Apr. 14, 2015 09:11PM EST
In a mirror-less dance studio, your teacher asks you to move as if you're in the shower and the hot water has suddenly disappeared. What do you do? You twitch, you vibrate. You can almost feel that freezing-cold water pelting your shoulders. As you shiver, you imagine how that movement affects each molecule in your body. Without mirrors, you're able to let go and dance with abandon. You're in a Gaga class.
Choreography by Gaga's creator, Ohad Naharin, is popping up in the repertoire of top companies around the world. These days, dancers in Hubbard Street Dance Chicago, Cedar Lake Contemporary Ballet, Alvin Ailey American Dance Theater and Les Grands Ballets Canadiens de Montréal all speak Gaga. And that means it's becoming a must-have tool for aspiring professional dancers.
A Brief History of Gaga
Naharin took the helm of the Batsheva Dance Company—located in Tel Aviv, Israel—in 1990. He began experimenting with a different kind of warm-up—a movement language he had developed to work through his own injuries. He named it Gaga, and it soon became the basis for training in the company, in lieu of ballet.
Gaga classes are now offered regularly across the U.S., particularly in major cities like NYC, Chicago and San Francisco, and  in university settings like The Juilliard School, Stanford University and The Ohio State University. Classes are taught by Batsheva company members (current and former), as well as certified teachers.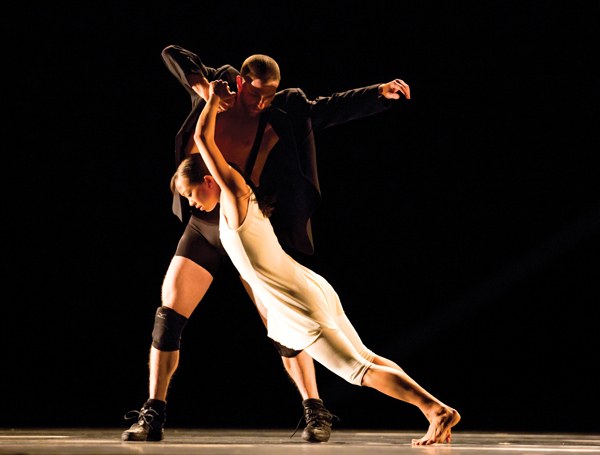 Hubbard Street Dance Chicago dancers Jessica Tong and Jesse Bechard in Ohad Naharin's Passomezzo (photo by Todd Rosenberg, courtesy HSDC)
Why You Need It
"Gaga isn't a technique. It's a movement language," says Bobbi Smith, a former member of the Batsheva Dance Company who currently teaches Gaga at the San Francisco Conservatory of Dance and at Stanford. "You can use what you find through Gaga in ballet, Cunningham or Graham classes. Or out on the dance floor at a club, or when you run a mile. It gives you the keys to make your engine stronger."
Other styles focus on perfecting form, but Gaga is different. "Ballet has a known aesthetic that you try to emulate. With Gaga, there is no sense of perfection, there is no absolute," says Glenn Edgerton, artistic director of Hubbard Street. Gaga "is about electrifying the body as opposed to looking at your lines," says Hubbard Street's Jessica Tong, who has performed a number of Naharin's works.
What to Expect
"Connect your effort to your pleasure."
"Listen to how your skin touches the air around you."
"Connect to your floating spine."
"Be delicate with the availability to snap."
"Connect to your groove."
These are all phrases you may hear from your teacher in a Gaga class.
Teachers use detailed imagery to help dancers awaken specific body parts. "You bring focus to your legs, thighs and shoulders, but that moves into your fingertips, your palms, the back of your hands, the joints of your feet, your cheeks, your earlobes," Tong says. "You get a tingly feeling when you're that awake."
Don't expect any two Gaga classes to be the same, though. "Each class changes depending on the mood and energy within the room, from dancer to dancer," Edgerton says.
Make It Work for You
"Dancers who are new to Gaga might feel self-conscious—you're bouncing and shaking around a lot," Tong says. But remember, finding freedom in the form is the whole point—and you'll get out what you put in, just like any other dance class.
"As a teacher, I'm giving specific instructions, but it's really up to you to explore and determine what the volume of your effort is going to be," says Cedar Lake Contemporary Ballet dancer Navarra Novy-Williams, who teaches Gaga regularly in NYC at the Gibney Dance Center and Mark Morris Dance Center.
If you're a dancer who is always in performance mode, even in the studio, Tong suggests sticking with Gaga and moving through the uncomfortable moments. "It can be so liberating to break the rules."
Oct. 01, 2014 05:15PM EST
Alvin Ailey American Dance Theater's most recognizable work is Ailey's Revelations—a masterpiece that's been performed continuously since its premiere in 1960. Sylvia Waters, former artistic director of Ailey II, coached AAADT dancer Fana Tesfagiorgis through the opening steps of the haunting first section, "I Been 'Buked."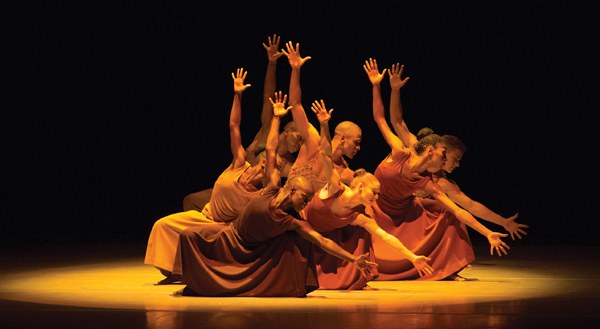 (Photo by Rosalie O'Connor, courtesy AAADT)
About Revelations:"Alvin was inspired by his own memories, and the piece is an homage to our ancestors and to all of humankind," Waters says. "It's a testament to the power of the language of dance."
See It in Action: This section doesn't rely solely on counts, and Horton technique—the foundation of Ailey's choreography—is extremely specific. So before trying out the phrase, watch our video of Fana Tesfagiorgis and Sylvia Waters breaking down each step with the music. All photos by Kyle Froman.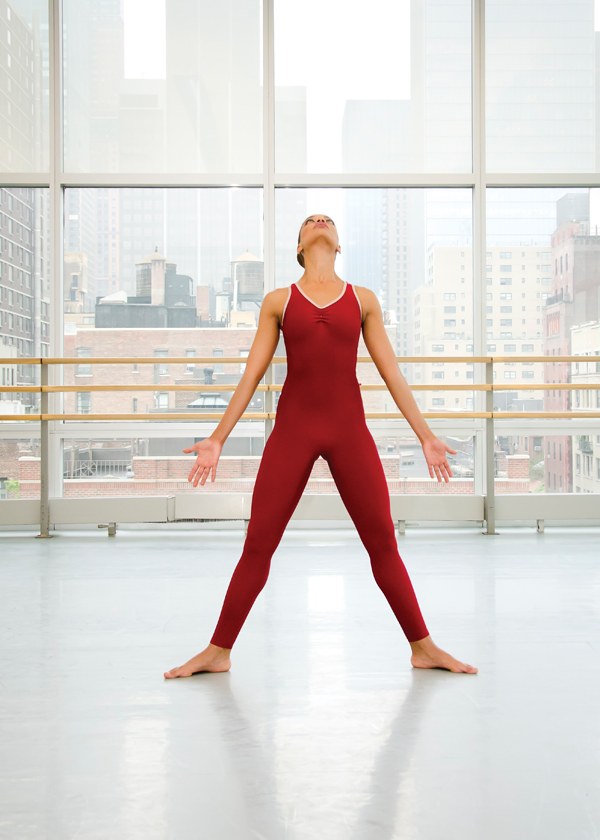 Step 1
Stand in a wide second position, with your arms held out slightly from your body and your palms facing forward. Look upward, so your chin points toward the ceiling.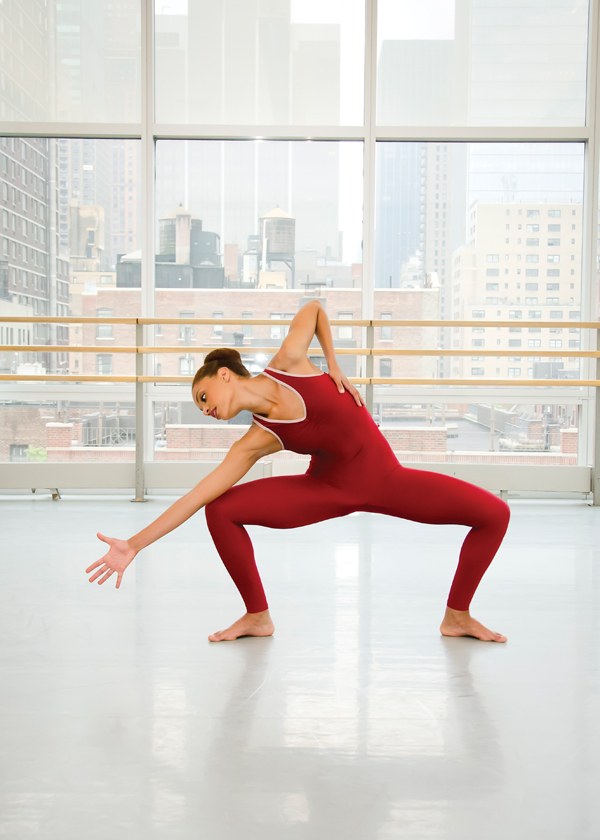 Step 2
As the choir starts to sing, begin to roll your head back and to the right. Plié, reaching your right arm in a long downward diagonal away from your body, and draw your left hand upward along your rib cage.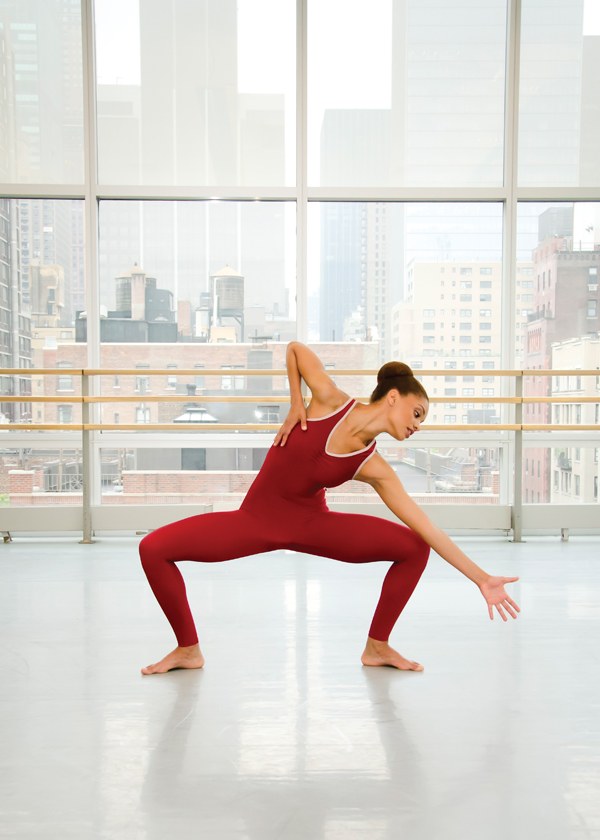 Step 3
As soon as you reach the bottom of your plié, begin to straighten your arms and legs, passing through the starting position before repeating the same movements to the left side.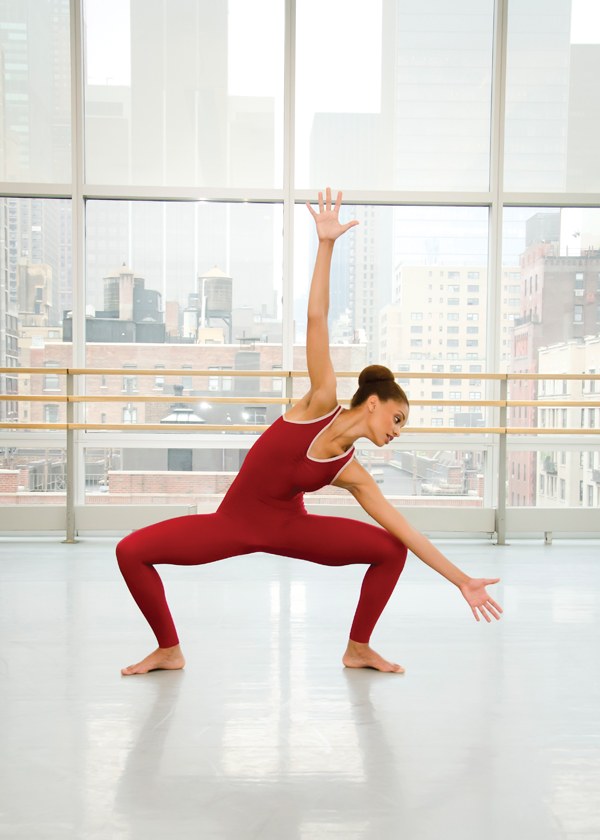 Step 4
When you get to the bottom of your second plié, reach your right hand toward the ceiling, continuing to look down past your left fingers. As soon as your right arm is straight, move back to standing by initiating the lift from the right side of your rib cage and sliding your right foot in to meet your left foot in a parallel first position.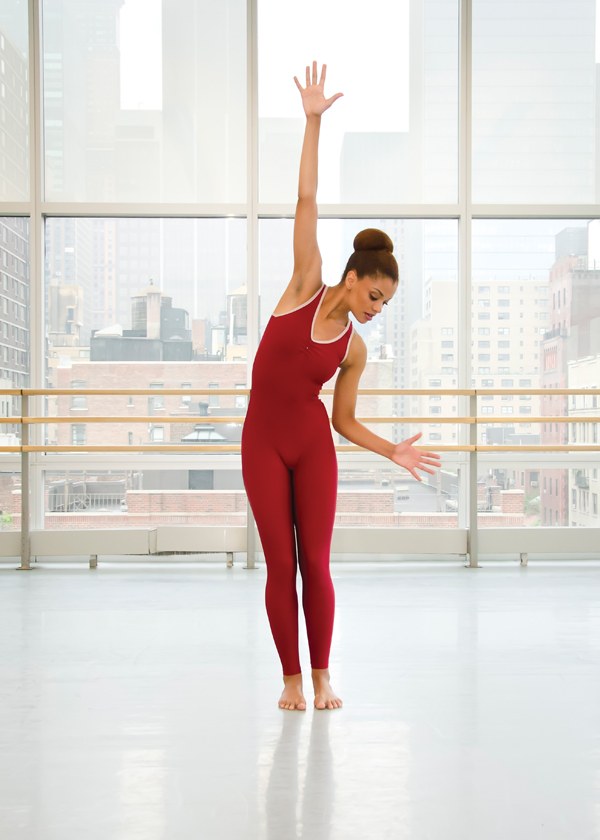 Step 5
Bring your left elbow in to your side and straighten your legs completely. Next, reach your left hand overhead to meet your right hand and look upward.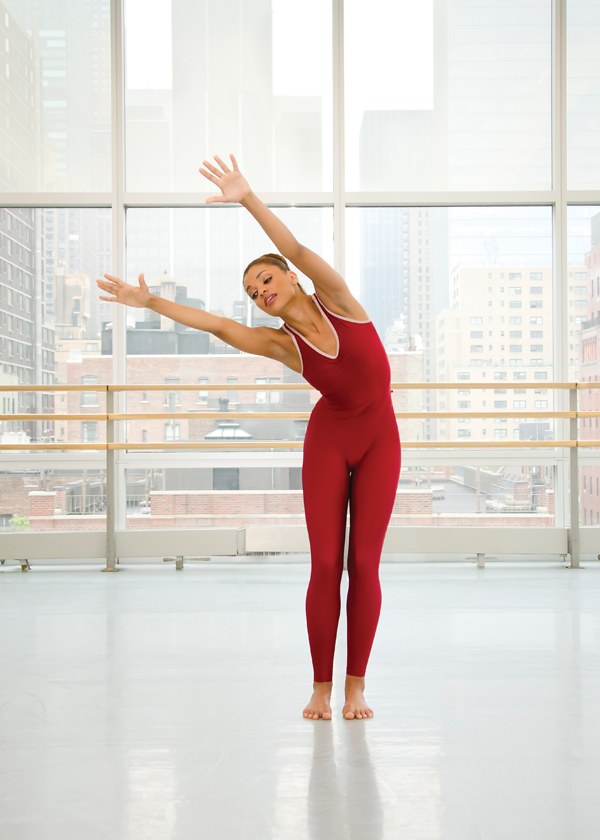 Step 6
Lean forward and to the right—bending slightly at the waist—and trace two clockwise circles above your head. Keep your gaze on your hands. End with your hands above your head.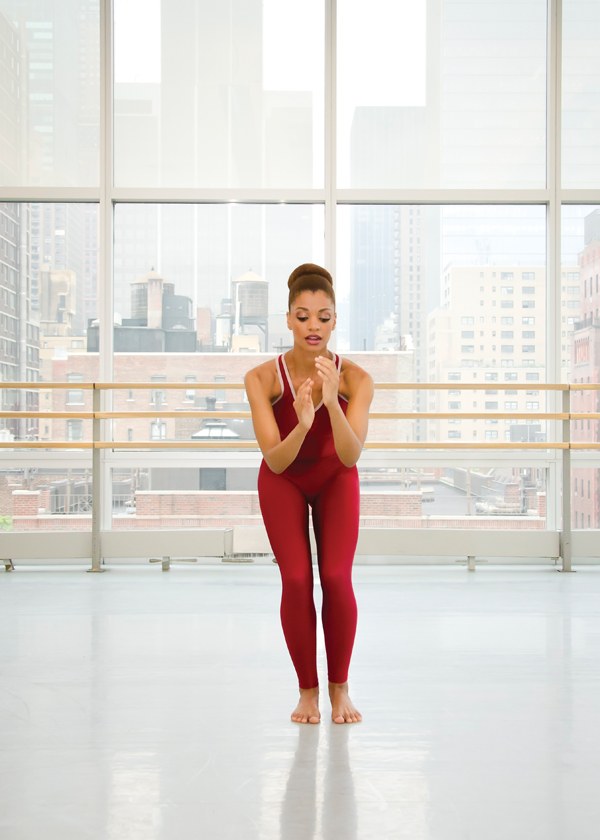 Step 7
Bend your elbows and bring your arms down to chest level, cupping your hands as you gaze toward them. Hold your right hand slightly below your left.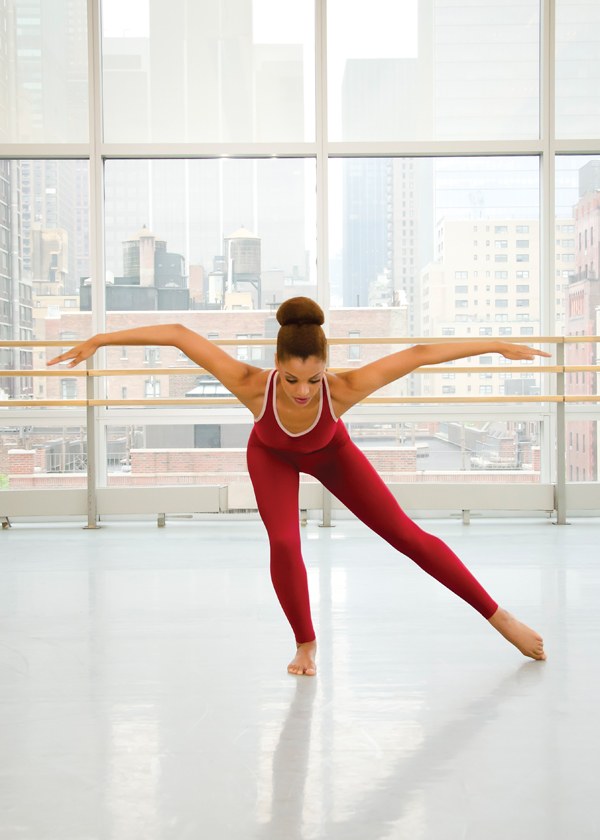 Step 8
Slowly plié and begin to tilt forward into a flat-back position, crossing your right arm in front of your left. When you reach the bottom of your plié, tendu your left foot to the side, keeping your leg parallel. Raise your arms to resemble wings—slightly bent at the elbows, with the palms facing down.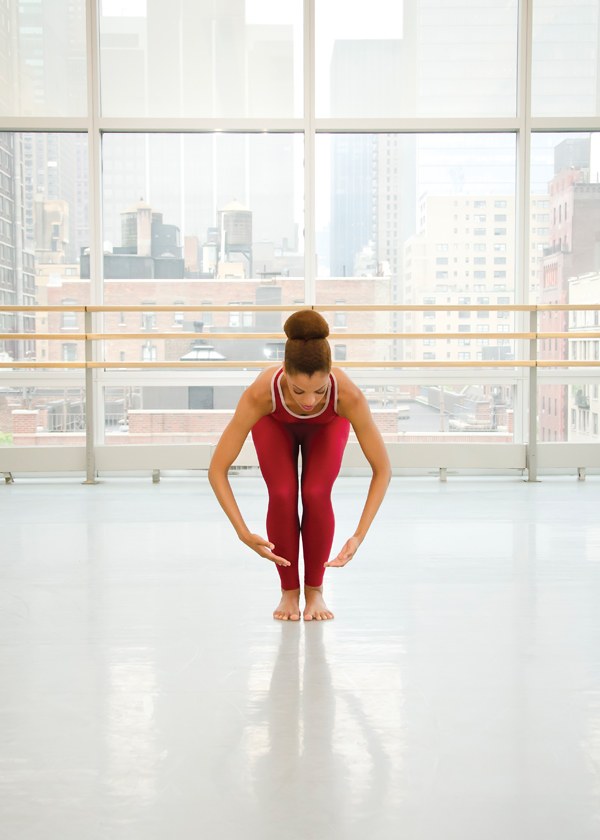 Step 9
Slowly draw your left leg in so you're standing on both legs, maintaining your flat-back position. Leading with your fingers, scoop your arms inward as if gathering something in toward your chest.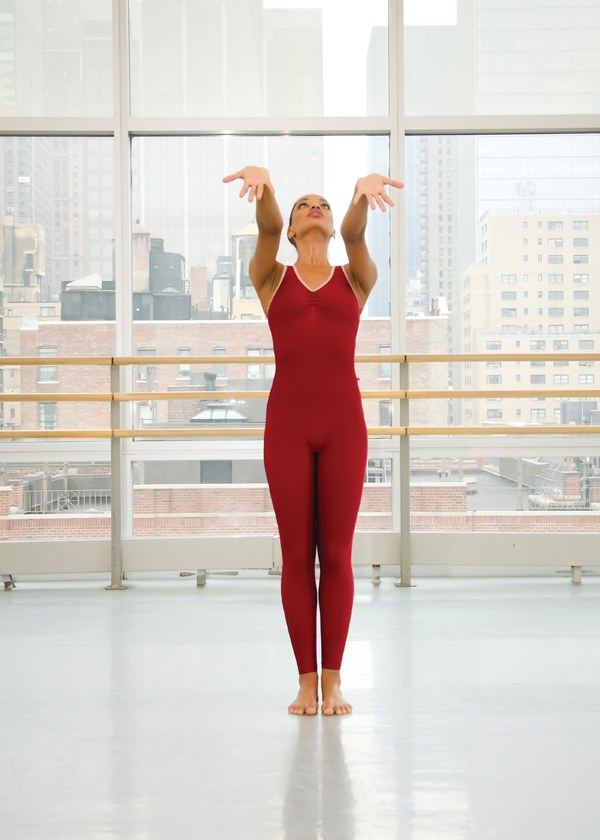 Step 10
Simultaneously straighten your legs and flip your forearms so that they are perpendicular to your body. Straighten your arms overhead and reach your fingers and chin toward the ceiling. Finish the phrase by extending your palms toward the audience.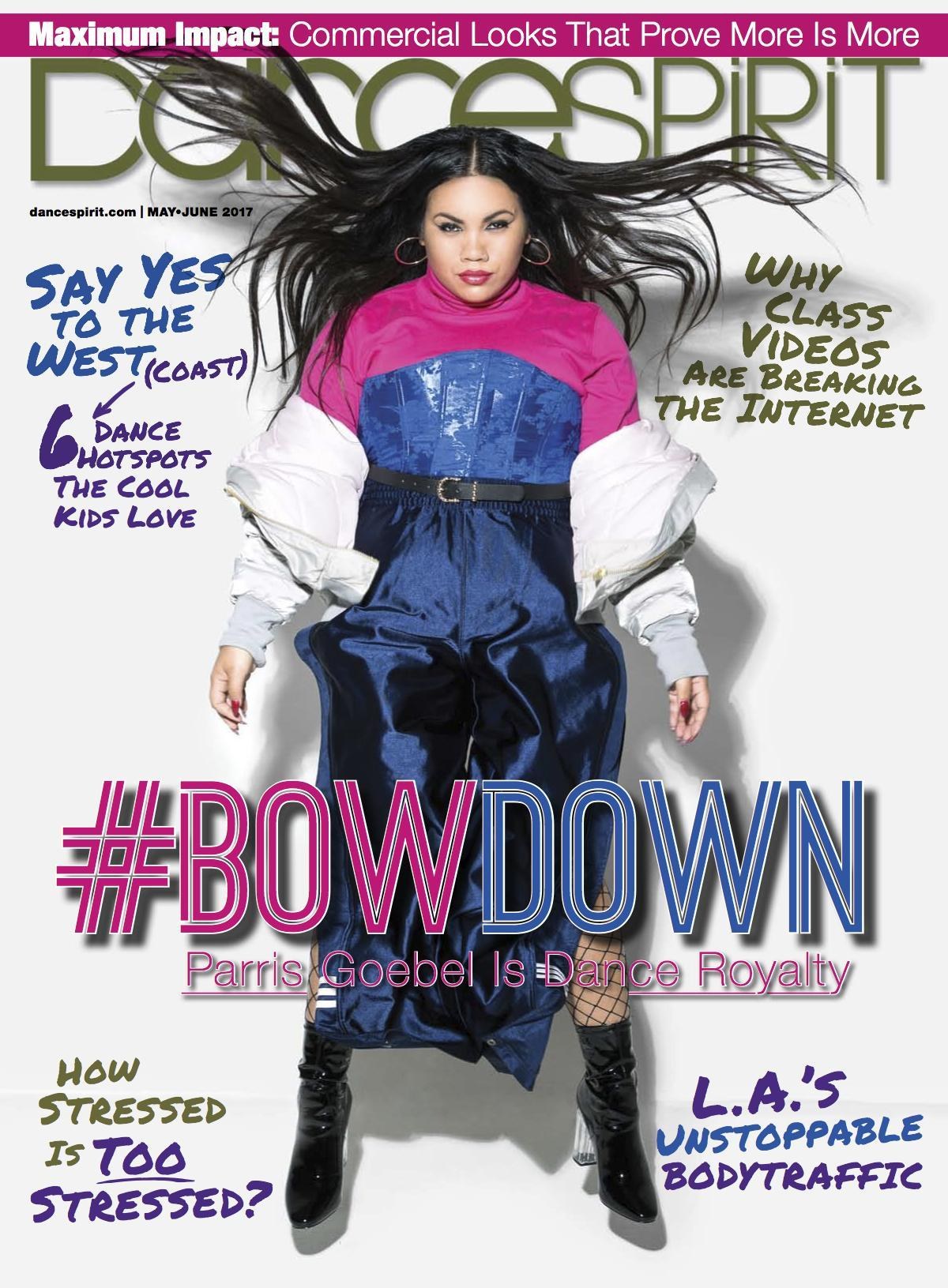 Featured College Dance Program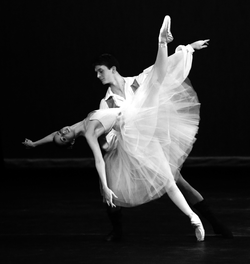 Get Dance Spirit in your inbox