Modern choreographer Lizzie Leopold documents her creative process
Lizzie Leopold, 24, has already done what it takes many dancers decades to do: After graduating from the University of Michigan, Ann Arbor, in 2005, she started her own modern dance company, the Leopold Group, in her hometown of Chicago. The company had its first season in Chicago in September 2007; Lizzie's choreography has also been performed in NYC and San Francisco! Here, she gives DS a peek into the process of creating her newest work. —Kathryn Holmes
Last September I produced my first professional concert as director and choreographer of the Leopold Group. Immediately afterwards I skipped town to spend two weeks at the Workspace for Choreographers artist retreat in the Blue Ridge Mountains of Virginia, to start choreographing a new work. What follows is my journey from studio to stage, as I create my second work with composer Christian Matjias.
September 17, 2007
I arrive at the Workspace with Melissa Bloch (my dancer, muse and confidant; we met at the University of Michigan) after two days of driving. We are certainly happy to be out of the car and spend the first night adjusting from city life to cabin-in-the-middle-of-nowhere life. We find a grocery store, make s'mores in our new fireplace and collapse into our beds.
September 18, 2007
Our first day of work on this new piece proves more challenging than I'd anticipated. The work is inspired by the biblical story of Jacob wrestling with an angel, and Melissa and I spent most of the morning running into each other full force, trying to figure out how to combine "wrestle" with "dance." Bedtime finds us with lots of bruises and sore muscles.
October 1, 2007
After two weeks in the wilderness, we've had some amazing hikes, found some beautiful views of the world and danced in the meantime. Unfortunately, we're leaving the Workspace not much further along in this process than when we arrived. Secluding ourselves up here without any sketches of the musical score (from composer Christian Matjias, a professor of mine at UM) proved a mistake. I'm also abandoning the idea of re-creating Jacob's wrestling match in a literal sense. I sure hope the two-day drive home is enough time for sudden inspiration!
November 6, 2007
I met with Rabbi Douglas Goldhammer, whom I grew up with at Congregation Bene Shalom, a temple in Skokie, IL, where I learned both Hebrew and American Sign Language. He is wonderfully welcoming about my idea of integrating Jacob's story with dance-movement—which is not so different from sign language movement, if you ask me. Rabbi Doug helps to clarify the story and the ideas. Judaism teaches that God is within each individual; therefore, maybe Jacob's wrestling match was really within himself. No more need for Melissa and me to fling ourselves at each other! The struggle can be interpreted as an internal fight. Here goes a second try.
December 2, 2007
Christian and I begin an e-mail conversation about this new idea of internal battle vs. literal wrestling match. We are drawn to a specific line in the story that states Jacob stays alone the night of the "fight" to retrieve some small items or jars that he has left behind. "How much longer must we linger over these small jars?" That's it! The dance work starts to take shape.
Over the next few weeks Christian and I continue to sketch out the idea of interpreting the story through these "jars," the baggage that each of us carries: regrets, disappointments, apologies, mistakes. These are the parts of ourselves that we wrestle with every day.
March 21, 2008
Another road trip! Melissa and I take off (in the middle of an Easter weekend blizzard!) to Ann Arbor, MI, to work with Christian on some music and movement ideas. This is the first time we will hear his music sketches.
March 22, 2008
Our first successful day in the studio. (And it only took seven months!) Christian's music themes are beautiful and mesh wonderfully with the movement ideas. Melissa and I each have a dozen glass jars scattered around us and start exploring how we can possibly make sense of these unruly props. They fall over, they make noise, they roll away. There's always another challenge…
Christian and I decide to create the piece in three sections. The beginning will introduce the dancer surrounded by a circle of jars, her limited dance space defined by these props. The next movement will be the "wrestling match." It will be the dancer's struggle to break free from the circle and it will allow the audience to see the simple jar for the bigger idea that it might represent. To close, the dancer's struggle will escalate into a frantic game of arrange/rearrange with the jars. The music will work to further this dramatic progression without being too obvious.
We decide on three women dancers. But instead of calling the piece a trio, it is three simultaneous solos. The idea is that this struggle is universal and happens constantly.
It's been quite a day! Again, bedtime with bruises and sore muscles.
March 23, 2008
Back to work, making more concrete sketches of movement and music. Melissa's neck is hurt so I get to be dancer, director and choreographer all in one. The jars are being more cooperative today. Not quite as much clanging and crashing. We head back to Chicago, with much more direction this time…
March 31, 2008
Regular rehearsals begin in Chicago with the cast. Melissa is joined by Leopold Group dancers Nicole Romano, Natalia Negrón, Jordan Newmark and Stefanie Karlin. They will all learn the steps so that I can see who looks best in each part and have understudies, and they'll rotate in and out of the three roles. We are chugging along, learning material and trying out different ways to put phrases together. And I'm not the only one who had to adjust to glass jars as dancing partners! Most of the evening is spent figuring out how not to knock them over (especially because our rehearsal space has a slanted floor!). Melissa ends the night with a crash, shattering one jar against another—oops!
April 9, 2008
Still rehearsing. We are anxiously awaiting a final musical score so we can set everything a little more concretely. I have taught the dancers a handful of minute-long phrases that we'll piece together into the final work. Right now the struggle is for the girls to remember all the movement without any order, spacing or music. Serious fun and serious hard work!
I see something new every time I watch the piece. The dancers have all stepped inside their roles so completely. And now back to work… Only two months to go until the premiere!
Check out the video diaries of Lizzie Leopold's process on dancemedia.com:
Much of Janelle Ginestra's career has been about helping others shine. She's dedicated herself to supporting and cheerleading her partner, WilldaBeast Adams; the emerging talents in their dance company, ImmaBEAST; and the countless dancers she inspires at master classes and conventions. Her YouTube channel has become a launching pad for young talents like "Fraternal Twins" Larsen Thompson and Taylor Hatala, thanks to viral videos featuring Ginestra's creative vision.
But Ginestra's a skyrocketing success in her own right—an in-demand choreographer, a social media influencer, and a dance entrepreneur, building a legacy one eight-count at a time. It's time for her turn in the spotlight. And she's more than ready. "I want to be a legend in whatever I do," she says. We'd argue that she already is.
Keep reading...
Show less
Win It
Oct. 13, 2017 04:31PM EST
Via Facebook
Almost a month out, Puerto Rico continues to suffer the devastating aftereffects of Hurricane Maria. Many of the island's residents still lack power, clean water, and safe housing. Ballet classes? For Puerto Rican dance students, they must feel like an impossible luxury.
But a dance studio in Florida is working to allow a group of young Puerto Ricans to continue their training. And it needs your help.
Keep reading...
Show less
Gianluca Russo (via Instagram)
Yes, I am a dancer, and yes, I am fat.
There's nothing quite as soul-crushing as the reactions I've received when I've told people I dance. They can range from disbelief to confusion to shock. To many people, it's somehow incomprehensible that a plus-size person like myself could grace a stage. While the body-positive movement has been trucking along at full force over the past few years, it hasn't made much progress in the dance community yet. In fact, the words "body positivity" and "dance" are almost never used together in the same sentence.
Despite that fact, dance is what helped me learn to love my larger frame. In honor of National Body Confidence Day, I wanted to talk about my first time in a studio, and about the tremendous progress I've made since.
Keep reading...
Show less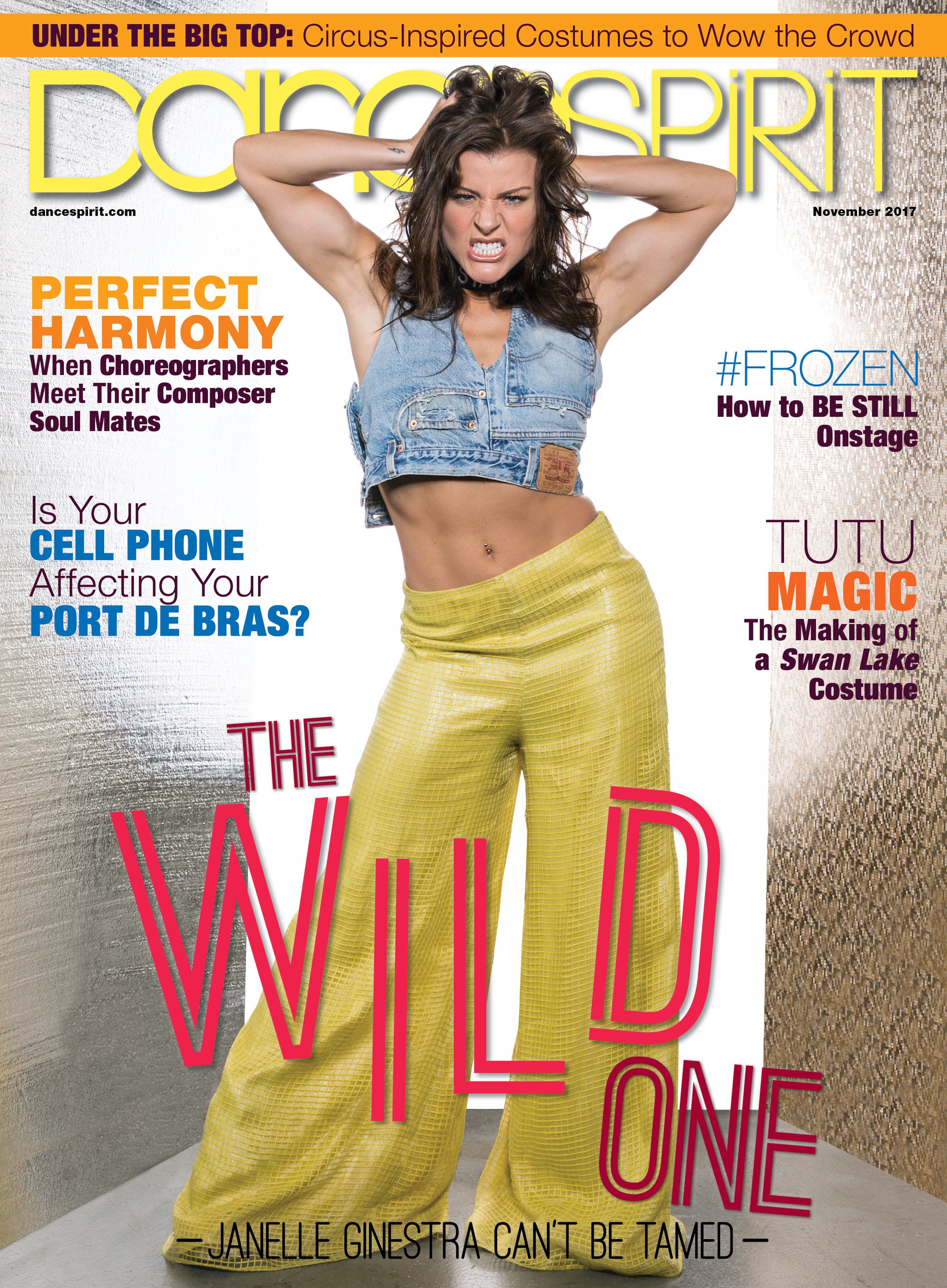 Get Dance Spirit in your inbox