How To
Mar. 11, 2011 12:25PM EST
Today the contemporary dance family tree has all kinds of offshoots, but its base includes four modern dance branches: the techniques created by Martha Graham, José Limón, Lester Horton and Merce Cunningham. Even if you don't consider yourself a modern dancer, getting to know these foundational styles will make you a stronger, more versatile performer, and once you've been exposed to them you'll find it easier to absorb the styles of contemporary choreographers. Here's what you need to know about these fundamental modern techniques.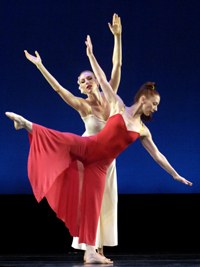 Katherine Crockett (back) and Blakeley White-McGuire in Martha Graham's Diversion of Angels. Photo by Sara D. Davis.
Graham Technique
Martha Graham, considered one of the mothers of modern dance, formed her company in 1926. Her choreography stems from an emotional and personal place, and so does Graham technique. "The visceral physicality needed to dance the work connects to inner feelings," says Virginie Mécène, director of the Martha Graham School of Contemporary Dance.
The Look
Three signature moves define Graham technique: the contraction, the release and the spiral. The Graham contraction is a C-curve of the spine. The release is the response to the contraction, which returns the spine to a neutral position or opens the breastbone to the sky. The spiral is a twisting of the torso that starts at the pelvis and then moves up the body. Combinations of these three movements "allow the dancer to project out into space," Mécène says.
Graham's Legacy Lives On
After 85 years, the Martha Graham Dance Company is still performing and touring. While students of the Martha Graham School often join the company, those who've studied Graham technique have also gone on to work with Buglisi Dance Theatre, SYREN Modern Dance, Ballet Hispanico and Bill T. Jones—to name just a few!
Did You Know? Cate Blanchett's character in The Curious Case of Benjamin Button was a Graham dancer, and was doubled by real-life Graham company member Katherine Crockett.
Limón Technique
Mexican-born José Limón moved to NYC at the age of 20 and studied with modern dance pioneers Doris Humphrey and Charles Weidman. Later he formed his own company and developed a distinctive style. "Limón technique is not codified—there aren't movements and positions that you always do," says Alan Danielson, school director at the Limón Institute. "For José it was about the infinite possibilities of dance."
The Look
A Limón class emphasizes breathing through the body and expanding your range of motion. "We work on bouncing, swinging and percussive movement," Danielson says. "Timing, shape and energy are all important factors."
Limón's Legacy Lives On
The Limón Company performs and tours regularly. Those who've studied at the Limón Institute or performed with the company have gone on to join Mark Morris Dance Group and Doug Varone and Dancers. Jennifer Muller of Jennifer Muller/The Works is also a Limón alum.
Did You Know? Limón's most famous work—The Moor's Pavane (1949), based on the story of Othello—has been performed by many ballet companies, including American Ballet Theatre and Pacific Northwest Ballet.
Horton Technique
Lester Horton formed the Lester Horton Dancers in 1932, and you'll probably recognize the names of its biggest stars: Alvin Ailey and Carmen de Lavallade. "Horton's goal was to create a modern dance technique that was also anatomically corrective," says Ana Marie Forsythe, chair of The Ailey School's Horton department. "His studies of ballet and other techniques taught him that dance usually breaks down the body. He wanted to fix that."
The Look
Horton technique classes include flat backs, lateral stretches, leg swings, deep lunges and falls. "Students learn how to sustain positions without injury," Forsythe says. "The falls are dramatic and exciting, but a safety net is built into each one."
Horton's Legacy Lives On
Horton technique classes are offered all over the country, and there are several companies based on the Horton style, including Alvin Ailey American Dance Theater and Copious Dance Theater.
Did You Know? Alvin Ailey's Revelations prominently features shapes from Horton technique.
Cunningham Technique
Merce Cunningham studied at the School of American Ballet and danced in Martha Graham's company before forming his own troupe in 1953. His choreography emphasizes clarity, control, dynamic range and multidirectional use of space—and so does his technique. "Merce used class to experiment with dancers and discover new possibilities," says Robert Swinston, director of choreography at the Merce Cunningham Dance Company.
The Look
In a Cunningham class, your upper body and lower body will often be doing totally different things. "He worked the legs separately from the torso," Swinston says. "There are leg movements that look classical, but then the torso moves in opposition to the legs in a non-classical way."
Cunningham's Legacy Lives On
Cunningham died in 2009, but MCDC will continue to perform until December 2011. Many former Cunningham dancers, including Karole Armitage and Douglas Dunn, went on to form their own troupes. There are also some European companies that use Cunningham technique as the basis of their choreography.
Did You Know? Cunningham frequently collaborated with famous artists, including Andy Warhol, John Cage and Robert Rauschenberg.
Emily Macel Theys, former associate editor for Dance Magazine, lives in Washington, D.C., and is the communications manager for the Liz Lerman Dance Exchange.
Kalani Hilliker made "Dance Moms" fans sit up a little straighter when she first appeared on "Abby's Ultimate Dance Competition" back in 2013. The then–12-year-old ballerina had charisma, she had sass—and, wow, did she have technique! Abby Lee Miller, the show's infamous host, saw Kalani's star potential from the start, saving her from elimination and ultimately inviting her to perform alongside Maddie Ziegler on Season 4 of "Dance Moms." "I was never supposed to be on 'Dance Moms' beyond that one performance," says Kalani, now 16, but she ended up staying on the show for the whole season—and the following three. "It was my first time, but not my last time, causing drama. And it was also the first time I got to meet the other dancers, who have become like sisters."
Keep reading...
Show less
Boston Ballet's Misa Kuranaga and Patrick Yocum (courtesy Rachel Neville/Boston Ballet)
We're on somewhat of a dance photography kick here at DS, so we figured we'd keep it going in a very big way: an exclusive interview with Rachel Neville, the photographer responsible for all those absolutely drool-worthy dance photos on your Instagram feed. We caught up with Neville at PurePoint Financial in NYC, where her new show, "A Command Performance," is up on display (and we highly recommend you check it out).
Keep reading...
Show less
Thinkstock
Acupuncture has proven benefits for reducing pain and getting dancers back on their feet, but it's also a way to treat your overall well-being—in both mind and body. "Acupuncture works very holistically," says Cassandra Krug, licensed acupuncturist at the Acupuncture Clinic of Boulder, in Boulder, CO. "Even if you come in because of ankle pain, we're looking at your whole body. We're trying to return you to a place of homeostasis, or balance."
Peter Schmidt, a licensed acupuncturist who works with Pacific Northwest Ballet dancers, thinks that acupuncture—when combined with the work of dancer-friendly Western doctors, physical therapists, and orthopedists—results in a higher success rate for his patients. "Acupuncture can't address everything," he says. "But for things that are bothering you that don't show up on an X-ray or MRI, acupuncture could help." Is acupuncture right for you? We talked to the experts to find out what dancers should know before going under the needle.
Keep reading...
Show less
The Top 9 in a Chris Baldock routine (Adam Rose/FOX)
Before we get into this week's recap, let's all show some love for Travis Wall, who had a day yesterday. Just hours before "So You Think You Can Dance" was set to air, Wall was at Disneyland (with friend and "Modern Family" star and aspiring Shaping Sound member Jesse Tyler Ferguson, NBD), where he found himself at a bit of a standstill—literally. "Not gonna be able to make 'So You Think' tonight...because I'm stuck on Indiana Jones," Wall shared on Instagram yesterday afternoon.
But hooray! He eventually did get off the stalled ride, and was in the audience alongside Mandy Moore. We're glad you made it, Travis!
On to the show:
This week, the Top 9 performed solos and duets with their All Stars. You know the drill. As always, we'll skip the solos and get right to the good stuff. (Though the solos were, like last week, so good.) Here's how it all went down.
Keep reading...
Show less


Get Dance Spirit in your inbox