How To
Mar. 11, 2011 12:25PM EST
Today the contemporary dance family tree has all kinds of offshoots, but its base includes four modern dance branches: the techniques created by Martha Graham, José Limón, Lester Horton and Merce Cunningham. Even if you don't consider yourself a modern dancer, getting to know these foundational styles will make you a stronger, more versatile performer, and once you've been exposed to them you'll find it easier to absorb the styles of contemporary choreographers. Here's what you need to know about these fundamental modern techniques.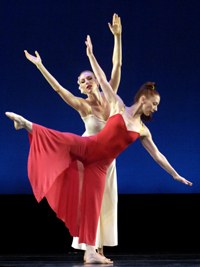 Katherine Crockett (back) and Blakeley White-McGuire in Martha Graham's Diversion of Angels. Photo by Sara D. Davis.
Graham Technique
Martha Graham, considered one of the mothers of modern dance, formed her company in 1926. Her choreography stems from an emotional and personal place, and so does Graham technique. "The visceral physicality needed to dance the work connects to inner feelings," says Virginie Mécène, director of the Martha Graham School of Contemporary Dance.
The Look
Three signature moves define Graham technique: the contraction, the release and the spiral. The Graham contraction is a C-curve of the spine. The release is the response to the contraction, which returns the spine to a neutral position or opens the breastbone to the sky. The spiral is a twisting of the torso that starts at the pelvis and then moves up the body. Combinations of these three movements "allow the dancer to project out into space," Mécène says.
Graham's Legacy Lives On
After 85 years, the Martha Graham Dance Company is still performing and touring. While students of the Martha Graham School often join the company, those who've studied Graham technique have also gone on to work with Buglisi Dance Theatre, SYREN Modern Dance, Ballet Hispanico and Bill T. Jones—to name just a few!
Did You Know? Cate Blanchett's character in The Curious Case of Benjamin Button was a Graham dancer, and was doubled by real-life Graham company member Katherine Crockett.
Limón Technique
Mexican-born José Limón moved to NYC at the age of 20 and studied with modern dance pioneers Doris Humphrey and Charles Weidman. Later he formed his own company and developed a distinctive style. "Limón technique is not codified—there aren't movements and positions that you always do," says Alan Danielson, school director at the Limón Institute. "For José it was about the infinite possibilities of dance."
The Look
A Limón class emphasizes breathing through the body and expanding your range of motion. "We work on bouncing, swinging and percussive movement," Danielson says. "Timing, shape and energy are all important factors."
Limón's Legacy Lives On
The Limón Company performs and tours regularly. Those who've studied at the Limón Institute or performed with the company have gone on to join Mark Morris Dance Group and Doug Varone and Dancers. Jennifer Muller of Jennifer Muller/The Works is also a Limón alum.
Did You Know? Limón's most famous work—The Moor's Pavane (1949), based on the story of Othello—has been performed by many ballet companies, including American Ballet Theatre and Pacific Northwest Ballet.
Horton Technique
Lester Horton formed the Lester Horton Dancers in 1932, and you'll probably recognize the names of its biggest stars: Alvin Ailey and Carmen de Lavallade. "Horton's goal was to create a modern dance technique that was also anatomically corrective," says Ana Marie Forsythe, chair of The Ailey School's Horton department. "His studies of ballet and other techniques taught him that dance usually breaks down the body. He wanted to fix that."
The Look
Horton technique classes include flat backs, lateral stretches, leg swings, deep lunges and falls. "Students learn how to sustain positions without injury," Forsythe says. "The falls are dramatic and exciting, but a safety net is built into each one."
Horton's Legacy Lives On
Horton technique classes are offered all over the country, and there are several companies based on the Horton style, including Alvin Ailey American Dance Theater and Copious Dance Theater.
Did You Know? Alvin Ailey's Revelations prominently features shapes from Horton technique.
Cunningham Technique
Merce Cunningham studied at the School of American Ballet and danced in Martha Graham's company before forming his own troupe in 1953. His choreography emphasizes clarity, control, dynamic range and multidirectional use of space—and so does his technique. "Merce used class to experiment with dancers and discover new possibilities," says Robert Swinston, director of choreography at the Merce Cunningham Dance Company.
The Look
In a Cunningham class, your upper body and lower body will often be doing totally different things. "He worked the legs separately from the torso," Swinston says. "There are leg movements that look classical, but then the torso moves in opposition to the legs in a non-classical way."
Cunningham's Legacy Lives On
Cunningham died in 2009, but MCDC will continue to perform until December 2011. Many former Cunningham dancers, including Karole Armitage and Douglas Dunn, went on to form their own troupes. There are also some European companies that use Cunningham technique as the basis of their choreography.
Did You Know? Cunningham frequently collaborated with famous artists, including Andy Warhol, John Cage and Robert Rauschenberg.
Emily Macel Theys, former associate editor for Dance Magazine, lives in Washington, D.C., and is the communications manager for the Liz Lerman Dance Exchange.
Win It
Sep. 05, 2017 12:10PM EST
Photos by Erin Baiano
It's time to get your pirouette on! From September 5th to September 30th, we're hosting a contest to find out who's the best turner of them all.

Put together your most impressive turning combo. Post a video online. Share your turns with us and thousands of other dancers around the world. And if our editors think you're the top turner, you'll win a fabulous prize.
Keep reading...
Show less
All of 18-year-old Kaylin Maggard's dreams—from scoring the title of National Senior Outstanding Dancer at New York City Dance Alliance Nationals to winning the 2017 Dance Spirit Cover Model Search—are coming true. And to anyone who knows the gorgeous contemporary dancer, that's no surprise.
From the moment the Dance Spirit staff met Kaylin, it was obvious her humility and talent would take her far. Not only did she go full-out during the photo shoot and class at Broadway Dance Center, but she was always cheering on, laughing with, and supporting her fellow CMS contestants Haley Hartsfield and Michelle Quiner. During the voting period, the social media world was abuzz with praise for her work ethic, positive attitude, and generosity.
Since her CMS trip to NYC, Kaylin's moved from her hometown of Columbia, MO, to the Big Apple for her freshman year at Juilliard, and is busy getting acquainted with the city. As for the future? She's taking it one opportunity at a time, but something tells us we'll be seeing this contemporary queen reach new heights every year.
Keep reading...
Show less
New York City principal Lauren Lovette has become an icon thanks to her emotional maturity and exceptional musicality. The 26-year-old quickly rose through the ranks after joining the company as an apprentice in 2009, reaching principal status in 2015. A Thousand Oaks, CA, native, Lovette started studying ballet seriously at age 11, at the Cary Ballet Conservatory in Cary, NC. After attending two summer courses at the School of American Ballet, she enrolled as a full-time student in 2006. Last year, she made her choreographic debut with For Clara, her first piece for NYCB. Catch her latest work this month during the company's fall season. —Courtney Bowers
Keep reading...
Show less
In our "Dear Katie" series, former NYCB soloist Kathryn Morgan answers your pressing dance questions. Have something you want to ask Katie? Email dearkatie@dancespirit.com for a chance to be featured!
Dear Katie,
I know I'm not getting good enough dance training from any of my local studios. But I'm not sure I'm ready to move away to study at a big-name school, either. How do you know when you're ready to leave home to pursue your passion?
Marisa
Keep reading...
Show less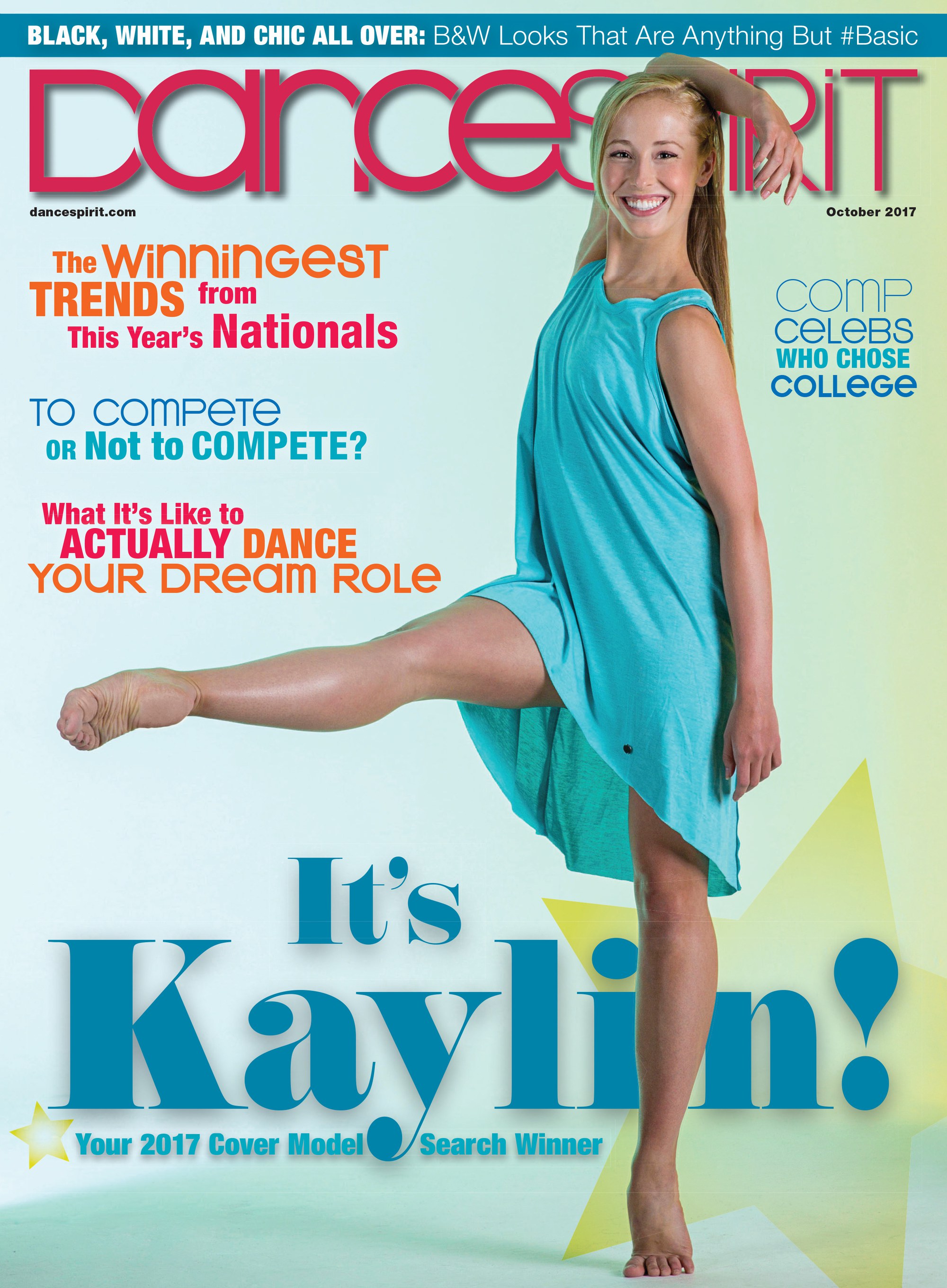 Get Dance Spirit in your inbox